Intesa Sanpaolo (OTCPK:ISNPY) is very cheap. How do we assess the risk?
My initial call on Intesa, back on 20th September last year, worked very well for a while, but has since come back to look poor given the prevailing performance in bank stocks generally since that time. The stock rose 27% to January 5th, and has now fallen 18% to €2.08.
Since 2014, ~€2 per share for Intesa has not been a bad handle. Should you get ready to buy now?
This is bank with a CET1 ratio of 12.9% and a current yield of 8.6%. The bank plans to deliver a €4bn dividend payout in 2017, suggesting the yield could go over 11%.
It's worth repeating the bank's observation that it achieved its 2016 dividend target against a worse operating environment that it has expected, with the 1 month Euribor rate averaging a negative 34 bps in 2016, vs. its starting assumption of positive 30bps. GDP grew slower than Intesa expected, with 0.9% growth against its forecast 1.3% in early 2016.
More importantly we saw positive developments in the NPL book. Gross NPLs fell through the year from €63.1bn to €58.1bn and provision cover was boosted so that the reduction in net NPLs was over 10% of the stock.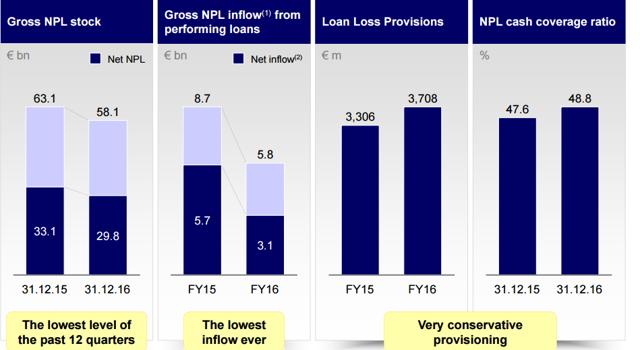 What this does is walk the bank towards a normalization of its P&L in comparison to European banks with more lower NPL ratios. Intesa trades at a comparatively very low multiple of its pre LLP operating profit. This is typically about €7bn per annum, and the stock is presently on ~5x this figure. Cleaner banks will trade at 8-10x. This makes sense because Intesa's LLP costs absorb higher than typical amounts of operating profit. However, lower NPL generation is good news. A similar delta in 2017 to the one seen in 2016 would allow Intesa to either write lower provision charges immediately or to continue increasing coverage of its NPL book, so securing a lower LLP outlook for the long term.
I have argued previously that the bank should actually accelerate this process even if it means reducing dividends for a couple of years.
With a recent look at a merger with Generali having come to nothing, Intesa's main bottom up risk for investors derivers from a possible worsening of its NPL situation before Intesa has been able to reduce its LLP charge, which the market would reward. A straight worsening of the Italian economy would of course give this outcome, but is unlikely to happen.
Another course of risk connected to NPLs is the signal from the ECB Supervision Newsletter a couple of weeks ago in which the chairman for the High Level Group on NPLs declared that the ECB will publish guidance for NPL management in the spring that is likely to make high NPL banks move faster in resolving their uncovered balances. But the market should think about this. If Intesa did have to continue high LLP expenses over and above the inflow of NPLs, which as we saw has been falling, then we are left with a far more secure and high quality profit stream on a medium-long term view.
Italian sovereign risk has increased, reflected in the move in the 10 year yield since late December in the chart below. This reflects general concern about EZ integrity in connection to European political developments. While Italy's debt level is always a concern, it is nothing new and I am sanguine about European politics. I expect elections in Netherlands, France and Germany to return mainstream governments and represent a repudiation of economically nonsensical populist arguments and politicians in 2017.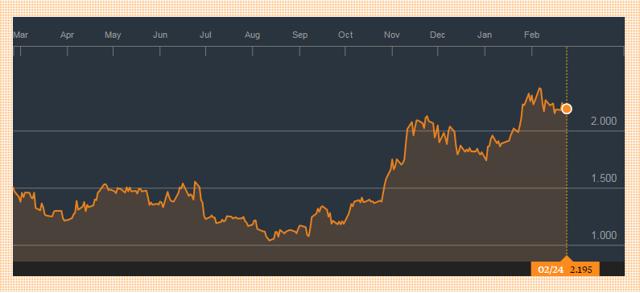 Conclusion
I see a decent margin of safety at Intesa, whose strong wealth management operations are consistent and offset a low margin environment and where the capital level is high. I think NPL risk is falling but if the ECB does force more rapid action, then this stock is strong enough to take it without raising capital. I would start buying steadily but investors need not be in a rush.
Disclosure: I/we have no positions in any stocks mentioned, and no plans to initiate any positions within the next 72 hours.
I wrote this article myself, and it expresses my own opinions. I am not receiving compensation for it (other than from Seeking Alpha). I have no business relationship with any company whose stock is mentioned in this article.
Editor's Note: This article discusses one or more securities that do not trade on a major U.S. exchange. Please be aware of the risks associated with these stocks.