Upon attempting to follow financial markets, a ranking of parties that might influence a decision to take risks can appear. There are some who have been convicted of crimes and are not repentant, so any trust allocated to them would be limited, and they can easily be among anonymous persons appearing on discussion boards. Above that would be persons who can make money supplying content to financial media: despite being recklessly wrong over and over again, they can sell subscriptions and generate advertising revenue because of popularity. Still higher would be those with an impressive byline or resume but who are frequently off target. Up another rung we can find badly performing funds, which have processes that are free of certain convicts, and are outwardly driven to obtain financial gain for clients. Above all discussed thus far would be companies that borrow to pay their dividends, and it is not completely clear if Farmland Partners (NYSE:FPI) will once again be one.
Corporations can carry on making distributions to stockholders even when their activities do not support it. The share price can maintain stability or gain over the same time as debt increases or other metrics deteriorate. A year from now, Farmland Partners might be paying out more than is sustainable; however, it could take an actual dividend cut, a year or two after that, before there are losses to investors. Even with a slightly belated, and needed, move to diversify, it still borrows and selectively invests within a category of assets that is depreciating: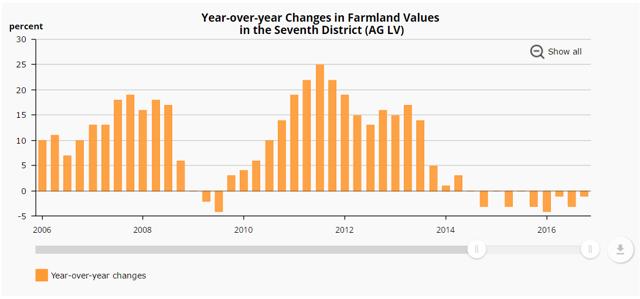 The stock is up since its year end announcement in which it reported $0.36 in quarterly AFFO. Tallying previous figures ($0.11 + $0.06 + $0.05), the annualized result exceeds dividend payments. The firm remits $0.51 a year, so $0.58 should comfortably cover it.
Per its annual report, Farmland Partners had 17,351,446 shares issued and outstanding at December 31, 2016. In order to alleviate the problem with over-dependence on grain crop revenues, it made a pricey acquisition of American Farmland Company (AFCO). The currency used is equity. So the float now is 32,221,660 shares, without consideration of another 6,216,027 in OP units, and perhaps other forms of dilution.

If you instead divide $11,011,000 / 32,221,660, rather than the 19,107,000 at year end, the bottom line figure for Farmland Partners in 2016 would be close to $0.34 (or about $0.28 diluted). The arithmetic would put dividend coverage almost exactly at two thirds, but gives no credit to any future contribution from American Farmland Company. The sustainability of dividends currently appears much better than in the past; though it has not been increased as in January, 2015.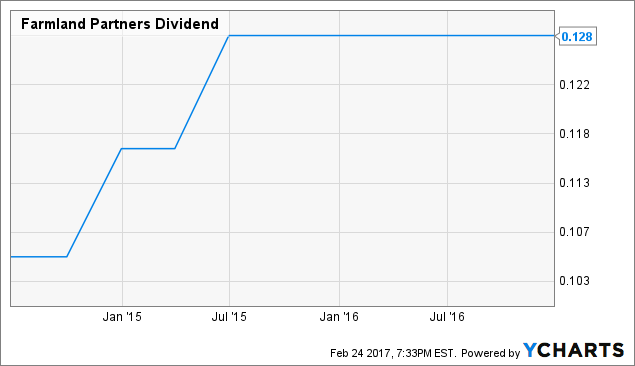 FPI Dividend data by YCharts
The Conference Call Transcript's Q&A section includes relevant discussion. Company leadership, which has made crass commentary in the past, estimates $0.62 in future AFFO. Further, it sounds like there is no problem with rent renewal, stating that there has been
About a 1.5% to 2% increase across the board...
Personally, I have already bet against the stock profitably (I, II), and my inclination is to say that the share price now should move higher. After expending too much effort, risk and reward considerations are not currently overwhelming because the dividend should be paid through the foreseeable future. To summarize, if it becomes obvious that the distribution is in question, one could do better than its 4.46% yield to sell short FPI.
Different things can happen when following financial markets. Some entities maintain attention, even if their activities are not supportive of your well-being. A corporation that borrows to pay its dividends is not the most egregious example, but eventually the missing money can harm an investor's returns. It is not easy to say whether or not Farmland Partners ultimately will be one.
Disclosure: I/we have no positions in any stocks mentioned, and no plans to initiate any positions within the next 72 hours.
I wrote this article myself, and it expresses my own opinions. I am not receiving compensation for it (other than from Seeking Alpha). I have no business relationship with any company whose stock is mentioned in this article.