First thing Saturday morning, I penned a post that contained a stark warning: Sharon, I observed, is bullish.
Sharon is my neighbor here on the island.
Have you seen "Wall Street"? Remember when Gordon Gekko is out on the beach with the 1980s cell phone?
Well, Saturday morning I witnessed the "dumb" money, 21st century version of that scene as my 70-something buddy talked into her Bluetooth earpiece about the incredible winning streak stocks (NYSEARCA:SPY) have staged over the past eleven sessions.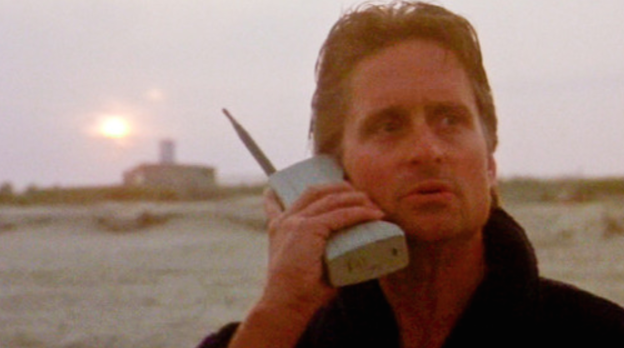 That should tell you something about "euphoria" and the madness of crowds.
Of course there are those who contend that the madness of crowds is exactly why you should stay long this market. You know, it's the whole "sentiment" thing.
That contention is absurd. And not because it hasn't worked in the past. Indeed it has. And indeed it might this time.
But let me drop a little Heisenberg knowledge on you here to explain why the idea of "riding the wave", so to speak, is patently ridiculous on its face.
That strategy admits of no end point. Buying on top of bullish sentiment will beget more bullish sentiment. So the buyer who bought on the premise that you should always be buying when sentiment is bullish will thus be compelled to buy even more by virtue of his own original buying.
You see what I'm saying about that being absurd on its face? If that actually worked in practice, then the logical target for the Dow would be "infinity".
Ok, so once you've stopped laughing, let's consider what's actually happened historically after a 25%+ runup (which is roughly where we are looking back to last February's lows). Here's some good color out Saturday from Citi (my highlights):
Equities have performed strongly in recent months - especially US equities have strongly broken to new highs - and the pertinent question is of course how risk assets can perform from here. Looking back in time, we find 72 episodes where equities rallied 25% or more in 12 months - mirroring where we stand today - and notably three-quarters of the time equities are able to march higher in the next 12 months, with an average return of around 10% (Figure 3).
Yes, indeed that is "notable."
And it supports both the "ride the wave", "I'll buy if you buy higher" thesis and also underscores what Goldman said on Friday. Recall this table: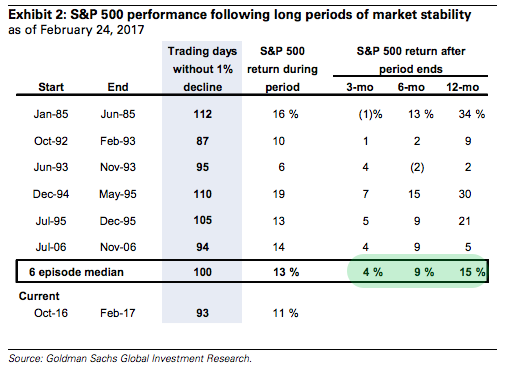 (Table: Goldman)
When the S&P goes 80+ sessions without a 1% pullback, the average subsequent 12-month return is ~15%.
So, although the greater fool, Dow target = infinity thesis is objectively absurd, history teaches us that it does work.
Only not to infinity.
And see that's the problem with that "strategy": no one's going to tell you when to get out. That's why fundamentals matter.
For some further context, let's look at what happens during what Citi calls "second leg rallies." That is to ask: "what happened along the way in the 55 historical cases of follow-on rallies after an initial move up of 25%+?" Here's Citi again:
In 75% of the second-leg rallies we looked at, a 7% pullback occurred within this 12- month horizon. This matches the findings from our bull-run correction analysis. In equity price action since 2009, peak to trough corrections of up to 10% are actually quite a normal feature of a bull market. So as we remain overweight equities in our allocations, we acknowledge that markets won't move in a straight line for sure and we thus continue to advocate being as tactical as possible, even in medium-term GAA frameworks. We are overweight stocks, but not massively so, and have cash at overweight too.
Ok, so hopefully there's nothing in there that you didn't already know, or at least suspect.
That is, you might not have known what the exact numbers are, but basically the gist of that is simply that corrections are inevitable.
But see this is another one of those cases where people know things intuitively and are quick to shout about just how aware they are of the inevitable, and yet still espouse contradictory hypotheses.
More simply, you cannot simultaneously say that you know corrections are inevitable and subscribe to a theory that advocates buying on sentiment alone. Theories that amount to "ride the wave" and/or "when markets are stretched they tend to get more stretched" and/or any derivation thereof, are wholly incompatible with the idea of corrections when those theories are taken to their logical extreme.
I emphasize that last bit to denote that I'm effectively constructing a strawman argument here. That is, no one explicitly takes those theories to their logical extreme. But they do implicitly because really, those theories cannot be divorced from their extreme form. If you go back and re-read my comments at the outset, you'll see what I mean.
So there's your philosophical spin on a dubious strategy that never explicitly, but always implicitly asks this question: "to infinity and beyond"?
Disclosure: I/we have no positions in any stocks mentioned, and no plans to initiate any positions within the next 72 hours.
I wrote this article myself, and it expresses my own opinions. I am not receiving compensation for it (other than from Seeking Alpha). I have no business relationship with any company whose stock is mentioned in this article.