Jacobs Engineering Group Inc. (NYSE:JEC) has had a nice run since the 2016 US presidential election as it nears the end of its two year restructuring plan that continues to drive down costs and improve margins, while it is seen as a potential beneficiary of upcoming political agendas. This run has resulted in Jacobs' stock recently reaching new 52-week highs as it continues to repurchase shares, has initiated its first dividend, and continues to explore M&A opportunities. A recent 10% pullback in the stock price offers investors an opportunity to jump in at one of the best price points since the election.
Last August, I wrote an article about Jacobs' momentum and upside potential from its restructuring plan along with the clearing up of political uncertainty from Brexit along with the conclusion of the 2016 US elections. Jacobs' stock reached a new 52-week high in late November at $63.42 and more recently retested the highs with a double top at $62.07 in late January. Since then, the stock has had a nice 10% pullback from its highs creating a nice entry point for investors.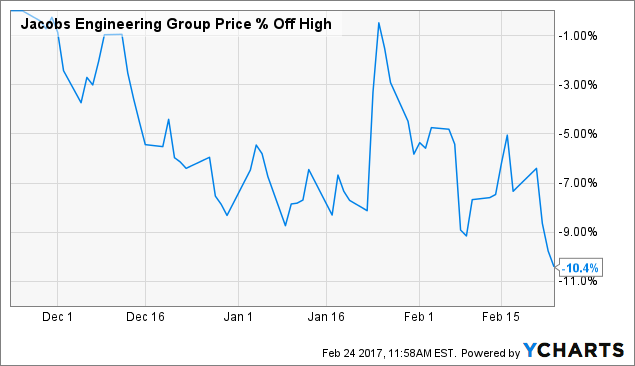 The two main reasons for the pullback seem to center around profit taking from the nice run up the stock has had after the presidential election when the stock was trading a little under $50 a share, and the recent reports that President Trump's $550 billion infrastructure investment promise will be delayed until 2018. The 10% drop from recent highs should slow down profit taking, while delaying the infrastructure bill until 2018 might actually have nearly as many positives as it does negatives in theory. The delay may make it harder for politics to get in the way of a comprehensive bill in an election year where increased spending on infrastructure is an issue that both sides of the political aisle often have common ground on.
Aside from the recent profit taking and future political uncertainty, the story of Jacobs' restructuring project is still intact and working marvelously as it nears its end. The company's recent earning's call shows that the company's gross margin improved to 16.4% of revenue vs 15.5% in Q1 of last year, while total Selling General & Administrative costs (SG&A) dropped by a whopping 13% vs the previous year. The Aerospace & Technology, Buildings & Infrastructure, and Industrial lines of business continue to show good growth and profitability, while the troubled Petroleum & Chemicals business continues to stabilize and show signs of a bottom as oil sits over $50 a barrel and OPEC tries to curtail supply.
With the restructuring project coming to a successful end later this year, the company can focus more on returning excess capital to its shareholders along with M&A opportunities. Jacobs just recently initiated its first dividend at $0.15 (approximately 1% forward yield) a share. I would expect a good chance of yearly dividend increases as the company's cash continues to grow quarter over quarter.
Q1,2017
Q4,2016
Q3,2016
Q2,2016
Q1,2016

Cash & Short

Term Investments

737
656
616
560
444
Source: Table by Trent Welsh (cash in millions)
Jacobs also has a $500 million share repurchase plan in place where they have repurchased about 4 million shares (over 3% of shares outstanding) with $317 million left in buying power over remainder of the three year program. Fewer shares outstanding should help grow the company's EPS over time along with selective M&A opportunities.
Finally, with the company's two year restructuring plan coming to an end later this year, and a growing cash horde, M&A opportunities might become more and more interesting as the company seeks to increases its global footprint. In the past, Jacobs has mostly focused on smaller acquisitions like its most recent acquisition of Aquenta Consulting for its Asian infrastructure business. Jacobs seems to favor smaller integrations with maybe a potential acquisition or two left for the remainder of the year.
Jacobs Engineering has had a nice runup following the 2016 presidential election and has made a couple of convincing runs at new 52-week highs. I think the company's recent 10% pullback might present investors a nice opportunity to buy into the company that looks to continue its upward momentum as it finishes its successful restructuring, finds new ways to reward shareholders, and is in a great position to benefit from any future infrastructure policies.
I continue to be long Jacobs Engineering as I believe the story is far from over, and I am looking forward to my first dividend from the company. Best of luck.
Disclosure: I am/we are long JEC.
I wrote this article myself, and it expresses my own opinions. I am not receiving compensation for it (other than from Seeking Alpha). I have no business relationship with any company whose stock is mentioned in this article.