New Home Sales
Higher mortgage rates, as can be seen below, are clearly having an impact on the pace of new home sales, despite the rebound in January to a 555,000 seasonally adjusted annual rate. It appears that higher home prices are also having something to do with slower sales, considering that the percentage of new homes sold below the price of $299,000 fell to 44% this January from 53% in January 2016. The year-over-year decline in real incomes is most likely a factor on this front.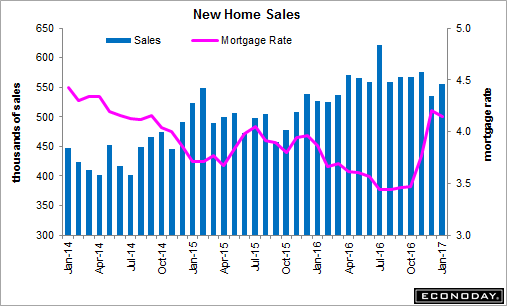 A longer-term view of new home sales shows how far off we are from pre-crisis highs, which would imply significant upside, but it appears that sales are leveling off. Furthermore, supply is no longer an issue, with the number of new homes on the market at the highest level since July 2009.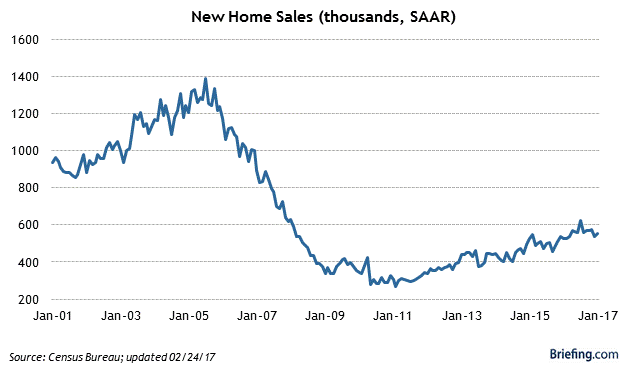 Existing Home Sales
Existing home sales rebounded in January to 5.69 million on seasonally-adjusted annual basis, which is a new high for this cycle. This figure is up 3.8% over the past year. There was no improvement in the supply of homes for sale, which remained at a 3.6 month sales rate, but sale prices have stalled over the past couple of months. There could have been a rush to close pending homes sales as mortgage rates rose in November and December, which might have boosted sales numbers in January. Time will tell on this front, as borrowing costs seem to have peaked for now.
Existing and new home sales have been significant contributors to the overall rate of economic growth during this recovery, but I see much slower rates of growth in 2017 due to higher borrowing costs and what are now declines in real income.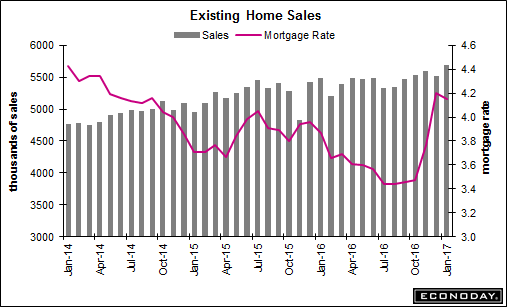 Markit's Flash PMI Index
Early indications from Markit's PMI for February show that the strength in the surveys that followed the election may be fading. In particular, the services index fell nearly 2 points to 53.9, which is back down to pre-election levels, due to survey responses indicating slower orders and a more cautious outlook.
The rebound in oil prices and rise in drilling activity has had a positive influence on the PMI surveys, but it seems that an improvement in sentiment has been just as important. Businesses and consumers are expecting lower taxes, less regulation and a variety of other fiscal policy initiatives to lift the rate of economic growth. It is my suspicion that the Trump administration has over-promised, and what is ultimately delivered will arrive much later than most are expecting. As a result, the bump we have seen in economic activity will turn into a slump as we move forward.
Disclosure: I/we have no positions in any stocks mentioned, and no plans to initiate any positions within the next 72 hours.
I wrote this article myself, and it expresses my own opinions. I am not receiving compensation for it (other than from Seeking Alpha). I have no business relationship with any company whose stock is mentioned in this article.