The government of Singapore is the largest shareholder of Eurocommercial Properties, which pays a 6% dividend and trades at a discount to NAV. More properties are being developed and could contribute 10% to the net rental income from next year on.
Introduction
Most American REITs trade at a premium to their book value which reduces the safety margin (as I would obviously like to have some sort of buffer to absorb potential counter-cyclical shocks), but you can still find REITs trading at a discount in Europe. In a previous article, I discussed Klepierre (OTC:KLPEF). After reading the financial report of Eurocommercial Properties, I feel this company also deserves to get some attention.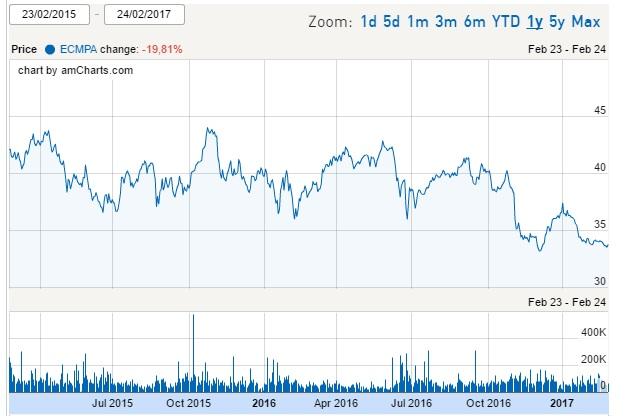 Source: Euronext website
Eurocommercial Properties (OTC:EUCMF) is a Dutch company focusing on shopping centers, listed on Euronext Amsterdam. As the Amsterdam listing is very liquid, I'd strongly recommend you to use that exchange to trade in Eurocommercial's shares. The ticker symbol is ECMPA, and the average daily volume is 80,000 shares.
As Eurocommercial reports its financials in euros and as I recommend trading the company's shares through a euro-based stock exchange, I have kept all original financial results in EUR, as converting it to USD wouldn't make a lot of sense.
Eurocommercial's first half of the year is encouraging
In the first half of the financial year, Eurocommercial's direct investment result increased by 5.4% to 51.5M EUR. This is an important metric, as the direct investment result is defined as the net property income (which increased by almost 7% to 79M EUR) minus the interest expenses and company expenses. As the company correctly argues, this gives a fairer approach and it is an indication of how a real estate company is doing, rather than the net profit calculation based on the IFRS rules - which forces REITs to take (realized and unrealized) capital gains losses into account. As the total value of the portfolio has increased by in excess of 55M EUR in the first half of the year, the net income actually came in at 2.39 EUR per share. It's pretty obvious this doesn't give you a fair overview of how the company is really doing.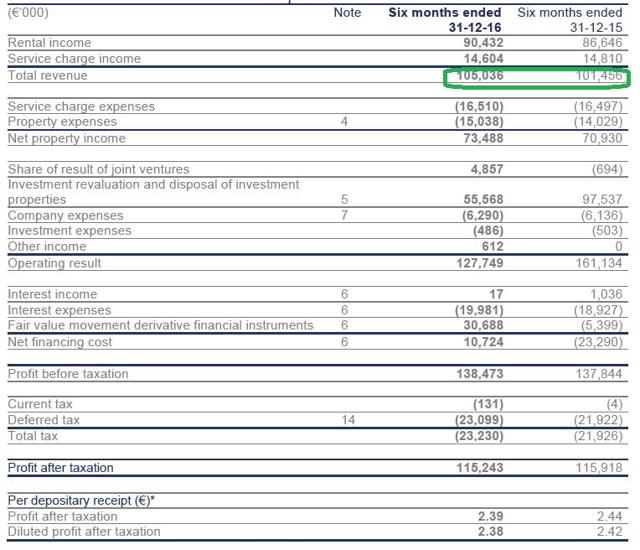 Source: half-year report
The strong increase in direct investment result was predominantly caused by an increase of the rental income, which came in at 78.8M EUR. This increase was mainly due to the newly acquired properties, which were added to the asset portfolio, and these definitely compensated for the loss of income related to the sale of some of the assets.

Source: company presentation
That's a good result and even though Eurocommercial is warning for the 'looming elections in France, Italy, Germany and the Netherlands', it also points out the supply remains very scarce, and this bodes well for the company's new construction projects (more on this later).
The company is trading at a discount to the adjusted NAV, and remains ambitious for the future
As of at the end of December, the adjusted net asset value per share (which actually is a net depository receipt) was 43 EUR, which takes the future rental income into consideration. That's great, but just to err on the cautious side once again, the IFRS net asset value (which includes capital gains tax liabilities and the impact of the fair value of interest rate swaps) was 37.66 EUR per share.
So even if you'd use the lower IFRS NAV per share, Eurocommercial is still trading at a discount of approximately 10%. And there actually is no reason for the company to be trading at these levels. Yes, there is some political uncertainty associated with the elections in Eurocommercial's key markets, but I don't think this by itself warrants the current valuation and the recent 15% share price decrease in the past five months. This pushed the dividend yield to in excess of 6%.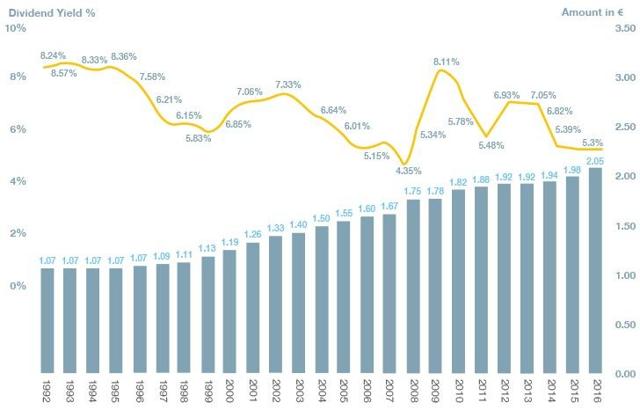 Source: company website
Even though I would already expect the company's 20th dividend increase in 21 years based on the FY 2017 results, I also think this trend of dividend increases will continue. Let's have a look at the list of projects Eurocommercial is currently working on:
Source: half-year report
Indeed, before the end of this year, several new projects will be completed in France, Italy and Sweden. Even if you exclude potential rent increases at the malls that are being refurbished and just have a look at the expansions and the expected net returns, you'll immediately see Eurocommercial's FY 2018 will be even better than the current financial year. I have quickly summarized the rental impact in the next excel table:
| | |
| --- | --- |
| SHOPPING CENTER | ANNUAL RENT INCREASE (NET) |
| Amiens | 1.2M EUR |
| I Gigli | 5.5M EUR |
| Eurostop | 5.3M EUR |
| C4 | 8.3M EUR |
| | |
| TOTAL | 20.3M EUR |
Note, this excludes the C4 shopping center in Kristianstad which will open in two phases, and contribute an additional 10.75M EUR per year to the net rental income.
So, based on the current development pipeline, the total net rental income will increase by 20.3M EUR by the end of 2018, which compares very favorably to the current rental income of just over 180M EUR per year. And even if you look further to the future, Eurocommercial remains very ambitious with several refurbishment and extension plans announced to date: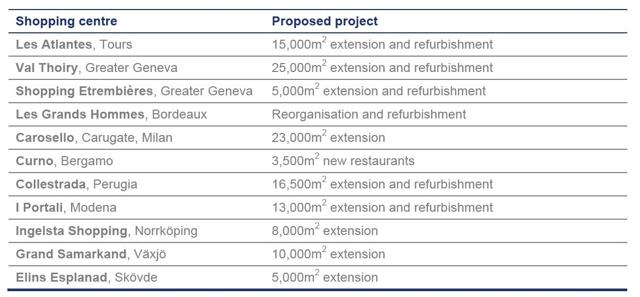 Source: half-year report
These plans will obviously cost a lot of money, but thanks to Eurocommercial's robust balance sheet (the LTV ratio was just 41% with an average cost of debt of 2.7%). This means Eurocommercial should have no problem whatsoever when it comes to borrowing the cash to complete the existing expansions and refurbishments, and initiating the next wave of expansions across its assets. Even if the net debt increased by 300M EUR (to 1.5B EUR), the LTV would still remain below 47-49%.
Investment thesis
I think Eurocommercial Properties is doing all the right things, and it's probably not a coincidence one of the largest shareholders is the government of Singapore (with a 12.75% stake). Eurocommercial will very likely hike its dividend once again at the end of the current financial year. Last year, you could opt to receive your dividend in cash or in stock, and if the share price continues to trade at a discount to the net asset value, requesting a stock dividend would be a solid move to increase your position even further, at a discount (that's definitely what I will do).
It's remarkable to see a strong company with a relatively low net debt ratio (41% is pretty low in the REIT space) trading at a discount to even the IFRS net asset value. The uncertainty caused by the upcoming elections might be a reason, but the high exposure to fashion and shoe stores (45%) might be the main reason the market is reluctant to give Eurocommercial the fair value it deserves. I don't deny e-commerce is big and getting bigger, but the most successful chains are the ones combining e-commerce with brick-and-mortar stores. I still sleep very well at night.
Note: the dividend withholding tax in the Netherlands is 15%. Check with your broker or fiscal expert if there are any double withholding tax treaties applicable, which might reduce your tax burden
Disclosure: I am/we are long EUCMF.
I wrote this article myself, and it expresses my own opinions. I am not receiving compensation for it (other than from Seeking Alpha). I have no business relationship with any company whose stock is mentioned in this article.
Editor's Note: This article discusses one or more securities that do not trade on a major U.S. exchange. Please be aware of the risks associated with these stocks.