Business Fundamentals
Seadrill Limited (NYSE:SDRL) is a company offering services in deep sea drilling, and it has been suffering tremendously since oil's fall from $100 in 2014. As a matter of fact, the industry in general needs >$70 crude for its services to be in demand from oil producers. Here is a short summary of the company's information:
Cash on hand: $1.25 billion
Total debt: 10.3 billion
Total debt due in 12 month: 3.1 billion
Current interest expense: ~280 million/quarter
Projected upcoming net operating income: ($150 million) to $50 million per quarter
Contracts' average length: 16 months
Contracts Expiring
To make matters worse, the contracts generating the operating income are expiring very quickly as of February 2017. As a matter of fact, nearly half of all jack-ups and semi-submersibles have expired recently, or are expiring within six months. This will significantly reduce the company's revenue and force its net operating income into the red very quickly.
| | |
| --- | --- |
| | Number of Contracts |
| Contracts expiring within 2017 | 20 |
| Longer term contracts | 27 |
| Expiring contract's total day rate | ~$5.0M income per day |
Due to the expiring contracts, the company may start to face liquidity problems as ~$450M per quarter of contract revenue expires. To avoid these liquidity dangers, Seadrill will need to negotiate deals to address its $3.1 billion in loans in 2017. As a result of these contract expirations, Seadrill's operating revenues are expected to decrease. Consequently, its interest expenses will quickly exceed its contract revenues. Therefore, net operating income will become negative and start to eat into its $1.25 billion cash reserves rather quickly.
Restructuring
Currently, the company is actively restructuring its debt and raising additional capital by issuing new debt. In the latest debt restructuring effort, Seadrill has raised an additional $1 billion in new capital in the process. (See the latest news report here.) Unfortunately, the company still has $3.4B in current debt due and an additional $2B in lost revenues thanks to expiring contracts. Seadrill will need more of the similar deals in order to avoid liquidity trouble in the next 12 months.
Summary of Oil Prices and Its Current Environment
Currently, oil is trading near $57 for Brent and $54.50 for WTI. In fact, these prices have increased significantly from $47 from a few months ago, thanks to the OPEC decision and action to cut production by 1.2MBPD. However, an additional oil recovery in the next 12 months is expected to be limited, and oil is expected to stay between $55 and $60 per barrel for 2017.
Supporting this view are NYMEX future prices and the U.S. Energy Information Agency's prediction for oil prices for the next 12 months. The image below shows the predicted future price curve stalling around $56 to $60 for the next year.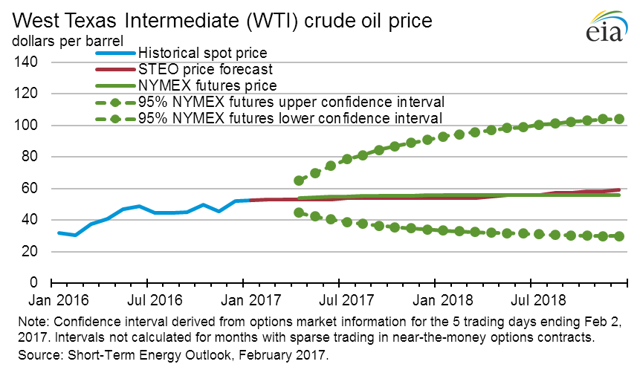 Bankruptcy and Liquidity Situation
As noted above, Seadrill may have liquidity troubles as early as 2018. To avoid this situation, Seadrill will need the price of oil to breakthrough to $70 range. In order for that to happen, two of the three following items may have to materialize:
Negotiate to defer a majority of its debt on its $3.1 billion short-term loans.
Serious oil supply shocks affecting at least 2.5MBPD occur and temporarily bring oil back to $70 for at least, allowing Seadrill to renew some if its contracts for its fleet.
The global economy, especially in Europe and China, significantly gains traction, helping oil recover quickly within the next 12 months. This situation is extremely unlikely.
Conclusion
In conclusion, Seadrill's future is bleak, even though oil prices have broken through to $56 per barrel. The author's opinion is that Seadrill will suffer from liquidity troubles before crude prices rise significantly enough for its services to be in demand. Therefore, it is advisable to sell or stay away from Seadrill common shares.
Disclosure: I/we have no positions in any stocks mentioned, and no plans to initiate any positions within the next 72 hours.
I wrote this article myself, and it expresses my own opinions. I am not receiving compensation for it (other than from Seeking Alpha). I have no business relationship with any company whose stock is mentioned in this article.