Welcome to the fifth edition of Elroy's Elliott Wave Weekly. Nothing very significant happened in the markets last week, but this week should be very interesting as many markets are right at inflection points.
The aim of this series is to keep readers on the right side of trends, and share a little more of how I use Elliott Wave as we go. The theme this week is 'adapting to what the markets are doing, not what you think they should do'. Many think Elliott Wave is a method for predicting, but this isn't wholly accurate, as I will try and explain.
Equities
The S&P500 (NYSEARCA:SPY) is still finishing off the rally which started at the November '16 lows. It has hit the wave 5 = 1 target of 2363 pointed out last week: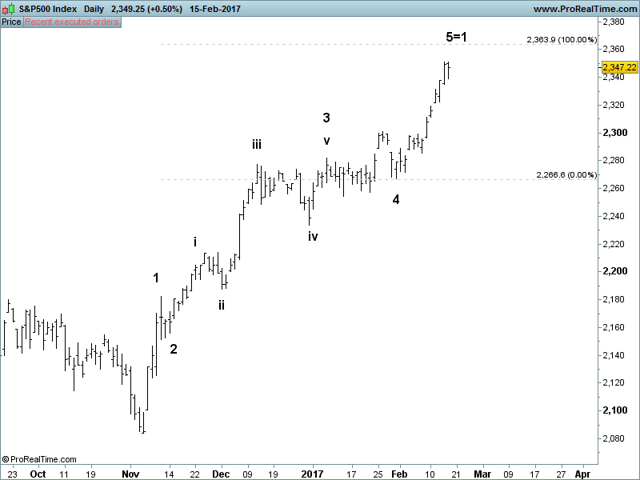 I was quietly hoping I nailed the top when I tweeted this shorter term chart on Thursday (which shows the smaller waves inside the wave 5 from the chart above):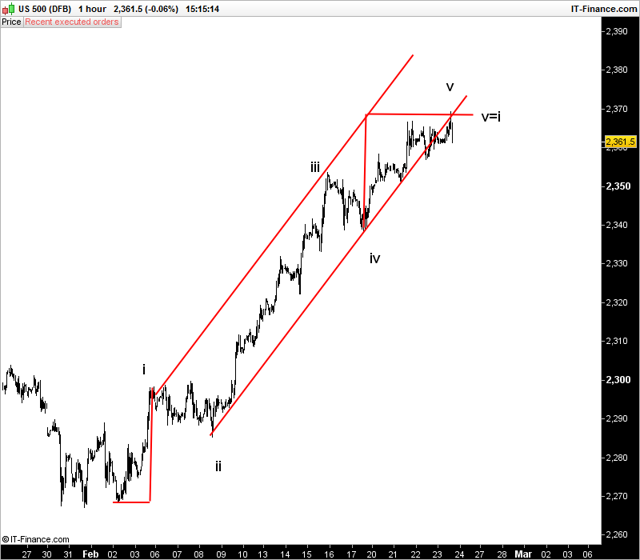 The gap to a new high and quick reversal was a decent signal, and it happened just where I expected it. However, the reaction on Friday makes any top call premature, and one eagle eyed Elliottician on Twitter pointed out the small wave on January 31st, which may still have to unwind. Even taking that into account, the target is 2375. I am short and plan to add on any new highs early next week with a stop in the 2380s. I might not nail the top, but all I really want is a profitable trade.
The November rally is very near complete (or at least I think so), and with a target slightly below 2300, the risk versus reward for shorts in the 2360s and 2370s is pretty good, even if the probabilities for fighting such a strong trend are not.
Gold (NYSEARCA:GLD) and Gold Miners (NYSEARCA:GDX)
I've had mixed results in gold and GDX lately, mostly because I had a helpful fractal to follow in GDX which didn't translate over to gold.
Here is the original GDX fractal from 30th January: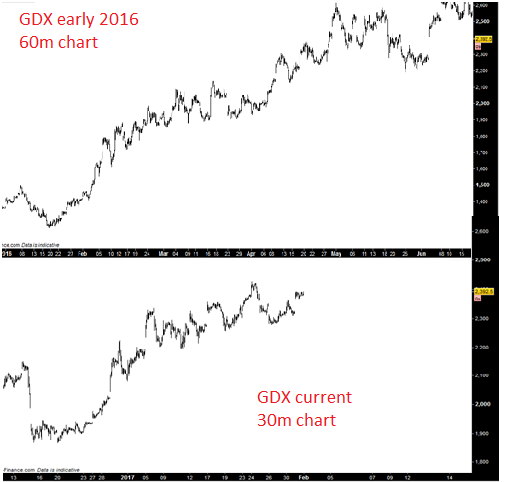 It called for a break-out, consolidation and re-test. Here is an update: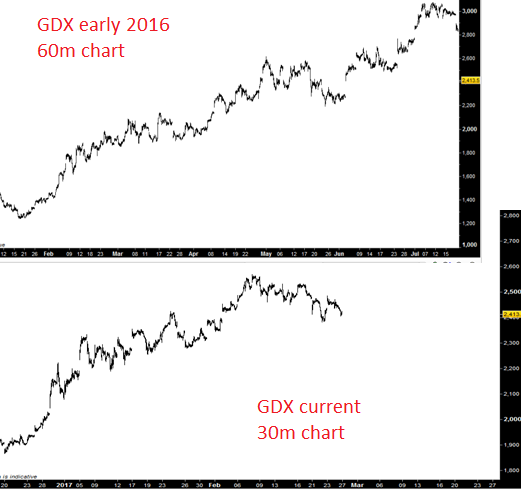 It always helps to have a map. As I said in the comments last week, I expected GDX to hold $24 and the gap just below ($23.8). This should now hold for a strong rally or the fractal is likely breaking down.
Gold, on the other hand, has been traveling its own path, and the sell off I expected down to $1180 is now very unlikely now it has broken above $1245. I'll take solace I still hold longs and have hopefully kept readers with a medium term perspective on the right side of the trade. It is possible to be right in one timeframe and wrong on another.
To be honest, I am still in between views on gold. A lot depends on next week and if price either fails at the 200dma at $1260, or gaps over and spikes higher.
The bullish view has it doing this: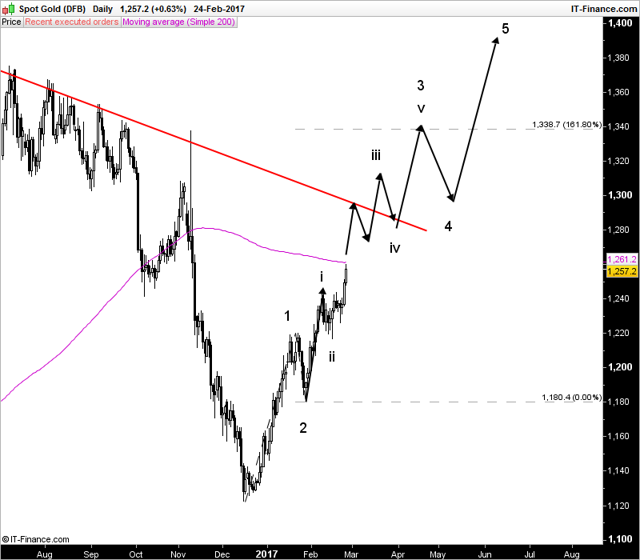 This fits with the GDX view already presented and if gold is indeed in wave iii of 3, nothing should get in its way.
The less bullish view still targets higher at $1279, but has a pullback from the 200dma first: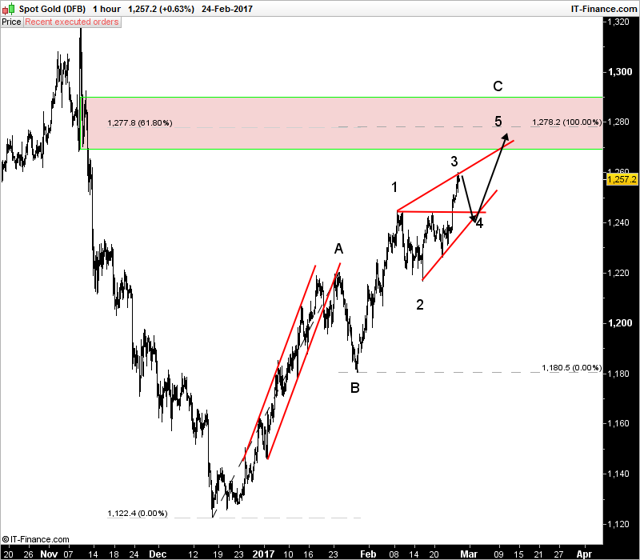 The target of $1279 is where waves C and A are equal in size and is the 61.8% retrace of the 2016 decline. It is also the area where the post-election spike and sell off originated. This 'return to the scene of the crime' is often a good target.
During these weekly updates I have tried not to present two different views, but sometimes it can't be avoided and the above scenarios are a good way of illustrating some key points.
Elliott Wave allows us to see how the market moves in real time and these moves provide information about probable outcomes. I never think 'the market must go here' or 'the market must do that'. If gold gaps over the 200dma and continues higher it shows buyers are extremely aggressive and I will already have a scenario prepared for what may happen next.
Other Markets
Bonds (NYSEARCA:TLT) may be breaking out. A break over the high of 122.3 would invalidate the triangle and squeeze out shorts.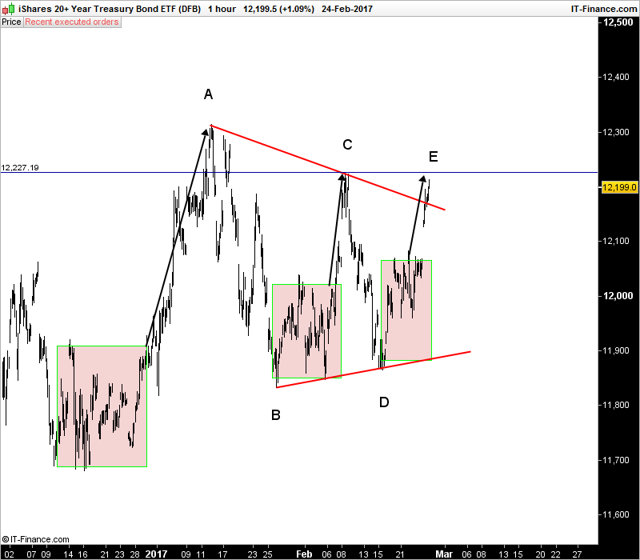 This again reconciles with the view on gold going up.
I've been calling for an ideal target of 115 in TLT, but also advising against shorts as the cycle starting at the 2016 highs is either complete or very near to being complete. A break of 122.3 makes 115 unlikely in this stage of the cycle. And to reiterate: longs anywhere under 120 should be decent in the medium term.
I don't spot much of an edge in other markets I follow. Oil (NYSEARCA:USO) is trading sideways in a messy pattern which could be any number of things. I still think the next big move is down, and if that move materializes it will be a buying opportunity. I will update the oil count if I see anything particularly interesting or clear.
Natural gas (NYSEARCA:UNG) has entered a capitulation phase and it's probably wise to keep out of the way for now (although I will admit I bought very far dated options in UNG). Now the contract has rolled to April I need some time to re-assess the structure and will update again next week.
Conclusions
It seems gold, GDX and TLT are on the verge of big moves to the upside, and we should know early next week which of the scenarios presented will play out.
Elliott Wave allows us adapt to what the market is doing in real time. It can be used to make forecasts, but its real power lies in how the forecasts can change as the market changes. Some people don't like this, but I'd rather go with the flow than sit stubbornly in a losing position.
Disclosure: I am/we are short SPY.
I wrote this article myself, and it expresses my own opinions. I am not receiving compensation for it (other than from Seeking Alpha). I have no business relationship with any company whose stock is mentioned in this article.
Additional disclosure: I am long gold and oil futures and a number of stocks.