Investors are bracing themselves for US President Donald Trump's speech in Congress. Yet, a scheduled release of heavy macro data around the globe might be more revealing about the near future than politically induced volatility. Sure, Trump's statements will have the power to move markets from fixed income to currencies. However, it is unlikely that they will have enough details on policy design which could set in motion a long-lasting trend in risk assets. More likely, though, is the possibility that this week's heavy macro releases will reveal a lot more about the state of the global business cycle and what investors should really expect from the US as well as the global economy in the near future. Macro announcements, spanning from manufacturing and services PMIs to inflation indices across the globe, will most certainly offer more clarity on markets' potential than Trump's own statements. Volatility against clarity could be the name of the game in the next few days, and investors should be careful to focus on the real thing.
US Macro Watch
The extreme policy-oriented sensitivity of markets has obscured the importance of the underlying economy's trends. US president's public activity creates enough volatility to make investors forget about the developing macro backdrop. Yet, this heavy week of macro releases in the US will most certainly remind investors of the importance of not detaching themselves too much from the real action.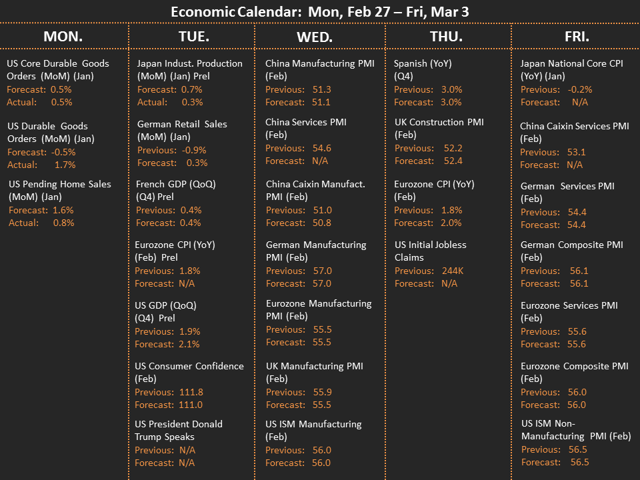 Source: investing.com
Durable goods orders, while quite volatile from month to month, will shed some light on the state of the US manufacturing sector for January. A healthy US economy should definitely exhibit strong core durable goods orders for a fourth month in a row. In addition, the extremely important ISM manufacturing index for February will offer more up-to-date information about this critical sector. US manufacturing has been expanding since last September in an ever increasing rate, and this month's release will most probably confirm this trend. The US services sector, which hasn't been in a contractionary state for years, will also be brought to the spotlight. Should February services and manufacturing activity break out to the upside in concert, it will solidify the case for an interest rate increase in March. The release of January's core PCE index will also help towards this direction if it moves closer to the 2% threshold.
Global Macro Watch
In Europe the latest trends revealed that a more even growth pattern is developing in Eurozone, and Germany is witnessing a domestic boost of its economy possibly as a second round effect of its international trade dominance. In this light, the German retail sales for January will be quite revealing of the potential of this domestic heating up. On the other hand CPI figures for the core as well as for the periphery of the euro-area will most certainly add to pressure on the ECB to start changing course on its ultra-accommodative stance. This pressure is more likely to originate from Germany, since its economy is heating up in several respects.
However, even more importantly than Europe, China itself will have a say on the state of the global economy this week. The readings of the manufacturing and services PMIs for the month of February will reveal if the acceleration of the Chinese business cycle holds firm. Commodity bull trends and Asian sovereign bond bear markets are keeping their dynamics, indirectly implying that China dynamism holds. The actual release of the official as well as the Caixin PMIs will provide the verification of this scenario, since all of them are expected to come out resilient enough.
Investment Implications
Apart from US equities (NYSEARCA:SPY) which have been dismissing so far any concerns about a derailment of the global economy, the US dollar (NYSEARCA:UUP) as well as US Treasuries (NYSEARCA:TLT) have been more skeptical about it. The greenback as well as 10-year US Treasuries (NYSEARCA:IEF) have paused their previous strong trends since mid-December and have moved in a trend-less fashion. Both of these markets need more "fuel" either from tangible pro-growth policy actions or fundamental macro developments in order to activate their next leg.
Short-term volatility could spike due to this politically "dominated" week but sustained trends would need more action and less fluff. Will Trump deliver concrete enough thoughts and policy design elements to Congress? Who knows? Whatever the case might be investors should better pay attention to what the real economy has to say if they are looking for clarity; and in the next few days there will be quite a lot of it for sure.
Disclosure: I/we have no positions in any stocks mentioned, and no plans to initiate any positions within the next 72 hours.
I wrote this article myself, and it expresses my own opinions. I am not receiving compensation for it (other than from Seeking Alpha). I have no business relationship with any company whose stock is mentioned in this article.
Additional disclosure: The views expressed in this article are solely those of the author, provided solely for informative purposes and in no case constitute investment advice.