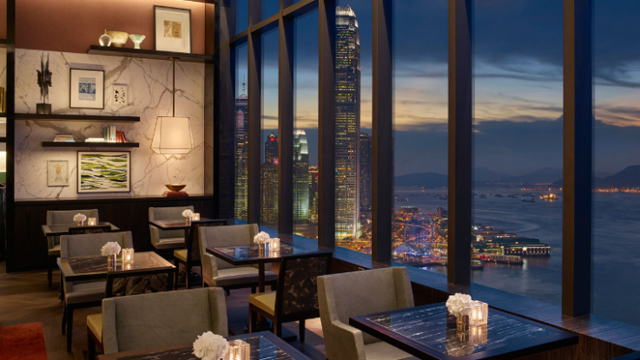 New World Development Company ("NWD") (OTCPK:NDVLY) (0017.HK) is a Hong Kong based conglomerate that focuses on investing, developing, managing, and leasing properties in Hong Kong and Mainland China. NWD also has its hands in resorts and hotels, shopping malls, infrastructure, and many others. The company has been publicly listed in Hong Kong since 1972 and regarded as a premium brand in the industry.
Restructuring Under Exceptional Leadership
NWD shares rose 70% the past 12 months on improved execution by management and as fears of a China hard landing abated. Many industry experts have linked NWD's business restructuring and stellar deal-making to the increased leadership responsibilities of Adrian Cheng, the founder's grandson. This past week NWD announced that Mr. Cheng would be promoted from joint general manager to sole general manager. He also serves as executive vice-chairman.
A recently published interview article on Barron's Asia highlighted the respect Mr. Cheng has gained in the industry. In the interview, Ken Siazon, Portfolio Manager from Southeastern Asset Management, explained his favorite theme he calls "generational change," meaning Asia's elderly tycoons are handing over control of family-controlled conglomerates to their younger, Western-educated relations. Mr. Siazon has NWD as one of his top holdings in his Asian Pacific Fund; below is his quote from the article:
"The founder, Cheng Yu-tung, passed away. The grandson, Adrian Cheng, has been joint general manager for the past two years and has been restructuring, selling noncore businesses like telcos at high multiples, and selling 50% of three Hong Kong hotels to the Abu Dhabi sovereign wealth fund. Last year he sold the inferior part of New World's Chinese land bank in lower-tier cities at 1.7 times book, and then used the proceeds to take the mainland property arm private at one times book. The Cheng family owns 44% of New World. When we see guys as aggressive as Cheng is taking advantage of the sum-of-the-parts discount on behalf of shareholders, that is dramatic change."
Major Catalyst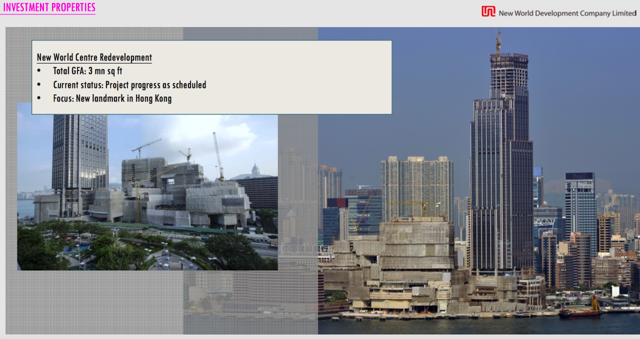 Source: Company presentations
The completion of the New World Center redevelopment project is a major catalyst not fully reflected in NWD's current valuation. The behemoth 3 million sq ft complex is located in a prime location, behind the Intercontinental Hotel across the harbor in Kowloon. The offices and hotel are close to completion (middle of 2017) while the retail mall is slated to open early 2018. The massive New World Center upon full integration is estimated to double NWD's current net rental income from HK$1.5bn to over HK$3bn. In addition, this allows NWD to increase their dividends in the near future. The current dividend yield is 4.5% and management announced recently in their 1HFY17 report that they will keep the 2017 payout the same as last year, for a payout ratio of 33%. While this news disappointed some investors, I personally respected that decision as it shows management is prudent and waiting for the New World Center completion to raise the dividend. This decision gives management some extra dry power for more property deals in Hong Kong and China in the meantime.
Valuation Still Cheap
NWD still trades at half its book value after the 70% run-up the past year. The 0.5x PB multiple is the same as NWD's 5-year average, with a high of 0.7x and a low of 0.3x book during that span. The company currently also trades at a 47% discount to NAV; the 5-year average discount is 54% with a high of 74% and low of 31%.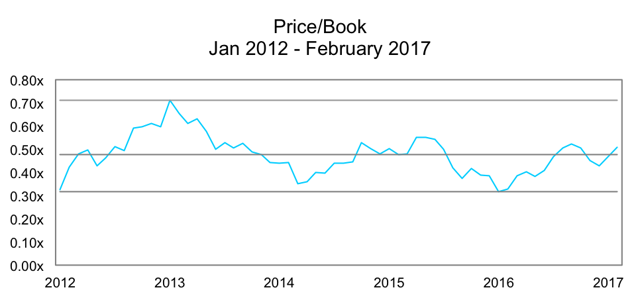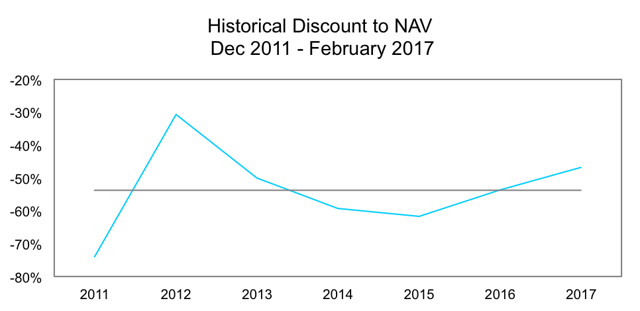 Source: CapitalIQ
Even though PB and discount to NAV numbers are not at their cheapest levels compared to history, NWD's valuation is still clearly attractive especially with the upcoming catalysts. NWD also trades at a discount to similar conglomerate Sun Hung Kai Properties (OTCPK:SUHJY) (0016.HK), which currently trades at 0.7x book and a 33% discount to NAV. The spread to me should not be this wide since NWD has better growth prospects and catalysts than their competitor.
Price Target
My 12-month price target for the company's ADR shares is $3.23, a 21% upside from the current share price of $2.67; this is before including the 4.5% annual dividend yield. This target is based on a 35% discount to 2017 consensus NAV of HK$19. I believe the discount should narrow to 35% as the market fully realizes the impact of the New World Center project. Some sell-side analysts project 2018 NAV to reach the mid 20s in Hong Kong dollars, which provides much more upside for the shares; however I have chosen to be more conservative.
The main obvious risks to this price target are a Chinese hard landing, increase in interest rates, construction delays, and lower property prices. Many pundits assume a stock like NWD will fall hard if U.S. rates are raised too quickly, and while this is certainly a possibility, I believe it's not a foregone conclusion that the reflation trade continues and the USD keeps getting stronger in the near future. Any unexpected dollar weakness will continue to help stocks such as NWD and can provide a good hedge for any investor who needs some EM exposure in their portfolio.
I believe this is a company worth holding for the long term (2-3 years at a minimum) as shareholders will potentially be rewarded for the completion of the New World Center complex while being paid a healthy 4.5% dividend (that is likely to be raised) to wait. Having a newly rejuvenated and respected leader at the helm doesn't hurt either.
Disclosure: I/we have no positions in any stocks mentioned, and no plans to initiate any positions within the next 72 hours.
I wrote this article myself, and it expresses my own opinions. I am not receiving compensation for it (other than from Seeking Alpha). I have no business relationship with any company whose stock is mentioned in this article.
Editor's Note: This article discusses one or more securities that do not trade on a major U.S. exchange. Please be aware of the risks associated with these stocks.