CSX (NYSE:CSX) is one step closer to caving to activist investor Mantel Ridge - ran by the Bill Ackman protege - and installing the railroad turnaround expert Hunter Harrison. Harrison stepped down from Canadian Pacific (NYSE:CP) earlier this with the hope of joining CSX as CEO.
CSX's CEO, Mike Ward, will retire in May. As well, CSX has announce plans to cut 1,000 jobs - roughly 20% of its workforce - suggesting it's open to aggressive cost cuts. Nonetheless, we're still on for a special meeting in March that will allow CSX shareholders to vote on the Mantle Ridge proposals. Mantle Ridge has called the meeting an unnecessary delay. Ideally, CSX is likely looking for a way to install Hunter Harrison as CEO without having to commit to a huge pay package (potentially getting more than any other rail CEO) and lengthy contract or giving up the five requested board seats (of a 13-person board) to the activist.
The big question is: is Harrison the right man for the job?
Granted, the CSX board could use an overhaul. Half of its board have served for 10 years or more. And it's gotten poor marks by corporate governance watchdogs like Institutional Shareholders Services.
Another hiccup is that the potential Harrison contract would not allow for an independent physical or access to Harrison's medical records. Harrison is 72 years old and had a bout with serious health issues in 2015, including pneumonia and leg surgery. The key-man risk, with much of the market already baking in an aggressive Harrison turnaround plan at CSX, is also being overlooked. Then we have the fact that CSX needs to boost margins, as it's a laggard compared to U.S. peers, but ballooning its compensation expense to (hopefully) make that happen makes little sense.
CSX shares, however, are already baking in Hunter Harrison's turnaround. CSX, at 26x earnings, is quite rich - the most expensive we've seen in over a decade. Meanwhile, its return on invested capital is at multi-year lows.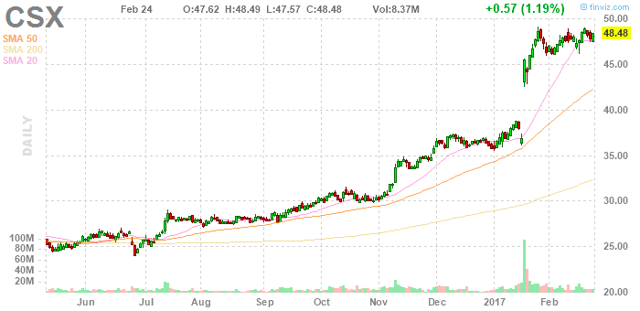 Yet, both the major Canadian rail operators, Canadian National (NYSE:CNI) and Canadian Pacific are the opposite - trading at less than 20x earnings - below where they were just last year, and their ROICs are at making new all-time highs. There are better opportunities out there for rail investors. The CSX special meeting is set for March 16th, but I'd expect the two to come to terms before then. Regardless, however, whatever shakes out might not be in shareholders' best interests.
Disclosure: I/we have no positions in any stocks mentioned, and no plans to initiate any positions within the next 72 hours.
I wrote this article myself, and it expresses my own opinions. I am not receiving compensation for it (other than from Seeking Alpha). I have no business relationship with any company whose stock is mentioned in this article.