Anyone who has been following the Herbalife (NYSE:HLF) saga over the years is probably familiar with the term "pop and drop." The company's executives previously used the term regularly to describe their sales abnormalities before discontinuing the phrase once it started to make them sound like a pyramid scheme. Bill Ackman picked up on their miscues and chronicled the phenomenon in his 2012 short thesis. Herbalife stopped providing investors country specific data years ago, with the exception of one region, China. Now, investors are seeing China sales experience the drop in "pop and drop". Previously, China was responsible for nearly all of the company's growth. That appears to be ending, and this will put significant downward pressure on the shares as sales and cash flow decline while the company still loads on more debt.
Pop and drop is a sales trend experienced by virtually every multi-level marketing company (also experienced by nearly all pyramid schemes). The degree to which sales massively increase then subsequently drop is dependent on the structure of the sales organization, schemes more focused on recruiting experience sharper pops. When a MLM enters a new market, distributors begin recruiting to build "downlines." This often results in a massive explosion in the sales force, each of which are either required to, or encouraged to, make large product purchases. Herbalife encourages distributors to reach "supervisor" level, which requires a product purchase of about $3,000. Obviously, normal consumers do not buy $3,000 worth of nutritional products at places like GNC (NYSE:GNC) or Vitamin Shoppe (NYSE:VSI), which is why those firms don't experience this issue.
New distributors recruit other distributors who then recruit other distributors. Each level of the endless chain makes a purchase. Sales increase sharply as more people are brought into the system. Then, as distributors fail to resell product or recruit enough people to make meaningful income, they quit. Most MLM companies see around half of their distributor base churn out each year. Herbalife is no different and that is exactly why China sales are beginning to drop.
China has averaged sales increases of 20% yoy for each of the past six quarters. For Q416, sales declined 12%. The only other quarter to experience a yoy decline was Q316 when sales decreased 5%. In fact, the rate of sales growth has been declining for years.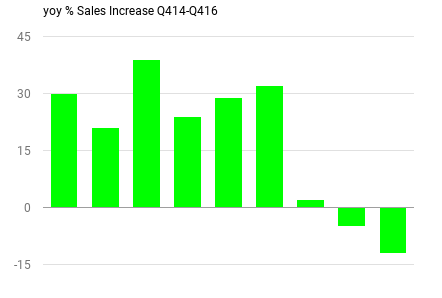 Source: HLF 10-Q
The sales decline in China accelerated in the later half of the year, and while the company still posted a yoy sales increase, it was well below that of previous years.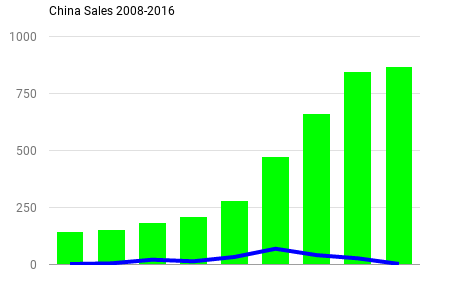 Blue line = % sales increase
Source: HLF 10-K
The legality of Herbalife's China operations are a bit dubious. Technically, MLM firms are banned from China because of their predatory behavior. Some MLMs, however, have been authorized to operate in the country after expansive lobbying efforts. Herbalife entered China in 2001 and slowly gained the necessary provisional licenses. In order to sell products, Herbalife must get regionally approved licenses, limiting the pace of the pop and drop. As of August 2016, Herbalife claimed approval to operate in 28 of China's 23 provinces (the company conflates provinces with regions, for which there are 34 in total, made up of provinces, municipalities, and autonomous regions). Either way, they are now operating in 28 of 34 regions. The remaining regions are the least dense and represent about 3% of the country's population. In other words, China is now a saturated market for Herbalife.
That lack of new growth opportunity isn't just a theory, it is materializing in Herbalife's reported metrics. The number of new distributors in China (called representatives for legal reasons) declined 30% in Q4 2016 from Q4 2015. Given how closely new distributors correlate to new sales, the 30% decline last quarter suggests a severe contraction in China sales for 2017. Perhaps that is why the company is forecasting overall sales declines of 5-9% for Q1.
Pop and drop is a vicious cycle that has been experienced by most MLMs. While Herbalife is diversified across the world in a construct that minimizes the impacts and visibility of the drops, they are clearly not immune. The company has become reliant on China as its main source of growth as South & Central America, Mexico, Asia, and nearly every region has experiences sharp decline in sales over the past few years. The ship is sinking and no matter how much Carl Icahn and the massive buybacks have slowed the process, it is inevitable that declining sales are the new normal for Herbalife. With that in mind, can investors really justify the stock trading at a premium to the S&P?
Disclosure: I/we have no positions in any stocks mentioned, and no plans to initiate any positions within the next 72 hours.
I wrote this article myself, and it expresses my own opinions. I am not receiving compensation for it (other than from Seeking Alpha). I have no business relationship with any company whose stock is mentioned in this article.