An Aramco valuation figure of $2 trillion has been bandied about in connection with an IPO of 5% being worth $100 billion. And so the argument goes that Saudi Arabia will do whatever it takes to get higher prices so that its $2 trillion valuation will be realized. Therefore, oil prices will rise to $65 or $70 per barrel.
The primary fallacy of this argument is that Aramco's valuation would only be a fraction of the $2 trillion desired valuation, even if oil prices were $70 and expected to stay at that level. It's important to understand that Saudi Aramco does not own the oil reserves. The government does. Aramco has a monopoly to produce from these reserves.
Thus, any valuation will not be based on the value of the reserve base but most likely on the discounted cash flows into the future, which depend on the profit per barrel and the quantity of oil produced. Government officials have said Aramco pays a 20% royalty and an 85% tax rate.
I performed net present value calculations with the following assumptions (per barrel):
Price = $70
Royalty = 20% = $14
Production Cost = $10
Gross Margin = $46
Tax = 85% = $39.1
Net = $6.9
Volume = 10 million b/d
Period = 70 years
Discount Rate = 10%
NPV = $ 251 billion
This valuation is only 12.5% of the $2 trillion valuation desired. An IPO of 5% would yield $12.5 billion in proceeds, not the $100 billion being floated. Furthermore, investors would have to accept the sovereign risk, which would probably require a higher discount rate, further reducing the valuation. Khalid al-Falih, the Saudi energy minister has said that the government will continue to make "sovereign decisions" regarding the company's production and investments: "(Investors) are going to have to accept it. It is part of the package."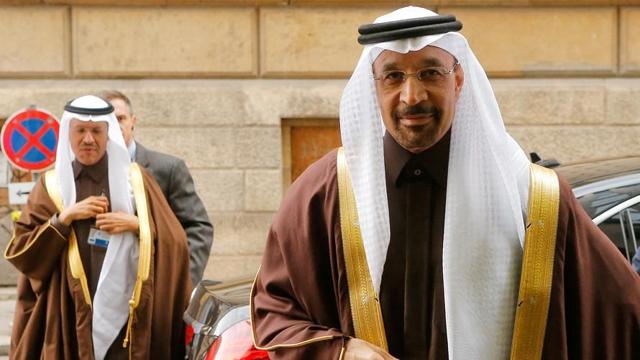 Saudi Energy Minister Al-Falih.
Talks have been under way to move the tax rate to as low as 50 percent. But royalties and taxes provide income to support much of the country's annual budget. Even so, the valuation would not get anywhere in the ballpark, as shown in these calculations under different prices and tax rates:
Aramco Valuation ($ Bil)

Oil Price ($/b)

$ 40.00

$ 50.00

$ 60.00

$ 70.00

85% Tax

$ 120

$ 164

$ 208

$ 251

50% Tax

$ 200

$ 273

$ 346

$ 419
Wood Mackenzie Ltd has reportedly made a valuation of $400 billion, which is in the ballpark of my estimate above, assuming $70 oil and a 50% tax rate.
Beyond the sovereign risk, there is the long-term risk of the price of oil. Global demand for crude oil is likely to peak long before the 70-year production capacity of the reserves. One recent study projects oil demand peaking by 2030 in two of its three scenarios.
Last week, at the London IPE Week conference, Dieter Helm, economist and Professor of Energy Policy at the University of Oxford in the U.K., argued that history suggests prices are only heading one way - down. Ed Morse, head of Citibank's global commodity group, predicted that oil prices will drop to a 1968 valuation level.
Looking back, crude oil prices were just over $30/b in 1983 when NYMEX commenced trading crude oil futures. If oil prices had just retained their purchasing power, they would have to be about $74/b today. In other words, oil prices have not kept up with inflation over time.
Oil prices do not correlate with demand over time, contrary to common belief. Global demand has increased more than 60% since 1983, but so has production. And the large consuming nations have strategic petroleum reserves on hand to counter large price spikes as occurred during the 1970s and 1980s due to shortages.
Conclusions
I have strong doubts that the Aramco IPO will be launched due to a much lower valuation it would bring. But the bankers may figure out how to carve a piece out of Aramco to offer.
However, I am not banking on the argument that oil prices have to go to $70/b because of the Aramco IPO. Saudi Arabia can see the writing on the wall for long-term oil prices, which is why they want to sell. Bankers are all but certain to see it the same way.
Disclosure: I/we have no positions in any stocks mentioned, and no plans to initiate any positions within the next 72 hours.
I wrote this article myself, and it expresses my own opinions. I am not receiving compensation for it (other than from Seeking Alpha). I have no business relationship with any company whose stock is mentioned in this article.