On the 12th of February, I wrote an article about the reasons why I was going to sell my gold miner. I sold Yamana Gold AUY shortly after. I was lucky because the stock fell 20% within a few days. The average gold miner (VanEck Vectors Gold Miners ETF GDX) lost 3.5% during the same period. Gold (SPDR Gold Shares GLD) however added roughly 2.3%.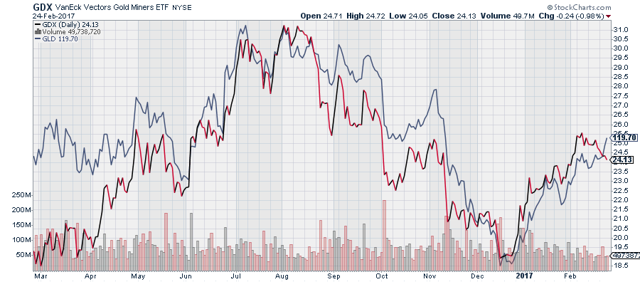 In this article, I want to share a few bullish signals with you that might be the reason for an extended gold rally. Especially after seeing that inflation keeps accelerating in combination with doubts about Trump's policies.
First of all, we see that Treasury inflation protected bonds TIP are rallying. These bonds combine two important drivers behind the gold price: bond yields and inflation. TIP bonds are currently on their way to hit 2016 peak levels. This is one of the biggest reasons to own gold.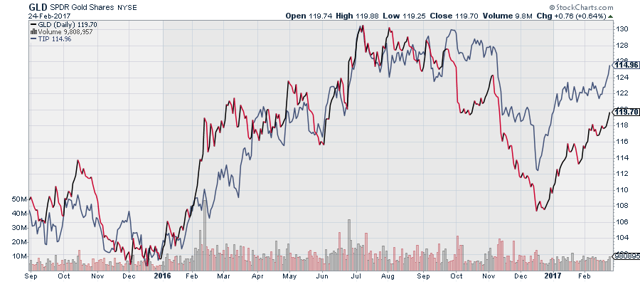 Speaking about inflation, it seems that we are witnessing the start of a new gold bull market. Gold is doing very well during times of inflation acceleration. Every period with growing inflation above the 2% mark has been a driver of gold prices.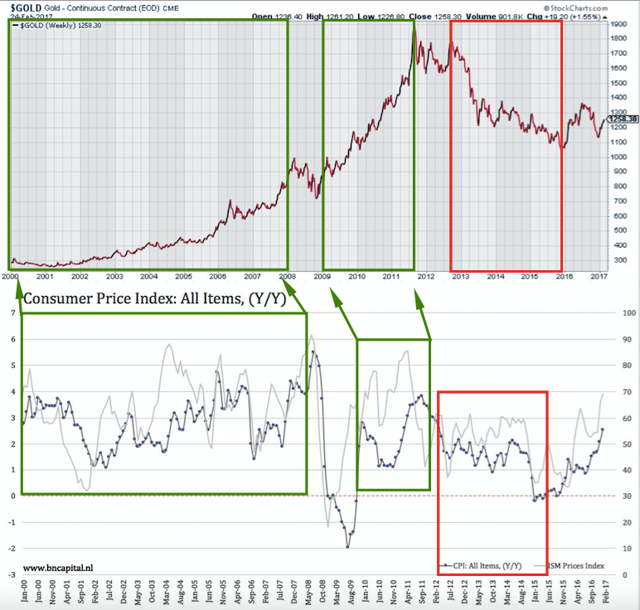 The leading inflation indicator 'ISM prices index' is currently back at 2011 levels. This should push the already 'high' consumer price index up to at least 3% in the first quarter of this year. Gold is more or less a no-brainer if these levels stay high. Note the 'IF' in my sentence. Lower inflation and a weakening economy are a killer of a bull market.
One of the reasons gold miners are underperforming could be a stronger USD. The USD is up roughly 1.5% since the start of this month. On the other side, the Japanese Yen FXY is performing well again. And the yen is a much better indicator of gold prices.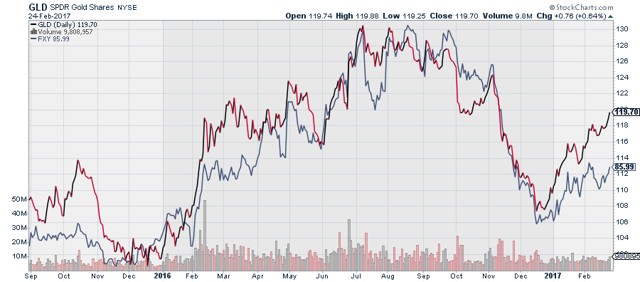 So, inflation is bullish, inflation protected government bonds are soaring and the yen is gaining territory. How are traders positioned? Are you buying into an overcrowded trade? The answer is: NO.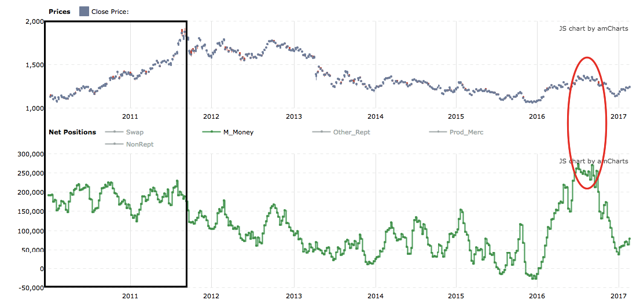 Money manager net positions are at levels that are very common during a bear market. We are still well below 2016 peak levels and even below bull market levels as we saw pre-2011.
I like the odds of a long gold trade. Especially because gold miners have underperformed gold. The biggest risk I see is a stronger USD. Although we are currently in a different situation. The correlation between the USD and commodities is historically low. Especially because of the strong economic growth in US, China and Europe. That's why inflation is staying high despite a soaring USD. I like these odds to buy a GDX position. By doing so, I am betting on further inflation acceleration and the odds that a stronger USD is not going to kill the trade. Note that I have a long bonds and USD trade in my portfolio which hedges me more or less against a bad surprise in case gold falls.
Many thanks for reading my article. Please leave a comment below if you have questions, remarks or a different opinion. You can also send me a direct message or tweet me @LeoNelissen.
Disclosure: I/we have no positions in any stocks mentioned, but may initiate a long position in GDX over the next 72 hours.
I wrote this article myself, and it expresses my own opinions. I am not receiving compensation for it (other than from Seeking Alpha). I have no business relationship with any company whose stock is mentioned in this article.