Another active week for the defense sector. Contracts rolled right in but the short week saw mostly small contracts to smaller private companies. Totals compared to last week aren't much different, besides Raytheon.
BAE continues to be impressive with their steady contract volume which many may attribute to increased spending on ships thanks to the 2017 NDAA. The overall budget and defense spending remains a main focus in Washington DC, but for now. Without further delay, let's get to it.
Significant Contracts
Raytheon got a $1 billion contract for an early warning system for the nation of Qatar that will be integrated into their air and missile defense enterprise. As I've said multiple times, missile defense and deterrence is going to be big business and there is little doubt that Raytheon is a market leader, but Lockheed is nipping aggressively at their heels.
Raytheon was also the recipient of a $45 million contract from the DoD, and more specifically the Special Operation Command, for their Silent Knight system. The system, mounted on helicopters, is a terrain following/terrain avoidance technology that allows helicopters to fly at incredibly low altitudes in any weather for inserts and extracts of special operations teams. I have a feeling this sort of TF/TA technology was used to insert Seal Team Six into Abbotobad to kill bin Laden years ago.
Jacobs Technologies (NYSE:JEC), a $6.7 billion market cap consulting firm, was awarded a $771 million contract to provide enterprise operations and maintenance support for the US Special Operations Command. This was awarded on Friday so any impact on the market is yet unknown, but it might be interesting to see how this opens Monday morning.
Wolverine Worldwide (NYSE:WWW) got an $18 million award for temperate weather combat boots. The contract itself isn't very significant but a trend has been developing and I've noticed a lot of contracts for boots and military clothing. This likely has something to do with the overall numbers of the military being increased from the 2017 NDAA.
Weekly Performance
A mostly flat week is how one could describe what the defense sector saw, but three companies were stand-outs.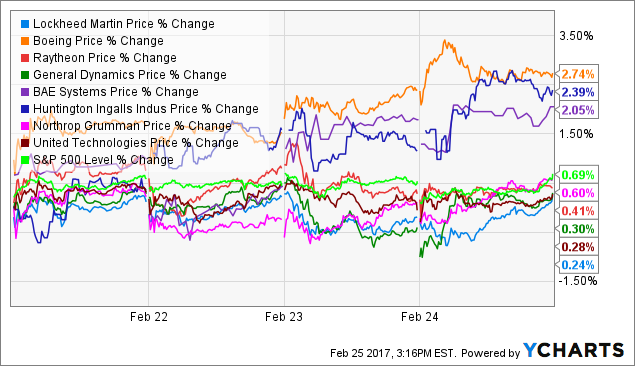 Boeing has been enjoying a wonderful 2017, and this week they grew another 2.74%. There are many reasons for this growth in Boeing, but the defense portion of their business has been driving the share price recently. BAE Systems and Huntington Ingalls also had great weeks. The rest, in a rare display of "weakness," was beaten by the S&P 500 but all traded in a pretty tight range. Investors seem to be waiting to see how the Trump administration will be spending money and if they can make good on their promises of increased defense spending.
Is There A Good Deal?
It has been a while since I took a look at the valuations of the companies I track so with things at "all time highs" it may be worthwhile.
| | | | | | |
| --- | --- | --- | --- | --- | --- |
| Company | P/E | 10 yr Avg P/E | Yield | Price | Fair Price |
| LMT | 21.4 | 13.8 | 2.7% | $266.00 | $170.25 |
| BA | 23.5 | 17.7 | 3.2% | $177.44 | $128.11 |
| RTN | 20.7 | 13.0 | 1.9% | $153.48 | $96.68 |
| GD | 19.2 | 13.0 | 1.6% | $189.63 | $128.80 |
| BAE | 15.0 | 10.7 | 2.8% | $30.83 | $21.70 |
| HII | 18.0 | 14.6 | 1.1% | $216.98 | $166.10 |
| NOC | 20.2 | 12.7 | 1.5% | $245.05 | $155.06 |
| UTX | 17.0 | 16.2 | 2.3% | $112.46 | $106.38 |
All the information was taken from FAST Graphs and reflects where shares were at their Friday close.
Before we get wrapped around what the current P/E is, it is important to note that the S&P 500 is trading at 24.8 times earnings and is yielding right at 2%. To avoid climbing down rabbit hole, that is all I'll say.
Looking at the companies from a strict valuation standpoint BAE Systems is the clear winner, and it even presents a nice yield. United Tech trades closest to its ten year average, but investors need to remember that Pratt and Whitney is what got UTX into this basket of companies and there is a lot to the business beyond that. From a yield standpoint Boeing wins big and their 5 year growth rate of 22% is another impressive metric for consideration.
This is where we have to keep in mind the history of these companies and the narrative of today. There has been some consolidation in the last decade, such as Lockheed acquiring Sikorsky. Anything that has been changed that is accretive to earnings will skew what the historic P/E ratio means for us today. The sequestration that hit in 2013 also had a role in the earnings of these companies as well. The narrative of the defense sector changed rapidly and share prices have finally seemed to have caught up; this is rare, typically the price drives the narrative but we had shift in the tectonic plates of government in November. If the story plays out as many think, then the defense sector has room to run, especially with NATO coming on board with increased spending. You know what they say about a rising tide.
So what are investors to do today with little margin of safety built in? Personally, I've been hunting down smaller names to see if the market has left them behind. I recently took a small position in Mikros (OTCQB:MKRS), and am looking at DroneShield (OTC:DRSHF) as another way to get defense exposure. Other options such as Kratos (NASDAQ:KTOS) remain on my radar. It is also fun dredging through contracts and big projects to see where smaller companies play a role. Textron (NYSE:TXT) has been in a sort of range lately and I really like the V-22 potential. But I'm constantly reminding myself that the eight names above are strong well-run companies that provide an absolutely essential product to a very steady end-market.
For somebody with a lot of time to just sit on the shares it is unlikely you would look back twenty years from now and kick yourself for buying some shares, it just depends on the investor and their needs. For my money I'm happy to mostly sit on it and wait for the time being. Having time on your side means you can be patient, too.
In Other News
Iraqi forces are working into the west part of Mosul but are being hamstrung by Daesh's (I'm using "Daesh" now because they don't like being called that apparently) uses of drones.
Iraq has also began to strike Daesh inside Syria to prevent cross-border attacks.
China continues to push back against the deployment of THAAD to South Korea. I'm confused why they're so mad about a defensive capability being deployed.
Everybody in NATO seems to be eager to spend their required 2% of GDP on their defense.
On Seeking Alpha
The Dividend Guy puts Lockheed and Raytheon through his Four Points test and Lockheed comes out on top.
Max Janik is bullish on CACI International (NYSE:CACI) and lays it all out.
The Coming Week
After a week of mostly flat trading, the sector seems to need an injection of new hope to get going again. March is when the administration is due to shed some more light on supplementary defense spending, and of course a budget needs to get passed for fiscal year 18. So far the Trump Administration seems to follow through on what it says, which is taking a lot of people by surprise. It also turns out that he can't be taken figuratively. That being said, I am expecting an announcement soon on increased defense spending which may, or may not, drive shares higher.
I appreciate you reading, please leave your thoughts and questions in the comments. If you don't already follow me and would like to receive the (mostly) weekly updates on this sector along with my other posts, please hit "follow."
Disclosure: I am/we are long RTN, BAESY, MKRS.
I wrote this article myself, and it expresses my own opinions. I am not receiving compensation for it (other than from Seeking Alpha). I have no business relationship with any company whose stock is mentioned in this article.
Editor's Note: This article covers one or more stocks trading at less than $1 per share and/or with less than a $100 million market cap. Please be aware of the risks associated with these stocks.