I've been critical of Red Robin (NASDAQ:RRGB) in the past as I've felt the stock has long priced in growth plans that would never come to fruition. In fact, RRGB has struggled somewhat in the past couple of years to do much of anything and that has led to my bearish stance on it, which I reiterated after the Q3 report. The stock is down about six dollars since then so a sizable pullback and consolidation has certainly occurred in the past few months. But is that enough for Red Robin to finally seem cheap? At 17 times this year's earnings following the Q4 report, it certainly doesn't look as egregious as it once did. But at the same time, given the challenges ahead, I'm not so sure it is cheap enough yet.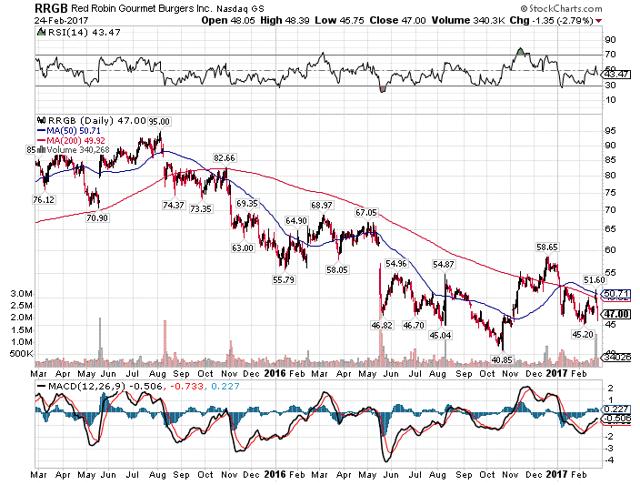 Total sales were up almost 2% in Q4 as Red Robin continues to open new stores. Red Robin is fairly mature but is going to continue to add footprint for the foreseeable future and it is doing so at a sizable clip. The problem is that new stores are the only source of revenue growth and then some, as its comps continue to be terrible.
Red Robin's comp number came in at -4.3% in Q4, which is even worse than the rest of what was a very weak 2016. This has been the main driver of my bearishness for Red Robin and instead of improving in Q4, it saw further deterioration. What's worse is that the decline was comprised of a 2.9% loss of traffic and a 1.4% decline in average ticket. RRGB has, in the past, been masterful at boosting average ticket by selling premium burgers and/or drinks from its wide array of offerings. It seems, however, that gravy train has left the station and with perpetually weak traffic, there is nothing left to pick up the slack. The loss of momentum in the average ticket space is alarming and if I were long, I'd be very concerned. Red Robin's comp number for Q4 was an absolute disaster; there's really no other way to put it.
That is a problem not only for revenue, but for margins as well, as Red Robin's unit margins fell 290bps in Q4. The decline was mostly (190bps) due to higher labor costs but operating costs (160bps) and occupancy (30bps) also contributed, offset only by a modest 90bps gain in cost of sales. Lower cost of sales is the industry standard these days as restaurants have found themselves buoyed by lower commodity costs, particularly beef. That's great and it helped Red Robin limit the damage to margins in Q4 but its drastically lower comp sales are exacerbating what likely wouldn't be all that bad in terms of deleveraging of costs. We all know higher labor costs are here to stay for restaurants and retailers but when a company is producing -4% comps, those costs are going to add up much more quickly. Red Robin's comp sales problems are huge because it not only limits revenue growth, but it is crushing margins and there is no way out right now without drastic improvement in comp sales.
Management guided for a whopping 50bps to 150bps in comp sales gains for 2017 after a very tough 2016. While I'm being facetious about the magnitude of the rebound, at least there is some respite in sight. Keep in mind that Red Robin's comps declined at better than twice the rate of the highest end of that guidance in 2016 so there is no return to the promised land forecast; management is just looking for a bump. That would still put comps well below 2016 levels until at least 2018 and that has all the negative impacts we just talked about. Some moderate cost benefits are expected but given the highly inflationary labor environment, I'm skeptical Red Robin will be able to make much progress on margins either. I'm not saying there is no cause for optimism, but a quick rebound simply isn't in the cards.
Management must believe in the stock because it reduced the diluted share count by roughly 8% Y/Y, a very strong showing indeed. There's still some money left on the current authorization so obviously, share repurchases are going to continue. The remaining funds would be good for right at 8% of the float if management uses all of it this year, so chances are good we'll see a sizable boost in EPS from that. But is it enough?
Analysts have brought estimates way down in the past few months as RRGB has continued to struggle. I was pretty confident after the weak Q3 report estimates were too high but now, with the lowered levels we see, I'm not as confident. Sentiment is weak and that is needed for a stock to hit bottom. I don't know that Red Robin has seen its bottom yet - particularly given weak guidance - but it is closer than it was last time I visited the stock.
The thing is that at 17 times earnings, it isn't priced like a company that is going to produce a lower level of earnings this year than last year despite a huge buyback. Red Robin still has lots of problems and another issue is that next year's estimates already have high-teens growth built in. Where is this optimism coming from? I have no idea why analysts would think Red Robin will magically figure out traffic that has been weak for many quarters and average ticket growth that has gone negative. These are serious problems and with higher labor/operating costs exacerbating those problems, I can't see 17 times earnings. Thus, despite the stock trading near its lows, I'm still on the sidelines because I see lots more downside risk here than upside catalysts; the stock is still too expensive.
Disclosure: I/we have no positions in any stocks mentioned, and no plans to initiate any positions within the next 72 hours.
I wrote this article myself, and it expresses my own opinions. I am not receiving compensation for it (other than from Seeking Alpha). I have no business relationship with any company whose stock is mentioned in this article.