In my very first article on Seeking Alpha, I made a buy pitch for Habit Restaurants (NASDAQ:HABT) and a short pitch for Shake Shack (NYSE:SHAK). The Shake Shack pitch has played out fairly well, with the stock down almost 50% during that time.
My buy recommendation for Habit is another story. Its stock is down more than 50% since I recommended it. It's for that reason, that I thought it was well past time to reexamine my bull thesis to see if anything still holds true, and see what needs to be revised. But I also thought it would be fun to ask: "Will Habit ever be worth $1 billion?"
Original Bull Thesis
My original bull thesis was simple. Here it is in a bullet point nutshell:
Habit was profitable,
Restaurant count was increasing without taking on debt,
Which maintained a very healthy balance sheet.
The chain is consistently increasing comparable sales,
And, even without the aforementioned growth, Habit was trading at a discount compared to its peers.
All these factors - and the numbers associated - led me to believe that the chain would have a market cap greater than $1.5 billion by 2019. This translated to a share price of close to $80/share. That's a six-bagger from today's price, so it deserves a new look.
Habit's Profitability
Habit is still profitable. Last quarter, revenue increased 22.6% year over year and $0.8 million made it to the bottom line. That's somewhat rare for a young company like Habit growing units at 16% annual clip. But more impressive is the company's $1.9 million average unit volumes. This is higher than other players, such as Jack in the Box's (NASDAQ:JACK) AUV at around $1.4 million, and Wendy's (NYSE:WEN) AUV at $1.6 million.
However, when it comes to profitability, another author on Seeking Alpha is concerned with Habit's operating profit margin below 4%. He argues that the company should be seeing increasing margins thanks to an ever-enlarging footprint. It's a fair point and worth asking, why is Habit not more profitable?
Last quarter, labor costs increased 180 basis points over the same period last year. This is because 142 out of 184 locations - 77% - are located in California. California's minimum wage is increasing $1 per year until $15/hour. Add in mandates under the Affordable Care Act, and labor costs are going to continue to increase for Habit. However, this challenge isn't unique to this company. The entire industry is exposed to this.
What is unique for Habit is that last quarter general and administrative costs climbed 21.7% year over year. Theoretically, you'd expect these costs to at least stay the same, and consequently become a lower percentage of overall revenue as the company gains scale. So why hasn't Habit experienced the benefits of scaling its business?
I believe these costs can be attributed to the fact that Habit has a relative small footprint overall (under 200 locations) and yet it's entering new markets. Specifically, this year the company entered the greater Washington D.C. area. It also expanded in its relatively new and small New Jersey and Florida markets. These markets aren't as cost efficient as opening locations in existing markets initially, but with time they too can gain operating leverage.
As an investor, I personally accept suppressed operating margins now in the short term, if it means growing the business by entering new markets. If the company is truly going to position itself as a major chain in the United States, it must choose to move into new markets.
The Cost of Habit's Growth
Habit Restaurants IPO'd in November of 2014 with right at 100 locations. Since then, the company has largely grown revenue by expanding its unit base to over 180 locations today.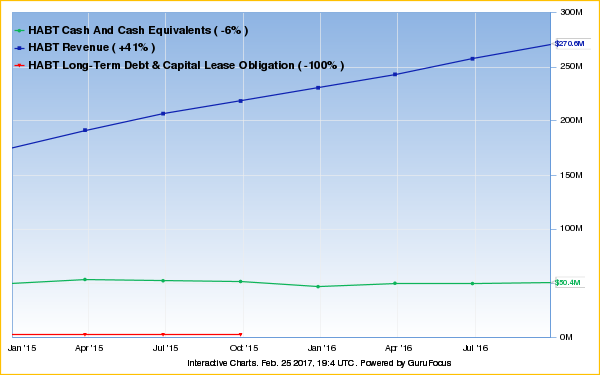 What's great about this double-digit growth rate, is that Habit has done so primarily with its cash flow. Its balance sheet remains largely unchanged since the company came public.
This stands in stark contrast to companies like Zoe's (NYSE:ZOES). Zoe's has also experienced double-digit growth, but is cash flow negative.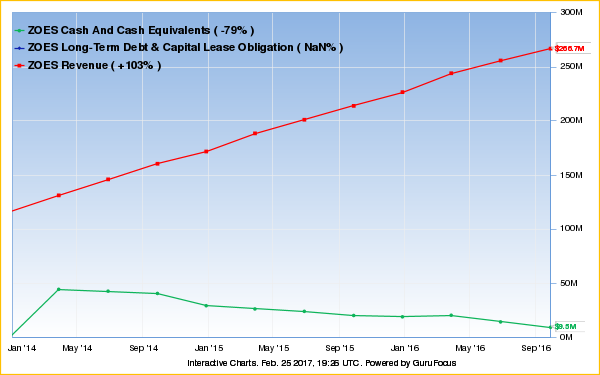 By growing primarily through cash flow, Habit leaves little doubt that it can and will continue its rapid growth rate at least for the medium term (2-3 years). For 2017, the company is projecting 31-33 new units - this translates to between 16%-18% red-hot unit growth. This will also push the company over 200 total units.
Assuming for at least another 30 units in 2018, Habit could be very close to having 250 total locations. At that point, the company would still have an enormous runway ahead of it. It would only be 13% into its long-term growth goal of 2,000 units.
Let's play devil's advocate and assume the company has vastly overestimated its long-term potential, and there's actually only a market for 1,000 units. If the company has 250 units at the end of 2018, it could still grow units at a 10% annual pace for 14 more years. So even with this gross misjudgment of long-term potential, the growth opportunity is still solid.
Comparable Sales
At the time of my first article, I was impressed with this company's streak of 43 consecutive quarters of same-store sales growth. No matter how you cut it, that's an impressive streak not many restaurant chains can duplicate, and was a strong indicator to me that this restaurant concept was popular enough to warrant its rapid expansion, and lofty long-term unit goals.
That impressive streak continues unbroken today - now up to 51 consecutive quarters. Yet, one must concede that there is a troubling trend even with this positive statistic. Restaurant transactions are decreasing. In the most recent quarter, transactions decreased 2.4%. This was actually the fourth consecutive quarter of fewer transactions, having fallen 0.3%, 2.6%, and 0.2% in the last three quarters respectively.
That means that higher priced transactions are keeping the company same-store sales positive for the last year. Really, traffic is the way one would like to see these positive comps happen. A bearish perspective interprets this data and says Habit is only keeping its same-store sales story alive by raising prices. Raising prices is an unsustainable way to grow long term. That, of course, is true.
But keep in mind that this is a difficult time in the restaurant industry overall. According to the NPD Group, the entire restaurant industry experienced lower traffic in 2016. If growing comp sales was just as easy as raising menu prices, then all restaurant chains would have done that and remained same-store sales positive. That of course didn't happen. Habit should still be applauded for finding a way to keep its streak alive in a tough environment.
I'm betting on Habit's traffic eventually picking back up as the present restaurant slowdown turns around.
Habit's Valuation
This is an area of my original thesis that I believe definitely needs revising. Back in 2015, the market was valuing restaurants at a much higher premium than it is today. Specifically, back then, it seemed reasonable to me for Habit to be valued at 4x sales. That no longer looks realistic when looking at current restaurant valuations.
To see if Habit is trading at a discount compared to its burger peers, there are several ways we can look at it, and no one metric holds the complete picture. So let's look at three: price/sales, forward price/earnings, and price/free cash flow.
| | | | |
| --- | --- | --- | --- |
| Company | Price/Sales | Forward Price/Earnings | Price/TTM Free Cash Flow |
| McDonald's | 4.3 | 19 | 23 |
| Wendy's | 2.3 | 24 | 79 |
| Restaurant Brands International | 3.1 | 23 | 21 |
| Sonic | 1.9 | 18 | 22 |
| Jack in the Box | 1.9 | 17 | 85 |
| Shake Shack | 3.7 | 65 | 129 |
| Red Robin | 0.5 | 14 | n/a |
| Average | 2.5 | 26 | 60 |
*Metrics derived from Yahoo! Finance and GuruFocus.com
It's here that I'll briefly discuss another problem with my previous bull thesis. In valuing Habit Restaurants, I was valuing the company based on 19 million shares. However, that only accounts for the Class A shares that are publicly traded. There are Class B shares that should be accounted for taking Habit's total share count up to around 26 million. Currently, that new share count number gives Habit a market cap around $345 million. This greatly impacted my understanding of what the actual market cap was originally, and therefore a good target price/share. For that reason, my $80/share target was clearly ridiculous and should be disregarded.
In the same three metrics as shown above, Habit Restaurants trades at 1.3x sales, 45x forward earnings, and 192x TTM free cash flow. Many look at the forward earnings and free cash flow and conclude that this stock is grossly overpriced. Others look at the sales metric and sniff a screaming value opportunity. Which is it?
Looking at the above companies, not all these chains are fair apple-to-apple comparisons. These chains are primarily franchised, with the exception of Shake Shack being company owned. In that respect, Habit is a better comparison to Shake Shack, as Habit is also primarily company owned.
For the companies that primarily franchise, growth is pretty cheap. They aren't dumping a ton of cash into the pre-opening costs. That's deferred to the franchisee. Management is also cheaper. Naturally, these franchise model chains are going to look better from an earnings and free cash flow perspective. They aren't using much cash to keep growing the top line.
Arguably, company-owned restaurant sales are more valuable than franchised sales. This is reflected in Shake Shack's valuation of 3.7 times sales. Yet Habit trades just slightly above sales. In that regard, Habit does look undervalued. Looking at the above numbers, I don't think it would be unrealistic for the chain to enjoy 2.5 times sales valuation. That's a significant drop from my previous thought of 4 times sales, but a very significant increase from today's valuation.
Imagine with me a moment that Habit decided not to open any new locations next year. Right now each new location costs $85,000-$90,000 in pre-opening costs. By not opening up 31-33 new locations, that would save the company $2.6 million-$3 million. Considering the company is expected to bring in only around $9 million net income next year, that savings would significantly boost the bottom line.
Of course, this isn't a perfect theoretical estimate, as there would also be 31-33 fewer restaurants bringing in revenue. But I think it does illustrate that valuing this company by earnings or free cash flow, at this point in the Habit growth story, is a complicated affair. Basically you have to ask if you want earnings now or later. The company is choosing to use its cash to open new locations to have more earnings later. For that reason, I believe valuing this company by its sales metric is more helpful.
The Billion Dollar Question
Having looked at my original thesis, it seems mostly still intact with a couple of adjustments. Now we now come to the question: "Will Habit Restaurants ever be worth $1 billion?" To answer that question, let's assume that average unit volumes stay flat and the company is able to grow to 250 units by early 2019 using just cash flow. From what we've seen in my bull argument, these are reasonable assumptions.
Since the average unit volume right now $1.9 million, 250 units would produce $475 million in revenue annually. If the stock were to trade at just 2.1 times sales - less than what I think it deserves - that would give the stock a market cap of $1 billion.
So yes, there is a clear path to Habit Restaurants earning a $1 billion valuation. That's a potential triple in stock price in around two years time.
Think I should have used the enterprise value to EBITDA metric in my analysis? It's definitely a good metric, and one another author on Seeking Alpha has already covered recently. Be sure to check it out. But here's a little spoiler: it also points to Habit being significant undervalued.
Disclosure: I am/we are long HABT.
I wrote this article myself, and it expresses my own opinions. I am not receiving compensation for it (other than from Seeking Alpha). I have no business relationship with any company whose stock is mentioned in this article.