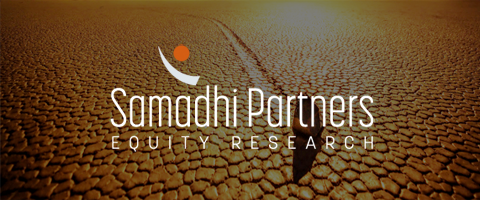 AMD releases Ryzen
On Feb. 22, 2017, Advanced Micro Devices (NASDAQ:AMD) announced the global launch of its highly anticipated Ryzen 7 desktop processors after four years of development. The lineup includes three CPUs, each with eight cores:
| | | | | | | | | | | | | |
| --- | --- | --- | --- | --- | --- | --- | --- | --- | --- | --- | --- | --- |
| Product Line | | Model | | Base Clock (GHz) | | Boost Clock (GHz) | | TDP (Watts) | | Included Cooler | | Suggested Price, SEP (USD) |
| Ryzen 7 | | 1800X | | 3.6 | | 4.0 | | 95 | | N/A | | $499 |
| Ryzen 7 | | 1700X | | 3.4 | | 3.8 | | 95 | | N/A | | $399 |
| Ryzen 7 | | 1700 | | 3.0 | | 3.7 | | 65 | | Wraith Spire | | $329 |
Source: ir.amd.com
The Ryzen 7 1800x - the highest powered and most expensive new offering - is $600 cheaper than the comparable i7-6900k CPU from rival Intel (NASDAQ:INTC). Initial shipments, which will begin on March 2, are poised to eclipse one million units.
Bottom Line: AMD delivered a blow to Intel, to the delight of PC enthusiasts and AMD shareholders alike, and seems poised to continue its phenomenal run. Could an AMD-INTC deal finally materialize? Note: AMD is a Revival in the Samadhi Capital Client Portfolios.
Inovalon 4Q earnings
Inovalon (NASDAQ:INOV) released its 4Q FY16 earnings on Feb. 22, 2017, exceeding expectations on both the top and bottom lines. Revenues for the quarter were $96.1M and $427.6M for the year. EPS was $0.00 (net income of $0.7M) for the quarter and $0.34 for the year. INOV's performance and return-to-growth guidance confirms our positive outlook, both in terms of the company's standalone value and as a compelling acquisition target. INOV shares traded +3.6% on Thursday.
Bottom Line: INOV finally put its rocky 4Q behind it, finishing off strong with top- and bottom-line beats in addition to encouraging guidance. We are still high on INOV's business model and reiterate the company's ranking as our #1 tech M&A pick for 2017. Note: INOV is a member of the Samadhi Capital Client Portfolios as a Sprout, reserved for companies we believe have significant growth potential.
MobileIron creates new IoT division
MobileIron (NASDAQ:MOBL) announced on Feb. 22, 2017 its formation of a new IoT (Internet of Things) division, and hopes to launch its first product later this year. MOBL's software and cybersecurity strengths make an IoT push a logical, and likely fruitful, next step. We recently ranked MOBL as our #3 tech M&A target for 2017 (which can be viewed here), and this news reinforces our confidence in that assessment.
Bottom Line: The "credibility" behind this move is the hiring of Santhosh Nair (formerly of Wind River, an Intel Company) as VP of its new IoT division. We like the move and the experience Mr. Nair brings to the equation. Note: MOBL is a Target in the Samadhi Capital Client Portfolios, a category reserved for companies we believe are prime acquisition candidates.
Nokia Debt Buyback
Nokia (NYSE:NOK) announced on Feb. 22, 2017 that it commenced tender offers to repurchase up to $1B in debt. Applicable securities include:
6.75% notes due February 4, 2019 (€500M principal outstanding, equivalent to ~$504B as of NOK's Feb. 2, 2017 FY16 filing date);
6.50% debentures due January 15, 2018 ($300M principal outstanding); and
6.45% debentures due March 15, 2019 ($1,360M principal outstanding).
The latter two were initially issued by Lucent Technologies, before it merged with Alcatel and was eventually acquired by NOK. As of NOK's 4Q FY16 filing, the company had approximately €4B ($4.3B) worth of debt compared to €9.3M ($10.0B) in cash and equivalents.
Bottom Line: NOK is taking advantage of its strong cash position to reduce its debt by nearly 25%, a move we view favorably. Note: NOK is a member of the Samadhi 16, our high-conviction category, in the Samadhi Capital Client Portfolios.
Google Matures into the G Suite; receives a credit-rating boost
Alphabet's (NASDAQ:GOOG) (NASDAQ:GOOGL) Google has quietly informed users of its intention to discontinue its site search function, a purchasable widget that allows site visitors to search within a given website using the same algorithms GOOG uses for its main search engine. The tool will stay in effect for the next few months to honor existing contracts, but the selling of new licenses for the product will end on April 1.
Google additionally appears to be launching a new version of its Fiber program in Seattle. We also like Standard & Poor's recent credit upgrade for Google parent Alphabet, up to AA+, announced on Feb. 22, 2017. Cheaper cash is always good cash, and the only higher rating is AAA, held by just Microsoft (NASDAQ:MSFT) and Johnson & Johnson (NYSE:JNJ).
Bottom Line: Google's retirement of its search function is as much about the maturation of Google's emerging G Suite of products as anything else. G Suite, the for-fee, cloud-based enterprise app suite (that replaced Google Apps) that is increasingly being leveraged as a Microsoft Office competitor, highlights a shift towards monetized software-based services. It's not so good for Google Search users, but we like the shift in focus towards more profitable service offerings. S&P's rating upgrade confirms our opinion that GOOG has one of the stickiest competitive advantages in tech and is a compelling long-term play. Note: GOOG is a member of the Samadhi Capital Client Portfolios as a Samadhi 16, our high-conviction category.
Amazon matches Wal-Mart's free-shipping minimum
Following Wal-Mart's (NYSE:WMT) strong 4Q FY16 earnings results, including +31% y/y e-commerce growth, Amazon (NASDAQ:AMZN) lowered its free-shipping threshold to $35 from $49. While obviously not a positive for AMZN, this news does little to change our long-term thesis.
Bottom Line: AMZN's adjustment does not strike us as a needle-moving event in its retail operations and has no impact on its cash-cow AWS business. Note: We reiterate our long position in AMZN, which is a member of the Samadhi 4, our highest-conviction category, in the Samadhi Capital Client Portfolios.
Xilinx Unveils 5G Architectural Breakthrough
Xilinx, Inc. (NASDAQ:XLNX) has announced it is embedding RF-class analog technology into its 16nm All Programmable MPSoCs, a move that will benefit 5G wireless deployments. The company believes this move, and the elimination of discrete data converters, should provide a "50-75% power and footprint reduction for massive-MIMO and millimeter wave wireless backhaul applications." In laymen's terms, they will be smaller, faster, and cheaper for cellular base station deployments and are poised for potential share take from purely analog RF chips by consolidating both the analog and digital processing functions in a single FPGA chip.
Bottom Line: Mass commercial deployment of 5G is still measured in years away, not months. However, this move reaffirms the steady progress that is being made on the underlying technology infrastructure necessary to make it happen. It also reinforces our position that it can continue to maintain a strong competitive edge with technological use of its growing variety of "combo" FPGAs to take share in markets and individual use cases that have traditionally remained outside the reach of FPGAs. While this won't necessarily move the needle itself, it supports our long thesis on XLNX. Separately, this week, Nokia and Intel announced they are launching a tech acceleration lab to help bring development of 5G innovations to market. Note: Xilinx is a member of the Samadhi 16, our high-conviction category, in the Samadhi Capital Client Portfolios.
Disclosure: I am/we are long AMD, INOV, NOK, GOOG, AMZN, MSFT, XLNX.
I wrote this article myself, and it expresses my own opinions. I am not receiving compensation for it. I have no business relationship with any company whose stock is mentioned in this article.