Bottom Line Up Front:
While Fly Leasing (NYSE:FLY) may be a great value, past performance issues lead me to believe some price protection and income may be more appropriate. Therefore, I suggest selling covered calls with out-of-the-money strike(s) against a long position.
Methodology:
In my own trading, I'm looking for a combination of value and income opportunities. While my trades typically end up short term, I'm not opposed to longer term, even indefinite anticipated holding periods. As such, value, dividends, and option selling opportunities are what I look for.
My analysis covers my best possible assessment of what the business is currently worth and dividing that number by the number of outstanding shares.
Analysis:
It has been some time since I read Benjamin Graham's Intelligent Investor. However, if memory serves, Fly Leasing may be a textbook case of the kind of share a Graham disciple would seek: Trading below book and making money. Perceived Graham approval aside, with an average price of $12.62 (as of the submission this article) over the life of the company (see spreadsheet below), I'm somewhat concerned FLY will never overcome the past, underwhelming performance.
A recent Seeking Alpha article mentions meaningful transformation at the company - maybe such transformation will result in performance improvement in time. Analyst estimates cited at MarketWatch.com suggest an annual target price of $17.25, almost an increase of 20% above current pricing.
My own analysis of the most recent balance sheet would suggest a book value of $17.17.
A review of historic tangible book value per share relative to historic prices shows that, for the majority of FLY's existence, the price has not performed as well as the reported value of assets.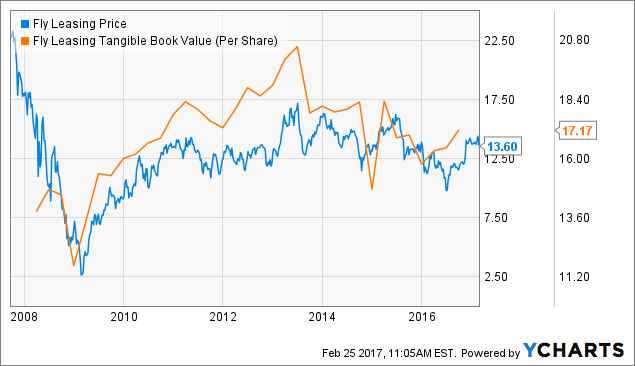 Mid- to Long-Term Outlook
Given the prolonged movements in the $10-15 range, regardless of the reported balance sheet, I'm very guarded in projections outside of $15 over the next year.
Beyond the 1-year range, my projections remain the same. In the absence of a resumption of dividends or larger buybacks than those already underway, I'm reluctant to predict market valuation above $15/share. As for the downside, in the absence of management fraud, I don't see prices much below $10.
Action
However, I am somewhat bullish on it, like the value, and believe it could make an ideal covered call play.
A trade which included a write of a May 2017 call with a $15 strike increases the difference between price and (adjusted) book to over 20%. Additionally, even if FLY suddenly - pun intended - took off and the call was exercised, the return would amount to over 10% for the life of the trade.
If, however, FLY continued its consistent, underwhelming performance, one could probably do the same sort of write over again, keeping an underwhelming, good valued asset while making up for no dividend.
Disclosure: I/we have no positions in any stocks mentioned, and no plans to initiate any positions within the next 72 hours.
I wrote this article myself, and it expresses my own opinions. I am not receiving compensation for it (other than from Seeking Alpha). I have no business relationship with any company whose stock is mentioned in this article.