The release of Ryzen, Advanced Micro Devices' (NASDAQ:AMD) next generation computer processor, is fast approaching. At the end of this week, on March 2, Ryzen 7 processors will sell for between $329 to $499. The product pricing vastly changes the game for AMD's competitive positioning against Intel (NASDAQ:INTC). At the very least, AMD will start making a profit from Ryzen sales. In the best case scenario, it will take market share away from Intel's as early as the end of this year.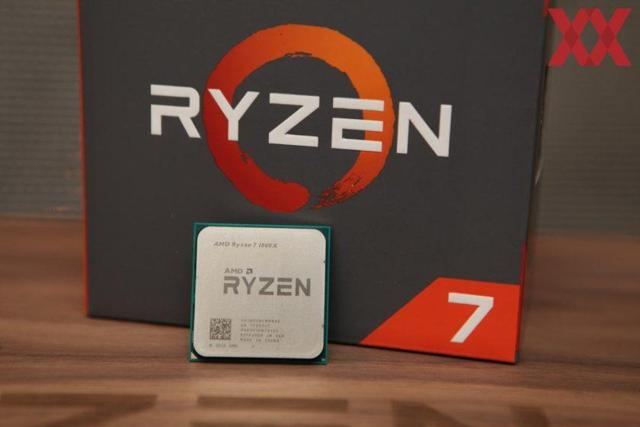 Above: Ryzen 7 from wfcftech
Intel Underwhelms
Intel's Kaby Lake release at the beginning of the year vastly underwhelmed the market. The semiconductor giant tried to exaggerate the CPU's performance by comparing it to chips sold five years ago. Ryzen promises more: the CPU will run 10 percent faster than Intel's flagship 6900K and will cost $500 less. Without the price cut, Ryzen costs $600 less despite also having 8 cores and 16 threads.
Amazon.com discounts Intel's i7 chip:

AMD may still disappoint enthusiasts
Until the major tech sites like anandtech, [H]ardOCP, or Extremetech release benchmarks through official, not leaked testing, AMD may still disappoint its fan base, and therefore, shareholders. The stock is up six-fold in the last year, so the company does not have room to disappoint. PC enthusiasts will judge Ryzen not only on pure clock speed x core count, but on pricing, heat output, and stability. AMD pre-shipped Ryzen to its OEM partners to certify the chip for motherboard designers. Still, expect at least a few minor glitches or fixable bugs when Ryzen is released to the public.
Those with a good memory will remember AMD's Bulldozer was significantly worse in performance than promised. The problems led to executives leaving the company in 2011. Fortunately, CEO Lisa Su's chip preview earlier this year suggests Ryzen is as good as the hype that is being generated in the PC community. The market needs a strong competitor to push Intel to offer CPUs at lower prices.
Ryzen to disrupt Intel's i3 and i5 lineup
Even if Ryzen's performance is half that suggested by the leaks, AMD has a product that will disrupt Intel's i3 and i5 CPUs. Intel has another one or two quarters of high profit margin in mobile, since Ryzen mobile chips will be released next quarter. At present, the speed performance for Intel's i3 and i5 chips hardly changed while pricing crept higher. Intel's only competitive budget i3 processor is still expensive. As Ryzen sales pick up over time, Intel will very likely slash prices by somewhere between 20%-35%.
Market share gain expectations
Over the next 3-5 years, expect AMD getting back up to 20 percent of the PC market share. Between Q1 2006-Q1 2017, Intel's market share grew 30%: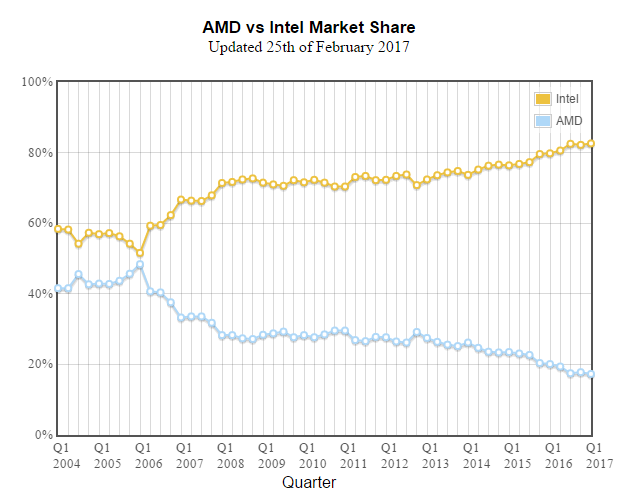 Source: CPU Benchmark
AMD's EBITDA will break out if it takes chip market share from Intel: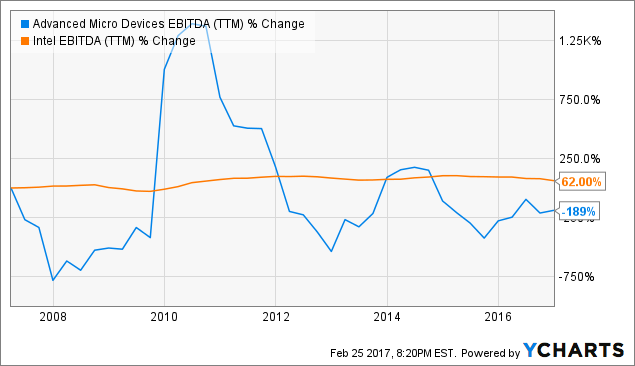 AMD EBITDA (TTM) data by YCharts
In the GPU (graphics card) space, AMD released a mainstream Polaris card to win back market share from Nvidia (NASDAQ:NVDA). Though Nvidia's stock price slipped, the drop is due to analysts downgrading the company on valuation concerns. AMD will release Vega, which will compete with the GTX cards. Nvidia will announce the GTX 1080 Ti card at GDC (Game Developers Conference).
Ryzen low-end chips compete with i7
Note the performance of AMD's Ryzen lower-end 1400X chips. If its performance is on par with that of Intel's i7 K-series (K means overclockable), Intel will have a serious problem with losing its gaming customers to AMD. Ryzen chips are reportedly auto-overclockable: they will run faster than stock speed as long as the chip stays cool. AMD just needs big computer suppliers like Dell, HP, and Lenovo (OTCPK:LNVGY) selling Ryzen to corporations. That would accelerate the uptake of Ryzen.
Valuation
Using a 5-Year DCF Model: Revenue Exit, AMD's stock is worth between $15.69 to above $23 a share if revenue grows in the double digits between 2017-2020:
Input Projections

Fiscal Years Ending

Dec-15

Dec-16

Dec-17

Dec-18

Dec-19

Dec-20

Revenue

3,991

4,270

4,868

5,841

7,126

9,122

% Growth

-27.5%

7.0%

14.0%

20.0%

22.0%

28.0%

EBITDA

-314

102

265

467

926

1,642

% of Revenue

-7.9%

2.4%

5.4%

8.0%

13.0%

18.0%
Source: finbox.io
This is the implied return with AMD stock closing at around $14:
| | | | |
| --- | --- | --- | --- |
| | Low | Mid | High |
| Selected Discount Rate | 12.00% | 11.00% | 10.50% |
| | | | |
| Implied Fair Value | $15.69 | $19.73 | $23.63 |
| Implied Upside/(Downside) | 12.10% | 40.90% | 68.80% |
Source: finbox.io
Takeaway on Ryzen
Ryzen is an exciting time for AMD. The absence of competition lifted Intel's profit margin at a time when smartphone and tablet eroded PC sales. AMD's product refresh, when PC gaming is growing strongly, will make custom computer building fun and affordable again.
Please [+]Follow me to get future coverage on AMD. Click on my name next to my avatar at the top of the article.
Disclosure: I am/we are long AMD.
I wrote this article myself, and it expresses my own opinions. I am not receiving compensation for it (other than from Seeking Alpha). I have no business relationship with any company whose stock is mentioned in this article.
Additional disclosure: finbox.io provided complimentary access to the author for