With the S&P 500 (NYSEARCA:SPY) hitting record highs nearly every day, surely we must be due for a 10% correction soon, right? I have heard commentary it seems like for weeks talking about an overbought market or stretched valuations. I mean, in one case I even read it has been a whole year since the last 10% correction. Oh my, a whole year, can you believe it? Of course that means we must be long overdue. Are we, though? Lets find out.
Since December 31st, 2014, through November 14th, 2016, the S&P 500 was up 1.28%. Wow, big gains, huh? Yeah, a near two whole years with no growth in the S&P 500.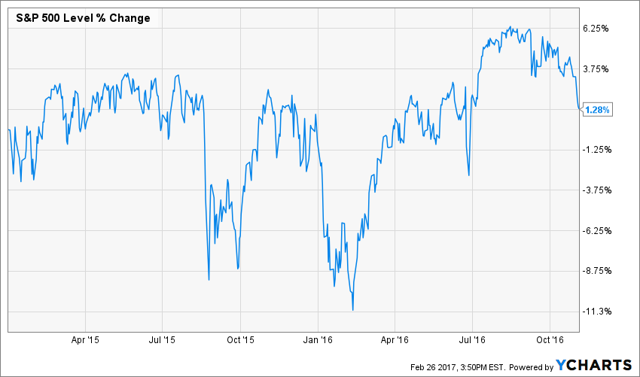 That is what I call 22 months of consolidation. Not only that, but from July 20th, 2015, the S&P 500 reach a high of 2132 and by August 25th the S&P touch a low of 1867. My math calculates that as a decline of 12.5% from peak to trough.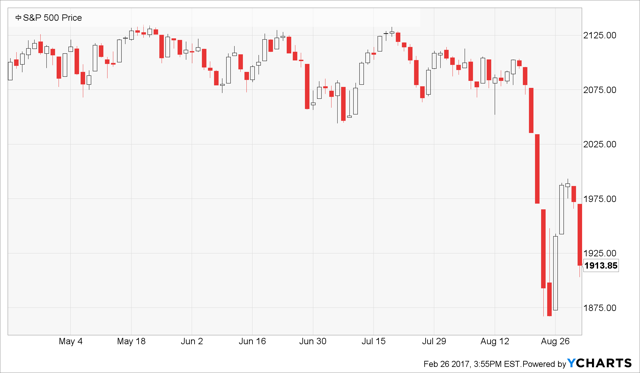 Then if that wasn't enough, on December 29th, 2015, the S&P 500 touched 2081, and by January 20th, 2016, it was got as low as 1812. That came to a total decline of 12.9%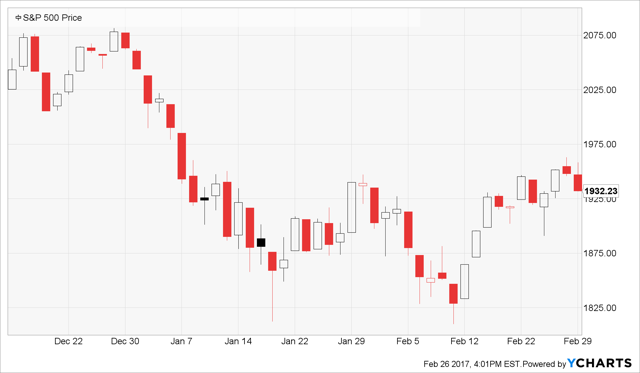 I count two corrections, as in two market corrections in a six month period. These were no ordinary correction; these were fast and violent corrections. Since November 4th, 2016, the S&P 500 is up 13.5%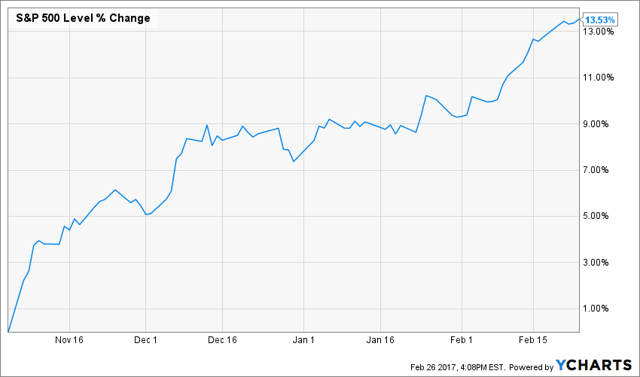 Which of course means since December 31, 2014, the S&P 500 is up a whopping near 15%. Big deal.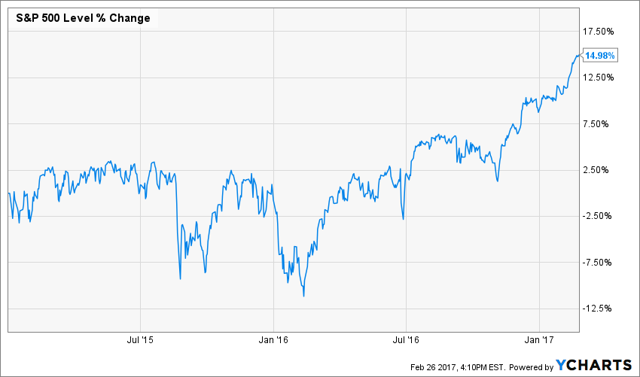 Come on, two years of sideways consolidation, with two 10%+ correction in six months apart. I don't know about you, but I think we still have more upside to go before the next correction occurs again.
Then, of course, we can talk fundamentals. The chart below is the S&P 500 forward earnings estimates on a trailing twelve-month basis.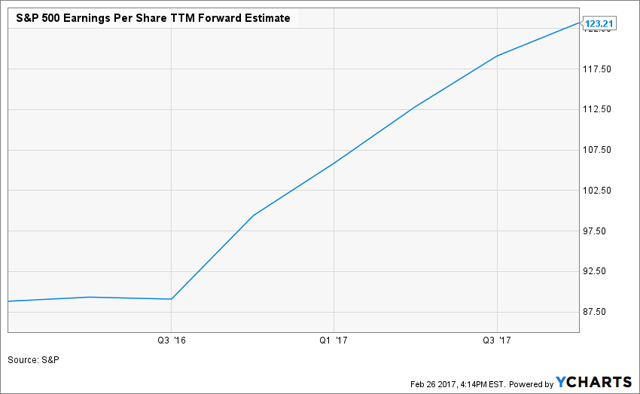 S&P 500 Earnings Per Share TTM Forward Estimate data by YCharts
The forward EPS estimates above show that for 2017, analysts expect the S&P 500 to earn $123, which would give the S&P 500 a forward P/E ratio of 19 based on a close of 2367. The chart below shows us the forward EPS for 2017.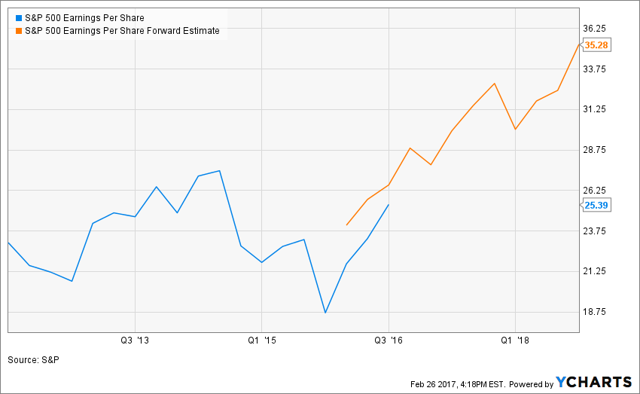 S&P 500 Earnings Per Share data by YCharts
The next question, of course. is: What is the average P/E ratio of the modern age of investing? Right, after all, we have modern day baseball records, so why shouldn't we modern day stock market stats? After all, things have changed just a touch since the 1970s, haven't they?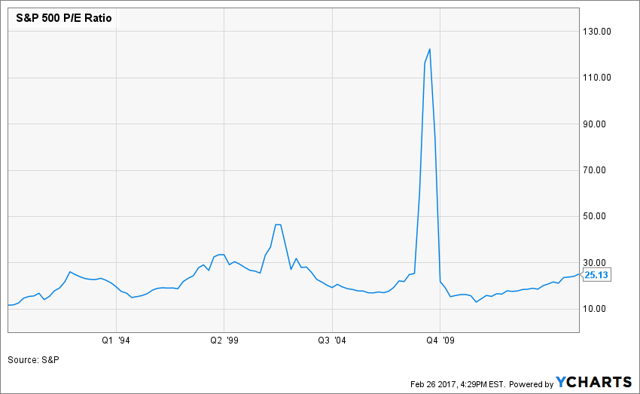 S&P 500 P/E Ratio data by YCharts
Since the fourth quarter of 1988, the average P/E ratio is 24, with a standard deviation of nearly 16. If we take out that period from the fourth quarter of 2008 until the third quarter of 2009, the average P/E ratio fall to 21.6 with a standard deviation of about 6.5. I ask, are we overvalued using modern day stock market statistics? I'd say no!
S&P 500 Vs. 10 Year Treasury Yield

(Mott Capital Management, LLC)
In the chart above we see that historically the S&P 500 yield has traded at a discount vs. the 10-Year Treasury. One can also see that more recently that has changed, with the S&P 500 yield higher than the 10-Year yield. However, more recently, the 10-Year has once again eclipsed the S&P 500 yield. The yield on the S&P 500 is at 1.92%, while the 10-Year Treasury is at 2.38%.
I decided to create a ratio where the S&P 500 yield gets divided by the 10-year Treasury yield. The lowest point on the ratio I calculated was 0.18 in December of 1999, and the highest the ratio reached was 1.40 in December of 2008. Are those two time periods meaning anything to you? I remember them as the height of the tech bubble in 1999 and the depth of the financial crisis in 2008. Currently, the S&P/10-Year Ratio sits at 0.82. In fact, the average ratio since 1977 has been 0.52, and the median has been 0.42.
Again, based on current interest, the S&P 500 is not overvalued.
Summary
We explored the S&P 500 valuation on a number of metrics. We used a technical, fundamental, and peer comparison basis. In all three cases, I would conclude the S&P 500 is currently not overvalued. Consider that for nearly two years, the S&P 500 had no gains, with two 10% or more correction mixed in. Then factor in current earnings expectations and the low-interest rate environment, and the S&P 500 seems anything but overvalued. It is likely we have just entered the start of the next leg higher of the bull market.
In fact, based on modern day historical averages, a P/E of 24 on $123 in earnings would give the S&P 500 a value of 2952. Meanwhile, the S&P 500 yield and 10-Year Treasury ratio of 0.54 would value the S&P 500 around 3000. Notice any similarities in these two numbers? Pretty close together.
If you are waiting for the 10% correction to happen, don't hold your breath.
Remember to follow us to get more of our great content, by hitting the + sign next to our name at the top of the article. Also feel free to check out Reading The Markets to get more great video content and two weeks for free.
Below is a complementary video to go along with this Article highlighting how Streaming services are altering the media landscape.
Disclosure: I/we have no positions in any stocks mentioned, and no plans to initiate any positions within the next 72 hours.
I wrote this article myself, and it expresses my own opinions. I am not receiving compensation for it (other than from Seeking Alpha). I have no business relationship with any company whose stock is mentioned in this article.
Additional disclosure: Mott Capital Management, LLC is a registered investment adviser. Information presented is for educational purposes only and does not intend to make an offer or solicitation for the sale or purchase of any specific securities, investments, or investment strategies. Investments involve risk and unless otherwise stated, are not guaranteed. Be sure to first consult with a qualified financial adviser and/or tax professional before implementing any strategy discussed herein. Past performance is not indicative of future performance.