Stock market investors in the energy sector have noticed that the value of their oil stock holdings peaked about two-and-one-half months ago, just after the OPEC-non-OPEC agreement was made December 12th. The Energy Select Sector SPDR ETF (NYSEARCA:XLE) has lost 8% of its value since then.
However, nearby crude prices have continued to move up slightly with a peak on February 23rd. Does the peaking of XLE mean crude oil prices may have peaked or be peaking soon?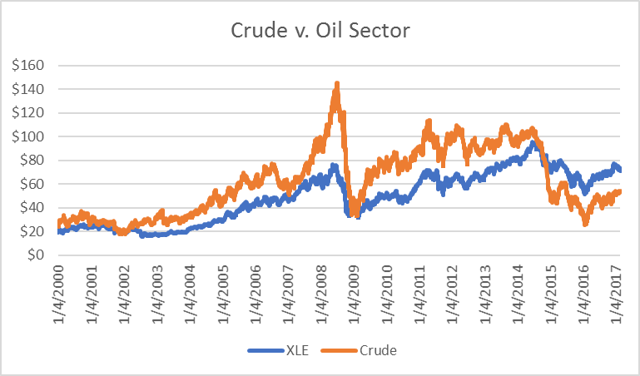 I took a look at historical "local" peaks for nearby NYMEX crude oil futures prices and for XLE prices over the last ten-plus years. I found evidence that, in fact, XLE peaks did usually pre-date peaks in crude oil futures prices.
I identified seven cases as shown below. In one case, crude peaked three days before XLE, and in another, they peaked on the same day. But in the other cases, XLE peaked before crude.
"Local" Peaks

Case

Peak

XLE

Peak

Oil

Days Ahead

1

8/2/2006

$ 48.90

8/7/2006

$ 76.98

5

2

5/20/2008

$ 76.69

7/14/2008

$ 145.18

55

3

4/29/2011

$ 71.89

4/29/2011

$ 113.93

0

4

6/23/2014

$ 95.89

6/20/2014

$ 107.26

-3

5

4/29/2015

$ 79.95

6/10/2015

$ 61.43

42

6

6/7/2016

$ 68.32

6/8/2016

$ 51.23

1

7

12/13/2016

$ 77.42

2/23/2017

$ 54.45

72
I have graphed each case and present them below.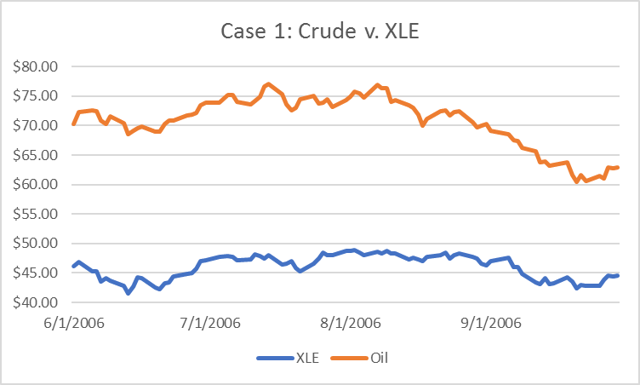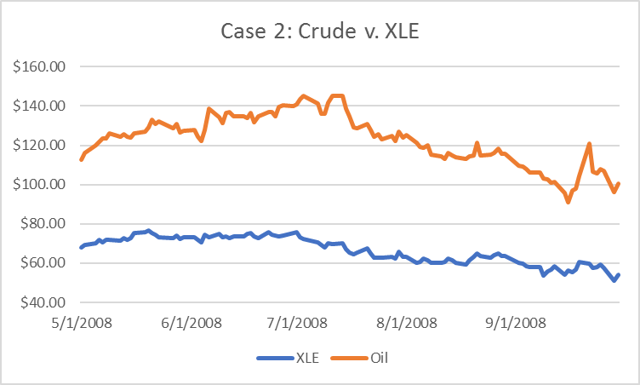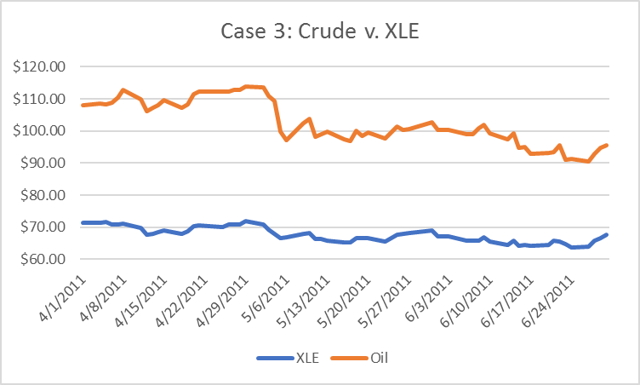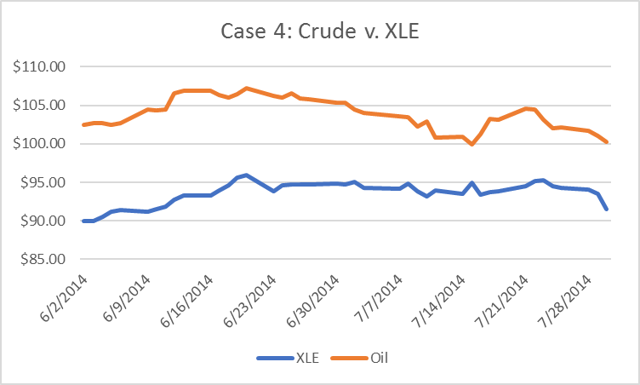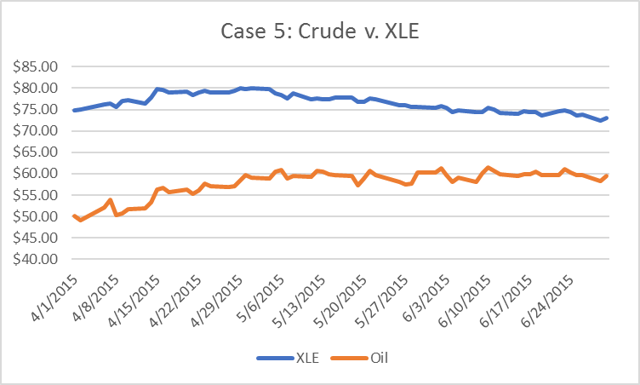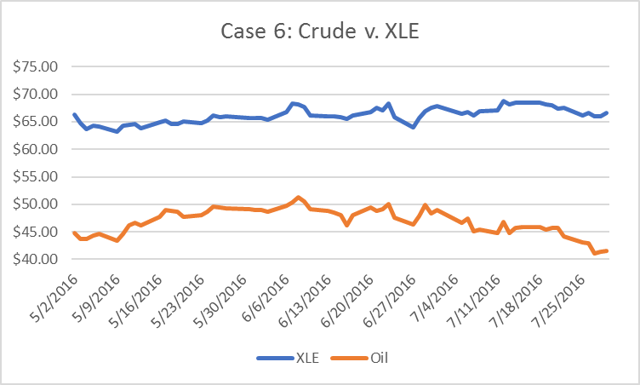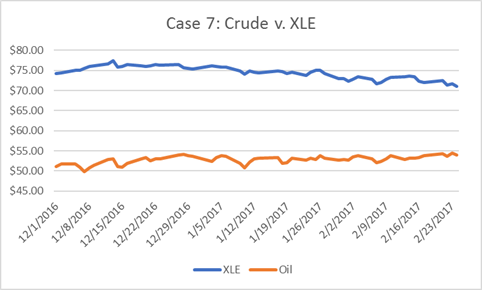 Conclusions
It appears that "local" peaks in XLE tend to predate peaks in crude oil prices. One hypothesis is that crude futures prices are subject to more speculation by traders, whereas stock market prices are primarily driven by more rationale, long-term investors.
The history of each price series proves that crude futures prices are much more volatile. The standard deviation of daily prices is 32% higher than for XLE. Also, the maximum drawdown from peak for crude futures prices is 82%, much higher than the 57% drawdown for XLE, although that too is large.
The history suggests that XLE peaks often pre-date peaks in crude futures prices, and so the December peak in XLE may be signaling a peak in crude prices for this cycle. However, what is not known is whether the peak in December is truly the "local" peak, or if XLE prices will rise yet further. The fact that XLE is 8% lower than its peak in December is significant though.
What is a rationale for why prices may have peaked, or may peak soon? In my view, the cuts in actual OPEC exports are falling short of the cuts in production, and U.S. inventories will continue to rise. The market will see that the reductions to global supplies, the goal of the agreements, are not happening.
I offer a service to provide daily signals (green, yellow and red) for both the Energy Sector as well as for oil prices. Message me if you would like to know more.
Disclosure: I/we have no positions in any stocks mentioned, and no plans to initiate any positions within the next 72 hours.
I wrote this article myself, and it expresses my own opinions. I am not receiving compensation for it (other than from Seeking Alpha). I have no business relationship with any company whose stock is mentioned in this article.