MLPs declined late in the week as equity issuance overwhelmed the sector. For the week overall, the MLP Index was down 2.1%, the worst week for the Index since the week preceding the election in November. It was also the first weekly decline of more than 2% for the MLP Index so far this year. Despite some volatility this week, it remains miles better than last year. In 2016, MLPs dropped more than 4.0% in four separate weeks of the first six weeks of the year.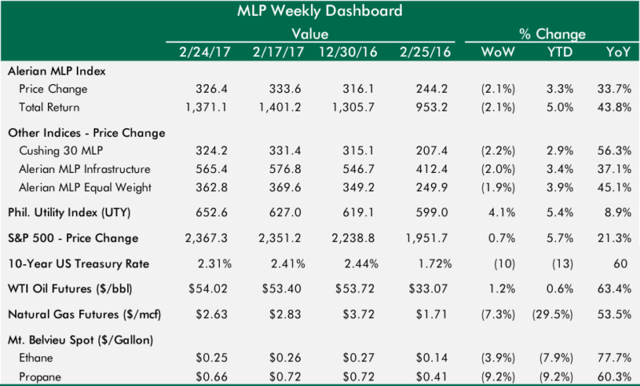 Equity issuance accelerated throughout the week, culminating in $1.7 billion on Friday. MLPs have been accessing the equity market with more frequency and with better results (tighter discounts, better after-market performance), indicating that capital is returning to the sector, but there is a limit to the amount of equity the sector can absorb on a given day or week.
Positive takeaway from this week: that limit appears to be higher than it was last year, and MLP equity capital markets no longer feel like a zero-sum game. Healthy capital markets encourage more equity issuance and enable financing of more accretive acquisitions and growth projects to get done.
Two of the big offerings this week were clean-up trades: one to clean up the balance sheet, one to clean up a major holder's stake. Expect more clean-up trades as preferred offering buyers from the last few years look to exit, as sponsors look to exit, and as MLPs continue to clean up balance sheets.
Those trades can disrupt the market, but if they are going to happen, it can be better to rip the band aid off as opposed to slowly peeling it off.
Offering Outpacing Last Year
At this point in 2016, there had not been a single MLP equity offering, and in total in 1Q, there were only 3 deals that combined to raise $634 million. So far this year, there have already been 10 MLP offerings for $1.6 billion. Also, Williams Companies (NYSE:WMB) and Plains GP Holdings, LP (NYSE:PAGP) combined to raise an additional $3.2 billion from their corporate vehicles, bringing the total public offerings to $4.8 billion so far this year.
The chart below shows that MLPs were able to tap the market in 2016 in a limited fashion. With another month left in the first quarter, overall 1Q issuance should put us well ahead of last year's pace. But with more MLPs migrating to the corporate structure over time, and with the rise of ATM usage among large MLPs, it's unlikely that we will return to the annual rate of $20 billion+ MLP follow-on offerings from 2011-2014 anytime soon.

Poll Question Recap
Last week, after two straight flat weeks for the sector, I posed the question of what might spark the next move up for MLPs. The overwhelming winner at 42% of responses was, "No spark needed, MLPs grind higher on positive trends". I read that answer as basically a call for patience while the sector consolidates after a strong up-move since the middle of December.
20% of respondent expect MLPs to linger until actual volume growth shows up, which several MLPs (per their guidance) expect to happen in the second half of this year. For some investors, MLPs are a "show me" story, and promises of future growth are discounted until they show up. That makes sense, but at that point, the price of admission is likely to be higher.
Winners and Losers
Martin Midstream Partners (NASDAQ:MMLP) got some follow-through from last week's trifecta of earnings, drop-down and equity deal to lead all MLPs. Other small-cap MLPs populated the top 5, but notably, only 3 MLPs were up more than 3% this week. 2 MLPs were down more than 10% on no news, including CONE Midstream Partners (CNNX), which was down 7.7% on 600% of usual volume.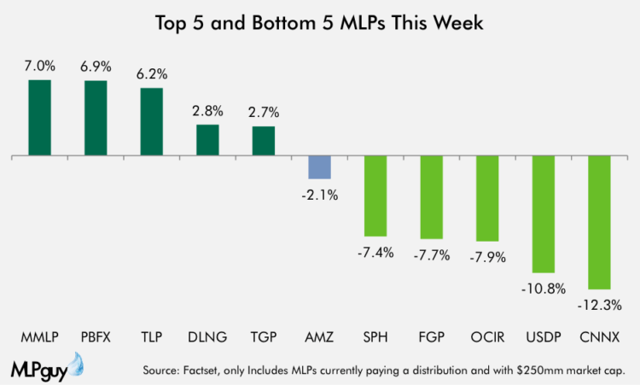 Propane MLPs continue to struggle on the extreme warm weather we're all enjoying, including Ferrelgas Partners (NYSE:FGP) and Suburban Propane Partners (NYSE:SPH).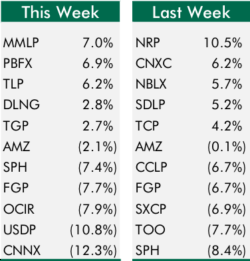 YTD Leaderboard
The top 3 so far this year all picked up more gains this week, and all 5 of the top 5 are up 20%+ already. On the downside, all 5 of the biggest losers are down more than 10%, without much change among the constituents.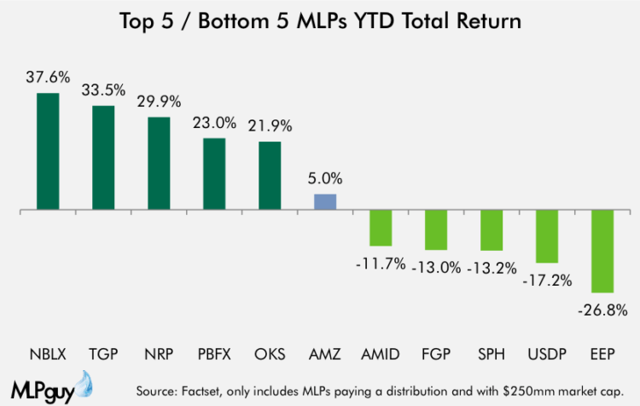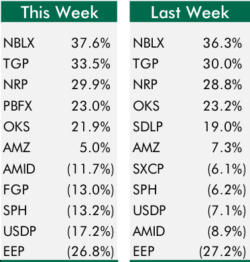 General Partners and Midstream Corporations
Median performance for GPs and corporations was better than the MLP Index this week, but only 3 of them were positive. Archrock, Inc. (NYSE:AROC) and SemGroup Corp. (NYSE:SEMG) were down on their earnings announcements. A selling shareholder put some pressure on Targa Resources Corp. (NYSE:TRGP) with a marketed block trade. The large equity deal PAGP announced, on the other hand, was a positive catalyst that helped the company avoid the Friday sell-off (or maybe was a part of the reason for the sell-off).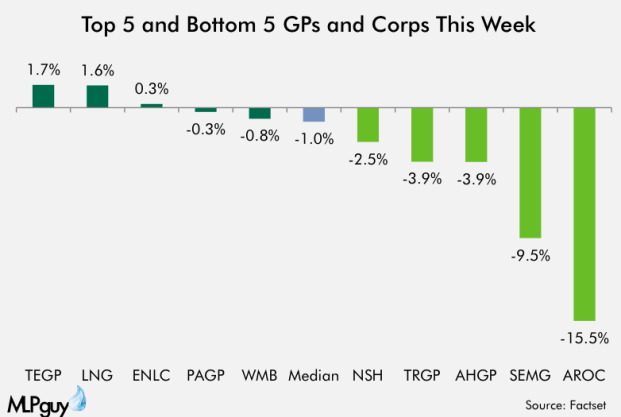 Cheniere Energy (NYSEMKT:LNG) rebounded a bit from last week, while Tallgrass Energy GP (NYSE:TEGP) got rare follow-through from a strong week last week on the back of its strong results and guidance.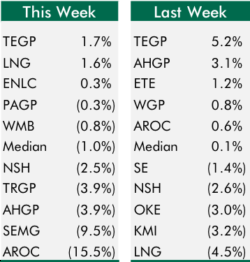 News of the (MLP) World
Clean-up trades for PAGP and TRGP dominated action late the week. Energy Transfer Partners (NYSE:ETP)/Sunoco Logistics Partners (NYSE:SXL), Tallgrass Energy Partners (NYSE:TEP) and Western Gas Partners (NYSE:WES) announced new growth projects as natural extensions of their existing footprints as well-placed assets and strong customer/sponsor relationships continue to generate opportunities for midstreamers to deploy capital.
Capital Markets
PAGP priced a public offering of 42.0 million shares at $31.00/share, raising $1.3 billion in gross proceeds (press release).

Overnight offering, priced at a 2.4% discount, and traded up 2.6% from pricing in the following session.
The offering was upsized 23.5% from the original offering of 34 million shares.
The proceeds were all primary and will be used to purchase units of PAA, which will help PAA de-lever and pay for recent acquisitions
The offering was widely expected, and it appears there was plenty of demand waiting for the deal.
Tesoro Logistics (TLLP) priced a public offering of 5.0 million units at $56.80/unit, raising $284 million in gross proceeds (press release).

Overnight offering, priced at a 4.2% discount, and traded down an additional 1.2% from pricing in the following session.
Offering proceeds will be used to reduce leverage.
An opportunistic transaction to take advantage of strong recent performance of TLLP unit price.
Hi-Crush Partners (NYSE:HCLP) priced a public offering of 20.5 million units at $18.00/unit, raising $369 million in gross proceeds (press release).

Overnight offering, priced at a 12.4% discount, and traded down an additional 3.6% from pricing in the following session.
The proceeds will be used to fund the acquisitions announced this week (below).
Natural Resource Partners (NYSE:NRP) announced a new $250 million preferred unit investment and extension of 2018 debt maturities (press release).

New class of preferred units (12% coupon) issued to certain Blackstone- (NYSE:BX) and GoldenTree-affiliated entities.
Certain holders of NRP's 9.125% Senior Notes due 2018 will exchange $241 million of their notes for a new series of 10.5% Senior Notes due 2022, and will invest $105 million of new capital in NRP in exchange for additional $105 million of the 2022 notes.
Stonepeak Infrastructure Partners sold 7.222 million shares of TRGP in a block trade at $55.40/share (2.9% discount) for gross proceeds of $400 million.

Stonepeak acquired shares through exercise of warrants associated with a purchase of $1 billion of TRGP preferred equity in a transaction in February last year.
The warrants had a strike price of $18.88/share.
Growth Projects/M&A
TEP announced the Pony Express Pipeline will lay pipe to connect into HollyFrontier's (NYSE:HFC) El Dorado refinery in El Dorado, Kansas (press release).

Construction is expected to be completed by Q4 2017, and will support 100,000 barrels/day of capacity to meet the refinery's needs.
HCLP announced two acquisitions totaling $415 million (press release).

The Permian Basin Sand ($275 million) third-party acquisition in the Permian Basin.
The Whitehall Facility and remaining interest in the Augusta Facility ($140 million) from the sponsor.
ETP announced its subsidiary, Lone Star NGL, will construct a fifth natural gas liquids fractionation facility at Mont Belvieu, Texas (press release).

Fractionator V, including NGL product infrastructure and a new 3 million barrel y-grade storage cavern, has a total estimated cost of approximately $385 million.
ETP expects the fully subscribed 120 million bpd fractionator to be operational by September 2018.
WES announced plans to construct two processing plants, Mentone Trains I and II (press release).

Both 200 MMcf/d processing plants are expected to each cost between $125 million and $175 million, and are expected to come on-line in 3Q18 and 4Q18.
SXL announced that Mariner East 2x (ME2x) has received sufficient commitment to move ahead, and that SXL will be holding an open season for Permian Express 3 (PE3) (press release).

ME2x has capacity of 250k bpd and is expected to be on-line in early 2018.
SXL plans to add 100k bpd of capacity with PE3 by mid-2017.
Other
Black Stone Minerals (NYSE:BSM) entered into a farm-out agreement with Canaan Resource that will reduce its capital obligations and generate royalty income (press release).

BSM expects the agreement to reduce its obligations by $25 million in 2017 and $40-50 million annually thereafter.