Apple (NASDAQ:AAPL) is the largest company in the world in terms of market cap and therefore demands regular attention for investors; both institutional and retail, alike. Apple is far and away the most commonly subscribed to and followed individual stock here on Seeking Alpha - and rightfully so. Apple is a unique stock in regard to the way that portfolio managers can justify holding shares in just about any sort of strategic portfolio. When looking at funds, both actively and passively managed, whether you're looking for value or growth, whether you're seeking alpha or trying to preserve capital, or whether you're looking for tech-specific or market-wide exposure, you'll likely find Apple shares included. What's more, there's a group of investors that are becoming increasingly interested in owning Apple shares: income-oriented investors.
I follow the dividend growth scene closely, and I've noticed a significant uptick of Apple interest over the last couple of years. I've seen more and more DGI managers justifying Apple shares for their portfolios, and I think Tim Cook and Co. have done what it takes with regard to shareholder returns to earn the respect of income-oriented investors. Over the last couple of years, I've read a myriad of articles here and elsewhere asking the question, "is AAPL a dividend growth stock?" Well, in this piece, I'd like to go one step further, focusing on the company's shareholder returns a while asking, is AAPL the best dividend growth stock for investors today?
Since Apple initiated its dividend in 2012, I began interested in the stock. Once the company made its commitment to grow the dividend clear, I began accumulating my current position. The company has maintained its spot at the very top of my portfolio ever since, shuffling back and forth with Disney (NYSE:DIS) between the number 1 and number 2 spots in terms of overall weighting. Apple is a company that I feel at ease owning. I know some believe that this company is a one-trick pony; I'll cover this later in the piece, but for the time being, all I can say is that I sleep well at night knowing that Apple is a core position for me on my journey towards financial freedom. And just to be clear, it is no easy thing for me to say that Apple is potentially a better DGI investment than Disney.
DYI DGI Investors Are Coming Around To Apple
Before I get into my own analysis of Apple and why I believe it is quite possibly the world's best dividend growth investment opportunity, I want to take a look at how it stacks up against the other popular DGI holdings in today's DGI blogosphere. I don't know if you caught it or not, but my fellow Seeking Alpha contributor FerdiS published an absolutely wonderful piece covering the gambit DGI portfolios published on the internet by their owners back at the start of the year. This piece was awarded an Editor's Pick by SA, and deservedly so. I implore you to read this piece as soon as you're done with this one (heck, feel free to take a break and switch over now if you prefer); FerdiS did a lot of data collection for his article, and the result was a series of very interesting observations of today's DYI DGI investor.
When looking at FerdiS' work, Apple is the 16th most commonly-owned stock out of the 236 unique tickers owned across the DGI blogosphere - appearing in 11 out of the 32 portfolios tracked. Apple was the most commonly held tech company, one spot ahead of Cisco (NASDAQ:CSCO) which appeared in 10 portfolios, IBM (NYSE:IBM) which appeared in 9, and Intel (NASDAQ:INTC) and Microsoft (NASDAQ:MSFT), which rounded out the commonly-owned tech coverage; both appearing in 7.
While Apple didn't receive a high ranking in the overall ownership ranks, it did nearly crack the top 5 dividend growth holdings amongst the group of portfolios tracked in terms of weighting. The company was 6th on the weighting list with a 0.69% average weighting. FerdiS is a better man than me because I'm not willing to do the leg work to go over each of the 32 DGI portfolios tracked, but I assume this is because one (or several) of the larger portfolios in the group have Apple as a top 5 holding. Looking at FerdiS' work, the average weighting on a top position was 7.9%. The top overall weighting within one of the portfolios tracked was 16.2%, so this skews that number a bit higher, though overall, it's clear that DGI investors are happy to go very overweight in their largest positions.
FerdiS also put together a similar piece which can be viewed here regarding equity ownership within dividend growth ETFs. It's interesting to note that while retail investors seem to be coming around to Apple within the DGI community, dividend growth managers aren't quite there yet, with Apple coming in 23rd place overall with only 6 of 27 of the ETFs that he included in his study owning shares of the company. IBM held the top tech spot with regard to frequency of ownership within the tech sector, followed by Qualcomm (NASDAQ:QCOM), Cisco, Intel, and then Apple, in the 5th spot overall (remember, Apple was the top tech holding within the retail DGI group).
Like in the retail group, Apple did climb in the rankings when looking at average weighting, though it's still 18th overall, behind IBM, Microsoft, Qualcomm, and Cisco when looking at tech sector peers. I thought the divergence between the retail and institutional sentiments regarding Apple as a DGI investment was interesting; as a retail guy writing about how Apple is his top DGI pick, I'm happy to see that while others may not be as bullish as I am, I'm not alone in this boat, and it'll be interesting to see a few years down the road how these exposures evolve, and if the retail investor was ahead of the game with regard to Apple.
Apple Has Cash For Days
So, why am I so bullish? Namely, the size and scale of Apple's cash flows and the generosity that management has shown with this cash over the last 5 years or so. Apple's free cash flow has increased from $6.50/share in 2012 to $9.50 over the trailing 12 months. In 2015, free cash flow/share hit an all-time high for this company at $11.83, but suffered a bit in 2016, coming in at $8.97. Investors and analysts alike seem to believe that Apple will return to growth in 2017/2018 as pent-up demand for the iPhone 8 makes itself more and more apparent. Regardless of the level of this growth, the company's current free cash flow yield is an impressive 7%, something that I can easily live with moving forward.
These massive cash flows have enabled Apple to amass a record fortune, which swelled to nearly $250b at the end of the most recent quarter. Much of this cash is locked up overseas, which has been a problem for this company for years now, not wanting to give an outsized chunk of it to Uncle Sam upon bringing it back home. Well, repatriation appears to be a part of the Trump administration's tax plan, and while it's not clear what the potential tax rate might be in a one-time holiday, it's likely to be a major boon for Apple and its shareholders either way. If Apple is able to bring home the lion's share of its overseas reserves, it will give this company a lot of flexibility to potentially grow the business, pay down debt, and reward shareholders.
The Dividend: A Double-Digit Growth Machine
Apple initiated a $0.38 quarterly dividend payment in the 3rd quarter of 2012. Today, after consistently giving investors an annual increase since, its quarterly payment sits at $0.57/share. This growth over a 4-year period represents a 10.67 CAGR on the dividend; I suspect that Apple will continue to reward investors with high-single digit/low-double digit returns over the short-medium term. Apple typically makes a raise on its May payment, so I'm looking forward to the news of an increase in the coming months. Apple has a very low payout ratio of ~25%, which means that it should have no issues continuing on its current double-digit dividend growth pace.
The Buyback: Successfully Reducing Outstanding Shares and Saving The Company Cash
Making matters better for investors, Apple's dividend growth generosity has been dwarfed by its willingness to return cash to shareholders in the form of share buybacks. Apple has become famous for announcing buyback programs bigger than the market caps of many S&P 500 companies. Although some investors frown upon this practice as an unimaginative use of cash that reeks of failing innovation and a corporate environment that lacks the creativity that was so apparent under Jobs, I don't blame current CEO Tim Cook for dedicating massive amounts of funds to buybacks. Apple is a cash flow machine and these shares are being bought back at bargain barrel multiples. This has been the case now for several years. And, now that Apple shares have gone on a run and sit at multi-year highs as analysts begin to fact in service growth into their revenue forecasts and call for an iPhone 8 "super cycle," it appears that these past moves were somewhat genius when looking at the cost average of the previously retired shares.
Unlike other companies out there that talk about stock buybacks but then don't do a great job of reducing the share count due to stock options and overly generous management compensation packages, Apple has done a fantastic job of reducing its outstanding shares. Over the last 5 years, Apple has reduced its float by nearly 19%. In the company's recent Q4 alone, it retired 1.5% of its common stock. Being that Apple seems to want to be a dividend grower over the long term, each and every one of these shares retired represents significant savings for the company moving forward.
Another thing to consider when talking about buybacks from DGI companies, especially those early on in their growth phase, is that every share retired is one less (growing) dividend payment that the company will be responsible for. Right now, Apple pays a $2.28 annual dividend per share. The company has retired ~1.2b shares since 2012 when the dividend was announced. Think about those cost savings. Assuming we see another ~10% dividend increase in 2017, Apple will be saving approximately $3b a year, just on dividends.
Using a ~10% annual dividend growth rate and looking out to 2020, we see that Apple shares would be paying ~3.40/share in annual dividends. This equates to a 2.5% YOC for those buying shares at today's $137 price. If the company were to stop its buyback today (something that I think would be VERY unlikely), we see that the 2020 savings on dividends when thinking about retired shares would be ~$4b/year. Factoring in continued share repurchases, I wouldn't be surprised to see this figure come in about $5b or even $6b per year. Some may be thinking that this is chump change for a company with a $715b market cap, though the numbers just continue to compound over time and dividend savings is just one small benefit of the share buyback program.
As Apple's growth slows, which undoubtedly will, barring some sort of new breakthrough in an industry outside of the smartphone space, the company will need to continue to focus on efficiency measures like this. People call this sort of thing financial engineering and paint it with a negative light, though so long as financial engineering helps to line my pockets with sustainable dividends over the years, I don't mind it one bit. I'd much rather see this company buy back its own shares knowing full and well what sort of value and cash flow yields it is receiving, rather than wasting cash on speculative bets or overpaying for bolt-on acquisitions like we so often see, especially in the tech space.
Comparing Apple to DGI Aristocrats
I know that I said this piece would be primarily focused on the company's shareholder returns, though due to the fact that I'm calling Apple the world's greatest DGI opportunity, I'm going to make my case for this company against the likes of classic DGI stocks: the well known, steady and reliable, consumer staple plays that we all feel so comfortable owning.
When investors think of blue chip DGI companies, names like Coca-Cola (NYSE:KO), Procter & Gamble (NYSE:PG), or Colgate-Palmolive (NYSE:CL) come to mind (or, at least they do for me). Apple isn't selling food, or laundry detergent, or toothpaste, but I will argue that the technology that Apple sells has become just as much of a staple of our everyday lives as those items.
Imagine a day without your smartphone, seriously… that's not a very good day, is it? Yes, it's a luxury, but so is drinking tasty carbonated sugary drinks instead of water or washing your clothes/teeth with name brands rather than your local super market's store brand. Apple is widely considered to be a luxury brand, and sure, knock-offs will come along as this technology is increasingly commoditized, though like Coke, or Tide, or Colgate, I think it's likely that consumers will continue to flock towards quality instead of the generic brands of the world. When it comes down to it, can you imagine a product that is more of a staple in today's consumers' everyday lives more than a smartphone?
I know Apple faces competition in this space from worthy competitors, but so does Coca-Cola, Procter & Gamble, and Colgate-Palmolive in theirs. Apple doesn't need to own the entire pie, it just needs to carve out a hefty chunk and continue to sell 10s of millions of devices every year. I remember reading this piece on CNBC about the future of the smartphone market; all in all, the growth story remains in place, and this seems to be a very good area of the market to do business in.
So long as Apple keeps its devices in the hands of consumers, essentially inventing a slightly better mousetrap every 2-3 years, it will continue to generate massive cash flows. What's more, the devices in consumers hands will allow for revenues from the ecosystem that Apple has created and continually re-invents will continue to grow, giving the company higher margin sales that should bolster its P/E multiple and help to grow the dividend.
Valuation
This last bit, about the expanding P/E multiple, is another factor in my ranking of Apple at the top of the DGI totem pole. While many of the slow (or negative) growth consumer staples names trade for more than 20x their forward earnings estimates, Apple, even after its recent run from $90 to $137, still trades with a relatively cheap 15.3x forward multiple. While certain DGI guys and gals don't care as much about valuation or capital gains (focusing primarily on income, rather than fundamental metrics), I do. I have a fairly long investing horizon, and therefore, I think that when you factor in the likelihood of continued dividend growth and capital gains when looking at Apple, it becomes very attractive compared to many of the more established DGI names.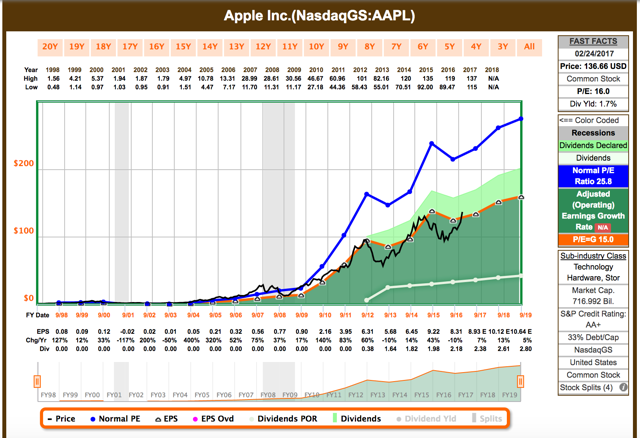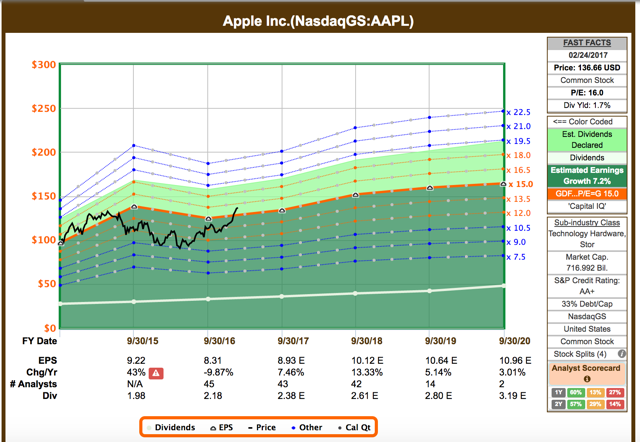 Source: F.A.S.T Graphs
I know that a lot of this low multiple is due to the fact that historically hardware companies have been given lower multiples due to high competition and low margins; however, Apple has bucked this margin trend for years now and should continue to do so as its service revenue continues to grow. I can easily imagine a day when this stock trades for 20x, which would mean massive share price increases. Apple has a massive cash hoard, which means that it essentially has the opportunity to enter into any new market that it wants to. There have been rumors of the company following the likes of Netflix (NASDAQ:NFLX) and Amazon (NASDAQ:AMZN) into original content. Well, media companies typically trade with much higher multiples than hardware companies, so I welcome this potential foray (heck, if Apple really wanted to, it could simply buy Netflix and REALLY grow its service revenues).
This is just one of many possible examples of Apple using its cash to grow the business and put a fire under its share price. It's fun to think about what I would do with hundreds of billions of dollars, but really, that's neither here nor there. I trust that Cook and Co. will do what's right for this company; this trust is why I feel comfortable holding so many Apple shares.
Conclusion: What Do You Think?
So, up to this point, I think I've made myself pretty clear: I'm a huge Apple bull. Even though FerdiS' work proved that DYI DGI investors are becoming more and more bullish on Apple as well, it's obvious that I'm in the minority having this company as my largest holding. I'm interested to know which companies are your favorites to hold. I'm interested in hearing further arguments for, and against, this Apple as the top DGI pick thesis, moving forward. Until next time, best wishes all!
Disclosure: I am/we are long AAPL, AMZN, CSCO, DIS, MSFT, INTC, IBM.
I wrote this article myself, and it expresses my own opinions. I am not receiving compensation for it (other than from Seeking Alpha). I have no business relationship with any company whose stock is mentioned in this article.