On the recent Q4-16 earnings call, Hannon Armstrong's (NYSE:HASI) CEO, Jeff Eckel, commented on the "three questions (the company) is getting consistently from investors: interest rates, the election and REIT regulations." Eckel explains,
"First interest rates. We fully expect and are prepared for rising interest rates. We've operated for over 35 years in various interest rate environments and our experience shows we will see spreads on new assets widen as rates rise, improving our asset yields.

On the liability side, given our bias towards higher rates, we are increasing our fixed-rate debt target to 60% to 85% from 50% to 70%. This will of course reduce our floating rate exposure. Bottom line, we expect rising rates to be a positive for the business.

The change in administration has created uncertainty in investor's minds as well. We believe federal ESPCs continue to enjoy widespread bipartisan support and our ESCO clients are continuing to book new business.

As for the Trump infrastructure plan, we and our clients have engaged with the transition team working on this topic and believe there are significant opportunities for us in many of the infrastructure proposals.

In addition, there are actionable paths to expand the use of performance contracting to increase federal efficiency beyond just federal buildings and what not. These transactions create jobs all around the country, save the U.S. treasury money and provide updated infrastructure.

Finally, at PTC and ITC, we're eliminated and tax reform less than 10% of our $2.5 pipeline would be affected and most of the renewable energy industry does not think it is going away because 87% of all 2016-win installation were in red states and because solar generated one in 50 new jobs in 2016, we've very little exposure to this low probability event.

There has been significant interest in our REIT status, which I would like to address head on and I'm showing [REIT] as always qualified as a REIT since our first REIT tax return and fully expect our REIT status to not be questioned by the IRS, but let me put some numbers to this issue.

If Hannon Armstrong chose to not be a REIT, we forecast there would be no impact on the dividend or core earnings, we would not pay taxes for more than five years and we would still have approximately $70 million of NOL at that point.

When potential tax reform is clear, we'll look at the tax impact on our business and determine whether it is still in our investor's best interest to be organized as a REIT.

Finally, if our REIT status was challenged today and we do not believe it will be, we would have $5 million of tax for the last four years. That's it. This is going to be a $5 million problem. I hope we have framed the REIT status in a sufficiently clear (way) in quantitative fashion for investors to fully evaluate the perceived risk."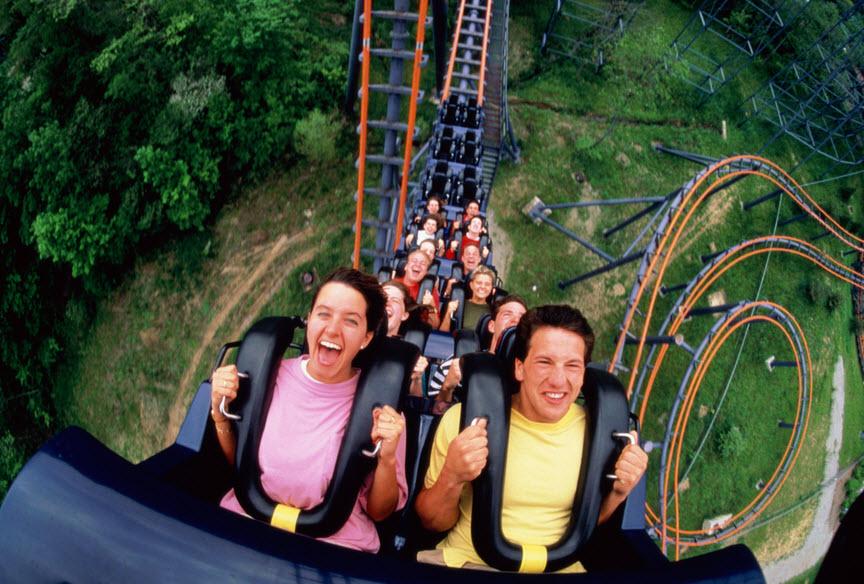 A Roller Coaster Ride
It has certainly been a roller coaster ride since my first article on HASI – shares have returned over 35% since February 13, 2015: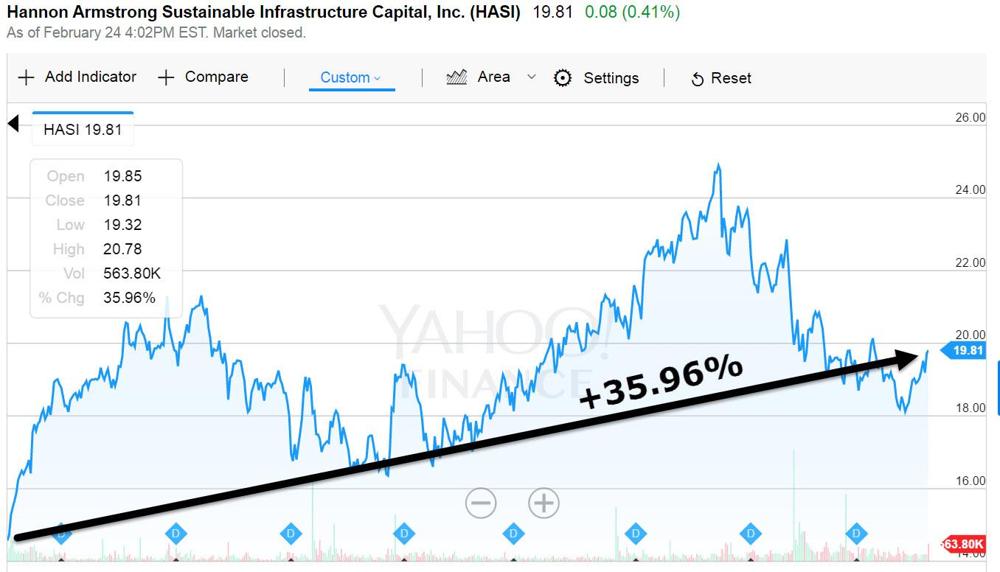 The last few months have been most volatile for HASI, as shares almost topped $25.00 in September, and fell to around $18.12 on February 6th, and more recently to recover to $19.81.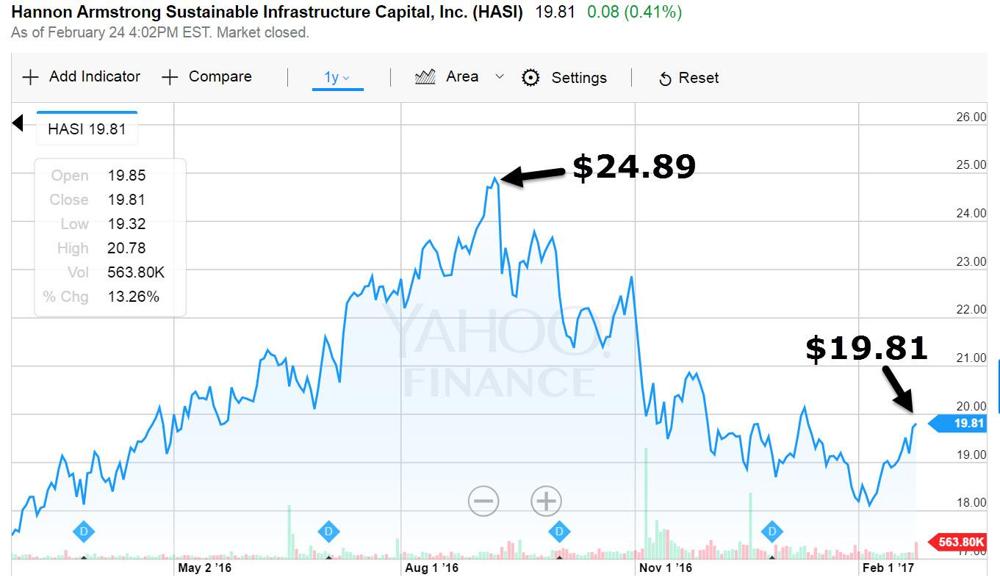 Of all of the "fear factor" examples that HASI's CEO cites on the earnings call, I believe the biggest drag to the company's share price has been the questionable REIT status. In an article last year, I explained,
Keep in mind that in 2014 the IRS published regulations relative to the definition of Real Property and on August 31, 2016, the IRS published final rules and regulations that define real property.

If you closely examine the IRS regulations you will find that the actual definition of Real Property is unclear and there is a lack of clarity as it relates to certain assets.

It's quite clear that the new regulations are consistent with HASI's private letter ruling, the REIT only made the disclosure as a result of the ambiguous wording. To the best of my knowledge, HASI has always complied with local court law (UCC filings) and its previous PLR status.

Also, it's important to note that the only reason the IRS has converted to regulations versus the PLR business is because the IRS was too busy (understaffed) and is constrained for time.

When HASI went public in 2013 it was because the REIT structure was the most tax efficient vehicle. The company considered all other alternatives (i.e. MLP, C-Corp., etc.) but opted to use the REIT vehicle because it was the best aligned alternative.
In regards to the REIT ruling, Williams Equity Research summed it up squarely:
Without getting into arduous detail, Hannon should be able to modify either its business model or strategy to keep doing what it is doing in a tax efficient manner even if the IRS comes back with bad news. It is, however, still a material risk and one we'll keep in mind for the valuation section.
Focus on Fundamentals
As evidenced below, HASI has a robust diversified pipeline of more than $2.5 billion of investment opportunities, all consistent with the company's investment thesis. The better risk-adjusted returns will be achieved by investing on the right side of the carbon line. In addition to investments in efficiency, wind and solar, HASI has increased its focus on opportunities on infrastructure assets.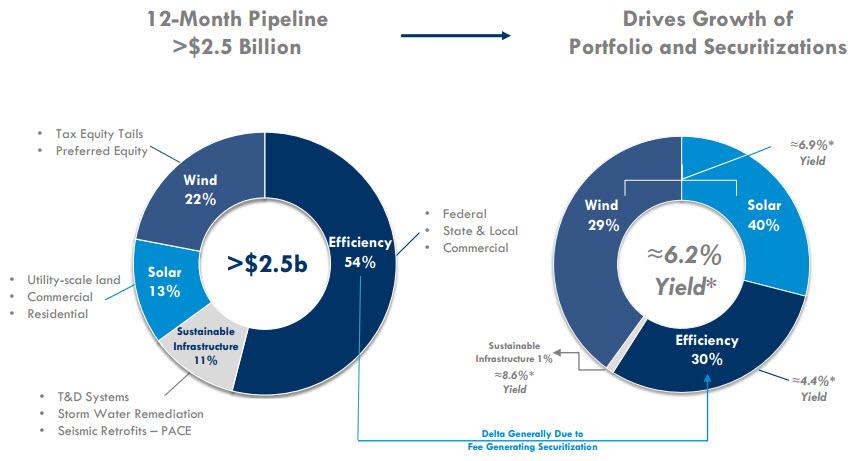 Turning to the right-hand side (above), the portfolio increased 16% in Q4-16 consistent with HASI's plan and yields have remained fairly constant over the last several quarters.
As you can see (below), the top right project is an $85 million micro grid system AmResco design to ensure the Marine Corps base at Parris Island, South Carolina can still operate for extended periods with grid outages.
The micro grid includes the 3.5-megawatt cogeneration plant, a 6.7-megawatt solar array and an 8-megawatt hour battery energy storage system and control system capable of optimizing dispatch and fast load shedding. This is an example of the military's need for investment in resiliency and this represents HASI's second investment in a military base that combined solar and battery storage. This one uses the Tesla (NASDAQ:TSLA) Powerwall and the other uses of Johnson Controls' (NYSE:JCI) battery storage system.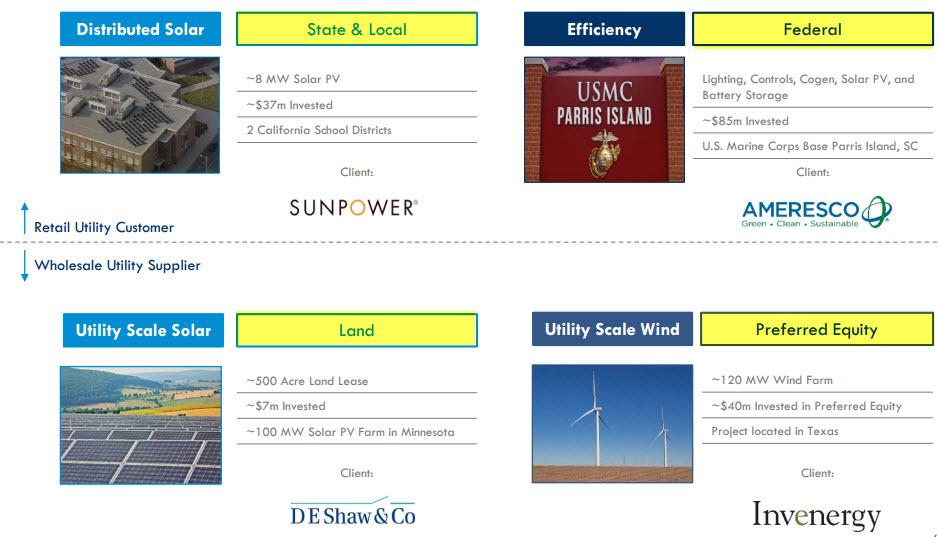 The top left (above) features two California schools choosing to go solar and scale, using the SunPower helix system. The bottom two projects (above) - land for a 400-megawatt utility scale solar project in Minnesota and a preferred equity investment in a 120-megawatt wind project in Texas by an energy company - highlight how HASI helps the developer optimize the capital stack of a project and add value to their business.
All four investments have attractive returns on equity and are diversified by geography, technology, operator and obligor.

HASI's business model, which is building a balance sheet of a diversified set of relatively small and uncorrelated assets with long durations and attractive risk-adjusted returns, is working. Remember that HASI is a hybrid specialty finance REIT focused on lending to the alternative energy space. The business model blends spread income created in the REIT and fee income generated through its origination/capital market business, which occurs inside a taxable subsidiary.
The flexibility of the model is highlighted by HASI's ability to hold and sell, which diversifies its funding base and enhances its profits. While HASI is a specialty finance focused REIT, its cash flow stream should be substantially more reliable than traditional consumer/corporate lending.
It uses less leverage because underlying asset yields are higher than comparable fixed income assets.
HASI's depth in the space is evident by its strong partnerships - Fortune 1000 companies and some of the largest players in their respective industries such as Johnson Controls, Siemens ( OTCPK:SIEGY) and Honeywell (NYSE: HON). These projects focus on increasing energy efficiency, providing cleaner energy, positively impacting the environment or making more efficient use of natural resources.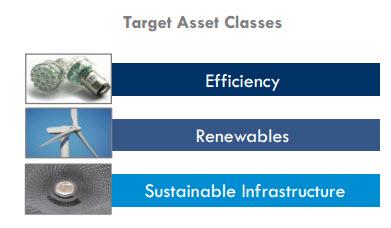 HASI's REIT structure allows it to participate in the energy efficiency sector in a tax-efficient manner and without having to rely on tax equity financing. This allows HASI to function more efficiently than C-Corp. structures.
HASI is also internally managed and internally-managed pass through vehicles typically have superior valuation relative to their externally-managed peers. For example, internally-managed REITs trade at a 30% premium to externally-managed REITs in terms of price-to-book value, and internally-managed BDCs trade at a 40% premium to externally-managed BDCs.
Energy cost increases, performance and government regulations and incentives are influencing corporations and federal, state and local governments to improve energy efficiency in existing buildings, resulting in a sizable and growing energy-efficiency sector.
The Balance Sheet
HASI's focus is on high credit quality assets and that is reflected in the portfolio, which excluding equity method investments, consists of 44% of assets from government obligors and 54% of transactions from commercial investment grade obligors, with only two projects representing 2% of assets or $21 million not considered investment grade.

HASI's portfolio is widely diversified with over 130 projects and an average outstanding balance of approximately $12 million per project. The company invests in assets that are neutral to negative on greenhouse gas emissions. As such, HASI analyzes each investment for its greenhouse gas impact prior to taking it to the investment committee, and in Q4, the aggregate investments reduced greenhouse gases by approximately 155,000 metric tons or equivalent to 76,000 metric tons of coal.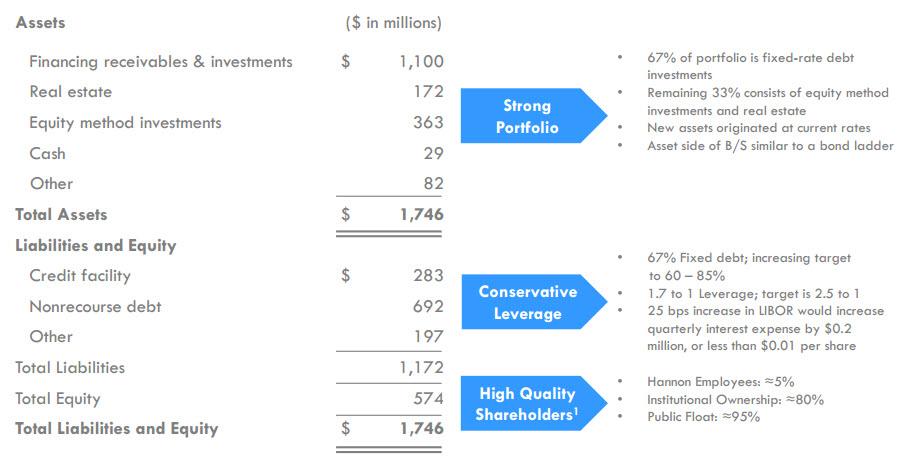 Presently 67% of assets are fixed rate debt investments with the remaining consisting of equity method investments and real estate, with largely preferred and predictable returns. New assets are originated at current rates, which is in effect similar to a bond ladder.
HASI's debt is at approximately 67% fixed rate and leverage is 1.7 to 1 against its 2.5 to 1 leverage target. HASI's equity raises are based on the company's expectation of future business and the company announced a large transaction earlier this quarter.
HASI estimates that a 25 basis-point increase in LIBOR would increase quarterly interest expense by approximately $200,000 or less than $0.005 a share, certainly a manageable number.
The Latest Earnings
For the full year, HASI generated $51 million of core earnings or $1.20 per share as compared to $34 million in 2015, or $1.04 per share - a 15% increase on a per share basis.
For the year, HASI generated GAAP interest income, rental income and income from equity method investments (labeled investment income) of $68 million, an increase of approximately $48 million in 2015 as a result of the continued growth in the portfolio.
For the quarter, investment income grew to $19 million from $13 million in the same quarter of 2015. HASI generated gain on sale on fee income of $19 million, up from $11 million last year, as a result of higher other investment revenue in the first half of the year.
Core earnings in Q4-16 were $13 million, or $0.29 per share as compared to $9 million in Q4-15, or $0.25 per share - a 16% increase on a per share basis. For the full year, HASI's core earnings were $51 million, or $1.20 per share, up 15% from the $1.04 in 2015.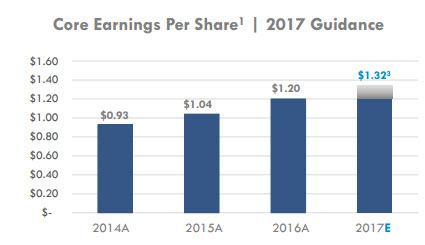 Sizing up the Opportunity
HASI is unique to the specialty finance space and the first to use the REIT vehicle, which makes valuation difficult. I consider dividend yield an appropriate valuation metric, and I use the other "bond-like" Net Lease REITs:

As you can see, based on the dividend yield metric, HASI is one of the cheapest. Keep in mind that HASI pays out 100% of core earnings in the form of dividends (HASI's payout ratio is 100%).
Now let's compare P/E (Net Lease REITs use P/AFFO):

Now let's compare earnings growth: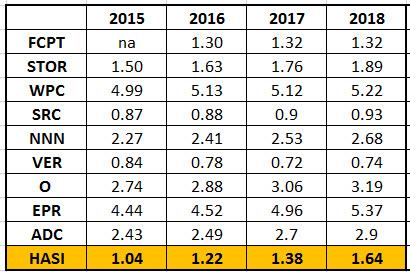 Now in %: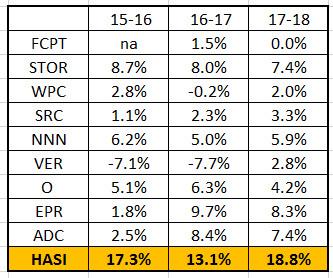 As you can see, HASI grows earnings at around double the pace of the Net Lease REIT peers. Again, HASI generates core earnings, not AFFO. The company does not have the Capex costs that the net lease REITs have, so the REIT pays out virtually 100% of its income (and over the last 2 years, over 60% of HASI's dividends have been treated as return of capital due to available tax attributes from income for a taxable REIT subsidiary).
As you can see above, HASI increased its dividend by double digits every year, and now we can see a trend in which the company has boosted its dividend.

The Bottom Line: HASI's questionable REIT status has been the primary catalyst for short sellers. While I have no reason to believe that the IRS will trim its definition of real estate in REIT-dom, I am convinced that HASI is building a business that allows investors to participate in attractive yielding assets, generated by an increasingly diverse portfolio. Also, keep in mind that HASI's management team owns 5% of the business, so there's an alignment of interests. I am maintaining my BUY recommendation (dividend yield is now 6.7%).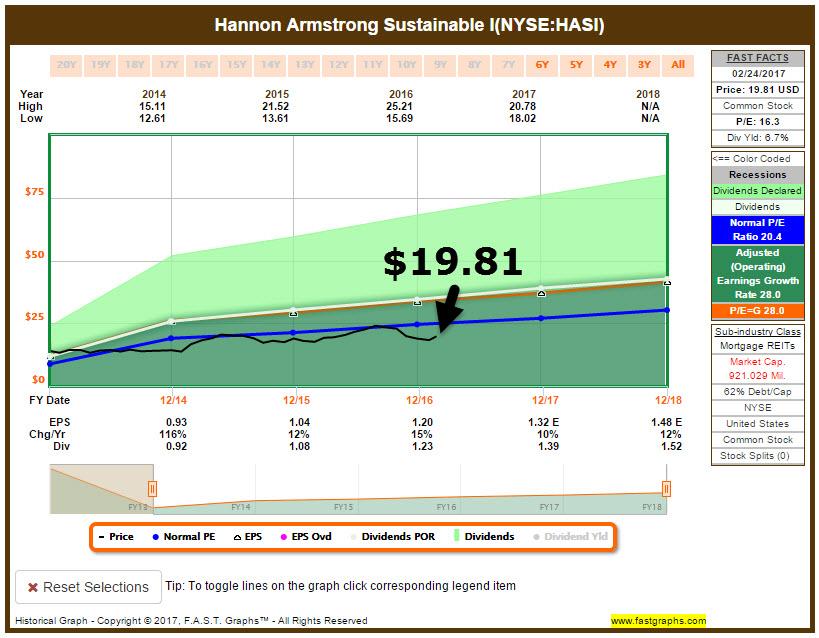 Check out The REIT Beat if you'd like to get more of my ideas, including early access to my highest-conviction REIT plays, access to Q&As with management teams, weekend REIT reports, and more. We'd love to have you on board, so have a look.
Author Note: Brad Thomas is a Wall Street writer, and that means he is not always right with his predictions or recommendations. That also applies to his grammar. Please excuse any typos, and be assured that he will do his best to correct any errors, if they are overlooked.
Finally, this article is free, and the sole purpose for writing it is to assist with research, while also providing a forum for second-level thinking. If you have not followed him, please take five seconds and click his name above (top of the page).
Sources: FAST Graphs and HASI Filings.
REITs mentioned: (FCPT), (STOR), (WPC), (SRC), (NNN), (O), (EPR), (ADC), (HASI).
Disclosure: I am/we are long APT, ARI, BXMT, CONE, CORR, CCP, CCI, CHCT, CLDT, CUBE, DLR, DOC, EXR, FPI, GPT, HTA, HASI, KIM, LADR, LTC, LXP, O, OHI, QTS, ROIC, STWD, SNR, STAG, SKT, SPG, STOR, TCO, UBA, VTR, WPC, PEI, EQR, MVEN.
I wrote this article myself, and it expresses my own opinions. I am not receiving compensation for it. I have no business relationship with any company whose stock is mentioned in this article.