Gander Mountain has begun bankruptcy proceedings following a lackluster return on its aggressive expansion across the United States. The company has failed to capitalize on an expanding market for gun sales, Reuters reports.
It also faces ruthless competition from Bass Pro Shops and Cabela's Inc. (NYSE:CAB) and others (both merged in a $5.5 billion landmark deal made last year).
The Net Lease REITs that reported the most exposure to Gander Mountain include National Retail Properties (NYSE:NNN) and STORE Capital (NYSE:STOR). NNN has 12 stores that represents 2.2% of Arbor Realty Trust (NYSE:ABR), and STOR has 13 stores that represents 2.2% of ABR. Both NNN and STOR fell on February 10th, when the Gander news was reported, and since that time, shares are recovered.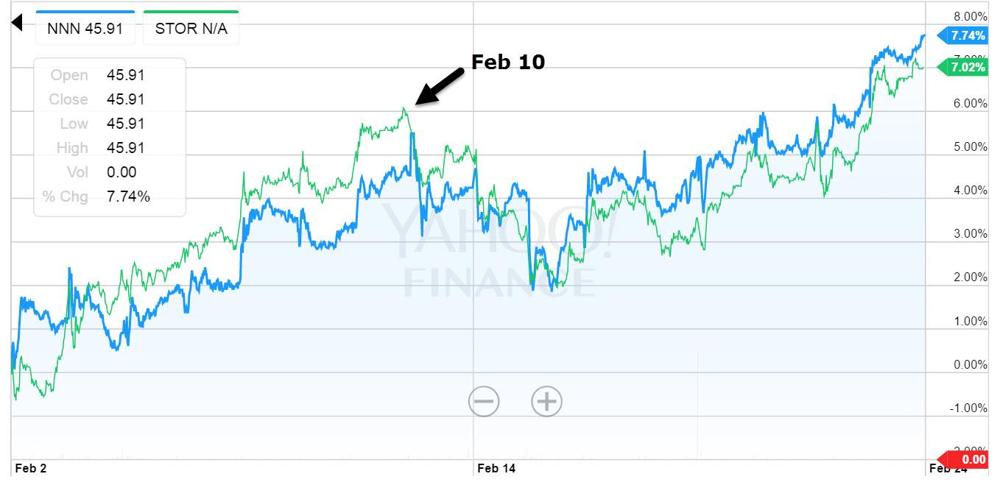 After several weeks of speculation, STOR management mentioned that Gander is in financial compliance. Chris Volk, STOR's CEO, explained:
... we expect to likewise have no material impact on our future performance or growth. As of today, Gander Mountain is in full monetary compliance of STORE's lease agreements.

We are on frequent discussions with them and we are encouraged by the constructive steps that they are taking to improve their business model. We benefit from Master leases, triple net leases, 15-year original lease terms and leases having unit-level financial reporting.

Based upon our knowledge of the performance of the stores that we hold, we are not concerned. When we provide guidance to you, we always incorporate assumptions regarding portfolio performance. Across three highly successful public companies, we've always targeted middle market and larger mostly private businesses.

These companies need us and the solutions that we provide has helped them to create jobs and well, for our customers, a balanced relationship. In turn, we realize higher lease rate and lease escalations we would if we just sought larger tenants.

We also have better alignment of interests. We paid less for real-estate and received better financial reporting from our customers who we can provide better reporting to our stakeholders. If you want to know what we believe to be the single contributor, biggest single contributor of our future expected performance, it will be the foundations that we're establishing at STORE.

Foundations in a company like this are not established in a day. It takes many years and a lot of focus.
Now Is The Time To Focus On STORE Capital
This isn't my first article on STOR. In fact, I have written quite a few.
My first article was on September 14, 2014, when the company went public, and my last article was on November 2016.
As I was reviewing the latest earnings calls and results last week, I could not help to spot the margin of safety for STOR. From a valuation perspective STOR seems to be mispriced, suffering from a valuation gap - some 4 turns below dividend contenders, Realty Income (NYSE:O) and National Retail.

Also, from a dividend yield perspective, it is noticeable cheap (around 160 bps higher than O and NNN):

As I began to ponder STOR, it became clear to me that there could be an opportunity to capitalize on the mispricing.
One key differentiator for STOR is that the company is more focused on granular property-level investments. With an experienced management team that is accomplished at providing real estate financing solutions to middle-market and larger businesses, the REIT operates in the service, retail and industrial sectors in the US.
Although STOR has been public for almost two years (in November), the company's senior management team (led by CEO Chris Volk) has a 35-year track record, and during that period, the leadership group has invested over $12 billion in over 8,000 properties.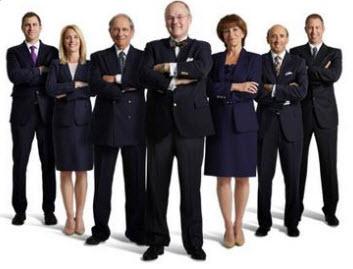 So while the bigger Triple Net REITs focus on traditional credit-based fundamentals, STOR's tenants typically don't have credit ratings. Most of these unrated companies either prefer to be unrated or are simply too small to issue debt rated by a nationally recognized rating agency in a cost-efficient manner.
While the Triple Net industry has enormous size, STOR focuses on the highly fragmented sub-sector with few participants addressing the long-term capital needs of middle-market and larger unrated companies. STOR believes that "the largest underserved market and, therefore, the greatest opportunity is bank-dependent, middle-market and larger companies that generally have less access to efficient sources of long-term capital."
STORE Capital was formed (IPO was November 2014) to capitalize on this market opportunity to address the capital needs of middle-market and larger unrated companies by offering them a superior alternative to financing their profit-center real estate with traditional mortgage or bank debt and their own equity. STORE is an acronym that stands for Single-Tenant-Operational-Real-Estate.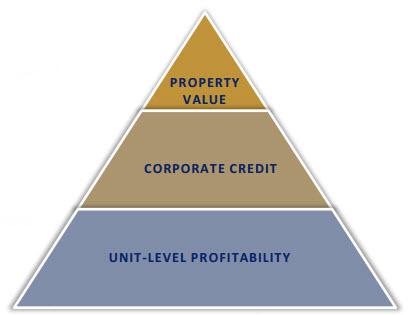 STOR is one of the fastest-growing net-lease REITs in the US: the company has invested more than $4.6 billion since its organization in 2011, with current annualized base rent and interest of over $382 million. Its management team has guided the formation, and ultimate sale, of two successful NYSE-listed REITs: Franchise Finance Corporation of America and Spirit Financial Corp.
STORE Capital's Diversified Portfolio
STOR's customers operate across a wide variety of industries within the service, retail and industrial sectors of the U.S. economy, with restaurants, movie theaters, health clubs, early childhood education centers and furniture stores representing the top industries in the portfolio. Here's a snapshot of STOR's industries:

As of Q4-16, the REIT had 360 customers, with an average of 17 net new customers quarterly. The portfolio includes 1,660 properties, with an average of 75 net new properties quarterly. The portfolio consists of 570 contracts, with an average of 30 transactions closed quarterly ($9 million median transaction size).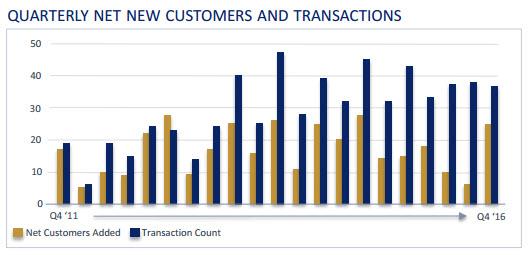 Here's a snapshot of its top tenants. As you can see below, the company has no one customer with over 2.9% concentration (Gander is #3):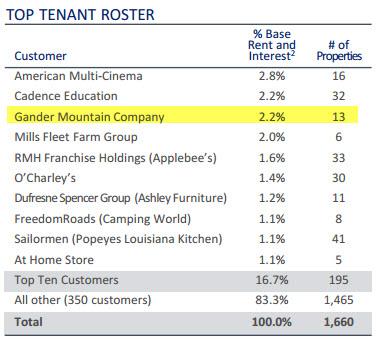 STOR has a geographically balanced portfolio with properties in 48 states, with expected national distribution.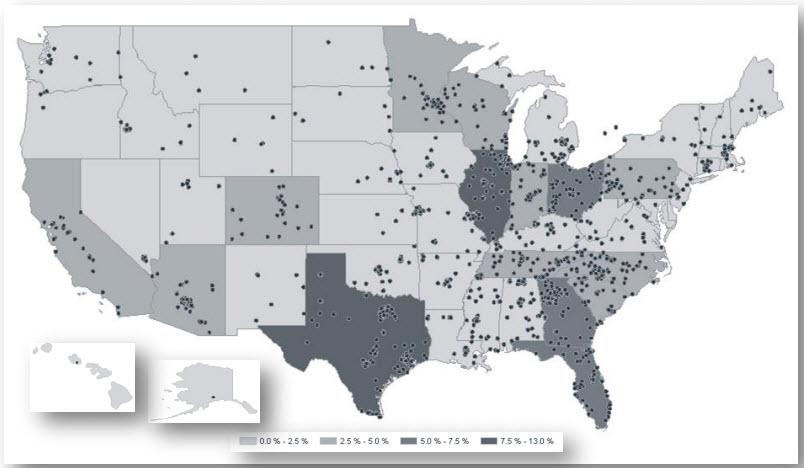 As referenced above, one key differentiator for STOR is that the company is more focused on granular property-level investments. While many of the bigger Triple Net REITs focus on traditional credit-based fundamentals, STOR's tenants typically don't have credit ratings. Most of these unrated companies either prefer to be unrated or are simply too small to issue debt rated by a nationally recognized rating agency in a cost-efficient manner.
Total Customer Revenues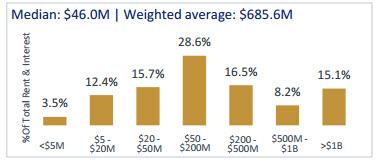 STOR's approach is more of a risk management one, and so, instead of herding hundreds of Net Lease deals through the door every year (like many of its peers), the company takes a more granular approach to ensure there is a critical piece of real estate attached to a profitable business operation.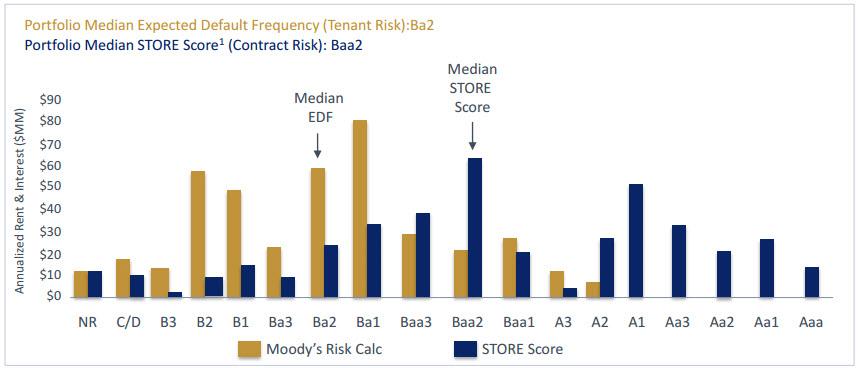 In our view, this is the "secret sauce" for STOR; as you will see below, the company provides many key metrics that you will not see in the filings of many of its peers. For example, I don't think any of the Net Lease REITs provide weighted average annual lease escalation data (STOR's is 1.7%).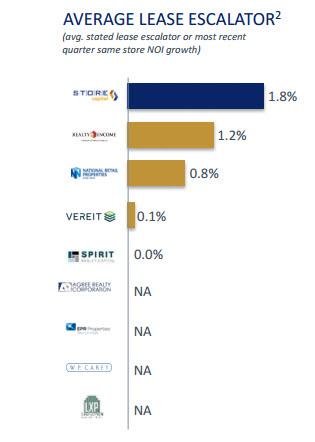 STOR has only 2% of "flat leases," and a majority (74%) of the leases are contractually CPI-based. Around 66% of the REIT's leases have "annual" rent escalations and around 28% of the leases have "5-year" rent bumps.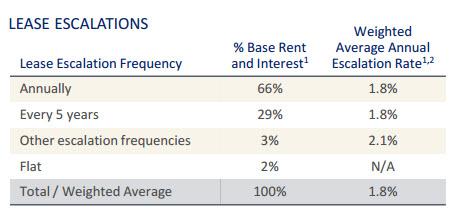 STOR's targeted internal AFFO growth per share is between 3% and 5%, driven primarily by the company's differentiated focus on signing leases with middle market companies.

Although it does not have the stronger investment grade revenue generators (like the peers), I was fascinated by the risk management tools with which STOR pays close attention to each asset, consistently stress-testing its portfolio.
By obtaining quarter sales reports from most (98%) tenants, STOR can measure performance of each individual property. This communication channel provides it with an advantage with which the company can mitigate risk and provide a higher degree of predictability.
STORE Capital's External Growth Engine
STOR's external growth is expected to be the primary driver of AFFO growth, driven by expected new investment activities that are high relative to the company's asset base.
According to STOR, there are more than $2.6 trillion of its properties in the US, and the company has targeted $7.7 billion of potential targeted investments. The opportunity is littered with over 1.6 million properties, providing STOR with an excellent platform to become the consolidator within the middle market net lease playing field.

The REIT is like a big fish in a small pond when it comes to its differentiated focus on larger, unrated, bank-dependent companies. STOR's target market is the largest commercial real estate sector not represented by institutional capital.
Q4-16 was STOR's best quarter ever, with acquisition volume of $325 million, up 19% from the same period last year. For the year, gross acquisition volume was $1.2 billion, consistent with the volume in 2015. The average lease rate for the fourth quarter was 7.9%, and the average cap rate for the year was 7.95%.
At year end, nearly 85% of STOR's investments were in customer-facing industries, with an emphasis on the service sector. About 75% of the contracts are investment grade quality, and 90% of the time, STOR uses its own lease form/contract.
Its unique platform has multiple origination channels, enabling the company to efficiently cover a very large market opportunity. All channels result in a B2B approach.

Balance Sheet
In 2016, STOR enhanced its financing flexibility through multiple actions.
The company launched its $400 million ATM program in September, made structural enhancements to the Master Funding debt conduit, secured an investment grade debt rating from S&P and expanded the credit facility.
During 2016, STOR reduced its leverage target to around 6x funded debt to EBITDA, plus or minus 25 basis points. The company made this decision as part of its plan to add investment grade unsecured debt to complement its A+ rated Master Funding program.
During 2016, the company raised net equity proceeds of $463.9 million, completed a $304.6 million follow-on offering in May and raised a total of $159.3 million through its ATM program. In October, STOR issued its seventh series of long-term fixed rate notes under its Master Funding debt program in the amount of $335 million.
STOR also completed a second offering of investment grade unsecured notes issuing a principal amount of $200 million of 10-year notes in aggregate. At the same time, the company closed a $100 million five-year unsecured bank term loan. It also expanded its unsecured credit facility to $500 million by accessing the accordion feature, which permits the company to expand the facility to as much as $800 million over the term of the credit agreement.

Virtually all of its borrowings are long-term and fixed-rate, and the debt maturities are well laddered. As of December 31, the total long-term debt outstanding was $2.3 billion, with a weighted average maturity of 6.4 years and a weighted average interest rate of 4.6%.
STOR entered 2017 with $54 million in cash, nearly the full $500 million available on its credit facility and virtually no exposure to floating-rate debt. At the end of Q4-16, leverage stood at a conservative 6.1x net debt to EBITDA on a run rate basis, or roughly 45% on a debt-to-cost basis.
This conservative capital structure and enhanced financing flexibility provides the company with plenty of liquidity to fund acquisitions and effectively manage its cost of capital.
Latest Results
STORE Capital's strong performance translated into healthy gains in AFFO and AFFO per share. For the quarter, AFFO increased 28% to $67.1 million, or $0.43 per basic and diluted share, compared to $52.6 million, or $0.40 per basic and diluted share last year.
For the year, AFFO increased 34% to $246 million, or $1.65 per basic share, $1.64 per diluted share compared to AFFO of $184 million, or $1.49 per basic and diluted share for 2015. Year-over-year AFFO per share increased 10%.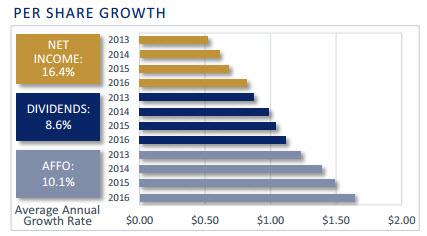 In Q4-16, STOR declared a quarterly cash dividend of $0.29 per common share. For the year, the company declared dividends totaling $1.12 per common share, which included a 7.4% increase during the third quarter.
The Most Important Thing
STORE Capital is unique to most Net Lease REITs because the company was designed to create a high level of internal growth (create AFFO growth) without issuing new shares to fund growth. The two biggest drivers of this are tenant lease escalators and the accumulation of free cash flow after dividend payment.
STOR has annual 1.8% lease escalators and a dividend payout ratio this quarter of 67%. Given its overall capital structure, the company estimates that these combine to grow AFFO per share a bit north of 5% annually. Let's compare that to the peers' AFFO: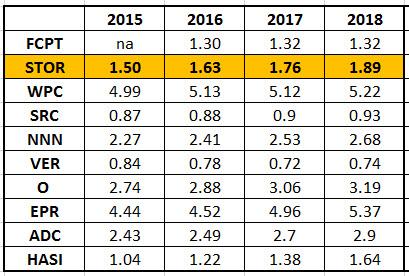 Now in %: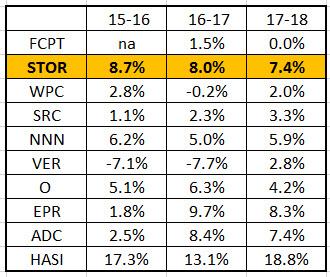 Here is the margin of safety: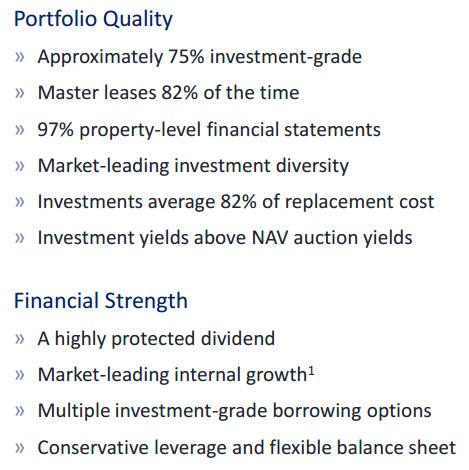 In closing, STOR is trading at a margin of safety, and I expect that valuation gap to close in 2017. Although the Gander difficulties could impact the retailer's growth, I am pleased that the REIT has designed a balanced portfolio. (Top-10 tenant concentration is 16.7%, up from 16.2% last quarter, and is the lowest top-10 tenant concentration in the sector. No tenant accounts for over 2.8% of annual rent and no concept for over 3.1%.)
Although I don't see STOR's P/FFO multiple moving in line with that of O or NNN, I believe there's a margin of safety that represents an outsized opportunity in which returns could fetch 20% per year.
With a March rate hike likely, we are recommending a split Buy, recognizing that rates could trigger a pullback. In other words, nibbling seems the most appropriate recommendation given the fact that traders are pricing in about a 1-in-3 chance of a rate increase when the FOMC next meets on March 14-15.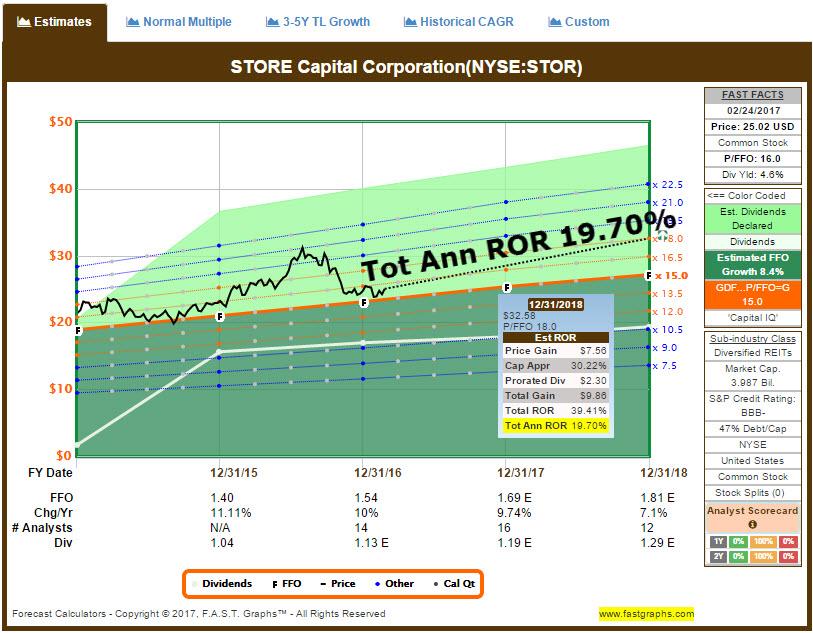 Check out The REIT Beat if you'd like to get more of my ideas, including early access to my highest-conviction REIT plays, access to Q&As with management teams, weekend REIT reports, and more. We'd love to have you on board, so have a look.
Author Note: Brad Thomas is a Wall Street writer, and that means he is not always right with his predictions or recommendations. That also applies to his grammar. Please excuse any typos, and be assured that he will do his best to correct any errors, if they are overlooked.
Finally, this article is free, and the sole purpose for writing it is to assist with research, while also providing a forum for second-level thinking. If you have not followed him, please take five seconds and click his name above (top of the page).
Source: F.A.S.T. Graphs and STOR filings.
Other REITs mentioned: Four Corners Property Trust (NYSE:FCPT), W.P. Carey (NYSE:WPC), Spirit Realty Capital (NYSE:SRC), VEREIT, Inc. (NYSE:VER), O, EPR Properties (NYSE:EPR), Agree Realty Corp (NYSE:ADC) and Hannon Armstrong Sustainable Infrastructure Capital (NYSE:HASI).
Disclosure: I am/we are long APT, ARI, BXMT, CONE, CORR, CCP, CCI, CHCT, CLDT, CUBE, DLR, DOC, EXR, FPI, GPT, HTA, HASI, KIM, LADR, LTC, LXP, O, OHI, QTS, ROIC, STWD, SNR, STAG, SKT, SPG, TCO, UBA, VTR, WPC, PEI, EQR, DEA, STOR,.
I wrote this article myself, and it expresses my own opinions. I am not receiving compensation for it. I have no business relationship with any company whose stock is mentioned in this article.