Welcome to the tenth installment of the Value Investing for Main Street series, the healthcare edition, exclusively on Seeking Alpha.
In January of 2009, when the stock market had not yet stabilized from the financial crisis freefall, the Value Investing for Main Street Model Portfolio (VIMS) had the wherewithal to initiate a position in the stock of Becton, Dickinson and Company (NYSE:BDX). We reasoned that a non-cyclical medical supplier would avoid the headwinds of a slow growth economy and sustain revenues and dividends as a result.
We were further buoyed by BDX's cheap price at the time compared to our preferred but expensive (or so we thought) healthcare company, Johnson & Johnson (NYSE:JNJ). We reckoned that BDX was the "poor investors J&J."
Following a one and a half bagger increase plus dividends (versus a one bagger for JNJ), we are now cautionary from management transparency issues and valuation metrics that have dramatically altered our calculated margin of safety, challenging our resolve as grateful eight-year owners of BDX.
Thus, we now lean toward selling or reducing our stake in BDX and adding JNJ back on our Watchlist. Here's why.
A Buy and Forever Dividend Payer Since 1962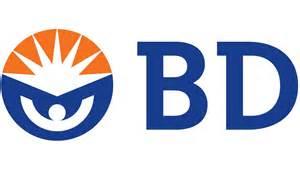 BD and BD Logo are trademarks of Becton, Dickinson and Company
BDX is a large cap stock in the medical instruments & supplies industry within the healthcare sector. As of this writing, its market capitalization was an approximate $39 billion. BDX's price-to-earnings ratio or current stock price relative to earnings per share for the trailing 12 months is approximately 30 times versus about 29x for the medical instruments and supplies industry as a whole, and about 23x for the Standard & Poor's 500 Index.
Despite our skepticism in forecasting, the forward price-to-earnings ratio is approximately 19 times compared to the same 19x for the healthcare sector and about 18x for the S&P 500. The current and trailing P/E ratios for BDX appear in-line relative to the healthcare sector and slightly elevated to the market as a whole.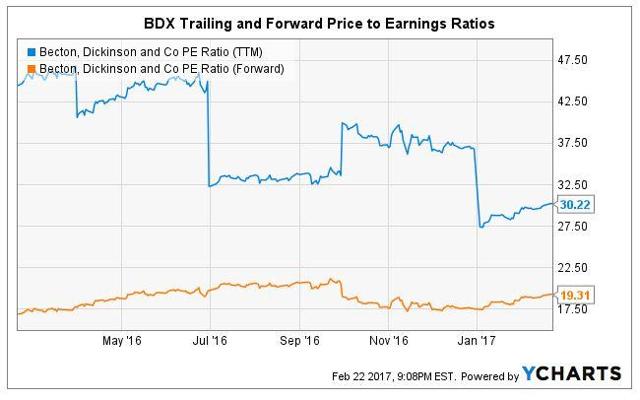 BD's earnings per share (EPS) as of February 2, 2017, was $6.02 annualized, producing a 3.31% earnings yield, i.e., EPS divided by the most recent stock closing price. The company's next earnings announcement is scheduled for May 4, 2017. Should we remain long the stock, Value Investing for Main Street will attend the call on behalf of our readers.
As of this writing, BD is paying a moderately generous 49% of its EPS to shareholders in an annual dividend of $2.92 per share, paid quarterly, resulting in a 1.60% dividend yield.
According to BD investor relations:
Becton, Dickinson and Company made its initial public offering on April 23, 1962, at $25 a share. An initial purchase of 100 shares on that date would have increased to more than 14,400 shares by the end of Fiscal 2015, assuming all dividends were reinvested and shares were adjusted for stock splits.
The company has paid dividends each year since 1909, with only three exceptions, which occurred while it was privately held. Since becoming publicly held in 1962, BD has paid regular quarterly dividends and has also declared periodic dividend increases.
Source: Becton, Dickinson and Company
Thus, a $2,500 investment during the initial public offering on April 23, 1962, assuming all dividends were reinvested, and adjusted for stock splits, would be worth approximately $2.5 million today. Another captivating reminder of the power of compounded buy and hold investing for the main street value investor to contemplate toward a commitment of total return from capital appreciation and dividend payments.
Competing in a Commoditized Industry of Narrow Moats
Understanding a company's goods or services and its competitive advantages are essential to the main street value investor. We want to own businesses whose products or services are easy to comprehend.
Within investing parlance, an economic moat is the subjective measure of the competitive advantages of a company's goods or services in the marketplace. A wider moat creates a barrier to entry for potential competitors. In the highly specialized healthcare space, wide moats are common. Six of the top seven holdings in the Vanguard Health Care Fund (MUTF:VGHCX) enjoy wide moat competitive advantages.
However, a review of direct competitors in the medical equipment & supplies industry reveals a predominantly narrow moat portfolio of companies. Notable exceptions with wider moats are Intuitive Surgical (NASDAQ:ISRG), Medtronic (NYSE:MDT), Stryker (NYSE:SYK), and Zimmer Biomet (NYSE:ZBH).
BD divides itself into two global business segments: BD Medical and BD Life Sciences, inclusive of the 2015 acquisition of CareFusion, a medical technology company.
BD Medical
Diabetes Care
Medication Management Solutions
Medication and Procedural Solutions
Pharmaceutical Systems
BD Life Sciences
Biosciences
Diagnostic Systems
Preanalytical Systems
Despite this diversified product mix ranging from medical supplies and devices to laboratory and diagnostic equipment, according to Morningstar, BD competes surrounded by a narrow moat:
The foundation of BD's moat is its manufacturing scale within its basic surgical products segment, which accounts for more than half of the company's business. The company is the largest manufacturer of needles/syringes; competition can't match the company's scale, making competing on price very difficult. BD's diagnostic business is squarely in the narrow-moat bucket. The biosciences segment on its own would also likely receive a narrow moat rating, as the firm holds leading positions in flow cytometers and invested heavily to grow its presence in a broader cell-therapy market, but still lacks the breadth and capabilities of its peers. CareFusion's narrow moat stems from high product switching costs and substantial barriers to entry.
Revenue by segment from Becton Dickinson's most recent Annual Report and Form 10-K filing with Securities and Exchange Commission (SEC) for the fiscal year ending September 30, 2016: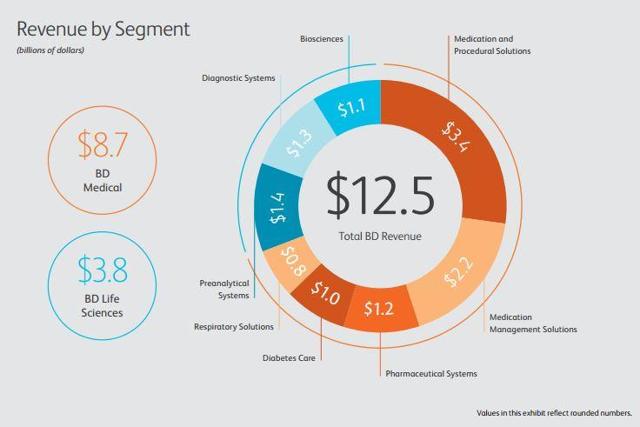 Source: Becton, Dickinson and Company
I challenge readers that may be inclined to skip annual reports and other SEC filings to find organizational, product, regulatory, and financial facts about the company that you were previously unaware of, as I often do. To be sure, these documents are largely avalanches of legalese and numbers crunching, but deep dives will often uncover slices of information that bring us virtually inside the company's hallways.
For example, in BD's 2016 annual report, I noted that the employee count increased ~72% from fiscal 2012 to 2016, while revenues increased a lesser ~62%, and operating income was flat during the same five-year period. The CareFusion acquisition most likely affected these outcomes, but a review of the 10-K allows someone outside the corporate walls a peek at such anomalies.
To own a company, we must first understand the business that generates the numbers that comprise the stock's analysis.
Nice Growth if You Can Get It, and You Can Get It if You Try
When considering the worthiness of a company's inclusion in the Value Investing for Main Street Model Portfolio (VIMS), the emphasis is placed on recent actual growth metrics as opposed to speculative forecasts of what may or may not happen with future revenues, earnings per share, free cash flow, or dividend growth. We look for positive, trailing five-year increases in revenue, earnings, free cash flow, and dividends. As defensive investors, we prefer companies that are already growing, not just promising to grow.
In the most recent five-year period, BD's compounded annual revenue and earnings per share growth rates were 10.48% and -3.30%, respectively. The rare double-digit, top-line increase for an S&P 500 company reflects BD's predictable revenues from counter-cyclical healthcare products. However, a contracting bottom line distorts any long-term growth optimism.
BD's most recent five-year compounded annual dividend growth rate is a robust 10.60%. As with its revenue, we are equally intrigued by BD's steady double-digit growth of dividend payouts to shareholders. Dividends keep us compensated in the short term as we wait patiently for capital appreciation of the company's stock over the long term.
Transparency
Vincent A. Forlenza is BD's chairman of the board, chief executive officer, and president. Mr. Forlenza joined the company in 1980. Following a stint as chief operating officer, he was named president in 2009, CEO in 2011, and chairman in 2012. Unable to locate in-depth executive biographical information on the BD website, I was forced to find background information on Forlenza at Bloomberg.com.
Corporate transparency beyond the regulatory requirements of a publicly-traded company is critical to a main street value investor. We want to own companies with forthcoming management. Having to search outside of the company for executive bios beyond name, age, title, and compensation brings out the caution flag on Becton, Dickinson and Co. This frustration reminded me of the live webcast of the company's annual meeting of shareholders that I attended on January 24, 2017. I remember being somewhat alarmed on how brief the agenda was to the point of a monotonic, let's get this over with type of approach. To be fair, the dissociation of not being physically in attendance may have skewed my impressions.
Forlenza's executive team and ~51,000 employees, are serving 190 countries on behalf of Franklin Lakes, New Jersey-based BD. The company is delivering a trailing 12-month operating margin (EBIT or earnings before interest and taxes) at a peripheral 15.21% of revenue; netting a 10.53% net profit margin, i.e., trailing 12 months of income after taxes divided by sales. We prefer double-digit margins, but with net just above 10%, BD's bottom line is getting too close to our bottom line.
Nonetheless, in studying the company's cash flow statement for the fiscal year ending September 30, 2016, we are impressed by the increase in five-year average growth in total cash from operations from $1.76 billion in 2012 to $2.56 billion in 2016. Overall, BD's annualized trend in generating cash flow from operations is positive as further demonstrated by the recent 16.75% cash flow margin; well above our minimum threshold of 10%. Cash flow margin is cash flow divided by sales, each measured over the trailing 12 months.
At VIMS, we prefer highly profitable, cash-generating companies that provide margins of safety in a literal sense. BD is growing sales and converting those revenues into free cash flow that can be reinvested into research and development (R&D) and shareholder payouts.
As does Warren Buffett, we place a premium on the return on invested capital (ROIC) or how well a company is allocating its financial resources to generate returns for the business. As value investors on Main Street, we target companies producing 12% or higher in ROIC. Notably, BD's ROIC at the time of this writing was a mere 6.68%.
Stock buyback manipulation notwithstanding, another excellent measure of management effectiveness is the return on equity (ROE) or how well the company generates net income as a percentage of total equity in the stock. Since we look for a minimum of 15%, we view BD's most recent ROE of 17.15% as net positive.
In an R&D intensive manufacturing operation such as BD, we also want to take a peek at return on assets (ROA), i.e., management's ability to use the company assets to generate earnings. As of this writing, the company was leveraging assets at a nominal 5.10%.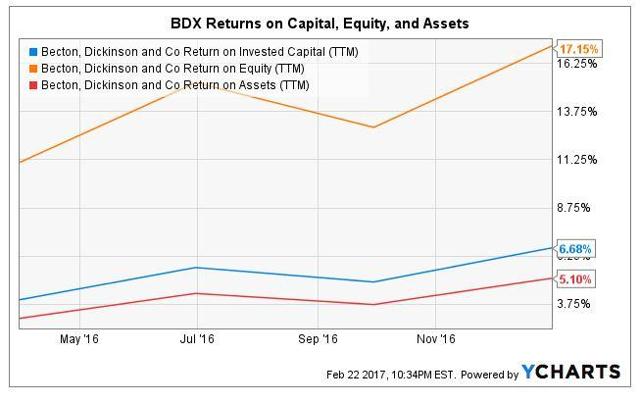 Becton, Dickinson and Company is a global healthcare supplier with $12.5 billion of growing and predictable annual worldwide sales netting operating margins and earnings per share that are driving double-digit dividend growth.
However, management seems to be less transparent than our expectations as individual do-it-yourself main street value investors that lack the C-Suite access of Wall Street brokerage analysts and fund portfolio managers.
Should we continue to hold our now eight-year position based on growing revenues, cash flows, and dividend payouts, or close-out or reduce the position from concerns surrounding BD's lower than average returns on capital? The answer may lie in the stock's valuation details.
Healthcare is Expensive; as are Medical Equipment Stocks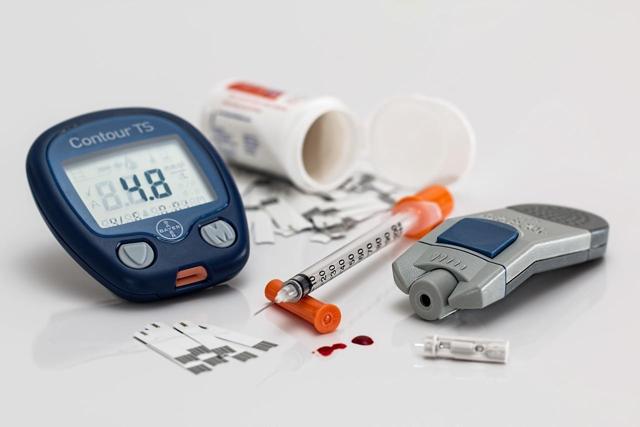 Stevepb/Pixabay
Determining the attractiveness of a stock's price based on valuation metrics relative to a company's fundamentals is a primary tenet of the main street value investor's search for stock investing nirvana, or alpha.
As of this writing, BDX appears an expensive stock of a fundamentally sound company in the context of its growing revenue, cash flow, and dividends. Current valuation indicators are arguably in the sell or reduce range depending on an investor's metric of choice.
BDX was recently trading at 16.30 times enterprise value to operating margin (EV/EBITDA). In general, 12 times or lower would reflect a reasonable stock price. EV/EBITDA is a useful indicator of whether the stock is oversold in the market, or overbought as appears to be the present case for BDX.
BDX's price to sales ratio was 3.19 times as of this writing; meaningful to the 2.00x or lower that we interpret as a good value when measuring a stock's price relative to its revenue stream. In direct comparison, BD's peers in the medical equipment & supplies industry are trading at a higher 4.20x. However, the collective healthcare sector had a significantly lower P/S of 1.81x versus the S&P 500's 2.04x.
The price-to-earnings growth ratio (PEG) is a favorite among growth investors. However, main street value investors are more cautious based on the projection nature of PEG as opposed to actual trailing results. Nonetheless, PEG can provide a substantive peek into a stock's price worthiness. We prefer a ratio below 2.00, but BDX was recently trading at a slightly elevated 2.98 times based on a five-year growth projection. The medical equipment & supplies industry was trading at 2.51x PEG.
BDX also appears expensive when considering its price-to-book or P/B ratio. As of this writing, the stock is trading at 5.11 times its net asset value. We focus on fundamentally sound companies selling at a P/B ratio of less than 2.00 or at least below the industry average. In BDX's case, its P/B is trading comparable to the 5.65x of its peers.
Some investors may prefer a measurement of tangible book, where intangible items such as patents, intellectual property, and goodwill are absent from the denominator. At the time of this writing, price to tangible book for BDX was -6.49 reflecting approximately $13.6 billion of intangible assets as of December 31, 2016, that if removed, would produce a negative shareholders' equity on the balance sheet. However, this is often more an accounting exercise than a valuation concern.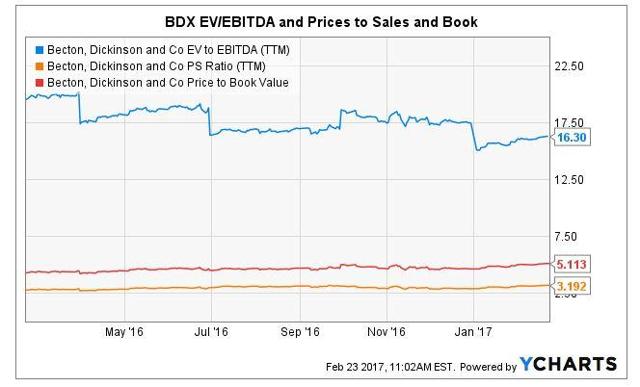 We also measure cash flow as a reliable predictor of the intrinsic value of a stock price. BDX's price-to-cash flow ratio (P/CF) was 14.95 compared to 16.79 for the healthcare sector as a whole. At VIMS, we look for stocks trading at less than 10x P/CF, or at least significantly below the sector or industry average. Again, both BD and its peers are trading at higher than average valuations.
Own Companies that Can Pay Down Debt - Benjamin Graham
An important measure of risk is a company's liquidity, e.g., current assets divided by long-term debt. Higher than 1.50 is ideal as we want to own businesses that theoretically can pay down debt with liquid assets. This area of the balance sheet was a focus of the father of value investing, Benjamin Graham. Our most recent measure of BD's liquidity was an alarming 0.58. In theory, the company could not pay off its long-term debt obligations using its liquid assets such as cash and equivalents, short-term investments, accounts receivables, and inventories.
Current ratio (CR) is another simple but telling measure of a company's financial stability. CR is current assets divided by current liabilities, the higher above 1.00, the better. BD's most recent balance sheet had a CR of 1.14, demonstrating that liquid assets are minimally adequate in funding near-term liabilities, such as accounts payables and short-term debt obligations.
The Intrinsic Value of a SEC Filing
In reviewing BD's most recent quarterly 10-Q filing with the SEC - documents main street value investors should be reading for all current and potential future investments - we discovered that BD is currently defending two lawsuits. One appears based on claims of alleged BD patent infringements, and the other on claims of BD's alleged monopolizing of the markets for syringes and IV catheters. The company believes that it has "meritorious defenses" to each of the pending suits and is "engaged in a vigorous defense of each of these matters."
No other issues were evident in the 10-Q not already discussed in this article.
The VIMS Model Portfolio ranks BD's overall market risk profile as below average. We like profitable, dividend paying, wide-moat companies with low volatility that have the free cash flow and liquidity to pay its bills, both short and long term. BD entices us with its earnings per share, revenue and dividend growth, and cash flow margin, but gives us pause when analyzing its earnings growth, liquidity, profit margins, valuations, and returns on capital.
In general, we own common shares for the long-term benefit of partnering with a company that assists customers with an in-demand, useful product or service mix, and rewards shareholders by way of world-class internal financial controls. However, attempting to predict explicit future prices or percentage gains and declines is a Wall Street game that we respectfully choose to avoid on Main Street.
Sharing a Needle is Bad for Your Health and Your Portfolio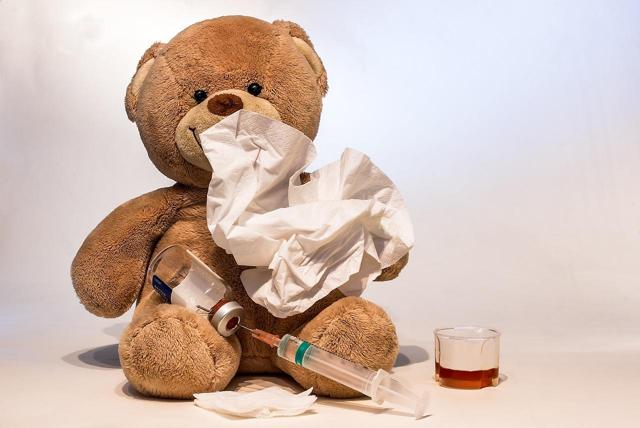 Myriams-Fotos/Pixabay
As main street value investors, we do not interpret market consensus as a definitive buy or sell signal, but more a suggestion to perhaps run the other way. However, evaluating the Wall Street consensus on a stock is an entertaining if not serious dive into a contrarian's treasure trove.
According to data miner, TipRanks, the Wall Street analysts' consensus on BDX is a moderate buy with a price target of $182.00, or a flat upside to current trading levels, based on the models of three analysts.
The financial blogger consensus, including contributors from Seeking Alpha, is also bullish per TipRanks. At VIMS, we place most weight on the blogger consensus as it tends to be more of a Main Street view, although we are mindful that many bloggers focus on fundamentals, growth, and dividends, not necessarily value.
However, it is evident, as of this writing, that both Wall Street analysts and Main Street bloggers collectively recognize the attractive, sustainable revenue characteristics of BD. However, we view the bullishness as more a momentum trade philosophy than a value investment opportunity.
Short interest, or the percentage of shares that are traded based on a bet the stock price is poised to drop, was neutral for BDX at 1.69% of shares outstanding as of this writing. We think of short interest as the hedge fund consensus since the Wall Street money manager elite executes a significant shorting of stocks. Nonetheless, hedge fund holdings of BDX had decreased in the most recent quarter per TipRanks.
As of this writing, it appears that insiders at BD, i.e., its senior management and directors, are selling. At VIMS, we take insider activity with a grain of salt. Why are senior corporate managers exercising stock options? It often has more to do with personal financial management than a bearish view of the company that employs him or her.
Work-Life Balance in a Matrix Organization
A unique contribution of the Value Investing for Main Street series is the measurement of employee satisfaction as well as the CEO approval rating. Although gathered from non-scientific data of the all-too-biased Internet, we believe a snapshot look at employee morale is worth the peek to see if further due diligence is in order.
According to Glassdoor, about 900 alleged Becton Dickinson present and former employees that submitted online reviews have collectively rated the company 3.3 out of 5 stars. The most cited positive comments were "work-life balance overall" and "good benefits." The most mentioned drawbacks were "work/life balance in finance" and "the matrix organization slows decision making." I say welcome to the American workplace. Nevertheless, 3.3 is a relatively low score on Glassdoor.
Based on close to 300 reviews on Glassdoor, BD employees give CEO Forlenza a modest 81% approval rating. Anytime a company CEO is respected - or disrespected - by those that work within the same culture as him or her; we take notice.
Happy employees producing quality products typically transcends to loyal customers and sustainable profitability. Of course, dominant market share of in-demand products will produce faithful customers, no matter the level of employee morale.
Introducing the VIMS Margin of Safety - MoS
A stock's "margin of safety" is an estimate of the difference between the intrinsic value of the stock and its current market price. Some professional value investors prefer to calculate the margin of safety with discounted free cash flow projections. For example, Morningstar currently publishes its view of BDX's margin of safety, or "fair value," at $186.00 per share, about a 2% premium to the stock price as of this writing. The depth of the analysis is breathtaking.
These types of overly sophisticated margin of safety or intrinsic value measurements are what allegedly justify the high fee structure of Wall Street. However, we are suspect of the projection nature of these formulas. If we have to start predicting future cash flows, interest rates, and capital expenditures, haven't we become more a speculator and less an investor?
At Value Investing for Main Street, we take a modest, and frankly realistic approach to estimating margins of safety. We prefer to measure intrinsic values in a broader sense as opposed to Magic 8 Ball specificity. Wall Street, in general, continues to regurgitate complex financial models of predominantly pie in the sky price targets. If those models consistently worked, wouldn't we all be rich?
To the contrary, the VIMS Margin of Safety calculation follows the Magic Formula, a concept created by infamous value investor and author, Joel Greenblatt, that looks for cheap stocks with good earnings yields (EY) and returns on capital (ROIC). VIMS simply adds EY, ROIC, and the reciprocal EBIT/EV to determine the overall profitability, fundamental strength, and market valuation of the company. At VIMS, we believe our Magic Formula-based calculation of margin of safety is a useful measure of a company's intrinsic worth based on current and trailing indices as opposed to assumptive future cash flows and other crystal ball projections.
In contrast to the one year, get-in and get-out laddering approach of Greenblatt's Magic Formula - similar to the Dogs of the Dow philosophy - we measure MoS for longer-term value investing as opposed to shorter-term value trading.
As of this writing, the Value Investing for Main Street Margin of Safety rating for BDX reiterates a bearish view based on our revised formula.
BDX: EY of 3.31% + ROIC of 6.68% + EBIT/EV of 2.25% = VIMS MoS of 12.24%.
25.00% and higher MoS is interpreted as bullish.
15.00% to 24.99% MoS is interpreted as neutral.
14.99% or lower MoS is interpreted as bearish.
Because of BD's sustainable non-cyclical revenues in supplying healthcare products to the world, momentum growth investors may argue that BDX remains neutral or perhaps bullish. However, when evaluating concerns such as management transparency, returns on capital, liquidity, and our proprietary calculation of margin of safety, this contrarian main street value investor thinks it may be time to take profits by reducing or selling our position in BDX.
But not before publicly thanking BD's employees, customers, and Mr. Market for a 160% tax-deferred, low cost, cumulative return plus dividends versus 155% for the S&P 500 during the same 8-year holding period.
And after adding JNJ back to the VIMS Model Portfolio Watchlist based on its enduring fundamentals, including a low risk liquidity of 2.69 and an MoS of 3 to 4 times that of BDX at 41.11%. We will address JNJ's valuation in a future VIMS article.
Thank You for Reading the Value Investing for Main Street Series Exclusively on Seeking Alpha
I am excited and humbled by the number of readers and new followers from the first nine articles in the Value Investing for Main Street series. I invite new readers to "follow" the series by clicking the orange button and choosing to receive alerts for the subsequent build-up of the Value Investing for Main Street Model Portfolio (VIMS) here on Seeking Alpha. Then join me, one primary ticker at a time, in literally seeking alpha with limited capital, lower costs, and less risk than the titans of Wall Street. Comments are strongly encouraged and always welcomed.
Please read the important accompanying disclosures.
The Main Street Value Investor and the Value Investing for Main Street Model Portfolio (VIMS) are trademarks of David J. Waldron, LLC.
BD logo, brands, and proprietary content are trademarks or copyrighted material of Becton, Dickinson and Company.
Nice Work If You Can Get It (1937) - music by George Gershwin, lyrics by Ira Gershwin.
Magic 8 Ball fortune-telling toy brand is a trademark of Mattel, Inc. (NASDAQ:MAT)
Data Sources: Seeking Alpha, YCharts, Becton, Dickinson and Co., Glassdoor, TipRanks, Charles Schwab & Co. (Morningstar, Thomson Reuters, and S&P Capital IQ).
Disclosure: I am/we are long BDX.
I wrote this article myself, and it expresses my own opinions. I am not receiving compensation for it (other than from Seeking Alpha). I have no business relationship with any company whose stock is mentioned in this article.
Additional disclosure: Author may sell or reduce long position in BDX over the next 72 hours. Data is for illustrative purposes only. The accuracy of the data cannot be guaranteed. Narrative and analytics are not intended for portfolio construction beyond the contributor's model portfolio which is solely for educational purposes. David J. Waldron is an individual investor and author, not an investment adviser. This article is neither intended as investment advice or as a recommendation to buy/hold/sell/short or avoid any securities. Readers should always engage in further research and consider (as appropriate) consulting a fee-only certified financial planner, discount licensed broker/dealer, flat fee registered investment adviser, qualified attorney, or certified public accountant before making any investment, income tax, or estate planning decisions.