Macy's (NYSE:M) is a value investor's dream. The company is a highly profitable, best of breed department store with significant assets and cash flow, a solid management team, a large and safe dividend, and a clear path to the monetization of under utilized real estate. Even with the beginning stages of real estate monetization happening today, and even with the company having received a takeover offer, the stock is still pricing in the failure of the company. Macy's is the El Dorado that everyone is searching for, and it's right in front of us.
With the full year 2016 earnings report now available, investors have clarity on the crucial Christmas selling season. We also received an update on guidance going forward and we have a conference call that was loaded with talk of real estate and plenty of information that should help any investor who struggles with the widespread fear that brick and mortar retail is on the fast track to extinction.
Since real estate is a huge component of value for investors analyzing the company today, Macy's spent significant time discussing the subject on the conference call. Before I speak of that however, I want to briefly say a few things about something people have stopped talking about, the stores and the profitability of the company. First of all, Macy's is highly profitable. They reported $1.8 billion of operating cash flow in 2016. After subtracting CapEx and Capitalized Software, we have free cash flow of $889 million, or $2.92 per share. On the conference call, CFO Karen Hoguet said that every single Macy's store today is free cash flow positive. Followers of the company will recall that Macy's is currently closing 100 stores, which means Macy's is closing profitable stores to focus on more profitable stores. In addition, SG&A expenses are coming down, which will go a long way towards maintaining this level of profitability even in the face of an expected 2% decline in comp sales in 2017. Macy's near 5% dividend gives investors a meaningful stream of cash while they await either improvement in the stores operations, a buyout, or something that I've written about before, the monetization and transformation of the company's extremely valuable real estate.
The obvious place to look for real estate values is in outright sales, such as the sale of the downtown Seattle store for $65 million, or the Minneapolis store for $40 million. One very high profile sale was the downtown San Francisco Union Square Men's store which recently sold for $250 million, or $1,000 per square foot. This store was literally across the street from the main Macy's store, which Macy's still owns. A new piece of information which I find fascinating is the plan to carve out 10,000 square feet of the main Macy's store at Union Square and rent it to luxury retailers that will improve the Macy's location as well as rent from Macy's. While 10,000 square feet may not sound like a lot. According to this article in the San Francisco Business Times, retail rental rates at Union Square hit $650 per foot at the end of 2014. Assuming rental rates are still at those levels, just that 10,000 square feet of carved out retail space has the potential to bring in $6.5 million per year in rental income for Macy's.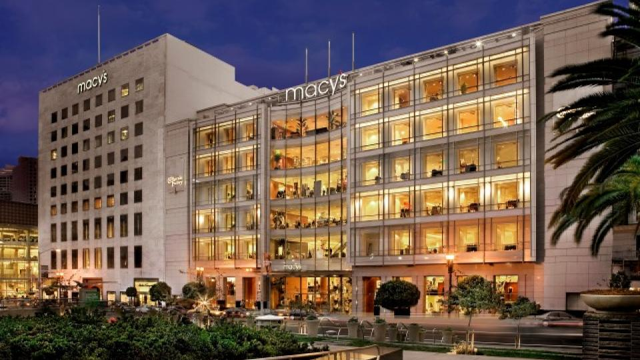 Macy's Union Square San Francisco
The more exciting deal in my opinion is the deal with Brookfield. This deal was announced last year and although it takes time to develop plans and get started, I feel this one will be well worth the wait. Karen Hoguet spoke of two hypothetical scenarios with Brookfield, one of which involved a redevelopment of a 25 acre site that Macy's owns into a mixed use residential, retail, and hotel property. The other hypothetical example was a densification of a high potential mall into a mixed use destination that included a Macy's store but also contained an added one million square feet of GLA, with potential tenants including retail, residential, and hotel operators. Macy's would be a 50/50 partner with Brookfield on this and I think that people are dramatically underestimating how significant this type of redevelopment can be for creating value. Not only would a deal such as this benefit the site overall, which Macy's would own half of, it would also benefit the Macy's store that is on the site.
Critics of the company and the stock often cite debt levels as being a problem. Investors should know that Macy's is planning on spending all excess free cash flow in 2017 to reduce debt. There is a $300 million dollar maturity coming due in July which has a 7.45% interest rate. Macy's will repay this debt with free cash flow. After paying the dividend and funding CapEx, Macy's should still have a couple hundred million dollars of excess cash flow, which I hope to see Macy's buying in some debt through open market repurchases. Considering the 2034 notes as well as the 2043 notes trade at 91 and 82 cents on the dollar respectively, I would love to see these bonds being gobbled up by Macy's. There is absolutely no reason for these bonds to trade at this discount considering the possibility that Macy's could be buying them right now and the reality that Macy's is seriously deleveraging their balance sheet this year. Last year, Macy's repaid $750 million of debt and still ended the year with more cash than the year prior. This year they target $600 million of debt repayment.
The other problem that investors constantly cite as a reason they refuse to own Macy's is the idea that online shopping will kill the business model. To that point, Macy's CEO Terry Lundgren spent significant time on the conference call discussing all of the past periods of stress the industry dealt with as well as pointing out that 90% of sales still occur inside the stores.
The company is maintaining steady spending on CapEx, but since they are closing 100 stores, the actual amount of spending per store is increasing. The company obviously believes the stores will be an integral part of the business going forward, even going as far as to say that if the department store didn't exist today, some smart people out in Silicon Valley would be inventing it right now.
Very smart investors consistently point out that Macy's is trading today below its liquidation value. The value in the real estate is obvious and cannot be ignored. The company is very profitable, with every single Macy's store generating positive cash flow. With this type of situation there is absolutely no logic in the company trading for less than liquidation value. The dividend is very generous and safe and allows patient investors the opportunity to get paid while they wait for improvement, monetization and transformation of real estate, and potentially an outright sale of the company. El Dorado was the lost city of gold that people have been searching for forever. Perhaps Macy's is the El Dorado, and it is right in front of us.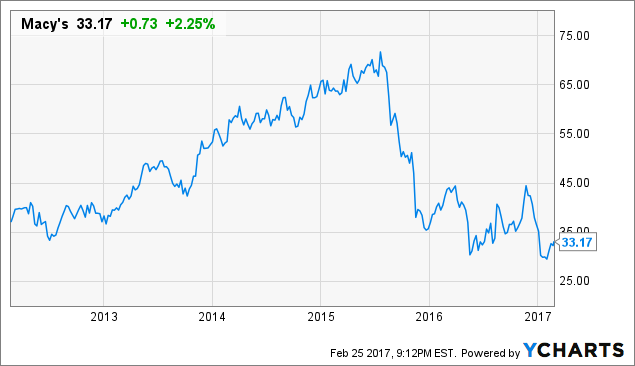 Disclosure: I am/we are long M.
I wrote this article myself, and it expresses my own opinions. I am not receiving compensation for it (other than from Seeking Alpha). I have no business relationship with any company whose stock is mentioned in this article.
Additional disclosure: I am long Macy's 2034 and 2043 bonds