If you have any challenges reading the charts in this article, check out the first article on quick and dirty discounts to book value for mortgage REITs. This piece is designed to be short and to emphasize providing easy charts that help investors identify opportunities for further inspection.
The mREITs
I put most of the mREITs, one corporation, and one ETF into the table because I wanted to get a more complete estimation.
| | | |
| --- | --- | --- |
| (NASDAQ:AGNC) | American Capital Agency Corp | |
| (NYSE:AI) | Arlington Asset Investment Corporation | Not a REIT |
| (NYSE:ANH) | Anworth Mortgage Asset Corporation | |
| (NYSE:ARR) | ARMOUR Residential REIT | |
| (NYSE:BXMT) | Blackstone Mortgage Trust | |
| (NYSE:CHMI) | Cherry Hill Mortgage Investment | |
| (NYSE:CIM) | Chimera Investment Corporation | |
| (NYSE:CMO) | Capstead Mortgage Corporation | |
| (NYSE:CYS) | CYS Investments | |
| (NYSE:DX) | Dynex Capital | |
| (NYSE:EARN) | Ellington Residential Mortgage REIT | |
| (NYSE:MFA) | MFA Financial | |
| (NASDAQ:MTGE) | American Capital Mortgage Investment | |
| (NYSE:NLY) | Annaly Capital Management | |
| (NASDAQ:NYMT) | New York Mortgage Trust | |
| (NYSE:ORC) | Orchid Island Capital | |
| (NYSE:RSO) | Resource Capital Corporation | |
| (NYSE:TWO) | Two Harbors Investment Corp | |
| (NYSE:WMC) | Western Asset Mortgage Capital Corp. | |
| (NYSE:SLD) | Sutherland Asset Management | |
| (NYSE:ARI) | Apollo Commercial Real Estate Finance, Inc. | |
| (NYSE:OAKS) | Five Oaks | |
| (NYSE:MITT) | AG Mortgage Investment Trust, Inc. | |
| (NYSEARCA:REM) | iShares Mortgage Real Estate Capped ETF | |
| | | |
The goal here is to have a fairly large sample size so we can identify trends and similarities throughout the sector. The mREIT sector only contains about 25 total organizations but the investing and hedging strategies have very material differences.
It is also worth emphasizing that I opted to use the GAAP book value for each mREIT. Most of the time this was available from the earnings release.
I want to emphasize that GAAP book value is not necessarily the metric that I believe is most relevant. For CIM, I believe the "economic book value" provided by management is an excellent tool. CIM's economic book value was materially lower than GAAP book value.
Table 1
If you're primarily using this article for the quick discounts to book value, use the column with the red heading in this table.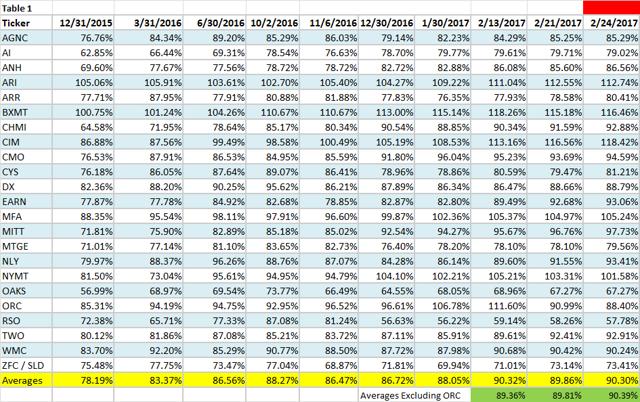 I kept the extra line for excluding ORC from the results because it shows that this was more than simply recovering to where the market was about 10 days ago. When we remove ORC, the average was moving from 89.36% to 90.39%.
Chimera Investment Corporation continues to climb in the most remarkable way. I'm curious how many retail buyers are in there and how many shares are picked up by an algorithm. There is no viable argument that shares of CIM should be trading at this valuation. They are a fine mortgage REIT with internal management and a creative system for leveraging their investments. As great as those statements are, they were also true in February 2016. Yet the following price chart remains (dividends are included to reduce past prices):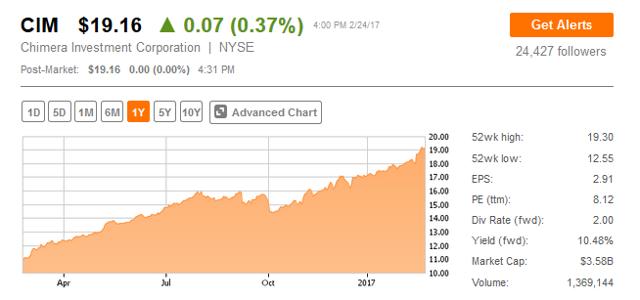 Seriously, this company did not change substantially in the last year. Yields are higher across the entire curve, but that doesn't send CIM's returns skyrocketing. This is the most incredible performance thus far.
This isn't about fundamentals. CIM's last reported GAAP book value per share (Q4 2016, not Q3 2015) is up by $.17 since Q4 of 2015 came to a close. That huge gain in share price you're seeing an explosion of the price to book ratio. Since either Q4 of 2015 or Q1 of 2016, the ratio is up by over 30%. Since the end of the third quarter, it is up nearly 20%. Would anyone care to take a stab at how CIM increased in value that dramatically since the end of the third quarter?
Yes, CIM was severely undervalued before, but the latest craze is incredible.
Table 2
Table 2 helps us assess the change since the end of 2015, the end of Q3, and the election: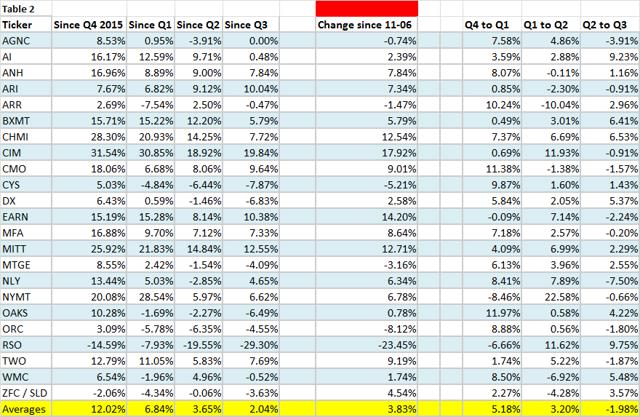 This is where you can see those huge gains in the ratio for CIM. No, it is not even remotely sustainable. Toss a sell rating on CIM.
Resource Capital Corporation took the exact opposite route, except they also lost book value. They are a commercial mortgage REIT. Clearly not even remotely on par with ARI or BXMT, but they probably deserve better than a 57% price to book ratio. Even accounting for expected fourth quarter impairments, that ratio seems way too low. I'll go with another buy rating on RSO.
There is nothing in the same ball park. The closest comparable metrics from Five Oaks which is all teed up to collapse when the market figures out the special dividend (regardless of tax classification) drained the heck out of equity. Or you can look at ZFC/SLD, but then you are using the trailing value for ZFC's book value. Huge discount but challenging to value until we have another earnings release from them. I'll avoid coming out with any rating.
Next you might see MTGE, ARR, AI, and CYS as under 82%. Congratulations, those are fixed rate mREITs (AI technically a corporation) which generally declared significant losses for the fourth quarter. Once all fourth quarter values have been reported, I can modify this chart to use Q4 values. Until then, only using Q4 values for some of the mREITs would be misleading.
My Positions
I'm long RSO and BMNM in the common stock. Long NLY-C, NLY-D, CYS-B, and CMO-E for preferred shares. I highlight the best opportunities in the preferred sector in my weekly series on preferred stock, which is available exclusively to subscribers of The Mortgage REIT Forum. If you want to learn more about investing in high yield instruments, specifically mortgage REITs and their preferred shares, why not check out the reviews from my subscribers? The Mortgage REIT Forum averages 3 articles per week. One provides updated book value estimates for several mortgage REITs and includes my ratings (adjusted each week). The second article rates the different preferred shares and shows investors which ones are offering the best bargains. The third is used to highlight individual stocks and market failures or to provide a sneak preview on the articles I'm planning to publish over the next couple weeks.
Disclosure: I am/we are long RSO, BMNM.
I wrote this article myself, and it expresses my own opinions. I am not receiving compensation for it. I have no business relationship with any company whose stock is mentioned in this article.
Additional disclosure: Investors should not construe any comment as advice to buy or sell a security. I am also long NLY-C, NLY-D, CYS-B, CMO-E. Preferred shares currently won't go through in the regular "long" disclosure box.