Investment Thesis
I previously asked readers and commenters to provide some additional ideas for stocks that they are interested in, and the first one was BGC Partners (BGCP) and Virtu Financial (VIRT).
The third one on my list is Macquarie Infrastructure Corporation (MIC), a stock that has appeared on my watch list from time to time, but has never received much attention. My initial prediction is that MIC represents a compelling value, especially to a dividend growth investor. At the end of January, MIC was shorted by Hedgeye's Kevin Kaiser, and I couldn't disagree with this more because nothing has changed in MIC's fundamentals to warrant 50% downside Kaiser is suggesting. The goal of this article is to review business operations and underlying business fundamentals to see whether MIC represents a compelling investment.

Macquarie Infrastructure Corporation, LLC - Corporate Overview
MIC has a very focused business model for being so diversified. The company focuses on businesses that have large scale, are of high value, and have a long-lasting physical asset base that gives it a unique advantage in the economies it operates in. I particularly like that it is so focused on infrastructure because these are the type of investments that can withstand recessions and other negative economic environments.
MIC's Investor Factsheet also points out that the basic nature of its business creates a shield that reduces the risk of "technological obsolescence" and therefore reinforces the necessity of MIC's business operations.
MIC is based out of New York City, but the company's ties go back to Australia where Macquarie Bank (whose business operations are separate of MIC's) was the first bank in Australia. A fun fact is that MIC's logo comes from a stylized version of the Holey dollar, which was Australia's first currency. MIC's operations are exclusively US based and are in the following areas:
Airport Services
Bulk Liquid Terminals
MIC Hawaii – Natural Gas, LNG, and Solar
Contracted Power & Energy
MIC's dividend history goes back to 1993, and while it has always paid a dividend, it has fluctuated tremendously for the majority of MIC's existence. Since 2012, MIC has generated a stable and quickly growing dividend that averages 12.9% since the second quarter of 2013. According to www.dividend.com, MIC has a current yield of 6.49% with a quarterly payout of $1.29/share for a total annual payout of 5.16/share. The full-year 2016 payout ratio is 80%.
Because MIC is entirely infrastructure based, we need to look at the dividend through a similar lens as a real estate investment trust or an oil pipeline, since depreciation makes up a significant portion of its business. I will jump into this more in a later section.
Monopoly-Like Business Model
It is helpful to review MIC's performance on a year-over-year (YoY) basis because it shows you how significant its cash flow generation capabilities are. As mentioned previously, here is a breakdown of MIC's operations:
Airport Services – Everything MIC does services businesses and individuals in the private jet segment (no commercial airline services) but does include fuel, fuel-related services, and hanger operations. This segment has facilities at 69 locations and operates under the name Atlantic Aviation.
Bulk Liquid Terminals – This segment of the company operates under International-Matex Tank Terminals (IMTT), and is one of the largest independent bulk liquid terminals businesses in the United States. IMTT operates 10 terminals in the US and 2 in Canada (one partially owned). In total, IMTT provides storage and logistics services for 45 million barrels of products that include petroleum, chemical, and agricultural product.
MIC Hawaii – MIC has extensive operations in Hawaii and this area of business represents one of its strongest monopoly-like features. MIC Hawaii operates HAWAI'IGAS and a 7 MW solar facility. HAWAI'IGAS is the only utility gas distributor and the largest propane distributor in Hawaii. Furthering this monopoly-like business, HAWAI'IGAS was given the approval to begin switching some of its supply to Liquefied Natural Gas (LNG) and has a contract to sell renewable biogas from Honolulu's wastewater treatment facility.
Contracted Power and Energy (CP&E) – Operations include Bayonne Energy Center and several renewable power generation facilities. Bayonne supplies power to New York City and has power generation cap of 512 megawatts. CP&E's renewable facilities have a generation capacity of approximately 260 megawatts and these facilities sell electricity to local utilities and government entities using long-term power purchase agreements (typically 20-25 years).
Just from reading the background of these assets, it's easy to understand why I say that MIC's business operations are so monopoly-like in nature. Couple this with the long-term nature of its contracts and it's safe to say that MIC has assembled a strong portfolio of assets that will continue performing strongly.
Heavy Investment in Maintenance Capex
With MIC's business strongly focused on storage and terminal operations (IMTT especially), it is important that the company is making investments to maintain and operate these facilities, so that they don't become a problem in the future. Management teams are notorious for delaying maintenance costs in order to make company results look better, only to hand the problem off to the next management team (which makes them look incompetent in the process).
In my opinion, MIC doesn't have issues in this area, because it has regularly exceeded the peer average for maintenance dollars spend per barrel. The graphs below are in reference to IMTT operations and come from the company's maintenance Capex report. These graphs demonstrate that MIC takes its maintenance Capex very seriously.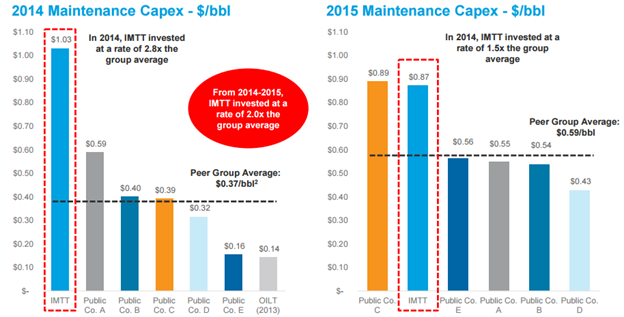 It's worth noting that the companies it is benchmarked against include the following:
These companies are all well-respected competitors and have operations that are large enough to warrant being compared with MIC. For MIC to constantly outperform them on maintenance Capex while still producing the results it has over the last several years is a huge bonus in my book.
Atlantic Aviation
Atlantic Aviation also carries considerable maintenance Capex costs. Industry peers range from about 70k-140k/FBO/year, while the illustration from the maintenance report shows that MIC averages approximately $145k/FBO/year (FBO = Fixed Base Operator).

Just like IMTT, MIC's treatment of maintenance for Atlantic Aviation operations reinforces how serious MIC values its assets and the longevity of the cash flows it creates.
Contracted Power Portfolio
CP&E is another bright area for MIC's cash flows because much of the infrastructure in this segment is almost brand new, has a long lifespan, or is covered under service agreements, warranties, and insurance products to reduce exposure to component failure. Here are the most important takeaways from the CP&E report:
Bayonne gas-fired power plant has a useful life of 30-35 years.
Most maintenance is expensed, which reduces EBITDA, and is therefore not reported as Capex.
Siemens covers all inspections and routine minor maintenance (based on hours of usage).
No significant maintenance capex until 2021/2022.
Renewable facilities have a weighted average asset age of approximately 4 years.
Industry Capex for renewables is typically very low.
75% of assets in this portfolio are contracted under Power Purchase Agreements or tolling agreements.
In other words, the CP&E is likely going to continue a strong performance over the next several years because very little free cash flow needs to be committed to Capex.
MIC Hawaii
MIC's Hawaii operations also enjoy healthy Capex investment, but spending levels are impacted by regulatory directives and guidance. Here is a history of HAWAI'IGAS Capex from the maintenance report.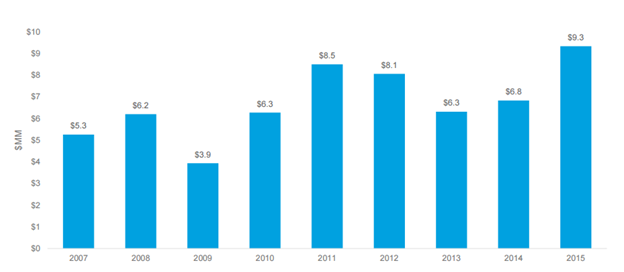 Financials
MIC's most recent earnings release for the 4th quarter were impressive, with a significant earnings beat and substantial YoY (year over year) increase in overall cash flow. For MIC, cash flow is the key to its operations and dividend sustainability, and this is because it is an infrastructure-based company with a huge amount of depreciation to take into consideration. The following chart is from the Q4-2016 earnings release.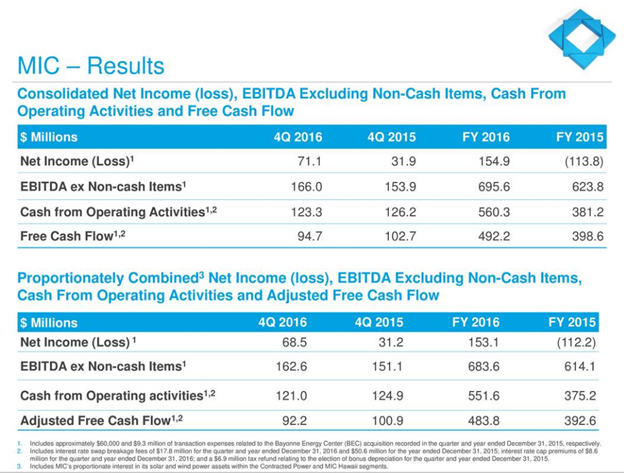 Free cash flow (FCF) is an important measurement for MIC because it represents the amount of cash a company is able to generate after spending the money needed to maintain its asset base. Free cash flow is the reason why MIC's EPS can be consistently less than its dividend (and why it has continued to raise its dividend). For MIC, maintaining strong FCF is important because it is what allows the company to generate significant returns from both maintaining and expanding its asset base.
On a percentage basis, YoY adjusted free cash flow has increased by a whopping 23.2%. Cash from operating activities is a huge indicator of where this increase came from, as the full YoY growth comes in at $551.6 million (2016) vs. 375.2 million (2015). This 47% YoY increase tells investors that MIC's investments are paying off in a huge way.
The following adjusted FCF excludes $17.8 million in interest rate swap breakage costs and $8.6 million of costs associated with the purchase of an interest rate cap. $483.8 + $17.8 + 8.6 = $510.2 million free cash flow represented by the following graph.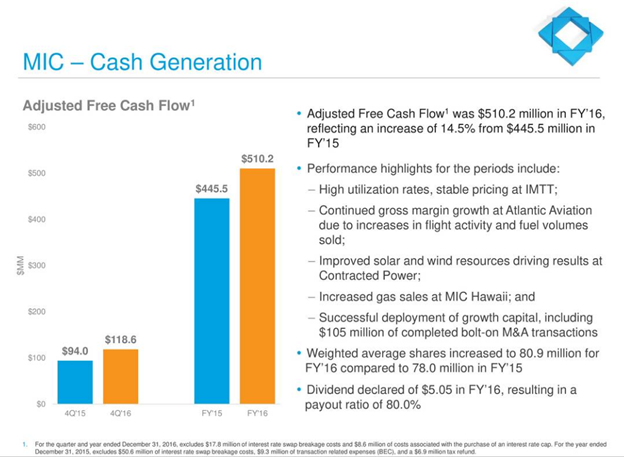 This illustration from Q4-2016 earnings gives additional support to the idea that MIC is making smart decisions with its money, and as a result, shareholders are benefitting tremendously. Couple this with the fact that MIC has a current backlog of $300 million worth of projects that will add to the FCF growth machine.
Credit Profile and Debt Maturities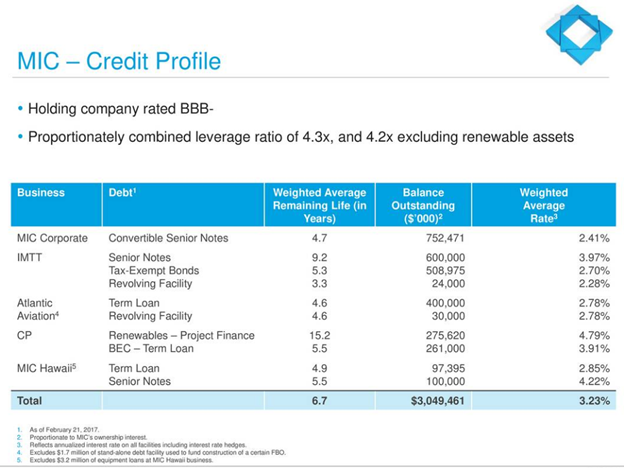 MIC enjoys very favorable rates and has a strong balance sheet and weighted average remaining life for the various notes, bonds, term loans, and revolving lines associated with its various areas of operations. There is nothing coming due in the next few years that concerns me.
Dividends and Shareholder Returns
MIC has offered sensational dividend growth since Q2-2013, and as mentioned by the illustration for the Q4-2016 report, MIC's dividend growth has averaged annualized growth of 12.2% during this time frame.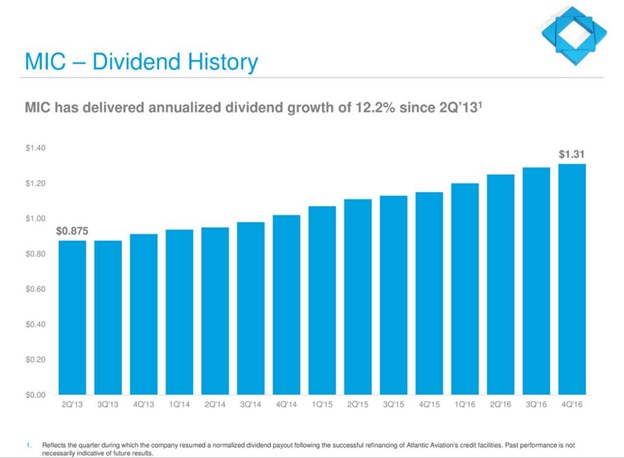 If an investor has purchased 100 shares at the time it began aggressive dividend growth increases, he/she would be looking at a current yield on cost of 9.68% with an initial yield of 6.47% using a share price of $54.12/share.
The company has made it clear that dividend payouts are absolutely essential to the company's business model, and it will continue returning a portion of its FCF to investors whenever possible. MIC has already issued dividend growth estimates of 10% in the Q4-2016 report, with an estimated payout ratio of approximately 75-85% of FCF.
Challenges
The primary issue I see for MIC has to do with a misunderstanding of its business model and how it generates cash, and because of this, shorts like Kevin Kaiser from Hedgeye can take advantage of these misunderstandings to turn quick short-term profits. I personally see nothing but a top-notch growth opportunity in MIC, and in my opinion, MIC's business model will remain strong as long as it can continue finding new projects and infrastructure to invest in.
Conclusion
From my perspective, MIC is an overwhelmingly strong BUY based on solid fundamentals and dedication to FCF and dividend growth. With a recent drop in the stock price, I consider it an exceptionally strong buy because it has historically yielded between 5% to 7.5% since its aggressive dividend growth policy was initiated. At this point in time, the stock is close to the top end of that yield range, which is likely due to the shorting activity of Hedgeye (even though the Q4-2016 results were exceptionally strong) and a general misunderstanding of its business model.
For these reasons, I see this as a strong entry point for a long-term hold that will materialize into capital growth and an even stronger source of dividend income.
Final Note: If you enjoy my articles please take the time to follow me. While I enjoy performing analysis, following me is the best method for showing me that SA subscribers are finding my work useful.
If you have any suggestions to improve my articles or if you would like me to perform analysis on a stock please feel free to message me and I will do my best to make it happen.
Disclosure: I/we have no positions in any stocks mentioned, but may initiate a long position in MIC over the next 72 hours.
I wrote this article myself, and it expresses my own opinions. I am not receiving compensation for it. I have no business relationship with any company whose stock is mentioned in this article.
Additional disclosure: This article reflects my own personal views and is not meant to be taken as investment advice. It is recommended that you do your own research. This article was written on my own and does not reflect the views or opinion of my employer.