Existing homes came in for the month of January with a decent 3.3% increase month over month continuing the overall move higher for housing. However, new homes sales have lagged behind, and despite the large drop in December month-over-month, I believe there is some catching up that will happen in housing. This is an opportunity to get into the housing sector in the S&P.
Here are the charts for existing homes sales for January and new homes sales for December, respectively: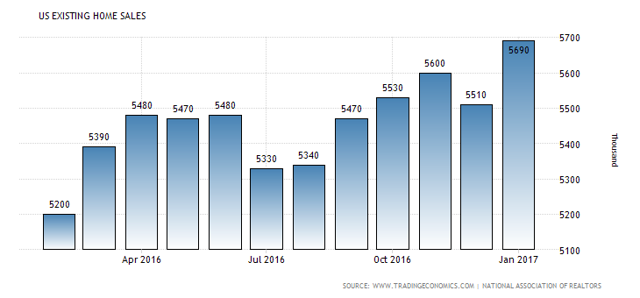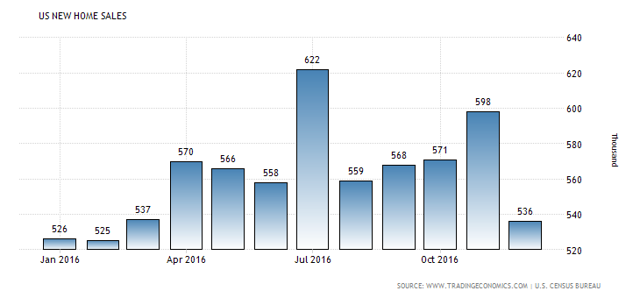 Last month saw a decline from 598,000 to 536,000 in new homes sales. Generally, new and existing follow each other, but new homes sales have fallen behind: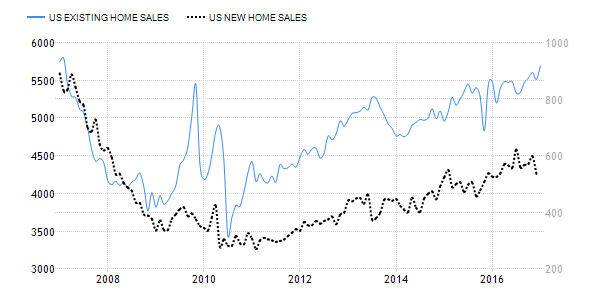 Interest in buying homes is certainly there as the uptrend in the charts show. For whatever reason the interest has not been as robust in new homes yet. That looks like it will change and we will see some more data coming through that will show this. For example, when you look at building permits for the same period you can see that new homes sales will be increasing in time: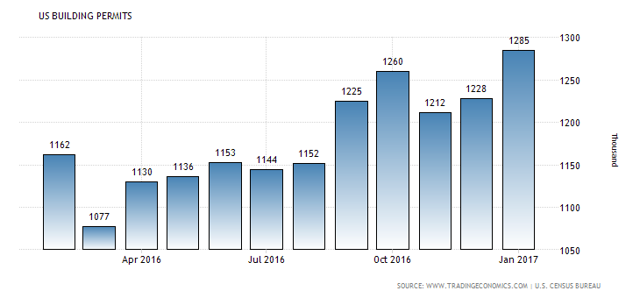 The homes that are being permitted right now will turn into sales in the future as this chart shows that correlation: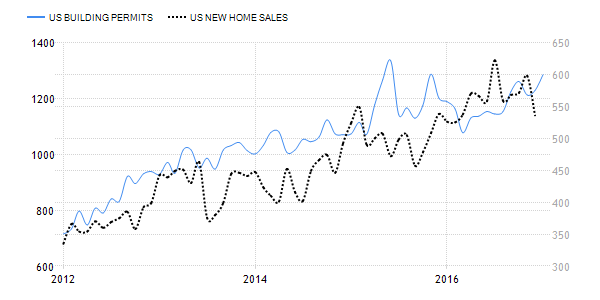 The stock market is banking on a tax cut via the Republican controlled government. Because of the that the Dow has torn upward breaking new highs nearly every day. And, if we actually get the stimulus that should propel the economy for some time. There will be continued increases in incomes, which will lead to more demand for consumer item such as housing.
There is a gorilla in the room, however. What about the Federal Reserve? The Fed has signaled that it intends on raising interest raise very soon. But, you raise interest rates and you raise the cost to purchase a home. First, I can see the need for the Fed to tighten interest rates. In fact, I think the Fed is behind the curve, but more on that in a minute. There is strength enough in the economy to push interest rates higher, and it might be that price pressures are already there enough to show that the Fed may be late to removing the proverbial punch bowl.
Here is something to chew on, though. Interest rates have been so low for so long that no one has been compelled to take action with borrowing. However, now that rates look set to go higher maybe this gets a few people off the fence and start moving around. After all, prior to rate hikes, there was no penalty to waiting. Now there is. Keep in mind the Fed has already raised interest rates a couple of times and during that time home sales have increased. Is it possible that if the Fed continues to raise rates even more people will be driven to get off that fence? I believe so.
I mentioned that I believed the Fed to be late in raising rates. We have seen this once before when Greenspan left interest rates at ultra-low levels for what was considered way too long. That helped propel a massive housing boom, but then that led to a disastrous housing bubble and financial crisis.
The Federal Reserve and many other central banks around the world have printed enormous amounts of paper over the past 9 years. The Fed's balance sheet went from a reasonable $800 billion to what is now well over $4 trillion. That is 5-times multiple. When Greenspan was chided for leaving rates too low for too long the multiple was .50, paltry in comparison.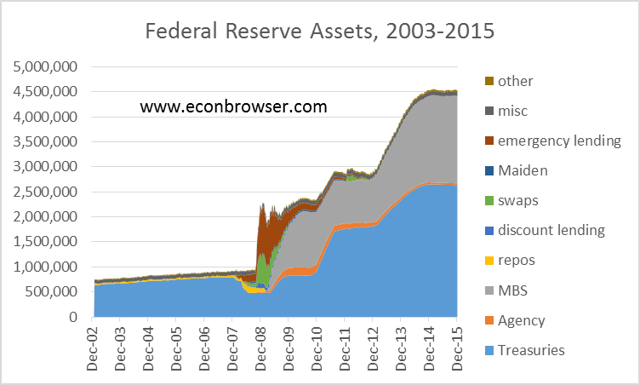 There is a lag in new housing versus exiting housing sales. That seems temporal. In the meantime, I can see a very large surge in housing as prices start running away. I am not waiting to get involved but am looking at opportunities in the indexes, ETFs and REITs.
Disclosure: I/we have no positions in any stocks mentioned, but may initiate a long position in REAL ESTATE SPDR over the next 72 hours.
I wrote this article myself, and it expresses my own opinions. I am not receiving compensation for it (other than from Seeking Alpha). I have no business relationship with any company whose stock is mentioned in this article.