In many ways, I've already lost credibility by choosing this title. I'd ask that you still hear me out, however. I think Amazon (NASDAQ:AMZN) is a unique company and that while it has already gained tremendously, the upside remains significant, and it's a no-brainer long-term hold. In so many different ways, Amazon and its founder/CEO Jeff Bezos is in a class of its own. In a couple of weeks, this 1999 interview of Bezos done by Charlie Rose has been making the rounds. Even then, the vision remained the same and rings as true now as it did then. The difference, of course, is that Amazon has spent nearly 20 years building on that theory and a uniquely long-term vision (we're talking decades at a time rather the usual quarterly/yearly objectives that most of its competitors have focused on).
What Is Amazon?
In Brad Stone's "The Everything Store" book about Amazon, he describes how Jeff Bezos is focused on building a store with an endless ambition to sell everything on its store at some point. That might seem like just a nice headline, but over time, it's gotten increasingly clear that those are the goals of the company. Both in physical and digital goods, Amazon continues to increase its range of products, but also its market share. How? For physical products, of course, it has used 3rd party sellers to not only increase the number of products but also increase the competition which in the end benefits the end consumer. One clear company goal has been to get consumers to become "Prime Members," charging them an annual amount (varies by country, but $99 in the United States) for better shipping terms, but also access to an increasingly solid range of digital products (which scales well given the very limited distribution costs) of Prime Video, music, storage, book rentals, etc.
What Makes Amazon Different?
Up to now, I've given my view of Amazon, but I don't think any of that by itself is enough to make Amazon a truly long-term dominant global player. Amazon, however, does have something that others either lack or don't focus on: An Ultra Long-Term Vision. That 1999 video is no mistake. Amazon has been more than anyone else focused on constant and never-ending improvement from its consumers' point of view. Not only does that translate into repeat business from clients, but it has been a key in keeping its Prime members on board. Do you know Prime Members? How many of those ended up stopping their subscription? The answer to that is likely 0 because the benefits of Prime continue to increase every year as Amazon increases the quality of its service (moving to same-day shipping and even faster in some cities), but also increasing the number and quality of its digital offerings (Amazon even received the first ever Oscar nomination for Best Picture for a streaming service). That Prime membership is one key aspect that will make it increasingly difficult to compete. Not only does a Wal-Mart (NYSE:WMT)/Costco (NASDAQ:COST) or other competitors need to match Amazon's service, price, convenience, but given so many consumers (often the most valuable ones) are Prime members, they have very little incentive to shop elsewhere or even do a price comparison.
Because of Amazon's incredibly strong relationship with customers, it's been able to more successfully compete with its own "Amazon Basics" products in a way that other retailers have never been able to do. Bezos and co. have more data about each one of its customers than anyone else, making it even easier to offer customized.
There is also AWS, its B2B business that against all odds was able to capture the lead in cloud storage from the likes of Microsoft (NASDAQ:MSFT) and Google (NASDAQ:GOOG) (NASDAQ:GOOGL). Just look at this chart: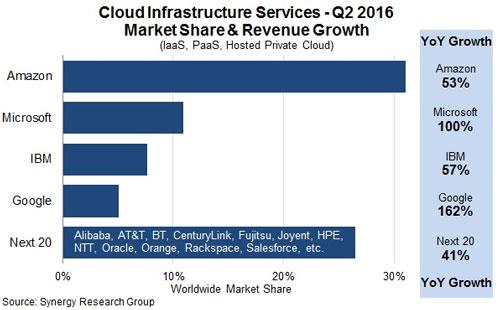 And yes, AWS is very profitable: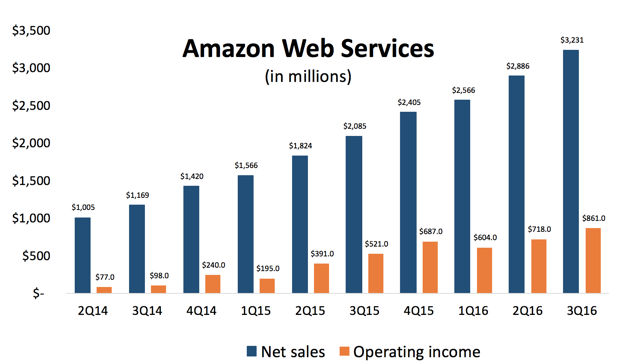 Credit: Geekwire
I would argue that this is partially because Amazon expects and is able to work on much smaller profit margins than its competitors, but its longer-term vision is certainly a big part of the reason why as well. Many reports such as this one by CLSA state that growth is accelerating in that segment, and I don't have any trouble believing that. As more and more companies move online for services and storage, many (even big ones like Netflix (NASDAQ:NFLX) and Snap (NYSE:SNAP)) end up deciding to rent their cloud computing. I expect the range of products offered by cloud players to expand over time increasing the amount they can make by client, and clearly AWS is very well positioned as the clear leader.
Can Anyone Catch Up? Look at shipping costs, etc.
Earlier this month, I wrote about how Twitter's (NYSE:TWTR) story could be told by headlines. The opposite could be true for Amazon: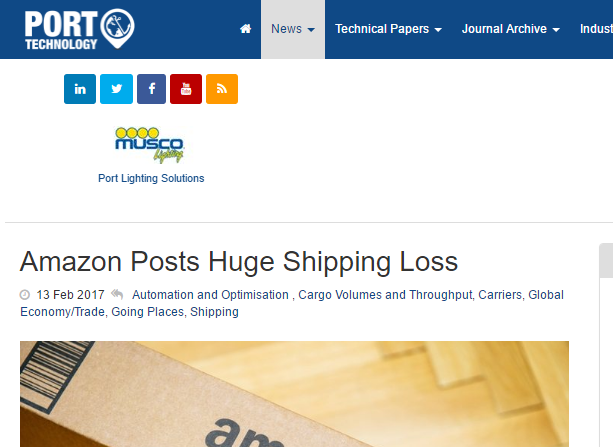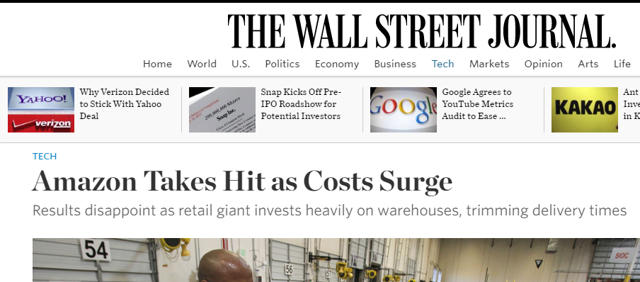 Of course, if you are to buy Amazon for the very long term, especially given its financials, which we'll get to in a minute, it would be critical to establish what kind of threats it faces. At this point, I would argue that Amazon faces very little opposition. Some would mention Wal-Mart as being its biggest competition, but I personally doubt that a company which is not "web first" will ever be able to compete. Amazon was built with this business in mind as it builds hundreds of warehouses in strategic (close to big cities but in lower cost areas) locations instead of tens of thousands of big stores. As Amazon improves its shipping, the downside of not being able to go in a store to get an item right away is losing importance. How is AMZN doing it? By leasing jets, freight, trucks, by using robots and drones. That is insanely expensive: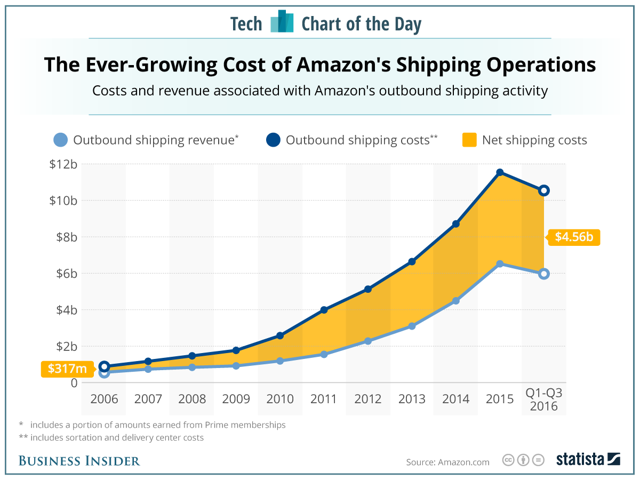 Credit: BusinessInsider
I'd argue that such a chart is a reason to want to buy Amazon, not be afraid of it. They certainly make great headlines, and for some investors represent a huge warning sign. Shipping costs are exploding higher, but I'd argue that as Amazon continues to invest in its network, the unitary costs are actually declining, as Amazon is able to get closer to its items, improve the logistics and be more efficient, thanks to its growing transportation infrastructure. Besides, Amazon's subscription revenues are more or less keeping up with shipping costs growth:

Credit: Bloomberg
I've heard reasonable arguments that when technologies such as drone delivery become more mainstream, companies such as Google will represent a significant threat. I don't see that happening either. Yes, Google will certainly attempt to compete, but given all of Amazon's other advantages (customer and supplier relationships, data, its prime membership program, etc.). As Google saw in the social sector, having as good of a technology is not nearly enough to compete, and I expect more of the same in the e-commerce space.
What About Profits?
Of course, the obvious knock on Amazon is its inability to generate profits. You've surely seen several variants of this chart: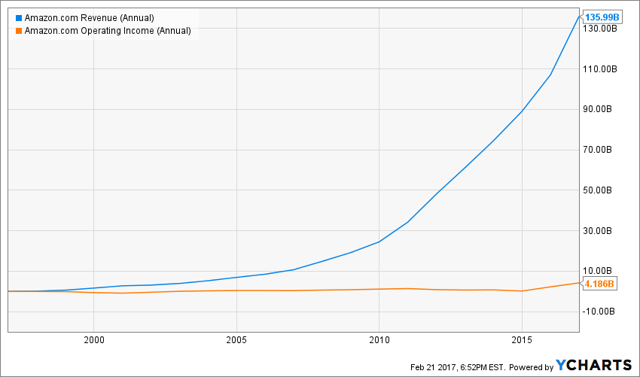 I'd argue that Jeff Bezos is doing exactly what he should be doing. In the next 5-10 years, the focus should be on extending the company's lead through massive investments in its warehouses, shipping infrastructure, increasing its market share and prime membership by creating more digital offerings, etc. Those will have much bigger impacts than what Amazon could currently generate in profits. In an ideal world, Amazon would be investing 5-10x more than what it is currently doing by building up its network throughout the world. The cost of such financing would not make sense though, so AMZN is forced to invest only what its current business is able to generate. I'd argue that over the next few years, as revenues continue to increase and as AWS remains the leader in a fast growing market, Amazon will be able to invest more heavily to be able to offer its same-day shipping more broadly.
Then Where Is The Buy Price
There lies my struggle of course. I generally invest based on financial models and can certainly work with P/E ratios based off of numbers 1-2 years in the future. I don't think that can be done with Amazon. If Amazon is going to continue to focus solely on increasing its offering and market share over the next 5-10 years rather than trying to turn a profit, what kind of profits will it be able to generate then?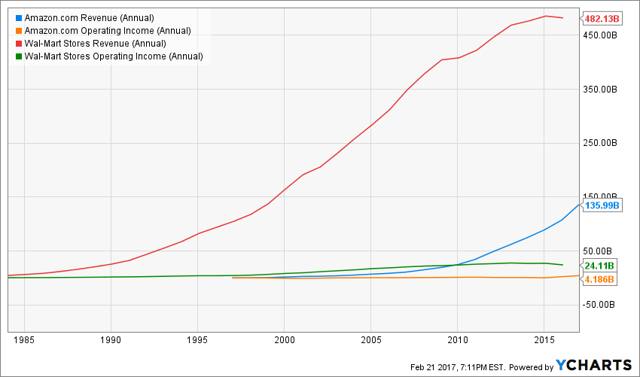 I personally have no doubt that Amazon will continue to quickly increase its market share in e-commerce in a market that will continue to gain. When I look at this chart, I have very little doubt that it will soon be overtaking Apple (NASDAQ:AAPL) in terms of sales and should be able to generate similar margins as the likes of Wal-Mart, but on a much faster growth basis. I don't have any doubt that Amazon will be the first trillion company and while I expect to see many more drawbacks in Amazon's price, I do think Amazon will soon become the most valuable company in the world and on that basis alone is a screaming buy. Yes, buying Amazon 10 years ago would have been a much better feeling, but I'm confident that 10 years from now you will be very happy you did pull the plug.
Disclosure: I/we have no positions in any stocks mentioned, but may initiate a long position in AMZN over the next 72 hours.
I wrote this article myself, and it expresses my own opinions. I am not receiving compensation for it (other than from Seeking Alpha). I have no business relationship with any company whose stock is mentioned in this article.