As long-term investors, we do not look for stocks that are temporary bargains, then hope to sell after a rise in price because the stocks are now fairly valued. We also do not invest with a 3-5 year horizon, which many incorrectly refer to as "long term" - i.e., not even a medium-term horizon. We look for companies to invest into with a target investment horizon of "forever". We may not own every business forever, because industry conditions and managements change, but having a target of forever creates a highly disciplined approach.
Under Armour (NYSE:UA) is a business we have no plans to ever sell. We believe the current price of roughly $20 a share is a very attractive entry point in this high-quality company with an exceptional CEO.
Risks
One of our strengths is risk management. We are not naïve, and don't believe that our companies will have uninterrupted success - there will be times our companies underperform relative to expectations. This is an unavoidable reality of being a business owner. Under Armour has recently underperformed everyone's expectations in terms of revenue growth last quarter (and the forecast for 2017 was below expectations).
We see three main risks with Under Armour:
One risk is that management makes mistakes and tarnishes the brand, either slowly or abruptly. However, we believe there is a small probability of this happening. With the CEO and founder Kevin Plank at only 44 years old, we are confident in his ability to lead the company along the right path for many years.
Another risk is that the company's operating margins don't improve in the future. Our estimates of future FCF are based on EBIT margins expanding.
Another risk is that Under Armour has difficulty gaining the same type of popularity internationally that it has in the U.S.
Classes of Shares
Under Armour has class A, B, and C shares. Prior to the non-voting C-shares being issued in 2016, there were only A-shares and B-shares for the company. Founder and CEO Kevin Plank owns the B-shares, which give him 10 votes for each share, while the A-shares only have 1 vote. Kevin Plank controls 65% of the voting rights through B-shares, therefore the voting rights for the A-shares are essentially meaningless.
After the non-voting C-shares were issued, an inexplicable gap developed between the A-shares and C-shares, reaching over a 20% spread. Currently, the price of A-shares are 11% higher than that of C-shares, the lowest gap in months. However, the gap should be in the low-single digits, since the voting rights of the A-shares have no added value.
Valuation
Uncertainty is what creates a dislocation of value, and investors are uncertain whether Under Armour will resume revenue growth of 20%, moderate to low-double digit growth or hit a plateau and start growing revenue in the single digits. Given the opportunities for growth internationally, double-digit growth is plausible.
Short-sighted people in the investment community claim the company is overvalued based on its current P/E. By that same rationale, Under Armour must have been overvalued back in 2005, when it sold at a P/E of 90 and had a price-to-sales of 6.3. Despite what looked like a crazy valuation, it is up nearly 600% since 2005. There is tremendous value in growth, and a stock with high multiples can still be undervalued.
Connected Fitness
The rapidly growing Connected Fitness business had an operating loss of $37 million in 2016. Despite the 50% rise in revenues in 2016, Connected Fitness is still unprofitable and weighing on margins. We believe fitness is a volatile and fast-changing area with risks (e.g., Weight Watchers (NYSE:WTW) and Fitbit (NYSE:FIT)), but it is also a rapidly growing one with tremendous potential. Following a series of acquisitions from 2013-2015, Connected Fitness has grown its user base organically from 110 million in early 2015 to 175 million users today. We believe Connected Fitness is worth at least as much as Under Armour paid for it, given its expansion of the user base and revenues.
In 2015, Under Armour purchased MyFitnessPal for $475 million and Endomondo for $85 million. In 2013, the company also purchased MapMyFitness for $150 million. If Connected Fitness is worth the $710 million that Under Armour paid for it, and deduct that from the current price of Under Armour stock, the stock trades for $8 billion.
Management gave conservative revenue guidance of $5.4 billion for 2017. Of that, we estimate $110 million from Connected Fitness. In other words, Under Armour's business, excluding Connected Fitness, is trading for a price-to-sales ratio of 1.5.
Company Profile
Founded in 1996 by current CEO Kevin Plank, Under Armour has had remarkably consistent growth (see chart) and has proved to be a serious competitor to the two dominant sportswear companies, Nike (NYSE:NKE) and Adidas (OTCQX:ADDYY).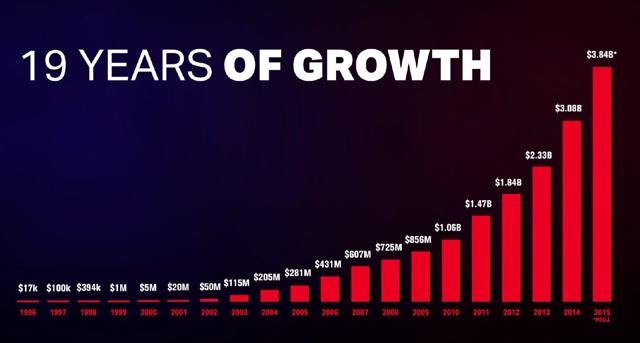 Source: Investor Presentation. Revenue in 2015 was $3.963 billion. Revenue in 2016 was $4.8 billion.
Under Armour is a manufacturer of performance apparel, footwear and accessories. It also is a fitness-technology company, with $80.5 million in annual revenue in its rapidly growing UA Record, MyFitnessPal, Endomondo, and MapMyFitness apps. Its app businesses are reported under the title of Connected Fitness.
The company's athletic brand is known for its performance and is uniquely positioned relative to rivals Nike and Adidas. With a primary focus on performance throughout its history, Under Armour is now expanding into leisure apparel (i.e., sportswear).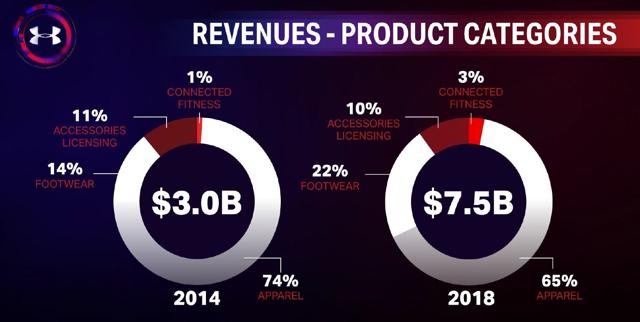 Source: Investor Presentation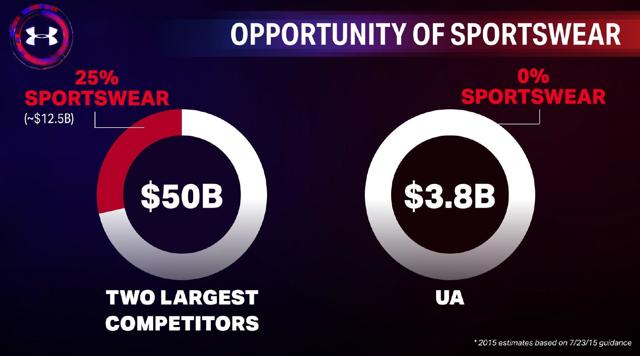 Source: Investor Presentation
Gross margins for the company are in line with those of its competitors. However, much to the chagrin of analysts, operating margins for Under Armour have contracted in recent years after investments into unprofitable apps and international expansion. Unlike analysts and short-term investors, we agree with management's strategy of pursuing growth over improving short-term profits. Under Armour's goal of 13.5-15% operating margins is attainable once the company achieves economies of scale internationally and Connected Fitness becomes profitable (or is spun off).
Synthetic performance apparel represents about a $3 billion market, and Under Armour is the leader. Six years ago, the company expanded into the $12 billion "active use" sports apparel market. It is now planning to compete in the $58 billion casual wear market. (Source: S&P Capital IQ).
Much like Nike and Adidas, UA's brand identity is derived by collegiate and professional athletes and teams that use its brand and marketing. Marketing represented 10.5% of the company's 2015 revenues. (Source: S&P Capital IQ)
Management
UA was founded in 1996 by CEO Kevin Plank, who is also the chairman of the 10-person board of directors. The company has three classes of shares: A, B, and C. Mr. Plank holds 65% of the voting power through his predominant ownership of the super-voting class B shares.
Aside from Phil Knight (founder of Nike), we don't believe we could find a CEO as outstanding as Kevin Plank to run Under Armour. There is no doubt that Mr. Plank has done a remarkable job of growing the company from his grandmother's basement into a global company with $5 billion in annual revenue and a serious competitor to Nike. Kevin Plank has no doubt been one of the most successful founders and CEOs in the past two decades.
At only 44 years old, we expect Mr. Plank to continue to run the company for many more years.
Recent Trends
Under Armour is growing revenue rapidly, between 12% and 20% a year. We expect it to deliver high-teens sales growth over the next 5 years, then continue to achieve a revenue growth rate in the low teens or high-single digits for another decade. As seen in the table below, international sales are just starting to be tapped, and they are growing at a tremendous rate.
Herein lies the difference between a short-term investor with an investment horizon of a few years and a forever investor. Someone willing to own Under Armour for decades should care about the company's performance over the next few decades, not the next few quarters. An investor with a 3-5 year horizon has much less patience when it comes to short-term expectations than he or she is willing to admit.

(Source: FactSet)
As shown in the table below, every segment of the company is growing rapidly.

(Source: FactSet)
After the recent quarter, analysts and business media outlets claimed Under Armour is no longer a "premium brand" because it has been discounting clothing and selling clothing at Kohl's (NYSE:KSS) and TJ Maxx (NYSE:TJX). We recently went to TJ Maxx after these reports and saw the same amount of Nike as Under Armour.
Valuation
Under Armour is expected to continue its strong growth for many years; if we expected growth to slow dramatically in a few years, we wouldn't find the current price attractive. At the current price ($20), we believe the shares are undervalued. We also believe the risk of losing money long-term on Under Armour is close to zero given the attractive price and our certainty about growth for the foreseeable future.
Absolute Valuation
We believe the earnings are not an accurate calculation of intrinsic value at this point because EBIT margins will likely expand to 13% as the company matures. We feel price-to-sales is a better valuation metric given Under Armour's youth. We believe a price-to-sales of 2 is fair given growth expectations. Based on that metric, we expect the share price to double over the next 4 years.

(Source: FactSet)
Relative Valuation
Under Armour is currently cheaper than Nike based on 2017 estimated sales. Nike is trading at 2.5 times 2017 sales, Under Armour is trading at 1.6 times 2017 estimated sales, and Adidas trades at 1.6 times 2017 sales. Under Armour is expected to grow revenue 12-20% annually over the next five years, while Nike and Adidas will likely grow sales in the mid-to-high single digits. In other words, we don't believe Under Armour's growth is accurately represented in its share price. We believe it is undervalued as long as the company can expand EBIT margins sometime in the future.

(Source: FactSet)

(Source: FactSet)
The gross margins for all three companies are similar. The operating margins, however, shows a wide gap in the profitability of the companies. Nike earns nearly twice the operating margin of Adidas. Under Armour is capable of earning an operating margin in line with that of Nike, as shown in some years, but it has been sacrificing margins in recent years to accelerate international growth. We believe Under Armour will get back to an operating margin of 13% in the future as it matures.
If you look at revenue of all three companies, you will see that they hold up well in recessions. These are non-cyclical businesses that consistently grow at healthy rates.

(Source: FactSet)
Financials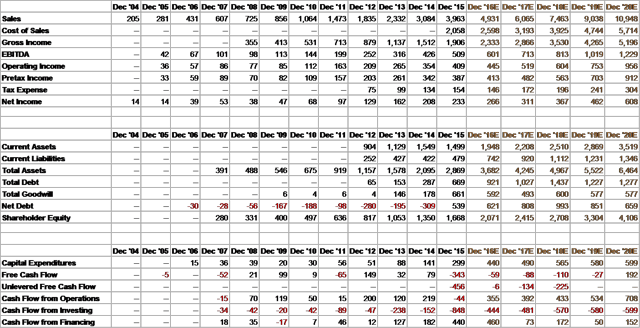 (Source: FactSet)
Summary
The high price of UA shares a year and a half ago has resulted in a decline in price from $52 to $20. Analysts and investors see Under Armour as having downwards momentum, and it is currently out of favor. Expectations are currently low for the company, and we feel it is highly likely Under Armour will exceed management's guidance of 12% revenue growth in 2017, which can be a catalyst for the stock. Long-term investors that seek high-quality businesses with exceptional management should explore the idea of buying UA stock at the current price.
Disclosure: I am/we are long UA.
I wrote this article myself, and it expresses my own opinions. I am not receiving compensation for it (other than from Seeking Alpha). I have no business relationship with any company whose stock is mentioned in this article.
Editor's Note: This article discusses one or more securities that do not trade on a major U.S. exchange. Please be aware of the risks associated with these stocks.