ABN Amro (ABN) offers a 5.7% yield in 2017, and this should improve to over 6% in 2018. The PE is low, at less than 10x over the medium term. This is a solid holding, but questions over capital levels and lack of growth make it a hold rather than a buy.
On the evidence of the fourth quarter presentation, ABN has abundant capital and an improving payout ratio that suggests far more room to distribute capital.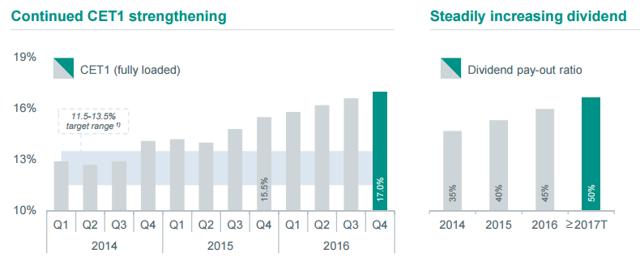 Company Data
Changes to risk weightings within ABN's loan book, specifically relating to mortgage assets, will however lower the CET1 ratio by around 300 basis points and the company anticipates and targets a CET1 of 13.5% longer term. The company notes in its 4Q 16 material that the "Capital Position and targets are to be re-assessed once there is more clarity on Basel IV". I would expect the present 13.5% target to remain in place, and the company should be able to increase its payout ratio when Basle IV is finalized. The issue for investors is how much and what the timeframe for Basel IV is. The process relies on agreement between the US and Europe for completion, and this may well be more of an issue given the Trump administration's "America first" stance on most issues of this nature (which admittedly has yet to be tested in practice) in combination with its determination to roll back some of the domestic bank regulations under Dodd-Frank .
ABN should be able to make ROE of about 11% going forward, which 3-5% growth in operating profit and EPS. Adjusting a, 11/10 ROE/Cost of equity relationship by 3% growth on each side suggests 1.14x BV is a fair rolling valuation for the stock, which gets you to €25 for 2019. This would give an investor capital appreciation of 17% on a three year view with 15-18% accumulated dividend return in this time.
One difficulty in judging future returns is the level of LLP cost for ABN. This is currently very low: Netherlands and Eurozone economic activity is solid, and low rates have facilitated low incidence of loan losses (this is often forgotten by investors who see low rates as universally a bad thing for banks). So while welcome, low LLP isn't a surprise.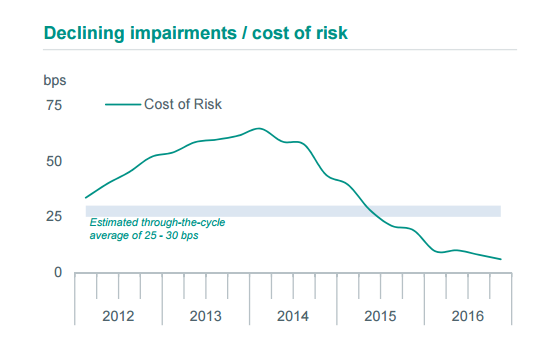 Company Data
In the case of ABN, partly due to its rates hedging strategy, net interest margin has been very stable since 2014, so rather than offsetting P&L pressure, the marked fall in LLP charges has led to P&L gains.
There is a matrix of possible outcomes and I would not rule out a flush period under higher rates in which LLP charges do not catch up with gains in yield. The market will be more conservative however and assume some normalization of LLP costs. Long term, LLP should rise relative to net interest margin.
Conclusion
ABN is very solid and appears fully valued. If macro developments allow the indebted economies of Southern Europe to strengthen, then the bank stocks from those markets, which are very beaten up still, will outpace the bank stocks of the more solid economies in Northern Europe and France as well. French banks have delivered, largely due to international capital market and corporate banking operations that have offset pressured domestic retail banking. ABN can prove defensive in a risk-off scenario, but at that point one might question being in European banks at all. It might also see some downside near term if the Dutch election in March causes volatility. All told, there are 10% shareholder economics here, but not much spice.
Disclosure: I/we have no positions in any stocks mentioned, and no plans to initiate any positions within the next 72 hours.
I wrote this article myself, and it expresses my own opinions. I am not receiving compensation for it (other than from Seeking Alpha). I have no business relationship with any company whose stock is mentioned in this article.