Trying to find deals in an overheated market is like trying to find an empty lane at Best Buy on Black Friday. Good news, bad news, no news -- the market lurches upward. Unfortunately bond prices and preferred shares have shared in the fun and are commensurately overvalued so where do dividend investors turn for a decent return without overpaying? The 10-year Treasury note is presently offering a non-inflation beating 2.33%. That's not gonna cut it for most of us.
Enter: Veolia (OTCPK:VEOEY)

What first appealed to me about Veolia was its focus on water (wide-moat) and environmental stewardship. Coke or Pepsi, Under Armour or Nike, Ford or Tesla, there isn't a great peer equivalent to high quality H2O. I sleep a little sounder knowing water won't be going out of fashion.
I initially scoured United States companies in an effort to uncover premier water companies. While I am happy to report that many of these companies exist (Artesian Resources ARTNA, American Water Works AWK, and Aqua America WTR come to mind) and perform admirably year after year, they offer little juice in the yield presently. I own and add more to those companies on dips, but those dips come about as often as a mission to Mars. So I expanded my lens to find international companies offering comparable services and I found what I was seeking.
From my background in policy, I always keep a watchful eye on government's role, especially regarding heavily regulated industries. Many important world leaders seem indifferent (or hostile) to the environmental challenges we face, but Veolia remains committed to a greener world. My opinion is the long-term trajectory of electric and water utilities moving toward renewable sources and solutions remains intact not just out of the goodness of the company's hearts, but due to cost savings and potentially fewer cleanups and lawsuits (more on that later). It's also hard to provide electricity and water services if the land becomes ocean.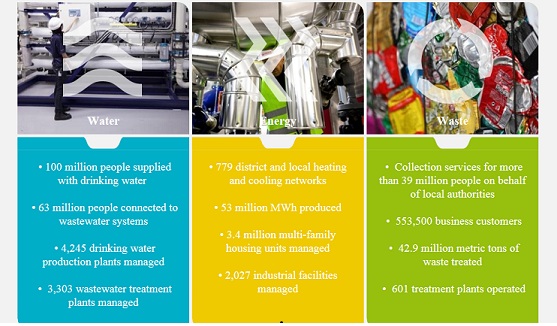 Veolia (OTCPK:VEOEY) Environment S.A. is a French multinational company with three primary businesses: waste management, water management, and energy services. Veolia employs approximately 174,000 across the globe who deliver crucial services we all depend on in a sustainable way. The company launched in 1853 which lends credibility to its expertise in water (not to mention staying power and longevity). While much has changed over 160+ years, much will change in the next 160 years and Veolia is poised to profit on these developments. Most of the revenue Veolia receives is regulated and dependable but there are several opportunities for growth they identified. They are:
Those areas of growth are augmented by the continued dedication to reduce debt through cutting costs to achieve a projected goal of approximately €3.4B EBITDA in 2019.
Veolia reported its 2016 annual results last week and below are some notable highlights. First stop, the negatives:
Revenue dipped slightly coming in at €24.4B or a .4% decline year over year. Drilling a bit deeper, the water business was mostly responsible enduring a modest decline of 1.5% (waste and energy grew modestly). Currency challenges were enormous reducing revenue €473M from 2015. The bulk of that drop was due to the fall in U.K. sterling. The GBP went from approximately a 50% premium to the dollar at the start of 2016, to Post-Brexit (vote) less than 25% premium. Sidenote: To me, this presents an intriguing opportunity to buy into British companies and I have done so by purchasing two U.K. utilities this (and late last) year.
Onto some of the positive notes: EBITDA increased 2% and the margin improved to 12.5%. Veolia generated record net cash flow of €970M compared with €856M a year earlier. Debt declined €359M bringing the debt/equity ratio lower to 2.56% from 2.73% in 2015. Most notably, the dividend is slated to pop from €.73 to €.80 per share (a 10% increase). In American dollars that equates to $.845 per share at current exchange rates, good for a yield of 5.3%. That's pretty robust when contrasted with present yield of 2.47% for Aqua America (NYSE:WTR).
Value, Debt and Revenue: The following charts provided by simplywall.st generate great visuals regarding a number of investment criterion I screen for. The first is cash flow and valuation.

The graphic above reflects French exchange pricing. With the Euro trading at €1.056 for each $1, that equates to an American share price of $16.09. This is not a significant arbitrage opportunity but it is something to keep in mind when buying shares as they will mostly trade in tandem. At its current share price, Veolia appears markedly undervalued.
The second chart demonstrates the declining debt mentioned previously.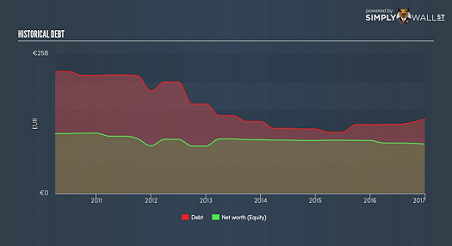 The final image shows the dependability of revenue.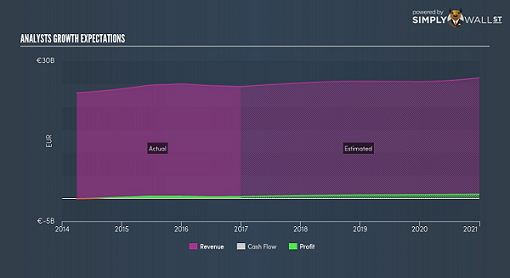 Ongoing Challenges:
The first challenge is the potential continued weakness in foreign currency, specifically the Euro and GBP. If those currencies continue to deteriorate, the share price will drop in concert. Lending more credence to that concern, is the rise of French presidential candidate Marine Le Pen. She embraces a Trumpian-esque nationalism which she calls "economic patriotism." Le Pen wants to opt out of the euro currency and take a Brexit-style departure from the European Union. This will likely have major consequences if she ascends to the presidency.
The second challenge is that the Michigan Attorney General filed a civil suit against Veolia North America on June 22, 2016. Most of us are well aware of the calamity that occurred in Flint. Veolia denies wrongdoing in the case and claims its role was misrepresented. Nevertheless, it is a dark cloud that may overhang the stock and impact future earnings.
The third challenge is the share price history (10-year char below), and that Veolia predicted it won't reach its profitability goal until 2019 instead of 2018. That announcement sent shares tumbling down to the $16.00 range where I happily scooped some up.

Image credit: Charles Schwab
They say past performance is not indicative of future results, and I hold that theory with Veolia. With significant asset sales over the years to reduce debt and a continued focus on green-energy solutions and a divestment from its transport business they're on the right track.
Conclusion:
Veolia trades over-the-counter as an American Depositary Receipt. Some folks may need to contact their broker to determine availability and for tax specific questions. I have experienced no problem buying through Merrill Edge.
I like my income machine to be dependable and compensate me appropriately given the risk. I believe that at $16.00, Veolia is a good value (especially vs. the market at large) and a great level to begin purchasing shares. I like to buy in tranches so my average share price is currently $16.13. Since I never sell, I am not overly concerned with a lower share price. By reinvesting dividends, as long as the business isn't crumbling, a lower share price accelerates my ownership in the company. That said, I expect the share price to rise after I buy or I would wait until it drops lower. The concerns listed previously should be monitored, but you get paid generously and appropriately given the risk.
Disclosure: I am/we are long VEOEY, WTR, ARTNA, AWK.
I wrote this article myself, and it expresses my own opinions. I am not receiving compensation for it (other than from Seeking Alpha). I have no business relationship with any company whose stock is mentioned in this article.
Editor's Note: This article discusses one or more securities that do not trade on a major U.S. exchange. Please be aware of the risks associated with these stocks.