Comparing Jinko Solar with Trina Solar: Buy an industry leader at half the price insiders are paying
Introduction
Trina Solar is about to be taken private for $1.08B. Jinko Solar (NYSE:JKS), which from many perspectives closely resembles Trina Solar (NYSE:TSL), has currently a market capitalization of $0.56B. This gap in valuation doesn't seem to be justified by fundamentals.
On Dec. 16, 2016, Trina Solar's shareholders accepted an $11.60 all-cash offer to take the company private. The proposal had been put forward by a group of investors led by the company's CEO, Gao Jifan. The offer values the company at $1.08B. Since this is a friendly takeover led by insiders, it is reasonable to assume that the price is close to the company's intrinsic value. Since the offer came at a time where solar stocks are unpopular, it might also be possible that offer is actually a bargain from the buyers' point of view.

Source: FactSet fundamentals, calculations by author.
The following paragraphs compare the financials of the two companies starting from the 2015 20-F income statements and balance sheets.
Statement of Operations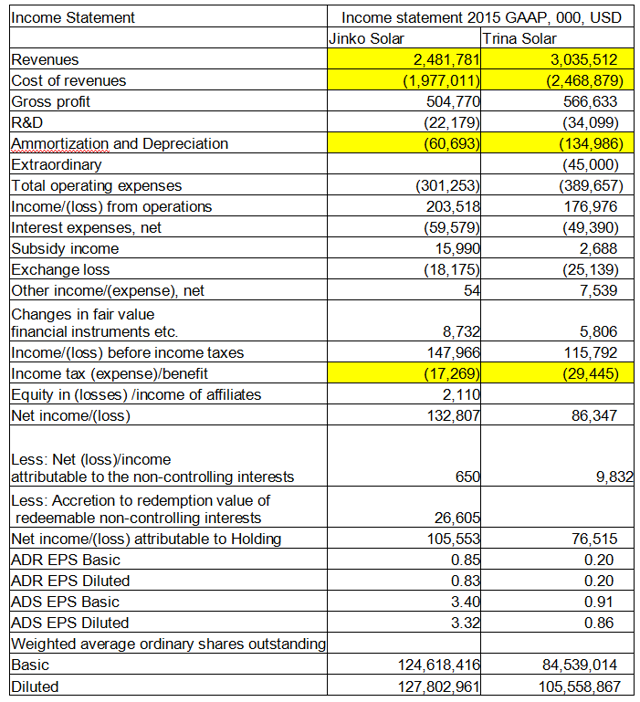 Source: 20-Fs, minor adjustments by author.
In 2015, Trina Solar earned $554M more revenues than Jinko, but since Jinko has a slightly higher gross margin of 20% (as opposed to Trina's 19%), the difference shrinks to only $62M in terms of gross profits. Net income, on the other hand, is higher in the case of Jinko ($132M vs. $86M). The difference is due to the following:
Trina spent $12M more in R&D with respect to Jinko.
Trina set aside more for depreciation ($74M). As will become clear later, this is due to the fact that they have more plants, equipment, and machinery with respect to Jinko.
Trina had to set aside $45M for a lawsuit settlement.
It receives fewer subsidies ($12M).
It pays more income tax ($13M).
If one adds the lawsuit settlement back to Trina's results, the net income for both companies is roughly the same ($132M for Jinko vs. $131M for Trina). Whether the other points should be adjusted is up for debate. Since both companies operate in the same countries, there is probably no reason to adjust subsidies and income tax.
The higher depreciation in Trina's income statement is explained by larger amounts in property, plant, and equipment, as will become clear later. This leaves us with the $12M difference in R&D, which could be subtracted from Jinko's net results. Thus, one would have a 9% difference in net results, which can hardly justify a valuation of Trina that is more than twice that of Jinko Solar.
What about the near future and the past?
Looking ahead, Jinko Solar's guidance for module shipments in 2016 is 6.6-6.7GW, up 47% with respect to the 4.5GW in 2015. According to quarterly reports, Jinko Solar's diluted earnings per ADS totaled $5.04 during the first three quarters of 2016. Thus, if there were no imminent spin-off of the power business, it would be reasonable to expect a final result of around $6.50, a 95% increase with respect to the $3.32 EPS in 2015.
Trina Solar's guidance for 2016, on the other hand, is 6.30-6.55GW in module shipments, up only 12% from 5.74GW in 2015. Fully diluted EPS for ADS was $0.86 in 2015 and could be expected to be around $1.33 in 2016, a 55% increase. This means Jinko Solar's immediate future actually looks brighter compared to that of Trina Solar. In other words, the considerable difference in valuation is not explained by the two companies' short-term outlooks either.
The past favors Jinko Solar in terms of profits since 2011, while Trina leads in terms of revenues.

Source: 20-Fs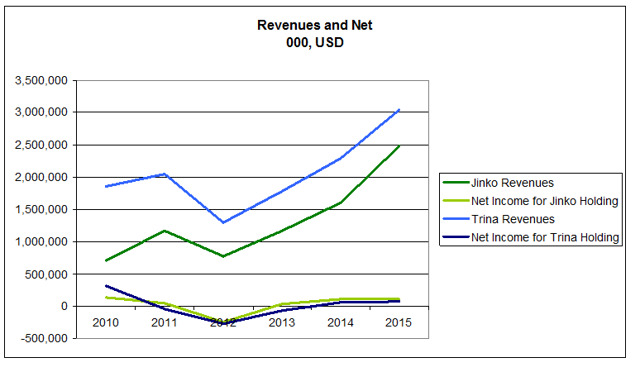 Source: 20-Fs
Balance Sheet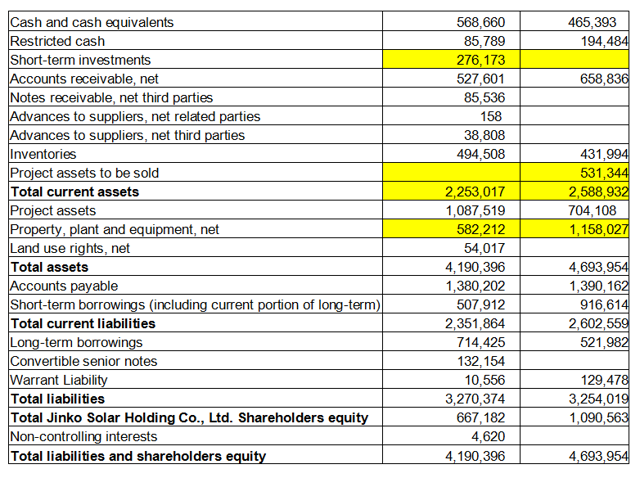 Source: 20-Fs, minor adjustments by author
Looking at the two companies' balance sheets, one realizes that Trina Solar has $503M more in total assets. This difference is almost entirely due to the difference in property, plant, and equipment of $576M.
The sum of Trina Solar's current assets is $336M larger than Jinko's due to $531M project assets to be sold. On the other hand, one must consider that Jinko's project assets are valued more $383M with respect to Trina Solar's project assets, which means that if we assign roughly the same role and value to "project assets" and "project assets to be sold," the difference in current assets of $336M becomes meaningless.
As far as liabilities are concerned, Trina Solar has more short-term liabilities, while Jinko Solar has more long-term liabilities. This is why total liabilities are more or less equal for both companies. Jinko is more leveraged than Trina due to a difference of $423M in equity.

Source: 20-Fs, minor adjustments by author.
Conclusion
Looking exclusively at the financial results, the difference in valuation can only be explained by a difference in property, plant, and equipment of $577M. But from a financial point of view, plants are only as valuable as their ability to produce income. Jinko seems to achieve higher output and higher margins, which means there is no reason to assign Trina twice the valuation Jinko has based on the value of its plants and equipment. A quick look at the two companies' PP&E balance confirms that the difference is really just in production-related assets, and not in any kind of other properties that have a higher liquidation value.
There is no question that the solar panel industry is still a tough environment right now. On the other hand, investors should keep in mind that with respect to American panel producers, Chinese industry leaders like Trina Solar and Jinko Solar are profitable companies, and their technologies are well-established.
With solar energy becoming the cheapest source of energy in many parts of the world, we are witnessing a shift in paradigms, which right now makes it more difficult to evaluate solar stocks by simply running the numbers of tried-and-true models. This gives birth to events of mispricing, like this one where Jinko Solar sells without apparent reason for roughly half the price of a very similar company.
Another argument in favor of a speculative position in Jinko Solar is that once the Trina Solar acquisition is through, roughly $1B in cash will be freed up. Based on the analysis in this article, it is reasonable to believe that at least some of that cash will be used to buy stakes in Jinko Solar.
In my next and final article on Jinko Solar, I will analyze the company's financial position after the spin-off of its power business based on the 2016 annual report. This will help understanding whether the stock is suited for a larger "investment" position based on the company's current position. We are also going to see how the lack of the downstream business will impact the stock.
Disclaimer: The article reflects my personal opinion and reality to the best of my knowledge, but I can't guarantee for content or outcomes. Please do your own research before making any investment decisions. Be aware that investing in a single stock may lead to complete loss of capital.
Disclosure: I am/we are long JKS.
I wrote this article myself, and it expresses my own opinions. I am not receiving compensation for it (other than from Seeking Alpha). I have no business relationship with any company whose stock is mentioned in this article.