LendingClub (NYSE:LC) is down 18% since its 4Q'16 results and is 23% below where it sat before its mis-selling episode caused the business significant reputational damage. For those minded to buy this growing loan-investor market model, now is probably a good time to add.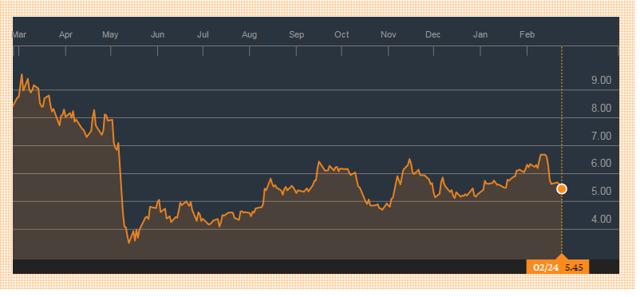 Bloomberg
After 4Q'16 numbers, there is cause for optimism opposite the company's reputational position. To recap, LendingClub is a marketplace business that matches consumer borrowers with investors with differing risk parameters. The May 2016 episode concerned LendingClug selling loans to an investor that did not match specification, and revealed serious inadequacy in the platform, which is largely automated.
As we can see in the left hand slide in the chart below, bank funding contracted sharply in 3Q 2016 from 28% to 13% of funding, reflecting the impact of the mis-selling episode. This has now been restored after an incentive program and much work reassuring the bank funding clients that the problem has been remedied.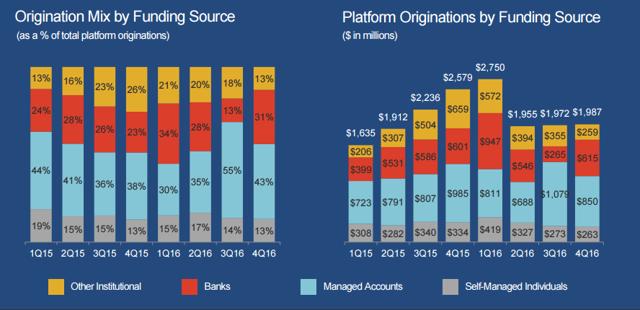 Company data
LC has added a warehousing function whereby it will hold around $100 million of originated loans on its own balance sheet prior to securitizing them, with guidance being for the origination and securitization process to roll over once per quarter. This will allow the company quickly to take loans off the balance sheet of an investor should future mismatches occur. It also expands the company's range by allowing post-origination placement of loans without the requirement that they match particular investor parameters.
So the stock was working its way back from the May episode and the results call confirmed remedial actions have been effective so far. Why then the weakness in the shares?
This relates to company guidance for 2017. The market was disappointed with 1Q revenue guidance at $117-$122m, EBITDA loss guidance of $-5 to -$10m and net loss guidance (GAAP) at $-38 to $-43m. Full year guidance does embrace an acceleration of revenue growth potentially up to $595m with commensurately greater net loss of up to $84m. 2H losses should be lower than 1H however and the key moment will come when LC re-emerges into a platform building mode.
It's valid to ask if the introduction of a balance sheet function dilutes the marketplace business model. Management commented on the call that the move did not sit well with some of them at a deep philosophical level. To my own mind it is fine. LC needs the ability both to remedy mistakes quickly and if it runs its origination function within sensible limits it should be able to place loan bundles efficiently after they are constructed. The question is size and the extent to which the company will subject itself to greater regulatory burdens over time or be exposed to a downshift in risk appetites in securitization markets. In principle the development is nothing to worry about - in the end it is about what works.
Conclusion
Trading at only ~3.7x prospective 2017 revenue, the current level is a reasonable entry point for investors with patience and a stomach for the turbulence that can come from a young business building scale and complexity of an offering. The gear change from retrenchment to growth should happen around mid-year and slowly building a position into that point in time makes sense.
Disclosure: I/we have no positions in any stocks mentioned, and no plans to initiate any positions within the next 72 hours.
I wrote this article myself, and it expresses my own opinions. I am not receiving compensation for it (other than from Seeking Alpha). I have no business relationship with any company whose stock is mentioned in this article.