By Parke Shall
Nordstrom (NYSE:JWN) just reported a quarter that beat expectations and the stock wound up rising almost 3% on Friday. It carried a lot of the retail sector with it, leaving us to want to reframe the sector and reconsider a pair trade we first talked about more than a year ago.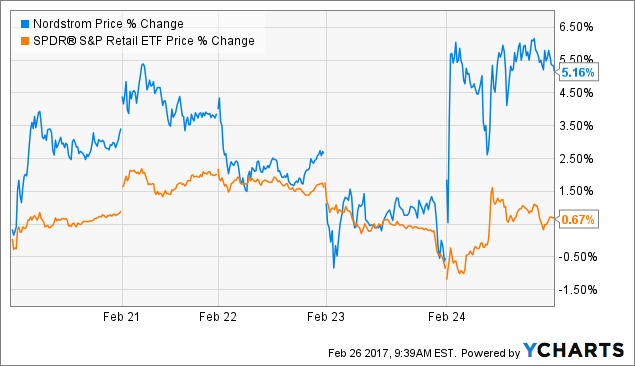 We wanted to make a couple of observations about Nordstrom's report and talk about why our preferred trade in retail would still be to short Nordstrom while going long Macy's (NYSE:M).
First things first, Nordstrom reported last week and the report beat expectations on some accounts. Seeking Alpha reported,
Nordstrom tracks higher after Q4 sales came in ahead of expectations.
Comparable sales were down 0.9% for the quarter.
Strong inventory execution led to a 112 bp improvement in gross margin rate to 36.0% of sales.
The women's apparel and beauty categories were the best performers across U.S. full-line stores.
Comparable sales were up 4.3% for the Nordstrom Rack business. Total Rack sales jumped 10.7%.
Nordstrom guides for sales growth of 3% to 4% in 2017 and EPS of $2.75 to $3.00.
On the conference call, execs said there was no ongoing impact from dropping the Ivanka Trump line of clothes after sales dropped off dramatically over the last few months.
The Rack led the way, so let's discuss it. For those not in the know,
"Nordstrom Rack is the off-price retail division of Nordstrom Inc. Nordstrom Rack has been serving customers for over 40 years, offering many of the same Nordstrom brands we know our customers love at great prices."
The rack was a huge driving force behind the company's positive results. For those unfamiliar with The Rack, it is essentially an outlet style store where older Nordstrom items can sometimes be interspersed with items from other locations and marked down significantly. To put it simply, it is the T.J. Maxx (NYSE:TJX) or Marshall's model applied to Nordstrom.
Right off the bat, this is a positive for Nordstrom, but also for Macy's. As those that follow the sector closely know, Macy's has been working to debut "Backstage" stores where Macy's items are also coming up with other discount items and marked down significantly.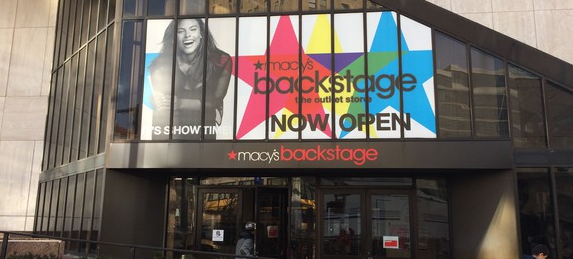 It is likely that Macy's saw the success of models like Marshall's and T.J. Maxx and decided that they wanted a piece of the action.
Nordstrom Rack, which has been around for a long time, is showing that this model can work and help bolster traditional department store sales for some of the larger names. This gives us confidence that Macy's will continue to roll out Backstage relatively successfully. We reviewed one of Macy's Backstage stores and you can read that review here. In that review, we acknowledged that it was going to drive the sector,
All in all, we think the concept could eventually be successful, but there are certain issues that Macy's is going to have to take up with the way they're doing it thus far.

We would recommend splitting the concept off into a separate building, so you are not directly cannibalizing on shoppers who may already be shopping for goods at close to or at full price. Once established elsewhere outside of Macy's, the goal would then be to seek the same type of discounted apparel that the major department stores like Ross and TJ Maxx get. We realize that adding another inflow of inventory is probably the last thing that Macy's needs right now, but we believe the company could do it judiciously and pepper these items sporadically in a store that is mostly Macy's items.

Make no doubt about it, this model certainly has a hold on the industry right now. Not only is it performing exceptionally well, but it is essentially resistant to online shopping as the inventory at the stores is always very dynamic and constantly being turned over.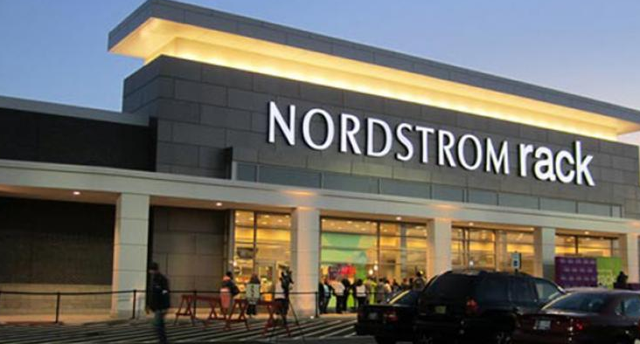 Aside from the success of The Rack, there doesn't seem to be too much more to be excited about at Nordstrom. While it is considered a "premium name" in retail, its success is being driven by its lower end offerings. We still believe the company to be trading at a PE that is much higher than it should be. Most retail names have forward price to earnings ratios near 10X, Nordstrom continues to trade around 15X to 16X.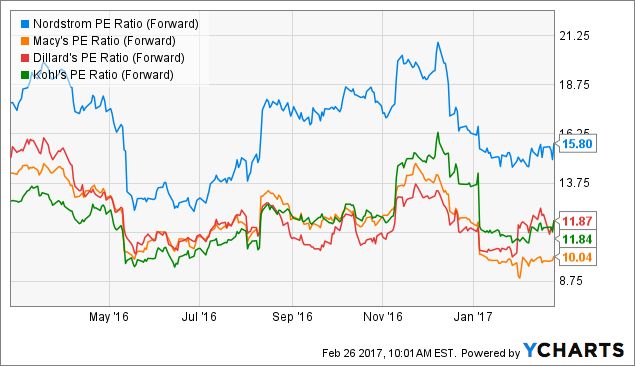 JWN PE Ratio (Forward) data by YCharts
Right off the bat, we like Macy's valuation better. It is true that Macy's is levered more than Nordstrom and this may be a reason that it is not assigned the same type of price to earnings multiple, but we actually think the industry standard should be closer to 10X (given the volatility coming from the major shift taking place in retail) and we believe that there is a lot of filler space in Nordstrom's valuation that we would not want to carry as a long investor.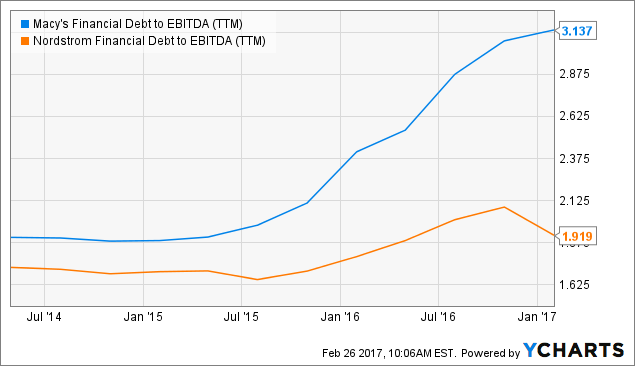 M Financial Debt to EBITDA (NYSE:TTM) data by YCharts
Let's also not forget that Macy's came out and surprised with a quarter that beat expectations last week. Despite guidance being pushed a bit lower, the company is still robustly cash generative and is focusing on a store closure strategy that could hopefully keep generating cash for a long while. Both companies are still very cash flow generative.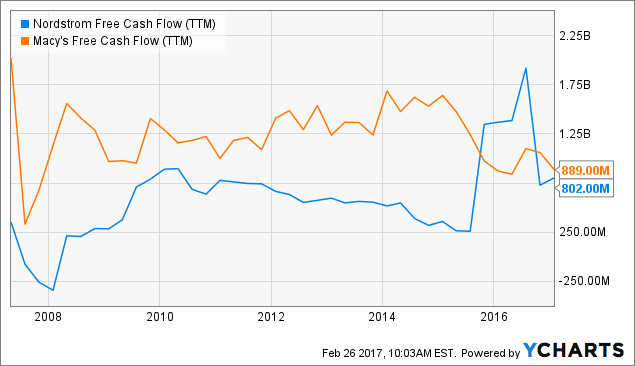 JWN Free Cash Flow (TTM) data by YCharts
But Macy's results go to show that it isn't only Nordstrom who is performing (according to Wall Street expectations) in the sector as of the last quarter. Of course, Nordstrom's results were slightly better than Macy's, but we believe there are other items aside from the valuation that set these companies apart.
Another large difference between the two companies is that there is no rumored to be a bid for Macy's on the table. We have stated several times before and continue to believe that any bid for Macy's is going to have to come in at a substantial premium due to the unrecognized value of the company's real estate assets.
We have talked over and over again about how the real estate could be worth anywhere between $10 billion and $20 billion and that when you tack on Macy's cash flow stream for the next 5, 10, or 20 years you arrive at a NPV that is significantly higher than what the company trades at today. We think this real estate and buy out bid not only give the company a firm foundation with its stock price here, but also makes it the better of the two companies to go out and own long.
With Nordstrom, you are now paying a premium valuation for a company that has shown that its outlet strategy has worked. It's core business continues to be hit or miss, but essentially we think the valuation is as high as it's going to get in an overall market that we also believe to be stretched. With Macy's, you have to take on the risk of a little extra debt, but you also have the foundation of the real estate value and arguably another 30% to 40% in multiple expansion if the company could show that the business has stabilized and if it heads to "Nordstrom PE levels".
We have always been investors that look for value. We see value in Macy's here and we don't see it in Nordstrom, leading us to believe that being short Nordstrom and long Macy's could be a great pair trade that may generate significant alpha.
Disclosure: I am/we are long M.
I wrote this article myself, and it expresses my own opinions. I am not receiving compensation for it (other than from Seeking Alpha). I have no business relationship with any company whose stock is mentioned in this article.