By Parke Shall
As we move closer and closer to the next interest rate hike, we continue to look for companies and sectors where there will be both opportunity and challenges going forward. While we believe that the entire market is likely to see a pullback or a correction relatively soon, we wanted to at least identify one subsector of stocks that we would not want to be involved in regardless of whether or not the overall market pulls back: peer to peer lenders.
Peer to peer lenders exist in a pocket in the lending spectrum that is somewhere below subprime lending and above people who can't get credit. Though the services also lend to very creditworthy individuals, a lot of the heavy lifting for these companies is done with people who do not have access to traditional credit. Since the quality of the borrowers is on the low-end, interest rate hikes would likely affect the peer to peer lenders a lot more significantly than smaller banks.
We noticed that Sofi (SOFI) was able to raise well over $1 billion in its last round of financing which struck us as odd because we think that peer-to-peer lending is one area of the market that investors should be avoiding like the plague, especially in a rising interest-rate environment.
If Sofi chooses to eventually go public, it is a stock that we would steer very clear of. However, we don't think they're even going to choose to go public, because by the time they are IPO-ready, we believe the market environment will have shifted drastically and that demand for a potential IPO of their kind would be extraordinarily weak.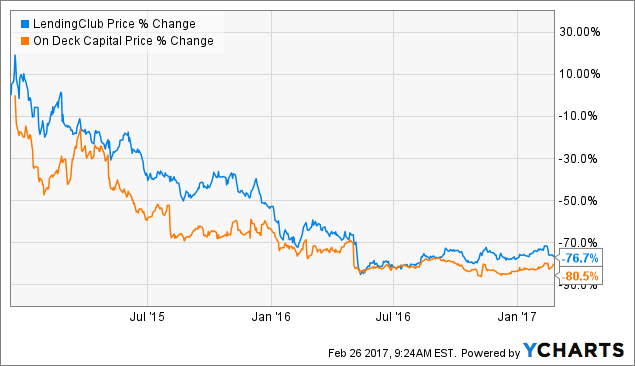 The peer to peer lenders have already gotten decimated since IPO. Lending Club (NYSE:LC) and OnDeck (NYSE:ONDK) are both down over 75% over the last three years. The chart below is a basic diagram of how peer to peer lending works.
(source: Business Insider)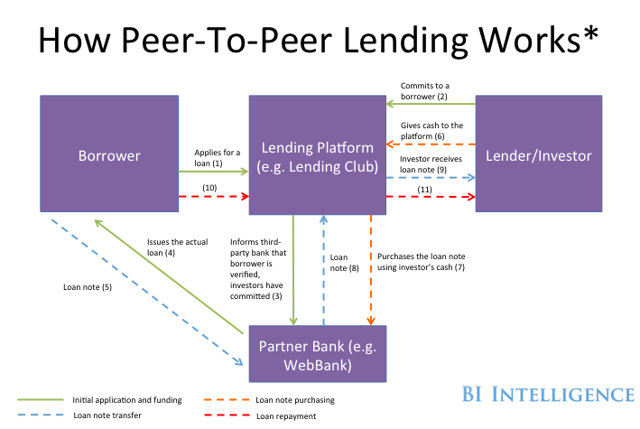 Continued pressure on the loan books of these peer to peer lenders is going to make them dead money for a while, we believe. They are, by definition, lending in a manner that puts them and their shareholders at risk in a rising rate environment. Their checklists for doing due diligence before lending are very short and the range of creditworthy individuals that they lend to is wide. By definition, they are risky companies making risky loans.
The Federal Reserve seems like they are going to follow through on their three rate hikes for this year. Though nothing would surprise us at this point, comments made over the last two weeks lead us to believe that the Federal Reserve is going to be relatively stringent about rate hikes. Even though we think hiking only 75 basis points this year is absurd, those small ticks upward are going to be enough to put pressure on anybody and everybody that has amassed debt, especially those with the least amount of means to service their debt.
None of this is to say that we would be looking at smaller regional unconventional banks right now either. Banks like Banc of California (NYSE:BANC), Bank of Internet (NASDAQ:BOFI) and Opus Bank (NASDAQ:OPB) continue to be "avoids" for us, as we have stated many times in the past. Even in an article where we talked about how the financial sector would have been the only sector we would've owned prior to the election, we made the comment that regional banks with poor lending standards are not names that we want to be in. BOFI has moved higher since then but OPB has fallen significantly, as you can see from the chart below.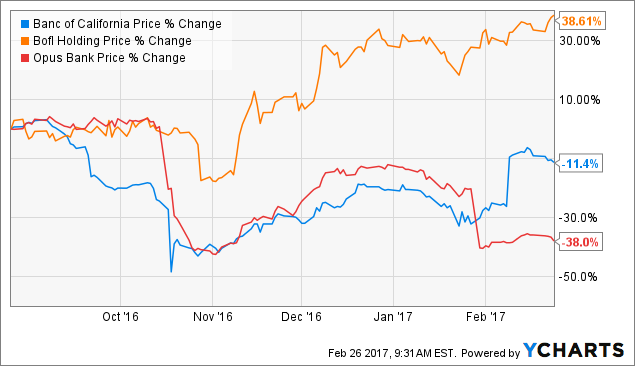 To conclude, the rising rate environment works like a series of aftershocks. The aftershocks first hit those who are the least credit worthy and those who have saddled themselves with too much debt. With peer to peer lenders now offering second and third rounds of loans to the same people, it is starting to become obvious who is actually getting saddled down with debt and who will have to pay the piper first when interest-rate's go up: the peer to peer lenders.
Disclosure: I am/we are short BOFI.
I wrote this article myself, and it expresses my own opinions. I am not receiving compensation for it (other than from Seeking Alpha). I have no business relationship with any company whose stock is mentioned in this article.