In our previous articles we started looking at actively managed fixed income ETFs. With the looming interest rate hikes yet to come and the desperate measures most fixed income funds have taken so far in order to produce a respectable yield, there is a growing need for proper risk management of fixed income assets in order to prevent principal losses. (Fund managers took on longer durations in order to increase yields.)
In our first article in the series, we outlined 6 of the largest actively managed funds and introduced two newly launched ETFs that are worth our attention. In our last article we looked at the Janus Short Duration ETF (NYSEARCA:VNLA) for our cash management needs, so today we will take a look at an actively managed investment grade, go anywhere ETF, the First Trust TCW Opportunistic Fixed Income ETF (NASDAQ:FIXD).
Fund Basics
Sponsor: First Trust
Sub-Advisor: TCW Investment Management Company LLC
Index: Intermediate Term Bond
AUM: Approximately $50.265 Million
Investment Objectives: Seeks total return by investing primarily in investment grade fixed income securities.
Number of Holdings: 104
Current Yield: Just Launched
Inception Date: 02-14-2017
Fees: .65%
Source: YCharts & First Trust
Why This Fund?
You are looking for a fixed income fund that provides both, above average returns and lower volatility over a complete market cycle.
While actively managed funds such as this are traditionally available only in open end mutual fund or hedge fund structures, we now have the ability to access this institutional quality manager in an exchange traded fund.
In essence this is a multi sector, multi strategy portfolio in one fund.
The Alpha & Fund Strategy
Unlike traditional ETFs, this fund does not follow any particular index and is in reality an active institutional fund that uses the ETF wrapper.
The fund is "designed to give investors exposure primarily to investment grade bonds. The First Trust TCW Opportunistic Fixed Income ETF seeks to maximize long-term total return using a value driven approach. The fund is sub-advised and managed by TCW Investment Management Company LLC."
"The fund is a multi-sector portfolio that provides exposure to core and satellite fixed income assets. Under normal market conditions, the fund will seek to achieve its investment objective by investing at least 80% of its net assets (including investment borrowings) in fixed income securities of any credit quality and may invest up to 35% of its net assets in securities rated below investment grade."
Source: FIXD Press Release
The overall strategy can be summed up by the following,
TCW uses a value-oriented fixed income strategy focused on generating alpha primarily through sector allocation and security selection, while controlling risk through a disciplined application of dollar cost averaged exposure across duration, yield curve, sectors and securities. TCW believes fixed income should be the "bedrock" of an investor's asset allocation. As such, the investment process is focused on preserving capital.
Source: FIXD Investor Brochure
The philosophy around security selection is both, top down and bottom up looking at a variety of factors.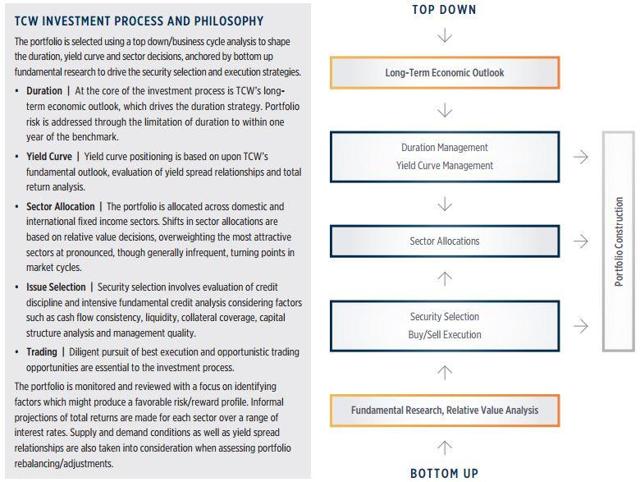 Source: FIXD Investor Brochure
Putting everything together, even though the fund is new, here is what the top 25% of the holdings look like today.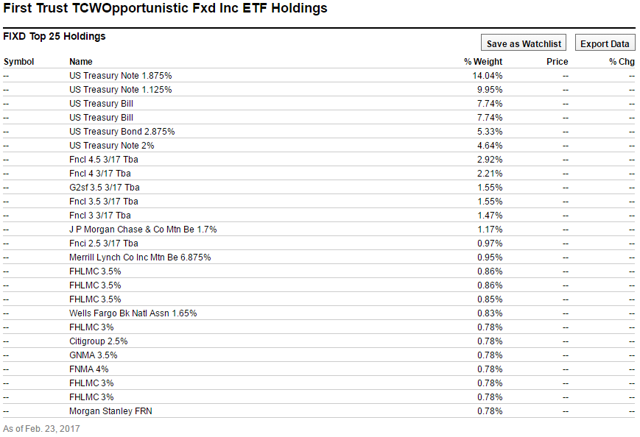 Source: YCharts
For a complete list of holdings, please visit the ETF's site here.
Looking at the entire portfolio we can see that the fund currently holds a large allocation to cash.
Source: YCharts
From a maturity standpoint I was not able to find an average duration figure on either YCharts or from the fund sponsor. I was however able to find a YCharts graph breaking down the maturity exposure.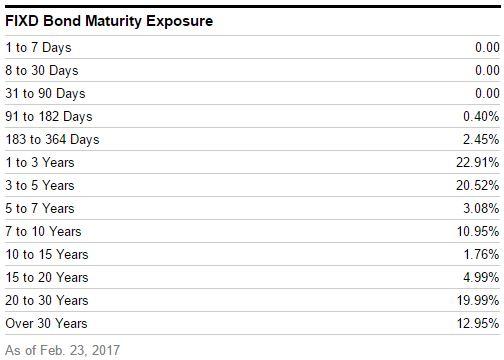 Source: YCharts
Our Take & Bottom Line
My regular readers would notice that we skipped a section in this article, the performance section. As this fund does not even have a two week track record yet, looking at it would serve no purpose yet.
Overall, I am excited about this fund. Investors and financial advisors who were looking for an actively managed fixed income ETF, with a strong sponsor and a terrific sub advisor now have their fund.
While there are funds similar in strategy, I believe the benefit of FIXD is the advisor's focus on risk management and capital preservation.
This fund's expense is extremely reasonable, especially for a newly launched fund. The distribution today may be a bit lower, considering the sizeable allocation to cash, however that is part of the capital preservation in a rising rate environment. All else being equal, if you compare this fund against the other actively managed funds such as the SPDR® DoubleLine Total Return Tact ETF (NYSEARCA:TOTL), Principal EDGE Active Income ETF (NYSEARCA:YLD) and the PIMCO Total Return ETF (NYSEARCA:BOND), FIXD should outperform for the simple reason that it is currently a fraction of the size and far more nimble.
While the fund does not have a track record, I am certainly interested in it and will be following it closely. For other actively managed fixed income ETFs, please read my initial article on this space, "Active Income ETFs for a Rising Rate Environment."
I believe in active management that works, and I am here to help you find those opportunities. Please follow me here on Seeking Alpha as we look for those opportunities and sort out the good managers from the mediocre.Simply click the "Follow" button next to my name at the top of the article or on my profile page.
Disclosure: I/we have no positions in any stocks mentioned, and no plans to initiate any positions within the next 72 hours.
I wrote this article myself, and it expresses my own opinions. I am not receiving compensation for it (other than from Seeking Alpha). I have no business relationship with any company whose stock is mentioned in this article.
Additional disclosure: Maks Financial Services is a registered investment advisor and our Form ADV Part 2 is available upon request. We certify that the opinions and predictions in these articles are our professional beliefs at the time of publication and should not be construed as personal investment advice. Please consult your financial professional to see how anything discussed here applies to you. Furthermore this is not a solicitation to buy or sell any securities. This is not Tax Advice. Please consult your tax professional.