Over the past few weeks, I have been actively researching, exploring and sharing my most compelling investment idea (at current valuations), GNC Holdings, Inc. (NYSE:GNC). Given the robust, engaged, thoughtful, and growing Seeking Alpha readership, within the comment streams, there have been a number of good idea exchanges debating the pros and cons of this idea. However, for today's piece, I write to discuss the importance of intuition in my investment approach.
Within the comment section, I often debate the stylistic difference between investing as an art vs. science, with hedge fund analyst, Suhail Capital. Suhail, at least from our recent debates, is more of a science person. He or she loves quantitative ratios and spends a lot of their research time on relative value. There is nothing wrong with this approach. However, anyone with a Bloomberg account can easily run valuation screens for numerous metrics.
In the age of super computers, you need to constantly work on your craft. My view is that investing is much more of an art than science, and I shared my investing approach in my September 2015 piece: For The Love Of The Game. Within that piece, I discussed why more art than science and the important role of imagination.
However, this weekend, on our drive home from a one-night getaway to Newport, RI (with the kids so we were active), we listened to an old Tom Ashbrook NPR On Point podcast: A More Physical Form Of Mindfulness that recently aired again for the second time. Incidentally, this podcast originally aired on September 14, 2015, just two days after my For The Love Of The Game Piece was published. Anyway, Tom's main guest, Guy Claxton, a cognitive scientist and author from the University of Winchester was on to discuss concepts from his then new book.
About half way through the program, Professor Claxton mentioned that there is an ongoing empirical study where Nobel Prize winners were asked about the importance of intuition in their scientific breakthroughs and groundbreaking research. According to Professor Claxton, he recalled reading that 79 out of 84 winners that agreed to participate in the study, attributed intuition as a critical element of their success.
This intriguing piece of information, synchronistically mentioned within this podcast sparked my curiosity. As I am constantly searching for new material to keep my writeups interesting for my readers, so I spent some time exploring the topic.
I found some good articles, but most of them were firewalled behind academic research databases/websites, and I am not paying hundreds of dollars for access. Therefore, you only get a teaser one paragraph excerpt, so I wasn't able to read them in their entirety. However, I did find this excellent article: The Role of Intuition in the Generation and Evaluation Stages of Creativity written by three British professors and published in Frontiers in Psychology on September 20, 2016.
Within this most excellent piece, full of lots of empirical data, they explore the link between intuition and creativity. By the way, if you are looking for some mental gymnastics or an upstream high intensity mental workout, this is a good piece. Here is how the three co-authors define intuition:
Bowers et al.'s (1990) classical model describes the process of intuition in two stages. In the first, guiding stage, clues (such as words, shapes, voices, odors, etc.) are accumulated from a complex, noisy environment and synthesized into a pattern in a gradual manner, resulting in a vague perception of coherence. If the spreading activation of relevant mnemonic networks exceeds a threshold, the perception of coherence becomes robust enough to enter awareness and results in a reportable hunch or judgment. This is interpreted as the second, integrative stage (see Volz and von Cramon, 2006; Zander et al., 2015 for neuroscientific evidence of this model).
Speaking of intuition and investing, in order to get selected for the highly competitive Investment Associates role in Liberty Mutual's Investment Grade fixed income department (circa 2006), I had a series of interviews and ultimately had to make the grade with the then Director of Fixed Income, James Jakobek. Mr. Jakobek was about 6 foot six and had risen to his high station at Liberty after decades of good work.
He was very smart, devoted to his craft, but had a hard exterior until you make it past the probation stage and earned his respect. I believe (but could be wrong) that he was a past President of Boston Analyst Society and know for a fact that he was a pioneer in the often neglected Municipal bond arena. Unfortunately, for my career development, he retired two years into my five-year tenure.
Anyway, I distinctly recall him mentioning that during the intense interview process that over his career, that "intuition" is what usually separates the average investors from the great investors. He said at the institutional level, everyone has good core skills, but the intuition is innate and needs to continuously be cultivated.
Flashbacks aside, the more I thought about it, SA Contributor, Justin Grant, recently raised the intuition subject matter within one of the commentary streams of a recent GNC article. This helped remind me just how important intuition is to my investment process. I am not sure if this is a good or bad thing, as a perpetual student of the market, intuition is my investing North Star.
What is interesting is that if I reflect back on my ideas, I often have an overwhelming strong intuitive sense or conviction level that gradually builds after a certain number of hours of research say (ten to fifteen). Then if my own internal conviction barometer is flashing (red or green depending if it is a long or short idea) then I get obsessed with the idea and really start to dig into it. However, as is often the case, my timing is usually notoriously bad, as I am often early with my initial purchases.
Also, chemically, I get the most enjoyment in the early creative stages of developing a new idea. It is almost as if there is a chemical boost activated by the interactions that get set in motion while formulating new ideas. Either way, after being wrong or early so often, at least in the past, I often get idea fatigue as my thesis gets delayed and I search out that chemical high from new original idea generation. This is something I am working on correcting.
For context and as a case in point, I spent only five or six hours researching GNC in late December and we dipped our toes in the water on January 4, 2017 and bought shares at $11.15. I did more work on the name and grew more bullish as I continued to read that GNC was universally hated by the sell side. These sentiments were aptly captured in both Bloomberg and the WSJ.
I suppose that in an institutional setting, I would have gotten dinged for recommending GNC at $11.15, as after all, I hadn't fully kicked all the tires, dotted the "I's" or crossed the "T's," and as Suhail has inferred, I would have been fired on the hedge fund side, as the margin of error is even lower; luckily for me, at least in my PA, I won't get fired for being wrong in the early stages.
Perhaps, I can tighten up this process and do the fifty hours of research first, but it is just more fun to actively be on this adventure together, in real time, with my loyal SA readers. As long as I am eating my own cooking and presenting the ideas transparently, the short-term unrealized losses are well worth it as they act as a catalyst to keep digging and often push the mind to places it may not have gone if wasn't notified of the high stakes.
Incidentally, as my conviction levels have grown, we have added more shares of GNC, along the way and now maintain a 15% position guideline, as our maximum risk tolerance (after getting burnt on my last adventure/misadventure Peabody Energy (OTCPK:BTUUQ) unsecured bonds). Full disclosure, our cost basis is about $9.72 and we might trade 20% of the position to take advantage of volatility, but will maintain a core 80% (12% overall allocation).
After looking like a complete moron and watching GNC briefly dip below $7 after its lousy Q4 2016 earnings release, I finally got a positive affirmation that my intuition is right when interim CEO, Robert Moran filed that he bought $5 million worth of GNC stock on February 21, 2017. As I have shared in prior articles, I read all three of Mr. Moran's conference calls in great detail and multiple times, and alarm bells went off in my mind.
His strategy and candor resonated with me and the elements required for a dramatic turnaround are in place. Mr. Moran essentially said "Our Platform Is Burning" and we will take bold action to fix it. The analyst community with its general lack of imagination and severe fear of being wrong completely missed it, even though they cover the stock and actively participated on the conference calls. Go figure! Perhaps, the sell side is simply not incented to stray from the pack. At least Goldman Sachs, despite it questionable agenda, often takes bold positions and put aggressive price targets on stocks.
Speaking of Stephen Elop's "Our Platform Is Burning," we bought shares of Nokia (NYSE:NOK) after they announced the launch of the Lumia line in April or May of 2012. We dipped our toes in at $5 or $5.50, bought more at $4, a little more at $3 and then got aggressive in the low $2s. During the depth of its crash, I vividly remember when we were then on vacation (this was pre-kids) in Charleston, SC and staying at the Francis Marion hotel (July 2012).
Nokia reported earnings that morning in Europe and when shares opened for U.S. trading, they dipped under $2. I distinctly remember emailing my friends on the buyside and declaring that we added more shares under $2. The mutual fund friend said something like you are out of your mind and could easily lose your entire $35k investment.
For a little fun, I looked back at my email archives of a few conversations with my mentor at Wellington. Here are three email exchanges.
My email.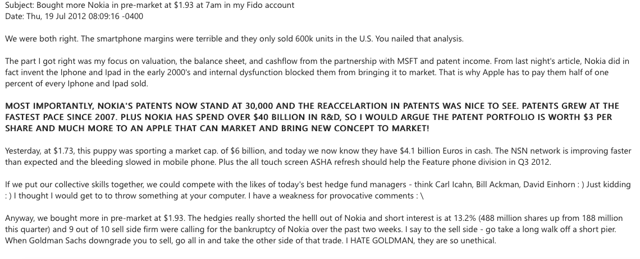 My friend from Wellington's email.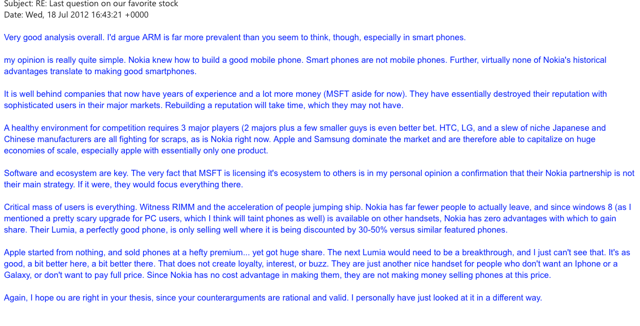 I wrote this around or shortly after earnings in July 2012.
Here is one other email: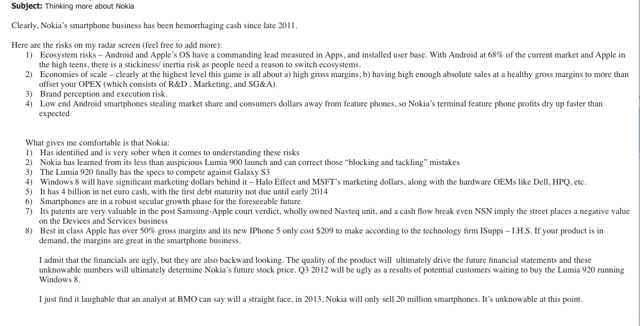 I also built a model back then too.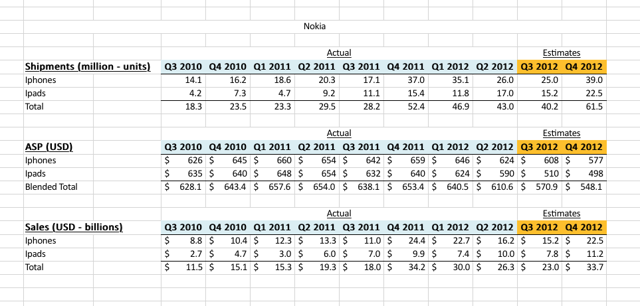 My long-winded point is that largely based on intuition, Nokia's former great history (lots of valuable patents), a bold turnaround plan, and a stock universally hated by the sell side, we got really aggressive and bought Nokia. I think at the peak, we owned 8,500 shares with a cost basis of $3.63. Looking at the chart, Nokia bottomed at $1.71 on July 20, 2012 and it rebounded smartly in 2014 trading north of $8 and paying $0.86 in dividends that year. Of course, we sold way too early, but more patient investors with that same cost basis would have made 144% on their money if they sold in late 2014.

Source: Google Finance
I would argue that our current GNC bet has a better risk/reward profile as GNC's margins are much better and GNC isn't competing against Apple (NASDAQ:AAPL) in the low margin handset business circa 2012-2014. Good luck and let's see how Jim Cramer's Friday February 24, 2017 eight minute hit pieces influences GNC's stock price.
In closing, I will share the famous 1910 quote by Teddy Roosevelt.
It is not the critic who counts; not the man who points out how the strong man stumbles, or where the doer of deeds could have done them better. The credit belongs to the man who is actually in the arena, whose face is marred by dust and sweat and blood; who strives valiantly; who errs, who comes short again and again, because there is no effort without error and shortcoming; but who does actually strive to do the deeds; who knows great enthusiasms, the great devotions; who spends himself in a worthy cause; who at the best knows in the end the triumph of high achievement, and who at the worst, if he fails, at least fails while daring greatly, so that his place shall never be with those cold and timid souls who neither know victory nor defeat.
Disclosure: I am/we are long GNC.
I wrote this article myself, and it expresses my own opinions. I am not receiving compensation for it (other than from Seeking Alpha). I have no business relationship with any company whose stock is mentioned in this article.