Verizon (NYSE:VZ) shares have been on the roller coaster of late but seem to have finally found a bottom and come nicely off recent lows in the mid-$40s and breaking through $50 per share. VZ is one of the most popular stocks for dividend investors, reliably among the top dogs of the Dow and other large-cap dividend screens. It is likely that dividend players who helped VZ find its bottom came in to push the yield back down.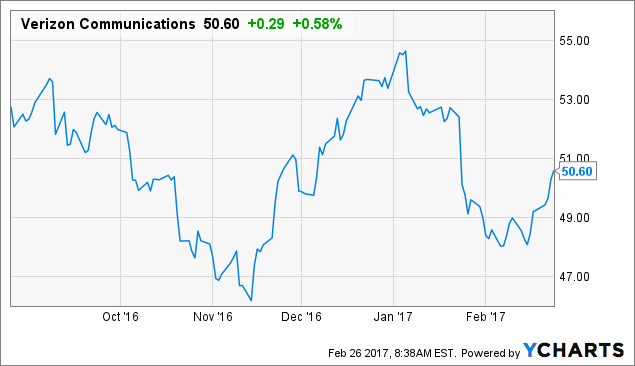 Let's look at how VZ stacks up to the Telecom sector and other large-cap brethren, and then discuss some of the catalysts that could impact the stock.
Valuation and Projected Growth
VZ is surely a slow and steady stock with little in the way of earnings growth projected. Analysts expect the stock to grow at just under 3%, which is just slightly below the sector growth rate of 4.1%. Both are significantly below the large-cap projected growth rate of 11.7%. However, VZ shares are inexpensive on a Forward PE basis trading at less than 13 times next year's earnings compared to more than 18 times for the index.
From the view of the PEG ratio, popular among growth investors, VZ and the telecommunications sector appear expensive with ratios of 4.6 and 4.7, respectively compared to the index at 1.5. For income investors, we have modified the traditional PEG ratio to account for current yield and growth with the results in the GP ratio below. Using this metric VZ shares and the telecommunications sector are much more attractive relative to the index. Further, we view the limited downside afforded by the income investors bid as a reason to pay a GP ratio premium for VZ shares.
S&P 500

Sector

VZ

Projected EPS Growth

11.7

4.1

2.9

Forward P/E

18.08

13.90

12.78

PEG

1.5

3.4

4.4

Yield

2.06

4.68

4.57

GP Ratio

1.31

1.58

1.71

Source: S&P, Yahoo Finance
Opportunities for Upside EPS Growth
The consensus earnings growth projections for VZ are weighed down considerably by its declining wireline business and perception that wireless business growth is slowing. While VZ undoubtedly will never be among the set of rapid growth stocks, we see opportunities for upside in many of its recent actions. First, VZ has taken steps to stem the attrition of wireless customers with its new unlimited data plan and will no longer solely rely on its reputation as a premium service provider. We believe its investments in 5G will allow it to increase market share as video transmission becomes more critical in wireless consumption. Further, as VZ maintains or increases market share, it will be able to monetize its recent acquisitions in the content space. As VZ begins to execute on these initiatives we believe it will also achieve above consensus earnings growth.
Overall, we recommend accumulating shares in VZ based on intermediate term opportunities for an upside in earnings growth versus analyst projections. Downside is limited with the well-above average dividend yield and continued buying interest from income investors as the yield pushes towards 5%.
Disclosure: I am/we are long VZ.
I wrote this article myself, and it expresses my own opinions. I am not receiving compensation for it (other than from Seeking Alpha). I have no business relationship with any company whose stock is mentioned in this article.