For a stock that has seen €7.90 and €3.38 in the last two years, Santander (NYSE:SAN), which is currently trading at €5.05, has a remarkably stable core business. Valuation multiples are not stretched and the yield, at 4% and climbing is OK.
To emphasize the point about stability, here's the breakdown of how SAN has gotten to its pre-tax profit numbers over the last two years, on a quarterly basis.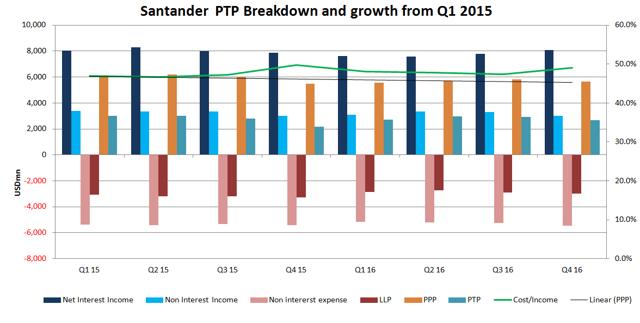 Company data
The next chart gives you a closer look at the income structure . There has been welcome improvement in net interest income in the last two quarters while non-interest income has been stable throughout this period.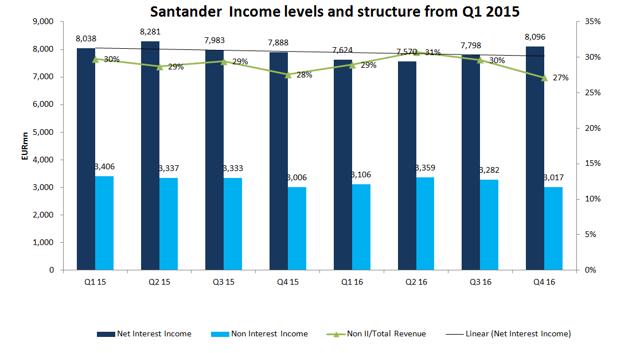 On both those weaker quarters (1-2Q '16), SAN absorbed revenue weakness in its operating cost and LLP costs. Here's are the numbers. In 2Q'16, net interest income was down over €400m Euros on the year ago quarter and over €300m on the six months ago quarter. Operating expenses were in both cases about €200m lower and LLP costs were also down, by about €100m. Naysayers will maintain that the lower provision charge was unsustainable. That's only true if an economic downturn had occurred from that point. And as we know, the underlying economic data in most of SAN's geographies was stable. Interest rate gyrations at this time were driven by oil price moves and industry retrenchment, and to some extent the Chinese slowdown. The Fed always viewed them as temporary and SAN's management of its cost/income relationship during this period was effective.
Perhaps a good way of contrasting banks as an investor is to look at geographical and business line diversification. If you could move seamlessly between bank betas, buying Scandinavia, Texas and Japan and the Midwest at the "right" moments, you would be an alpha machine and run a massive investment fund. We are talking SAC before the that awkward episode concerning internal supervision. So often though we find that the big turning points in geographical subsets of banks are dependent on turning points in other prices - commodities and bonds are big ones, and as far as I can see, specialists in commodities and bonds struggle to determine those turning points with excessive accuracy. Perhaps we should all listen to Drunkenmiller and let him decide for us.
This isn't what Santander tries to do and if you buy it, you're explicitly avoiding this kind of focused positioning. Here is what the bank says about its spread of businesses.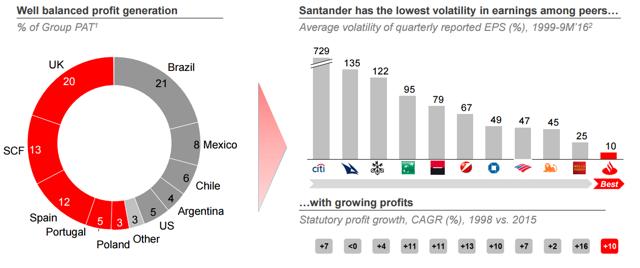 So 20% of SAN's business, in the UK, has a question hanging over it due to Brexit. I don't expect a Brexit recession in the UK, just weaker growth. Brazil is emerging from recession (chart below), and the IMF looks for 2.3 then 2.1% growth for Spain through 2017-18, a slowing from over >3% in 2015-16.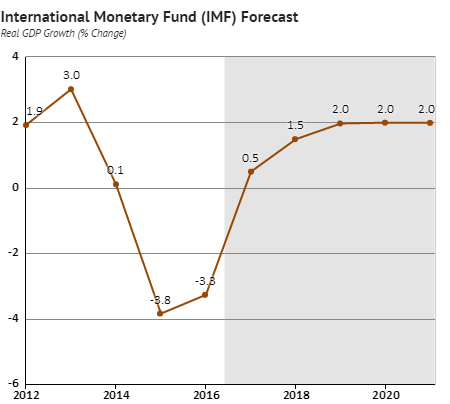 SAN has weathered the commodity and EM storm well. It was extremely cheap at the bottom. Right now, Brazilian GDP growth will offset a slowing Spanish and UK economy and things will remain stable for the group. What about growth? I think this is very simple at the group level. If Santander can pull off its target 10% CAGR in fee income, then the target double digit EPS growth in 2018 becomes plausible. This links to the cost/income target of the bank. At 48.1% in 2016, the target is 45-47% in 2018, a number we have to take seriously given SAN's resilience through a tough economic period in Brazil. The 45% number would entail 6% growth in operating income (before LLP) in itself. Give SAN an underlying organic growth rate of 3% (a tad behind the global economy) and a low single digit 2017 and double digit 2018 becomes plausible.
Conclusion
2016 PE is 12.4 here (€5.05). Prospective 2018 PE is around 10x. This should allow the stock to appreciate at least 20% while returning over 8% in dividends over that time. This is attractive in most countries.
Disclosure: I/we have no positions in any stocks mentioned, and no plans to initiate any positions within the next 72 hours.
I wrote this article myself, and it expresses my own opinions. I am not receiving compensation for it (other than from Seeking Alpha). I have no business relationship with any company whose stock is mentioned in this article.