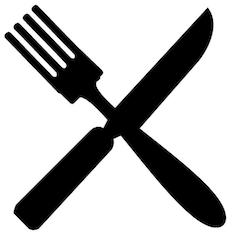 Welcome to the casual dining edition of the Weekly Restaurant Report. This week, we let the dogs out, as well staying in with the Couch Economy, which spells trouble for sector traffic trends. Our casual earnings coverage continues with a focus on sit-down restaurants, retail trends, and slumping same-store sales.
Trend Line: Stay home, shop online, order out, binge from the couch
We've heard of the Amazon (NASDAQ:AMZN) effect, the stay-home economy, and retail sales this past holiday season exemplify this line of thinking. The Couch Economy, a sentimental excuse for shifting sector trends? Or is this just another way of indicating a recession? Speaking of indicators, the Consumer Sentiment Index numbers came in slightly lower than January, but the overall index remains at the highest level in a three-month period since March 2004.

Does sentiment equal more traffic for restaurants (NYSEARCA:MENU) and retail (NYSEARCA:XRT) centers? Depends on whom you ask. Surveys of Consumers chief economist Richard Curtin (emphasis mine):
"Normally, the implication would be that consumers expected Trump's election to have a positive economic impact. That is not the case since the gain represents the result of an unprecedented partisan divergence, with Democrats expecting recession and Republicans expecting robust growth. Indeed, the difference between these two parties is nearly identical to the difference between the all-time peak and trough values in the Expectations Index - 64.6 versus 64.4. Since neither recession nor robust growth is expected in 2017, both extremes must eventually converge. Although the data indicate a growth rate of 2.7% in consumption during 2017, the data also indicate we can expect greater volatility and discretionary spending differences across subgroups."
This week's focus: casual-dining restaurants, and on February 9, 2017, TDn2K published its monthly restaurant snapshot, which reported flat (zero percent) year-over-year same-store sales for January, ending a 10-month streak of negative sales growth. On the positive side, month-to-month sales improved 4.2%, the biggest improvement in almost four years. Federal holidays and weather affected some regions more than others, but the numbers suggest consumers are spending in restaurants again, at least as far as comparable numbers go. From the report:
"Although positive sales growth is always welcome, we have to be cautious about getting too optimistic about these latest results," commented Victor Fernandez, Executive Director for TDn2K. "On one hand, it is common to see some large swings in comp sales during the winter, as significant weather events create fluctuating year-over-year comparisons. In addition to weather, there were unusual events in January that likely had some impact on restaurant sales. The year started with a federal holiday on January 2, which was unlike 2016. We also witnessed the effect of the presidential inauguration and the massive marches the following days. The combined impact is difficult to gauge, but operators will closely watch performance in upcoming weeks to get a sense if the downward trend in sales has been reversed or was simply obscured in all the noise."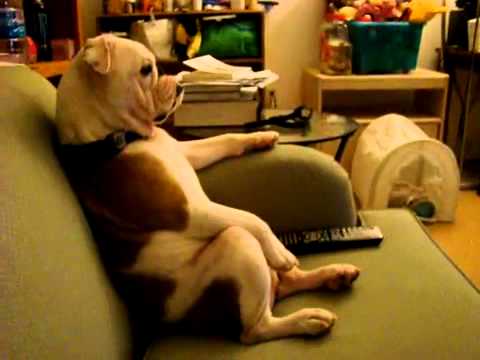 The Casual Dining Dividend Dog Show…
With nearly two months in the books this year, a couple dividend dogs emerged in the restaurant sector, as well as more possibilities on the horizon. Some common threads appear with each of the stocks, mainly franchises located near retail centers or malls, and, even more devastating, the decline of their brands. As dividend-paying stocks go down, yields go up, and opportunities feel risky via over-leveraged balance sheets and declining traffic trends. We identified two comparable restaurant stocks facing similar headwinds, and paying significant dividends, all of which deserve a closer look in this seemingly endless bull market. Warning: Ugly charts ahead.
Best of Show: DineEquity (NYSE:DIN), operator of the Applebee's and IHOP franchises, both of which face headwinds from lower traffic, especially near malls and shopping centers. Declines in traffic, same-store sales, and revenue growth amid shifting trends provoked several downgrades since the year began. Barron's started things off, then Instinet, followed by Raymond James. Things quieted down for a couple weeks before the company reported dismal preliminary fourth-quarter earnings, as well as the resignation of CEO Julia Stewart, which sent the stock another leg down.
"Richard Dahl, lead director of the board, will serve as interim CEO while a search for a permanent replacement is conducted. Fourth-quarter net income was $21.1 million, or $1.18 per share, and adjusted EPS was to be $1.37. The consensus is $1.39. IHOP's domestic system-wide same-store sales were down 2.1% for the quarter, compared with consensus of 1.2% growth. And Applebee's domestic system-wide same-store sales were down 7.2%, compared with a consensus of a 4.9% decline."
DineEquity's shares are down 21.1% for the past year, and the S&P 500 (NYSEARCA:SPY) is up 21.8% for the same period, and sentiment remains dismal for DIN despite the decline in share price, which spells trouble for bottom-feeders, contrarians, and high-yield chasers.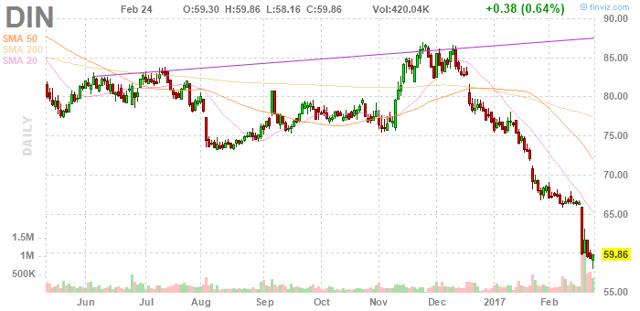 As illustrated, DIN looks hopeless on the charts, and as consumers opt to shop online, eat at home via delivery or take-out, and avoid the mall, the Applebee's brand will need a shift in focus, which is not any easy task. Valuation numbers look cheap, but consider the negative sales growth (-12.6%) the past five years, as well as debt levels. Also remember Applebee's and IHOP restaurants are 99% franchised, and DIN collects royalties, fees, and operates leases for many locations, which produce higher than industry average margins. All numbers courtesy Finviz.

The dividend payout ratio comes in a 66.5%, which is a little high, but sustainable given DIN's predictable cash-flow numbers and business model. A dividend yield of 6.48% is very hard to ignore, and any turnaround in same-store sales next quarter might spark a fierce rally. Earnings estimates come in light, and continue to slip into next year. All numbers courtesy Thomson Reuters.

The good news: DIN's RSI of 20.83 indicates oversold conditions. The bad news: The RSI dropped to as low as 9 in the past several weeks, and still the stock cannot find a bottom. The company reports earnings this week, which may provide some fireworks as far as new leadership, and strategies moving forward.
Runner-Up: Brinker International (NYSE:EAT) operates the Chili's restaurant brand, and owns nearly 33% of the U.S. locations, which differs from the DIN model. Chili's, like Applebee's, suffers from headwinds via the Couch Economy. Soft traffic and same-store sales declines verify these trends, and on January 25th, EAT reported an FQ2 EPS of $0.71, missing by $0.03 on revenue of $771.04 million (-2.2% Y/Y), missing by $15.62 million. Rising labor costs remain an industry-wide headwind, and shifts from traditional brick-and-mortar casual-dining restaurant brands only increase pressure on margins.
Brinker International reported comparable sales fell during FQ2 on sharply lower traffic (-3.1% system-wide).
Comp growth by brand: Chili's company-owned -3.3%; Maggiano's -0.8%; Chili's franchise -3.5%.
Restaurant operating margin as a percentage of sales fell 100 bps to 15.1%.
Restaurant labor costs increased significantly as a percentage of sales during the quarter due to higher wages and bonuses.
EAT has dropped over 14% since the year started, and CEO Wyman Roberts had this to say on the earnings call:
"Unfortunately, in December, lower category really started to get soft. We believe that's largely driven by the shift in holiday retail traffic to online, which is starting to impact how holiday shopping patterns play out. And based on this year's activity, some of the assumptions we've made that we've used regarding how to market during this time a year will have to be reevaluated."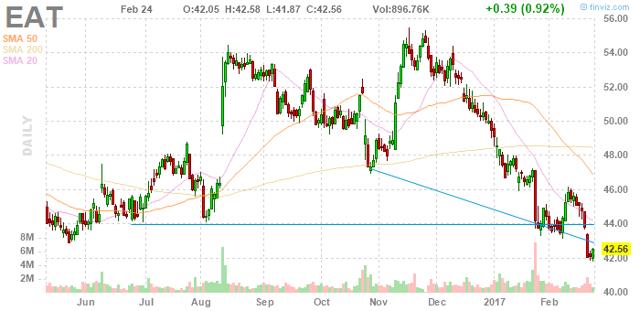 As illustrated, EAT spent most of 2017 playing with new lows, and with an RSI of 31.68, the stock barely climbed out of oversold territory this past week. This ugly chart is exemplified from the 50-day moving average quickly dropping below the 200-day moving average, confirming a solid downtrend. At current prices, the dividend yields 3.2%, with a payout ratio of 40.5%, which seems reasonable on the surface. However, EAT trades with a negative book value, carries significant long-term debt of $1.2 billion with very little cash per share ($0.69), and pays a yearly dividend of $1.36 per share. Cash flow numbers aside, the company's fundamentals raise some serious red flags, which pose downside risks to shareholders should sales continue sliding.

Earnings estimates for EAT don't look appetizing either, and should these numbers continue dropping look out below. The company's already soft margins cannot improve significantly without some leverage via sales volume, and soft traffic only compounds these problems. As illustrated, Chili's needs some quick improvements for earnings to turn around (all numbers via Thomson Reuters).

Despite strategic moves into the take-out, and technology categories, Chili's and Maggiano's need actual foot traffic increases to deliver growth and margin improvements. The casual-dining sector relies on add-ons, as well as alcohol sales, to drive profits, and management indicated a tough road ahead for 2017. If that doesn't dissuade investors from buying the stock, then nothing will…
Honorable Mention: Texas Roadhouse (NASDAQ:TXRH) missed estimates last week and the stock took a dive, dropping over 12% the following day. Before we get to earnings, this is what Morgan Stanley had to say last month at the ICR Conference:
"TXRH: Our $34 PT is based on ~17x our CY17e EPS of $1.94. Multiple is a discount to the 21x 3-year average, the result of multiple compression following SSS deceleration. Our price target is supported by a DCF valuation of $34 assuming a 7% WACC and 2.5% terminal growth rate. Risks include 1) guest traffic continues to beat the industry benchmark, as consumers are less sensitive to beef at home prices, 2) margin improvement, as beef is ~40% of COGS and continues to deflate, and 3) management continues to execute and improve broad fundamentals."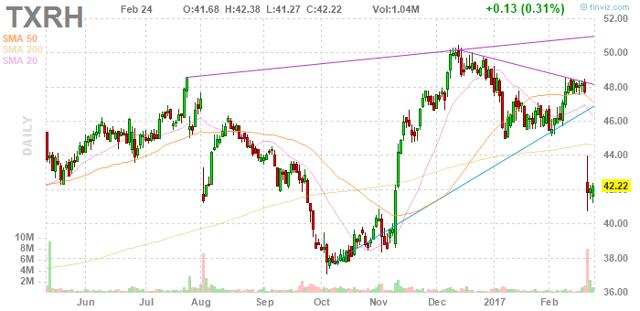 Texas Roadhouse reported a Q4 EPS of $0.29, missing by a whopping $0.09, on revenue of $484.71 million (+6.7% Y/Y), missing by $12.8 million. Comparable sales came in at 1.2% for the quarter while restaurant margin fell 44 bps to 17.1% of sales. The company reported comparable sales for the first 55 days of Q1 are up 1.5% Y/Y. For the full year, the restaurant operator expects positive comparable restaurant sales growth. After reading through the earnings call, the quarter really didn't seem that bad, minus margins, which contributed significantly to the miss.
"Additionally, increased costs below restaurant margin contributed to a 10% decrease in net income compared to the prior year period to $20.7 million or $0.29 per diluted share. Revenue growth of 7% during the quarter was driven by a 6.9% increase in store weeks and a 0.3% increase in average unit volume."
At current levels, the dividend yields 1.80%, with a 44.10% payout ratio, and a decent record of revenue and sales growth. We currently hold a strong no opinion on the stock, but would take a closer look should TXRH reach Morgan Stanley's $34 price target.
Double-top Alert: Darden Restaurants, Inc. (NYSE:DRI)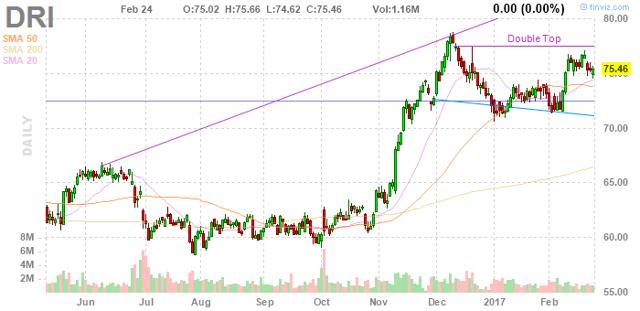 Darden primarily owns and operates the Olive Garden brand, as well as the LongHorn Steakhouse and other fine-dining franchises. Currently the dividend yields 2.97%, with a payout ratio of 61.00%, and somewhat healthy balance sheet, especially when compared to the Dividend Dog Show. Morgan Stanley's take on DRI from last month's ICR Conference:
"DRI: Our $67 PT represents 17x (roughly in line with 5-yr avg.) Our CY17e EPS based on recent trend strength (relative to casual dining industry), incremental sales and margin levers, and an additional $30M of cost cuts in FY17. Key risks include: 1) broader casual dining trends remain weak; 2) OG SSS don't continue to improve and turnaround fails to keep momentum; 3) food commodity inflation (particularly shrimp) reignites."
Back in December, we briefly covered DRI, when the company reported earnings, which happens again on March 21st, before the market opens, and the event promises to help determine whether or not investors should heed these warnings or listen to these analysts.
Dining Recommendation
If you prefer dividends with your restaurant stocks, then we recommend a diligent gander at Cracker Barrel Old Country Store (NASDAQ:CBRL), our WRR Year of the Rooster Dividend Pick. Currently the dividend yields 2.85%, with a payout ratio of 54.20%, and a record of stellar dividend growth.
On February 21st, CBRL reported FQ2 EPS of $2.19, beating by $0.05, on revenue of $772.68 million (+1.1% Y/Y), missing by $8.11 million. Comparable retail sales slipped 2.2% for the period, with an average menu price increase of ~2.1% for the quarter. Restaurant sales rose 0.6% in FQ2, including a 2.7% increase in average check partially offset by a 2.1% decrease in comparable store restaurant traffic. Restaurant revenue grew 1.8% to $591.11 million, and retail revenue declined 0.8% to $181.57 million. Operating margin rate grew 150 bps to 10.7%, which is a category that CBRL continues accelerating in.
During the call, CEO Sandra Cochran described an uncertain consumer, and had this to say about the current restaurant environment:
"I think the comment I'm making is really more of a macro issue, which is I doubt surprising to anybody listening to this, which - but the consumer just seems anxious. And the problem is, they all seem to be anxious about different things, whether it is increasing healthcare costs, the potential for increasing healthcare costs, the timing of tax refunds, the size of the tax refunds, I think, we're looking at the issue about food at home, food away from home and the disparity in the pricing of those two. And when you add to that the depth of competitive discounting, I think, it is just restaurants are all fighting for market share with a consumer that, as I just said, I think when people feel this way, they tend to spend less."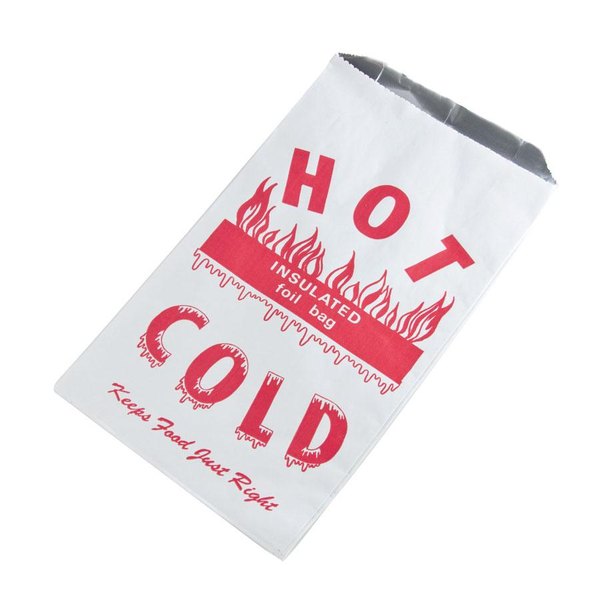 Hot & Cold: Casual Dining Earnings Roundup
After covering most the casual-dining sector, a couple outliers remain. A look at some causalities and survivors during this earnings season only verifies that every story contains its own ups and downs, regardless of broad market direction. This is also known as the non-dividend-paying casual dining sector. Tips only, no guarantees.
Red Robin Gourmet Burgers (NASDAQ:RRGB) reported comparable restaurant revenue fell 4.3% Y/Y in Q4. Traffic was down 2.9% during the quarter while the average guest check was 1.4% lower. Restaurant-level operating profit margin fell 290 bps to 19.0%. Higher labor costs accounted for roughly 190 bps of the margin drop.
Looking ahead, Red Robin expects revenue to increase 6% to 8% this year off a 0.5% to 1.5% gain in comparable revenue. Restaurant labor costs as a percentage of restaurant revenue are seen rising 25 bps to 75 bps. The stock responded nicely, gaining over 5% intraday, before finishing the week at an even $47, down over 16% year-to-date.
Denny's (NASDAQ:DENN) appeared to hit an apparent home run when reporting earnings earlier this month, with U.S. same-store sales rising 0.5% in Q4. Restaurant operating margins increased 22.3% Y/Y to $16.6 million during the quarter at company-owned outlets up 230 bps to 17.5% of sales. Guidance from Denny's is for same-store sales growth of 0% to 2% in 2017. Denny's expects to open 45 to 50 restaurants this year. The stock gained nearly 12%, before giving it all back the following week, and DENN is right back to where it started the year: no gain, no pain.
Buffalo Wild Wings (NASDAQ:BWLD) reported Q4 EPS of $0.87, missing by $0.40, on revenue of $494.19 million (+0.8% Y/Y) misses by $20.16 million. Our take on BWLD is simple: Avoid the wild ride.
"Buffalo Wild Wings needs to address sales declines, as well as curbing expenses, and that means re-evaluating its concept, structure and growth initiatives. Following activists can be dangerous business, especially when they target overvalued stocks competing in oversaturated markets. Avoid the stock, sell the stock, sell calls against the stock, but don't hitch your investment dollars to this wild ride."
However, activists will be activists, and the earnings report did not sit well with Mark McGuire of Marcato Capital Management, who owns a 5.6% stake in BWLD. The following day, Marcato released a scathing presentation accusing BWLD of over-promising and under-delivering with no accountability.
"Buffalo Wild Wings has an unfortunate history of misrepresenting that they are on the verge of rolling out new initiatives that will improve performance and shareholder value."
After sifting through the reading material, it seems that McGuire holds much disdain for BWLD's management, which begs the question. Why bother investing in a company that continues to disappoint on so many fronts? Nobody is holding a gun to McGuire's head, and if a company cannot meet your expectations, than what is the point? We can't help but notice a huge disconnect between Marcato and the BWLD management, and this obviously belongs in the activist drama file. Stay tuned.
Del Frisco's Restaurant (NASDAQ:DFRG) reported a Q4 EPS of $0.37, beating by $0.04, on revenue of $119.2 million (+4.5% Y/Y), beating by $0.99 million. DFRG owns and operates primarily high-end steak and seafood restaurants, and according to some Seeking Alpha M&A speculators, Del Frisco's could be a ripe acquisition target. With a market cap of $395 million, the company carries no long-term debt, and revenue growth continues to impress. The stock dropped just over 1% after the report on Friday.
That about covers everything on the casual-dining slash earnings calendar. As earnings season comes to a close, we will be playing catch-up with a continued subsector focus. We plan to break down earnings on a relative basis, and if we missed any casual-dining related stories, please let us know. The fast-food sector and the fast-casual concepts remain on the docket, and look for those editions in the coming days. Until then, remember to eat well, be merry, and prosperity is yours!
Coming Attractions:
Fast-Food Nation, Jack Takes A Hit
Fast-Casual Causalities and The Burrito ETF
In case you missed it:
Disclosure: I am/we are long CBRL.
I wrote this article myself, and it expresses my own opinions. I am not receiving compensation for it (other than from Seeking Alpha). I have no business relationship with any company whose stock is mentioned in this article.
Additional disclosure: This article is intended for information, engagement & entertainment purposes only, and is not meant as investment advice or direction. Shorting stocks can be dark business. Investors are strongly encouraged to perform due diligence and/or consult with their financial advisor.