The earnings season for offshore drillers approaches its end. The last companies to report will be Seadrill (NYSE:SDRL), which postponed its report date to February 28, and Ensco (NYSE:ESV), which originally planned to report on February 28.
The disparity in management assessment during this earnings season is startling. For example, Transocean (NYSE:RIG) sounded very optimistic while Atwood Oceanics (NYSE:ATW) changed its tone to cautious. In this light, it was very interesting to see Pacific Drilling's (NYSE:PACD) results and hear its management's comments on the industry.
Pacific Drilling is in a stalemate situation. Caught amidst the historic industry downturn, the company has to deal with debt coming in 2017 and 2018: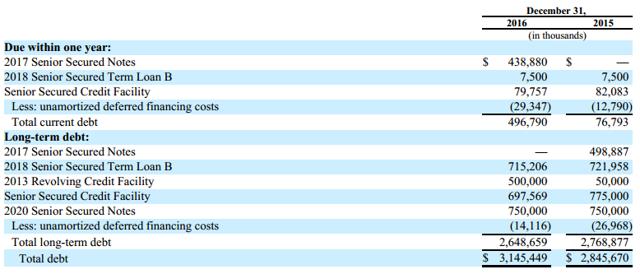 The company cannot solve the problem with 2017 notes by buying them at a discount as it will have to come up with more than $1 billion to deal with the term loan and the credit facility. Thus, current liquidity must stay within the company while it tries to come up with a satisfactory deal with creditors.
During the earnings call, Pacific Drilling stated that it did not rule out Chapter 11 to ensure that the company could emerge from the downturn as a stronger competitor. As always, the problem is that creditors are not a uniform group, so negotiations must take into account the interests of all participants.
The secured nature of debt complicates the deleveraging task. Should Pacific Drilling choose the Chapter 11 route, shareholders will have absolutely no chance to receive anything as there is too much debt above them. The recent report from Ocean Rig (NASDAQ:ORIG) highlighted the reality to those who preferred to ignore it - the company wiped out 60% of the value of the rigs from the balance sheet.
Besides two older semi-subs, Ocean Rig's fleet consists of modern drillships, just like Pacific Drilling's fleet. Applying a similar discount to Pacific Drilling's assets on the balance sheet will (like in Ocean Rig case) push shareholders' equity into the negative territory - an easy case for the judge to wipe out shareholders completely and refuse the installment of an equity committee.
While Ocean Rig decided to cancel the earnings call, perhaps meaning that there are major news ahead, Pacific Drilling discussed the industry situation in detail. The company decided to change the description of its fleet from ultra-deepwater to high-spec floating rigs in an attempt to highlight the fact that UDW rigs can be used in shallower waters.
This is not just a marketing trick. It could be an important development for the whole industry which hints that we must prepare to competition not only among drillers, but among rig classes as well. It also shows that the UDW market is under such distress that the company is ready to bid its rigs on simpler and cheaper projects.
Another thing that I'd like to point out is that some drillers clearly preferred to talk their book during this earnings season. While this, like in the case of Transocean, created some short-term support for their stocks, investors should pay close attention to the real fundamentals of the industry and demand tangible evidence on any improvements.
Speaking about rig oversupply, Pacific Drilling highlighted the fact that many cold-stacked rigs won't return to the market while industry observers continued to include them in their rig supply estimates. According to Pacific Drilling, the real supply is lower and the recovery should come sooner than expected.
This is a perfect example of "talking one's book" as Pacific Drilling management "forgot" about the army of newbuild rigs waiting in the yards. For example, Seadrill alone has 4 UDW drillships and 2 UDW semis under construction - the assets that will directly compete with Pacific Drilling rigs.
In my view, the UDW space is crowded and this is a separate problem in addition to the absolute lack of demand for UDW projects. It's hard to tell whether UDW drillships will be competitive at shallower projects, as they will have to cut their already low rates accordingly.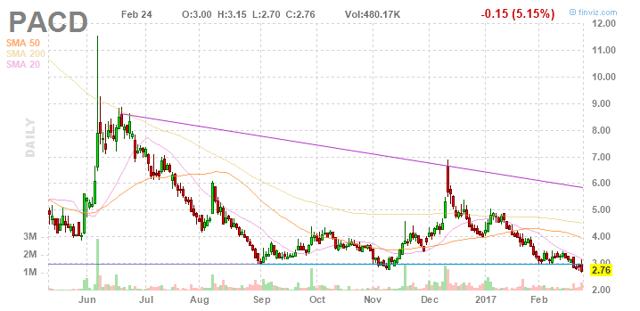 Pacific Drilling shares have just hit a new post-split lows and you should not try to catch the falling knife. In all likelihood, the restructuring will result in a complete wipe out of common shareholders. The best case scenario for shareholders is to maintain a tiny stake in the company. I mention this scenario because things happen, but I don't believe that it is possible.
The main point of watching Pacific Drilling now is to evaluate the impact of its restructuring on the entire industry. If creditors become owners of the company as a result of restructuring, a powerful competitor will emerge and put additional pressure on the "survivor group", which, according to your author, consists of Diamond Offshore Drilling (NYSE:DO), Ensco, Rowan (NYSE:RDC), Transocean and Noble Corp. (NYSE:NE).
Disclosure: I/we have no positions in any stocks mentioned, and no plans to initiate any positions within the next 72 hours.
I wrote this article myself, and it expresses my own opinions. I am not receiving compensation for it (other than from Seeking Alpha). I have no business relationship with any company whose stock is mentioned in this article.
Additional disclosure: I may trade any of the abovementioned stocks.
Editor's Note: This article covers one or more stocks trading at less than $1 per share and/or with less than a $100 million market cap. Please be aware of the risks associated with these stocks.