This article is an update of my previous article on Pacific Drilling (NYSE:PACD) from January 25, 2017.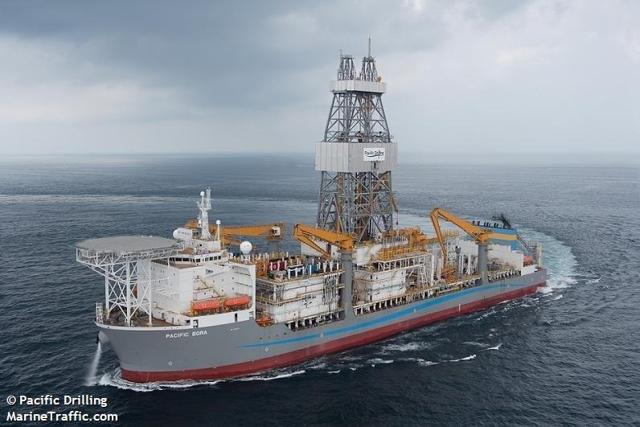 Image: Pacific Bora
Note: Quantum Pacific LLP is PACD's majority shareholder and is represented on its board of directors by three board members (~70%).
Note: PACD approved a 1-for-10 reverse stock split of the company's common shares. The reverse stock split was effective May 25, 2016. Please read my article about the subject here.
To access Q4'16 conference call transcript from Seeking alpha, [click here].
To access the full fleet status, please click here.
N

Name

Year

Built

Specification

UDW

Contract

End

Day Rate

K $/d

Client

Location

1
Pacific Bora
2011
Samsung 10,000 design

2-wells

mid-April 2017?

195

[FASL]

Nigeria

2
Pacific Mistral
2012
Samsung 10,000 design

Smart stacked

-

Aruba

3
Pacific Scirocco
2011
Samsung 10,000 design

1 well

Starting Early April 2017 (60+ days)

225

[Hyperdynamics]

Republic of Guinea

and 3 option wells

4
Pacific Santa Ana
2012
Samsung 10,000 design
Ready Stacked

US Gulf of Mexico

5
Pacific Khamsin
2013
Samsung 12,000 design
Ready Stacked
-

Limassol

Cyprus

6
Pacific Sharav

2014

Samsung 12,000 design

8/19

605

[Chevron]

US Gulf of Mexico

7
Pacific Meltem
2014
Samsung 12,000 design

Smart stacked

-

Aruba
The Pacific Scirocco is currently standing by in Ivory Coast in preparation for its upcoming hybrid dynamics program offshore Guinea, which starts in early April. As we've previously announced this contract is for one firm well with three option Wells initially expect to take 60 days but have the potential for lasting up to 240 days for the total program.
The total estimated backlog as of Feb. 25, 2017, is $563 million.

Q4 2016 Financial Snapshot (9 consecutive quarters).
Q4 2016
Q3 2016
Q2 2016
Q1 2016
Q4 2015
Q3 2015
Q2 2015
Q1 2015
Q4 2014

Revenues

in $ million

177.96
182.43
203.71
205.38
267.60
260.18
273.9
283.4
319.7

Contract drilling expenses - OpeX

in $ million

66.55
68.53
75.99
78.97
104.90
98.33
110.40
117.70
123.8

Net income

in $ million

(43.04)
0.156
8.234
(2.511)
(13.6)
41.0
47.1
51.7
68.0

Earning per share

in $/sh

(2.03)
0.01
0.39

(0.01)

(0.12)

(0.06)
0.19
0.22
0.24
0.32
Revenue efficiency
52.2%
53.8%
53.9%
55%
56%
57.0%
54.7%
52.0%
56.0%

Adjusted EBITDA

in $ million

92.92
98.12
109.71
112.91
149.76
148.20
149.80
147.30
179.1

Cash flow from op.

In $ million

40.73
93.69
27.99
86.70
59.67
153.92
60.60
147.90
72.5

Capital expenditures

in $ million

9.82
1.13
13.09
28.59
38.13
41.21
44.6
57.5
386.52

Cash and cash equivalent

Cash + restricted cash

in $ million

585.98

626.17

363.30

445.32

-

371.08

-

407.27

-

116.03

-

151.07

-

105.3

-

132.9

-

167.8

G&A

in $ million

18.91
15.150
14.195
15.126
12.6
13.21
13.3
16.4
14.9

Interest Expense

in $ million

14.16
45.89
46.12
45.49
50.06
36.36
33.22
36.72
39.9

Outstanding long-term debt

Net debt

$ billion

Ratio Net debt/EBITDA

3.15

2.52

x6.09

2.91

2.54

x5.40

2.95

2.58

x4.95

3.01

2.68

x4.8

2.885

2.77

x4.65

2.95

2.80

x4.48

3.0

2.90

-

3.0

2.87

-

2.926

2.76

-

Shares outstanding

in million

21.184
21.183
21.178

211.209

21.121

210.770
210.661
211.067
213.686
217.197
Liquidity and Capital Expenditures
For full-year 2016, cash flow from operations was $249.1 million. Cash balances, including $40.2 million in restricted cash, totaled $626.2 million as of December 31, 2016, and total outstanding debt was $3.15 billion.
Commentary:
Pacific Drilling released its Q4'16 results on February 24, 2017. Revenues were $178 million, down 2.2% quarter over quarter. Net loss was $43.04 million of 2.03 per share.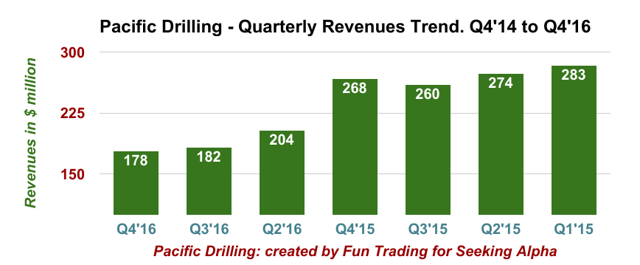 Two important topics here:
First, Pacific Drilling is a pure Ultra-deepwater play, and any comment regarding the UDW market situation is significant to evaluate the real strength of the market and the potential timing of a uncertain recovery.
This corroborates what has been said recently by a few other companies involved in the ultra-deepwater business.
The tendering activity is hard to turn around, as we speak, and a more normal tendering may only start to appear by mid H1 2018. Short term contract for one to five wells will be awarded first and longer, more costly contracts will follow. Day rates will stay low until 2019 at the least.
Offshore drillers seem to push further away the blurry concept of "offshore recovery", and it is hard to give any credence to what has been said, which is so dependent on the prices of oil. M. Chris Beckett, CEO, said:
we believe that we see signs of returning demand that should lead to an improvement of utilization of actively marketed rigs through 2018 and the recovery of pricing maybe as soon as 2019. This will be driven as it always has been by effective utilization of those assets actually being marketed, not by the total utilization including rigs that are effectively out of the market due to being cold-stacked or formally scrapped.
However, Pacific Drilling cannot survive as it is, and will have to restructure its balance sheet to be able to survive. If we look at the fleet status above, in a few weeks PACD will have only one drillship actively drilling, all the others will likely be idle.
Second topic, PACD is about to restructure its debt. The company announced in the conference call, that is in dialogue with its creditors, but is not offering any details. M. Chris Beckett, said in the conference call:
With respect to our capital structure, we continue to be actively engaged with our banks and other lenders with a view to amending the terms of our debt. Earlier this year we obtained various waivers from governments with our bank lenders that should provide time to negotiate an acceptable outcome for all stakeholders. Our outlook anticipates 2017 and 2018 to be financially challenging due to weekday rates leading to breakeven cash generation excluding debt service. So in a nutshell, our challenge is managing debt service against all liquidity until an anticipated cash flow recovery in 2019. How successful we will be in addressing these remains to be seen and we cannot rule out the option to use the Chapter 11 process to ensure that we emerge from this downturn as an even stronger competitor.
What does it actually mean?
As I said in my preceding article, Pacific Drilling is stuck between a rock and a hard place, and has limited options available, other than starting negotiation with its lenders to restructure its large debt load, while it still has some leverage.
The company has barely enough cash to cover the notes maturing in 2017, but will not last much longer.
As of December 31, 2016, PACD had $586 million in cash and cash equivalents, $40 million in restricted cash pledged to the ledgers under our senior secured credit facility as cash collateral, and a net debt balance of $2.52 billion.
The next most urgent issue is the $719 million of senior secured term loan B that matures in 2018.
Often in this case, the negotiation between the company and the lenders, translates to the conversion of a large part of the debt into equity, resulting in a significant stock dilution which often nearly wipe out the shareholders.
It is difficult to assume any type of agreement with the lenders so early in the process, but the effect on the stock price could be harsh. Pacific drilling has an important debt load of $3.15 billion.
The only two elements that could change the outlook are:
1 - Oil prices jumping to $65 a barrel.
2 - Pacific Drilling can secure a significant contract in the Middle East for the Pacific Khamsim, or any other drillships anywhere in the World.
Conclusion: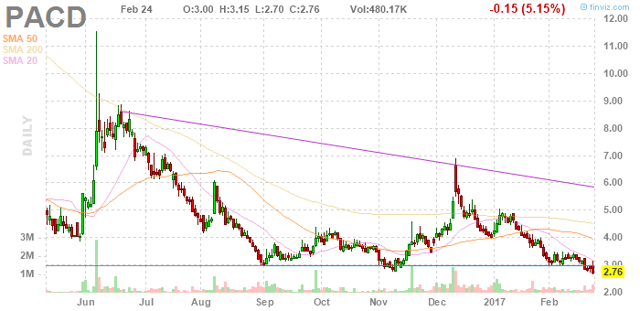 Technically, we are at a critical level of the descending triangle which is a bearish pattern. The descending triangle is a bearish formation that usually forms during a downtrend as a continuation pattern.
PACD may have breach support at $3.00 (waiting to be confirmed next week)? Which means that a breakout may happen soon on the downside (64%/36%).
Important note: Do not forget to follow me on PACD and other offshore drillers. Thank you for your support.
Disclosure: I/we have no positions in any stocks mentioned, and no plans to initiate any positions within the next 72 hours.
I wrote this article myself, and it expresses my own opinions. I am not receiving compensation for it (other than from Seeking Alpha). I have no business relationship with any company whose stock is mentioned in this article.
Additional disclosure: I trade PACD mostly on the short side since the last quarter.
Editor's Note: This article covers one or more stocks trading at less than $1 per share and/or with less than a $100 million market cap. Please be aware of the risks associated with these stocks.