Acacia (NASDAQ: ACIA) is a must buy at this insanely cheap price. At one point AH, ACIA was down 18%. That's ridiculous. If we look at the guidance numbers from the earnings report for revenues for Q1, that's around a 22% projected decrease from Q4 revenue. It's a 26.9% decrease in projected non-GAAP net income, and a whopping 29.2% decrease in non-GAAP diluted EPS from the previous quarter.
CEO of ACIA, Raj Shanmugraj, and the CFO John Gavin both justify these forecasts by saying that this is due to one customer's cloud and service providers' demand being variable. This one customer accounts for no more than 15% of total revenues, yet the stock price is way below in percentage terms. I mean, these are just crazy guidance numbers for a company that is forecasting only one large customer in its DCI market that may have lower order numbers. Meanwhile, ZTE, ACIA's largest customer, hasn't decreased it's demand at all, remaining consistent quarter to quarter.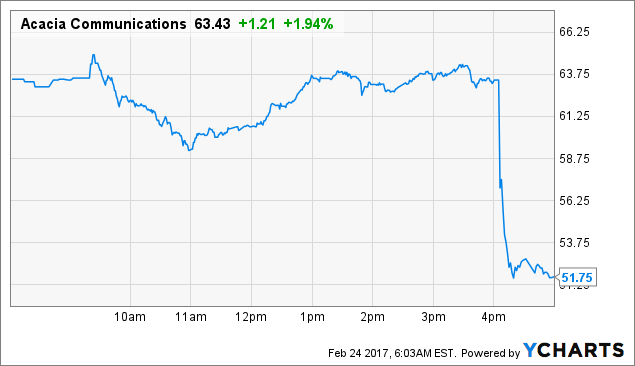 ACIA Price data by YCharts
Just look at that drop. We need to take advantage of this madness.
Competitive Advantage
ACIA continues to have a competitive advantage in the telecom equipment maker market. First of all, ACIA continues to develop new products that customers want. Raj mentioned in the earnings call that:
I would like to reiterate that the CFP2-DCO is an industry first product offered only by Acacia. (Source)
Sampling of new products in Q4 2016 went extremely well. Let's take the CFP2-DCO mentioned above. When testing this product out, customer orders for the trial version of the CFP2-DCO exceeded Acacia's supply. In addition, if we look at ACIA versus its competitors, its got an EPS of 2.31, PE of 22.86, Finisar (NASDAQ: FNSR) has an EPS 0.88, PE of 38.81, Oclaro (NASDAQ: OCLR) with EPS 0.3, PE of 29.23, and Lumentum (NASDAQ: LITE) with EPS 0.23, PE of 203.86. The low PE ratio indicates that ACIA offers the best value among its competition. There's also been no loss of market share for ACIA, and going forward, market share concerns look like they shouldn't be a problem.
(Note: I have updated this paragraph with PE ratios after readers requested them in the comment section.)
Strong Demand and Diversification
ACIA derives its revenues from three main markets: the DCI, Chinese demand, and the metro markets. Management has indicated that demand from the DCI, China, and metro markets are all expected to increase as a whole for 2017.
ACIA has shown that they are diversifying their customers, acquiring new customers, and expect strong growth in their other main sources of revenues, China, and the metro markets. ACIA has very little inventory buildup when shipping to its largest customer, ZTE, in China, and the demand from China remains strong. For new customers, CFO John Gavin remarks:
During the quarter, revenue from newer customers outside our original 8 2011 customers grew 117.5% year-over-year compared to 103% year-over-year for our original group of 8 customers. Revenue from our newer customers expanded every quarter in 2016 and most recently increased to 35% of our total revenue in the fourth quarter of 2016, up from 25% in third quarter 2016. (Source)
So we can see that these new customers are here to stay, and it looks like they are happy with the products and increasing their demand. If that's the case, Acacia is poised to reduce its risk of relying on the orders of a few customers, and thus obtain consistent earnings. Indeed, one of ACIA's main goals is to diversify into different parts of the world, and to expand its customer base quickly so that a lack of demand by certain companies in one quarter will not severely impact the top line. So management's concerns and justification for weak guidance numbers based off of one large customer in Q1 2017 aren't going to be a problem in the long run.
As further emphasis on ACIA's diversification efforts of its customers, we saw that one of their new customers accounted for more than 10% of all revenues in Q4 for the first time, and two of the newer customers now make up the top five sources of revenue for ACIA. The time it takes for new customers to integrate the ACIA products takes a while, and we should expect to see the top line grow favorably.
Conclusion
ACIA has great fundamentals. Its products cost less to produce compared to its competitors, and also use less power. The company remains innovative. It has a clean balance sheet, no debt, lots of cash on-hand, a good business model, and great growth outlook for the overall year 2017. Management expects 2017 to be a record year for ACIA. This quarter's results won't affect the overall growth for the year. What's not to like?
In my opinion, the price of ACIA is being overly punished by the market due to the conservative guidance numbers on the earnings report. If we look below the surface of those numbers, we can see that this would be a fantastic buying opportunity.
Disclosure: I/we have no positions in any stocks mentioned, but may initiate a long position in ACIA over the next 72 hours.
I wrote this article myself, and it expresses my own opinions. I am not receiving compensation for it (other than from Seeking Alpha). I have no business relationship with any company whose stock is mentioned in this article.
Additional disclosure: This article is based on public information that I assume to be true and correct. My assumptions and forecast may be wrong. This investment may not be suitable for all investors. Always consider your specific investment goals and styles before investing money.