Well, folks, I think it's here. I think that, due to a combination of the US oil export ban having been lifted for a while now, and the fact that US oil production is climbing while stocks are high, the US is finally in export mode and is unlikely to shift from this stance for quite some time. Not only that, but US output is preparing to keep it this way. In what follows, I will go over some oil data provided by the EIA (Energy Information Administration) that shows my case and give you my thoughts on what this will mean for investors in companies like Whiting Petroleum (NYSE:WLL), Chesapeake Energy Corp. (NYSE:CHK), Approach Resources (NASDAQ:AREX), and Legacy Reserves (NASDAQ:LGCY), as well as for the United States Oil ETF (NYSEARCA:USO) and other oil-related ETFs moving forward.
Oil stocks fell
During the past week, the oil picture has changed quite a bit. Take, for instance, crude oil stocks. While analysts were expecting this number to increase by 3.3 million barrels per day, the actual number, according to the EIA's estimates, was a modest uptick of 0.6 million barrels, climbing from 518.1 million barrels to 518.7 million. Unfortunately, this was worse than the 0.9 million barrel decline forecasted by the API (American Petroleum Institute), but it was still decent. In the graph below, you can see the trend that this has taken over the past 52 weeks.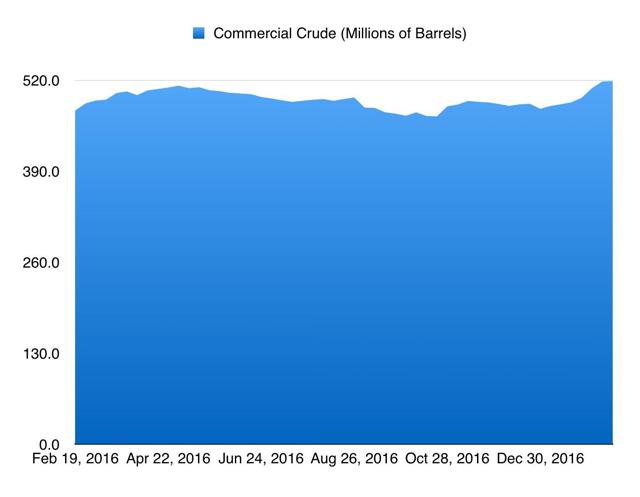 *Created by Author
For the week, most categories of petroleum products actually saw inventory levels shrink. Motor gasoline, as an example, dropped by 2.7 million barrels to 256.4 million, distillate fuel plummeted 5 million barrels to 165.1 million, and propane/propylene stocks fell 3.3 million barrels to 49.8 million. Residual fuel stocks also fell a respectable 1.9 million barrels to 37.8 million, while the "Other" category of petroleum products ticked down 0.1 million barrels to 254.1 million.
Now, that's not to say that everything except for crude was perfect. Based on the data provided, we did see two other areas of increases. The first came from kerosene type jet fuel, which saw stocks climb 1.1 million barrels to 44.3 million, and the second was from fuel ethanol, which saw stocks tick up just 0.2 million barrels to 22.7 million. All-in-all, though, these increases were not enough to offset the positive news and total crude plus petroleum products managed to fall by 11 million barrels, declining from 1.3599 billion barrels to 1.3489 billion.
Some risks remain
Even though the inventory data was really impressive for the week, there was some data that was unappealing in my mind. The primary thing was the fact that, according to the EIA, domestic oil production came in at 9.001 million barrels per day. This represents a 24 thousand barrel per day increase (or 168 thousand barrels for the week) over the 8.977 million barrels seen a week earlier. It should be mentioned that only 17 thousand barrels per day (or 119 thousand barrels for the week) came from the Lower 48 states so we shouldn't worry a great deal since some of the uptick came from Alaska. In the graph below, you can see the trend that domestic production has taken over the past 52 weeks.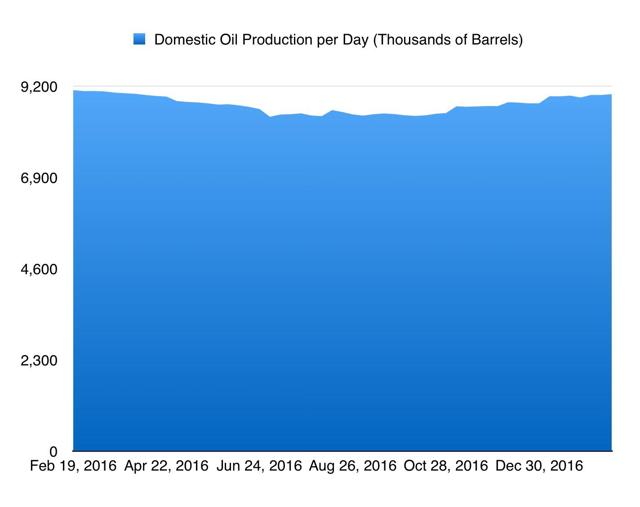 *Created by Author
Another area of weakness according to the EIA came from motor gasoline. According to the organization, motor gasoline demand for the week came in at 8.663 million barrels per day. Though this is a nice increase over the 8.433 million barrels per day seen a week earlier, it's well below the 9.576 million barrels per day experienced the same time last year. Using the four-week average, demand is down 5.2% year-over-year, having dropped from 9.061 million barrels per day to 8.587 million barrels per day. One consolation prize in all of this, fortunately, is the fact that distillate fuel demand remains robust. If the EIA's numbers are accurate, the four-week average figure for it is up 14.4% at 3.966 million barrels per day, compared to the 3.468 million barrels per day seen the same time of 2016.
The rig count ticked up
In addition to the EIA data, Baker Hughes (BHI) reported on Friday that the domestic oil rig count grew by another 5 units. This takes the rig count up to 602, which is far higher than the 400 units seen the same time last year. On top of that, the count in Canada grew by 12 units, climbing to 206. This represents a material increase compared to the minuscule 83 units seen operating up north this time a year earlier.
Some really exciting news
Every week, to spice things up, I make it a point to use this article to look at something different in the oil market so that readers stay refreshed. Originally, I had something else planned but a development arose recently that has captured my attention, making me want to focus on a different topic instead. You see, in last week's article on the oil data released by the EIA, I showed how the exports from the US had exploded higher in just the course of a week.
In that piece, I made the argument that, yes, there is a chance that it was a one-time thing but there could very well be something else at play here. I also said that there's a difference between composition changes and a paradigm shift but the rebound in non-crude oil suggests it's more likely the latter, not the former, which is bullish, but that's not the main point; the future of how the global oil glut might play out is. You see, if you look at the size of the oil glut, as defined by OECD storage (so we are excluding excess at sea and anything held in non-OECD nations), the global glut is around 432 million barrels in size. Using the last week of data for each year over a five-year period (ending in 2014 before the glut grew) and comparing that data to what we can see from the current levels today, about 297.6 million (or 68.9%) of the glut is centered here in the US.
Almost irrespective of production levels, this should create a vacuum-like effect whereby the prospect of sending excess oil overseas, whether in the form of crude or, like we have a lot in the past, finished products, becomes more appealing, ceteris paribus. So far, this does appear to be taking place, with added production recently likely contributing to it. If we were dealing with only one week of exports, I would say that it could still likely be a one-time thing but, in its latest report on the matter, the EIA showed that exports surged, over the course of a week, by an extra 18% to 1.211 million barrels per day.
Takeaway
Based on the data provided, there has been both good news and bad news over the past week. Given the inventory draws and the fact that distillate fuel demand remained robust, I believe there's more of a net positive effect here than a negative one, but that doesn't mean we shouldn't continue to keep a close eye on things like rising production or weak motor gasoline demand. Overall, however, I feel more positive than negative right now by a pretty good stretch and if exports continue to stay elevated, I will feel even more upbeat about the situation moving forward.
Disclosure: I am/we are long WLL, AREX, LGCY.
I wrote this article myself, and it expresses my own opinions. I am not receiving compensation for it (other than from Seeking Alpha). I have no business relationship with any company whose stock is mentioned in this article.
Additional disclosure: I own LGCYO and LGCY