CNBC: 8:15 EST
US Equity futures opened Sunday evening with a tear higher, with ES futures (NYSEARCA:SPY) almost immediately making a new all-time high at 2370. All three major US indexes have fallen back slightly since though, heading into the Monday open with a range-bound sentiment.
President Trump will speak in front of a joint-session of Congress Tuesday afternoon, where he is expected to focus on his plans for tax and regulation cutbacks, in addition to border security and jobs issues. With so much positive expectation priced into the markets already, it's possible to see a slight sell-off if the president fails to go into detail with specific plans.
The spot VIX (proxied poorly by VXX) is up over 4% in the overnight session, continuing the peculiar movement we've written about recently. First- and second-month VX futures are both slightly down since yesterday evening's open.

CNBC: Friday Close
After spending most Friday down, a large amount of buying kicked in during the last half-hour of trading, giving stocks the boost they needed to finish the day positive. The Dow (NYSEARCA:DIA) recorded its 11 th straight record high close, finishing the week slightly higher. While the energy (NYSEARCA:XLE) and financial (NYSEARCA:XLF) sectors were the only laggards closing in the red on Friday, 8 other sectors closed higher. Utilities (NYSEARCA:XLU) lead the way, closing up 1.52%.
Article Shout-Out
We kick of this week featuring an article by The Heisenberg, in which he shares a vignette starring his neighbor Sharon. Upon waking Saturday morning, the author overheard his neighbors' conversation with a friend, where they discussed everything from our new President to the stock market; the big takeaway ends up being that despite generally being uninterested in the markets, "Sharon Is Now Bullish".
The author begins his article featuring the graph below, which shows simply where we are historically in regard to the bullish run the S&P has been on.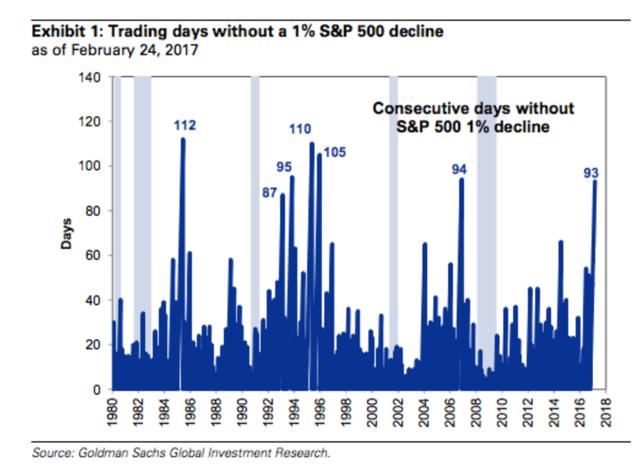 Heisenberg then goes on to quote from Goldman's research team, the highlights are that it has been over a year now since the market has been through a 10% correction, seven months since the last 5% drawdown, and now 93 days without even a 1% decline in market prices. The last time the market exceeded our current stretch was a 94-day period back in 2006.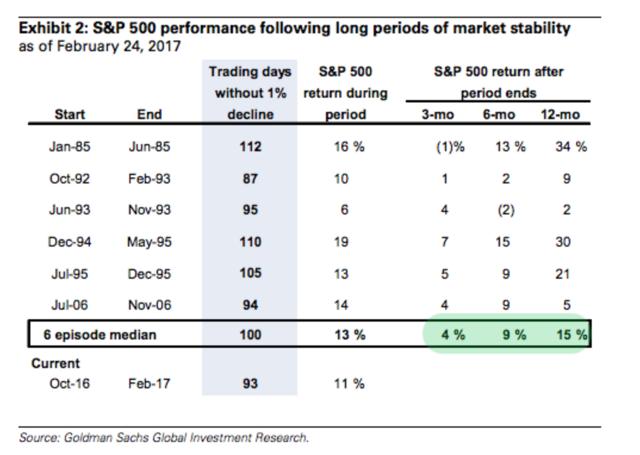 Visualized above are the six instances since 1980 of the S&P going over 80 trading days without a 1% down move. In five of those six episodes, the market clocked in a positive 3-month return, with the median 6-month return being 9%, and the median 12-month return being 15%.
Heisenberg then goes on to mention three major risks to keep tabs on over the coming weeks. As mentioned above, this week President Trump will make his State of the Union address to Congress. The protectionist trade policy touted by the president has the potential to spark a market correction. US monetary policy is another risk lurking in the future. While Chair Yellen wants the market to believe three rate hikes is in play this year, the graphic below displays the market's belief that two hikes are the more likely scenario. Finally, as we mentioned last week, the French elections have the potential to spark a drawdown.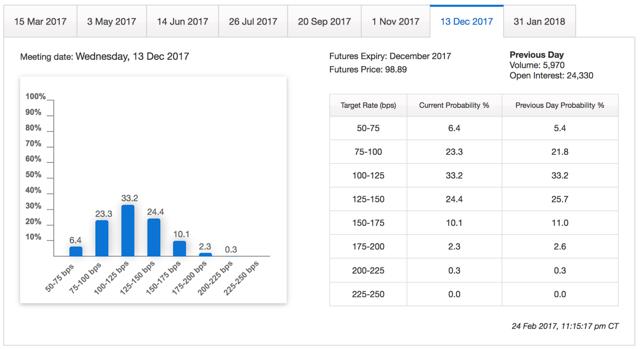 Source: CME Group
The point here, given this information, is not that wise investors will throw caution to the wind simply because situations like the one we're currently in have worked out well in the past. What we'd like our readers to take from this article is that while the empirical evidence suggests that these markets will continue grinding higher for a while, complacency only works as a strategy for so long. At some point, a market catalyst will spark a correction, and until then, the potential for continued market gains is asymmetrical compared to the downside risk associated with the risks noted above.
Thoughts on Volatility
To start, let's take a quick look at the current VIX term structure. Along with a drop in spot VIX value, the prices of VX futures have also taken a slight hit over the weekend.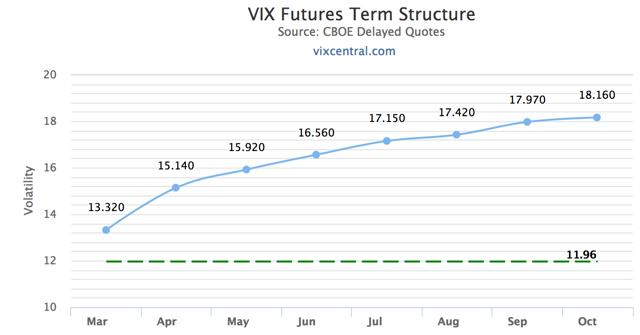 The structure has stayed the same for the most part, with front-month contango continuing to come in around 14%. Though the middle of the curve has flattened out slightly from last week, the back-months have spread out a bit, with the contango between seventh- and eighth-month futures once again breaching 1%.
Next, we'd like to take a snapshot-look at the performance of some of the popular VIX ETPs, some of which we've featured in the past.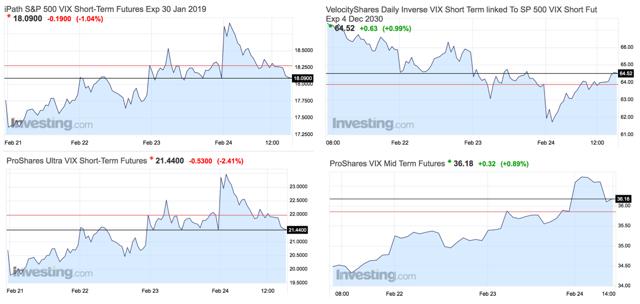 Clockwise starting top left: VXX, XIV, VIXM, UVXY
To quickly recap the products above: the VXX is a non-leveraged, short-term exposed product, the XIV is a short-term focused, non-leveraged product with inverse exposure, the VIXM seeks mid-term VIX exposure, and the UVXY is short-term focused, though with 2X exposure to the VIX.
Notice that with the exception of XIV, these products seek a positive directional exposure to the spot VIX. While the XIV moved downward overall in the last week, the other three finished in the green for the week.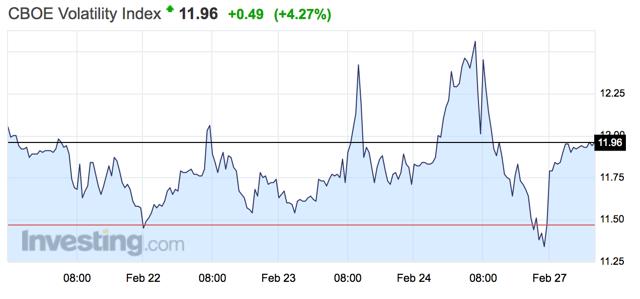 Compared to the above chart, showing movement of the spot VIX over the last week, observe that the products we've mentioned track the index with varying degrees of success.
Tracking the Trade*(please read disclosures):
In Friday's piece we closed our trade that we had initiated in the prior week. Our trade specifications, set at initiation, were as follows:
Trade horizon: Tuesday, Feb 14 - Friday, Feb 24
Instrument: "ES" - S&P e-mini futures and futures options
Over the next several days we focused on the time-fly. Timeflies can be a good way to adjust expirations on an existing position, or as a way of positioning on a calendar for a move that you believe is coming, but not necessarily right around the corner.
VIX traders should give timeflies special consideration, as they can have interesting implications for VIX contango. Think of it as a spread trade vs. another spread trade on VX.
Strategy: Thesis (Set out on Feb 14)
The market may hang out in this region before moving on to something else. We've determined we want short exposure to ES; but we believe that the market could rest for a time before dropping.
We also believe that the S&P is quite overheated, but that it may be due to calm down or pull back. This may enter considerations as we build and later modify our timefly.
* Note that our strategy here is fairly simple. A lot of investors or traders put a great amount of thought into their strategy: developing a firm rationale for why they want to invest or trade a certain way. We agree that strategy matters; but tactics and mechanics are often overlooked when determining how to let a strategic directive play out.
Update: At the close of our trade on Friday, ES closed up about 35 points from where we initiated trade on Monday at ES 2322.
Important: We believed that the market would hang out around 2322 when we initiated our mid Feb position. Now, regardless of where the market goes from here, the trade is opened and closed: our thesis could not have been more wrong!! In point of fact, the market spent all of about twenty minutes in that region before launching higher…and higher. This will become important as we move our discussion forward.
Before we do, however, let us consider the reasonableness of our original thesis.
Notice that by specifying a time horizon (about two weeks from initiation to close), by making a clear tradable claim, and by openly confessing that we were dead wrong, we can speak honestly and consistently about our strategy without all the contortions and gymnastics that people use when they refuse to admit they were wrong.
What had driven markets "all the way" to the 2325 region in the first place? Well, a pretty powerful rally off of a January jobs number that was good but not great (Goldilocks?), and a promise of some "Big League" tax reform coming soon. As it was, by the time we initiated this trade the S&P was overbought on virtually any measure. The VIX was trading down in the mid-tens.
Since then the Dow has gone on to make a new all-time high each and every day. Many days the other indices, including the S&P 500, accompanied the Dow on its march higher. The VIX has strangely begun to hang in with the indexes as they pushed higher, something that several of our commenters have remarked upon.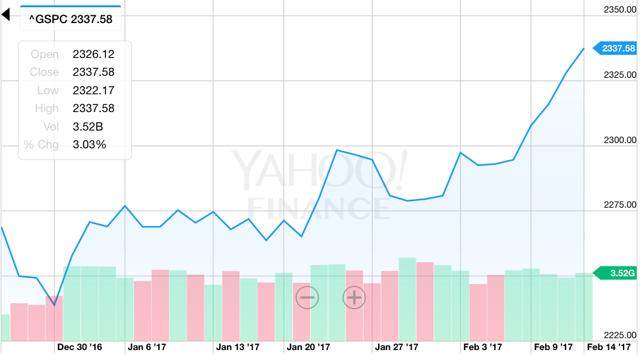 For a trade with a two-week horizon, our original claim was not dramatic. Essentially, that was the problem: it wasn't dramatic enough! And to the extent that we specified a direction (ES down), we were incorrect.
Tactics
We decided to use balanced timeflies as our instrument of choice. A standard timefly takes the following form:
One strike, three different maturities, four options Sell one each of the near and distant maturities, buy two of the middle expiration
In our case, given our thesis we decided to sell five of the following timeflies for $1.50 a piece:
Sell the Mar3 2280 put
Buy two of the Mar10 2280 puts
Sell the Mar17 2280 put
This was the visual off the payoff diagram for the trade: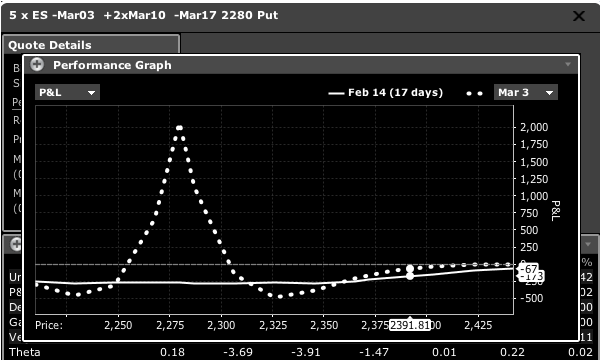 The solid line was P&L movement as of yesterday (the markets were actually closed); the dotted line shows the payoff on the day of expiry on March 3. The solid line corresponded to the P&L on the trade for the day we initiated the trade, while the dotted line demonstrates the P&L when the first option expires on Mar3.
Brief Mechanics Section:
Before we move ahead, notice how the tactic we chose lines up fairly well against the strategy. To be clear, this is a low-magnitude trade. It is fairly simple to "put on", and margin impact should be very low.
We had a reader raise an excellent point as to the bid-ask on this trade (which was quite wide when we opened).

Click here (and go to the mechanics section) to see how we responded.
Throughout the process, we simmed the trade using limit orders, as there was no compelling need to put on any of these items.
Because all the options were out-of-the-money ("OTM") when we closed on Friday, closing was very simple: buy the options you sold, sell the options you bought. Things get more complicated when you are dealing with in-the-money options that are no longer liquid. We have encountered these kinds of scenarios in past wind-downs.
Back to Tactics
The markets stormed higher, in violation of both components of our strategy. We believed that a) the S&P was likely to hang out for awhile before going anywhere at all and that b) to the extent that it did move, it would be lower.
…our timeflies made us money during the life of the trade. Below is our trade log.

Total gross profits on the timeflies were $5.50. With a 50x multiplier on ES, that amounts to $275. After commission that is $218.60. Total gross profits on the trade mod were $50… commissions chewed up $19.74 for a total net profit of $30.26.
The combined trade made $248.86 net of commissions.
"What are your thoughts on this outcome?"
Three points jump out at us.
Scaling comes first. If you traded this in a $10,000 account, then good. If you traded this in a $1MM account, then whoopty-doo! Context matters a lot. We tend to think of these trades as occurring in a dedicated account of about $50,000.
We were open to scaling up this trade given the path that unfolded. We felt as though five was a good opener. Given that the market kept charging higher, we and the reality that we did not want to overcomplicate the piece, we basically let the trade be.
Furthermore, if the ES had indeed moved lower, there likely would have been more we would have done. We just left things alone and focused on other matters.
Second: commissions. Now we hate paying commissions. We very likely would have done "soft closes" on some of these trades in order to bring down the commission cost on exit. With a soft close, you may take on sympathetic but not identical counter-exposures to the trade you initiate with. Among other things, this can often reduce your overall commissions.
On that same note, this is why we actually would not have traded the mod on Thursday. We knew we would be closing the next day, and so anything that we traded Thursday would have to be unwound by Friday. We just happened to get lucky that the mod more than paid for its own commissions. DON'T OVERTRADE!
Third and final: our strategy could not have been more wrong over its allotted horizon, we barely touched our trade, and we made money! Naturally it doesn't always work that way. But this illustrates one of our most important ideas in these bulletins: whereas most investors spend loads of time on strategy, they spend far less time considering tactics:"How should I play my thesis?".
Honestly, this is one area that investors could really benefit from spending some time learning from traders. This doesn't mean investors should become traders, just that there are skill sets worthy of consideration.
Closing Thoughts
In summary, both the butterflies and the mod each closed profitably. Broadly, our strategy was terrible, but our tactics and mechanics allowed us to eke out a small win.
Regardless of whether you are a "trader" or an "investor" (whatever those words mean!), consider how breaking your ideas down into strategy, tactics, and mechanics could help you incrementally improve in whatever it is you do (or don't do) in the markets.
Have any questions or suggestions? Let us know! We really enjoy reader comments, and post strong comments from our readers with regularity. We really appreciate that.
Please consider following us.
Disclosure: I am/we are short SPY.
I wrote this article myself, and it expresses my own opinions. I am not receiving compensation for it (other than from Seeking Alpha). I have no business relationship with any company whose stock is mentioned in this article.
Additional disclosure: We actively trade the FX and futures markets, potentially taking multiple positions on any given day, both long and short. It is our belief that the S&P 500 is meaningfully overvalued. As such, we typically carry a net short position using ES options and futures. We want to emphasize that these "trades" are for educational purposes, to demonstrate how to reasonably analyze, enter, adjust or modify a position. These are not actual trade recommendations.