There's been a lot of talk about Gilead Sciences (NASDAQ:GILD). The company's fundamentals have been detailed ad nauseam. The lack of acquisitions, the erosion of market share, the now questionable management... the list goes on for frustrated investors.
But I'm not here to discuss any of that. Instead, I'm going to take a deep dive into the technical picture of Gilead Sciences to explain why, if you enjoy having your money work for you, you should not be investing in the company today.
A Strong, Clear Downtrend
When looking at Gilead's daily chart, one thing is stark clear: the stock is in a strong down trend: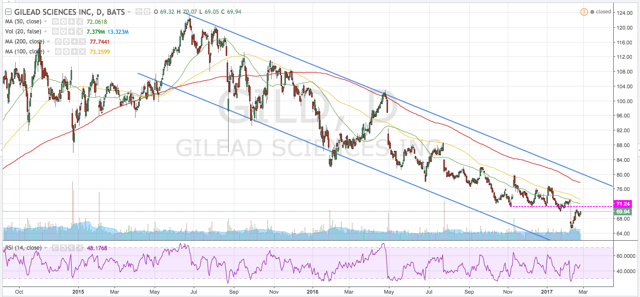 Gilead attempted to find support in the $71 per share range as depicted with the magenta, dashed line. But the stock dropped through that level after its most recent earnings and is now testing the same level as resistance.
If Gilead isn't able to retake the $71 level, lower prices are likely on the horizon yet again.
How Low Can Gilead Go?
I have great respect for Gilead and hope to see the company restart the growth engine. I've been a shareholder in the past, and I'm interested in being one again.
But for me to be a buyer, I need to see either a clear improvement in the technical picture or the next logical entry point. When looking at the weekly chart, that point would be around $57 per share.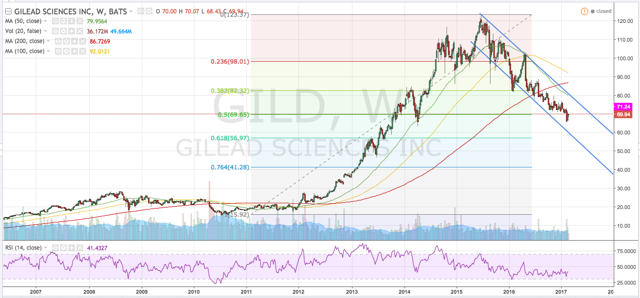 When drawing a Fibonacci retracement on Gilead's epic run starting in August 2010 to its high in June 2015 we see that the 61.8% fib retracement comes in at almost exactly $57 per share.
Also notice how the 50% retracement at $69.65 acted as support until recently. Price is now testing this level as resistance.
When Can We Expect $57 to Trade?
Obviously, nobody knows if Gilead will trade down to $57 per share let alone when this might actually happen. But let's humor ourselves and speculate a bit.
I love to look at moving averages as a quick snapshot of the overall trend, and as support and resistance levels. The monthly chart clearly shows that overall, Gilead is still in an uptrend: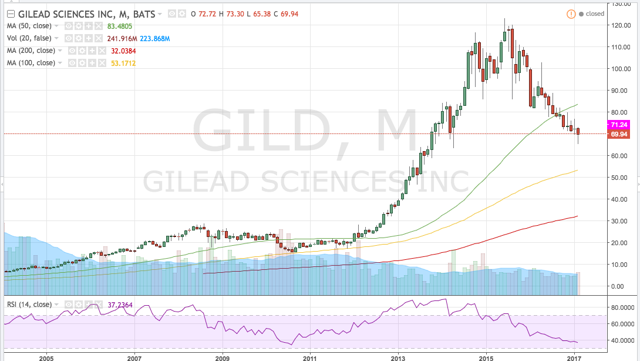 But just because a stock is in an uptrend doesn't mean it's time to buy. Gilead fell right through the 50-month simple moving average (SMA), so we'd now be looking to the 100-month SMA for potential support.
Looking at the 100-month SMA, it's currently sitting at $53.17 and it's moving higher by about $0.47 each month.
Recall our $57 price we determined from the weekly chart that represents the 61.8% Fibonacci retracement level. Assuming the 100-month SMA continues to move higher by $0.47 each month, we could guesstimate that it would reach the $57 per share mark in about eight months. That would be October, 2017.
Does that mean we should avoid Gilead until October 2017? Surely not. While I enjoy technical analysis greatly, extrapolating too far into the future is a fool's game. But it's important to think through different scenarios and have a plan.
It's even more important to continuously monitor the technical picture as time passes. And that's what I plan to do with Gilead Sciences.
Conclusion
Gilead Sciences is still a great company with a war chest of capital waiting to be deployed, unlocking future growth. However, buying the stock today is likely unwise. The stock is still in a strong down trend and has yet to show signs of turning around from both a technical and fundamental perspective.
I might be a buyer of Gilead at $57 per share, or if the technical picture improves before that. But for now I'm on the sidelines.
Disclosure: I/we have no positions in any stocks mentioned, and no plans to initiate any positions within the next 72 hours.
I wrote this article myself, and it expresses my own opinions. I am not receiving compensation for it. I have no business relationship with any company whose stock is mentioned in this article.